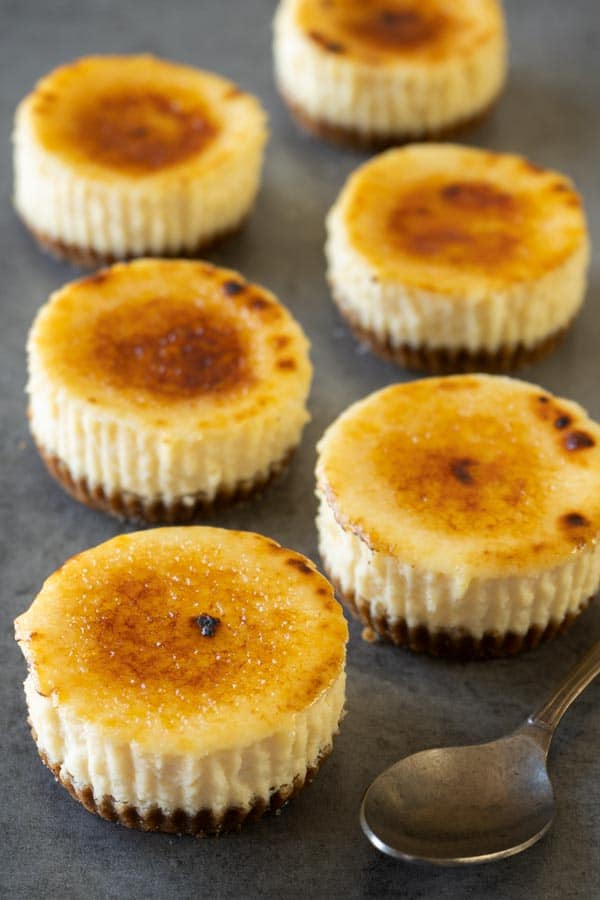 Ok let's talk and admire this mini creme brulee cheesecake, please.
Imagine what you love so much about creme brulee. The creamy flavour and texture. That crackling sound when your spoon graciously (is that even possible?) break into the caramel surface.
Well imagine all of those and then combine them with cream cheese.
Sounds good to you?
Well it surely does for me.
Disclosure: some of the links below are affiliate links, meaning at no extra cost to you, I will get a small commission if you click through and make a purchase. Everything I mention in this post is what I personally use and recommend.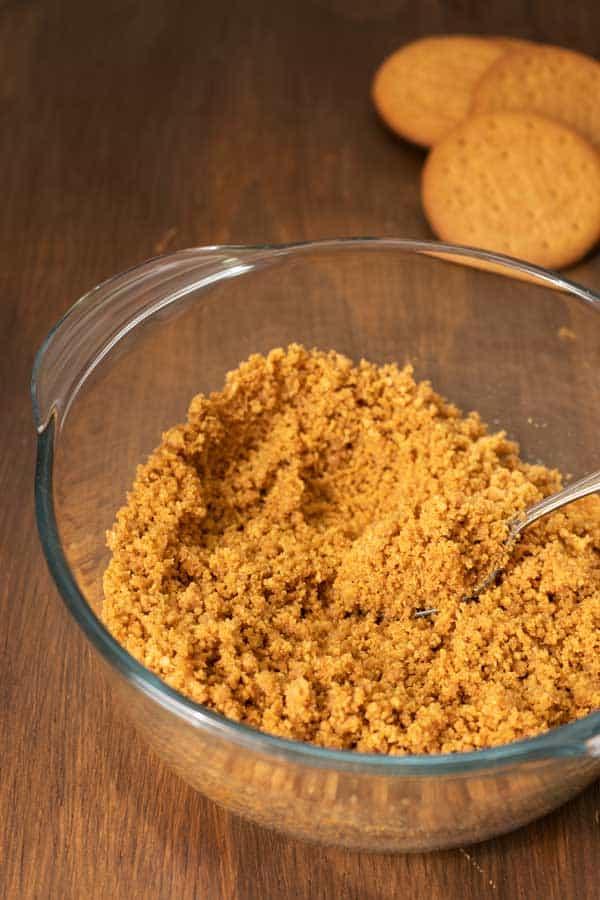 Tips On How To Get It Right
This is a SUPER EASY recipe that gets you such a satisfactory result.
Talking about, have you checked my easy mini cheesecakes? They're so yummy, I kid you not... and one of our most popular recipes.
If you loved those mini cheesecakes, you will absolutely go crazy for these ones.
Ok, moving on. So here are some tips that I think will help you to get this recipe right the first time.
No cracking, no massive indentation or collapse, no dense texture and no raw cheesecakes.
Temperature of ingredients - make sure you follow the stated temperature for the ingredients. Room temperature, chilled, frozen.
Use slow speed - when mixing the filling, always use the lowest speed on your mixer. Except for when whipping the cream.
Don't over mix - yes, don't over mix your filling. Always always always mix just until you see everything is combined.
Low oven temperature - every oven is different so get to know yours. Usually the temperature of the oven is not accurate. Mine is off by 30-40 degrees. What I really recommend is getting an oven thermometer like this one for the accurate temperature. It's cheap! I use mine all the time and it helps me a lot. I love it!
Wiggly - bake them until they are just set and yet still wiggly. Please watch the video for reference.
Well there you go.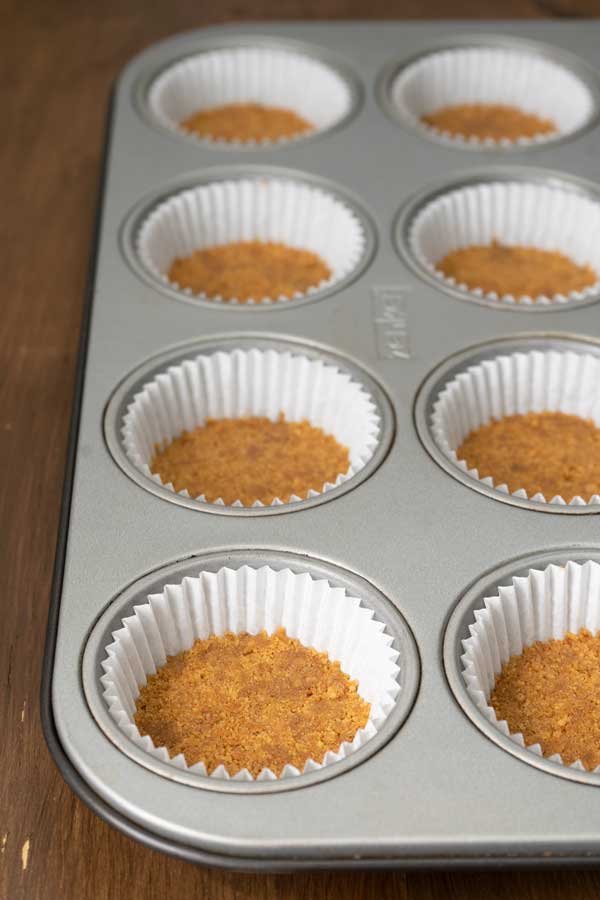 A Special Request
My little sister requested this creme brulee cheesecake recipe from me like a few weeks ago.
She said that it's famous in Malaysia and she would love to know how to make it. Together with her request is for me to develop a no-bake version of this.
Well I tried and unfortunately little sister, after some testings, I've came to the conclusion that it would be better baked. Why?
Because baked ones have sturdier structure and can stand the heat from the blow torch better.
So little sister, this is for you. All the recipe testings, sweats and headaches. All for you. Yeah I'm exaggerating but hey, I'm counting and collecting. So prepare that tiny Ultraman for us!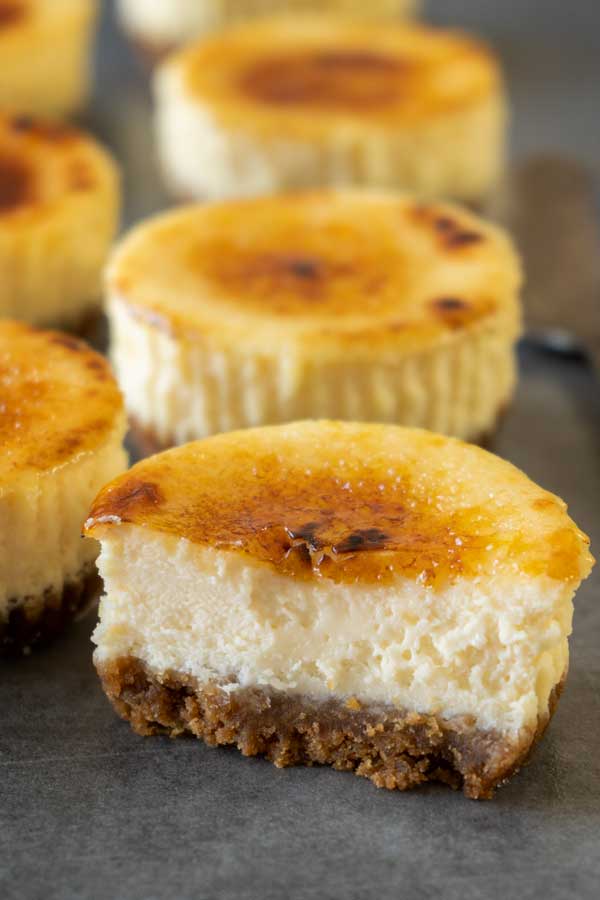 In Summary
These mini creme brulee cheesecakes are:
so easy to make. just one time baking and no bain marie whatsoever.
have that luscious creamy texture and flavour, not overly sweet
perfect dessert size for when you're hosting a party
oh la la YUMMY & DELICIOUS!
Before You Go
Do check out these recipes also:
Video
📖 Recipe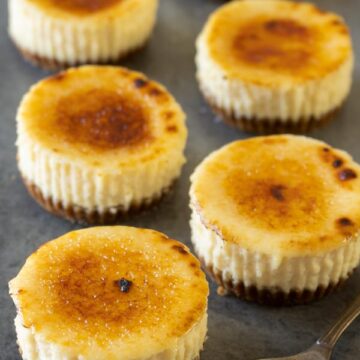 Mini Crème Brûlée Cheesecakes
Come and try these mini crème brûlée cheesecakes! They're super creamy, luscious, and not overly sweet. Apart from the crackling caramel sound that it makes when you break into it, another best part is, it's super easy to make. Do try!
Print
Pin
Rate
Ingredients
The Filling
1

lb

cream cheese

(

450

g), room temperature

½

cup

sugar

(

100

g)

1

tablespoon

vanilla extract

2

eggs

, room temperature

2

yolks

, room temperature

½

cup

whipping cream min 35% fat

(

125

ml), chilled
Other
some sugar

, for caramel topping
Instructions
The Base
Place biscuits inside a ziploc bag and smash it with a rolling pin into a fine texture. Pour into a bowl together with butter and mix well.

Divide evenly into 12 muffin liners in a muffin pan. Using the back of a small spoon, press the mixture evenly. Set aside.
The Filling
Add cream cheese into a bowl and whisk just until it gets creamy. Gradually add sugar and continue to mix but don't over do it.

Now add in the vanilla extract, eggs and yolks one by one, mixing just until well combined. Set aside.

In another bowl, whisk whipping cream until stiff peaks. Add it into the cream cheese mixture and fold everything together. Using an ice cream scoop, fill in the muffin pan until the top. Gently shake the pan to even out the top surface.

Bake in a preheated oven at 300ºF (150ºC) for 22 minutes or until when you gently shake the pan, the cheesecakes wiggle a bit and the center look not as set. Remove from the oven and leave to cool to room temperature. Then place in the freezer for 1 hour.
Topping
Remove the liners and place the cheesecakes on a tray. Sprinkle some sugar on top. Using a blowtorch like this one, start heating up the sugar by moving it all around the top until it turns golden brown. Serve immediately.
How To Get It Right
Please refer to my post above for tips on how to get this right the first time.
Nutrition Facts
Calories:
322.6
kcal
,
Carbohydrates:
23.2
g
,
Protein:
4.9
g
,
Fat:
23.7
g
,
Saturated Fat:
13.3
g
,
Cholesterol:
120.4
mg
,
Sodium:
230.3
mg
,
Potassium:
97.6
mg
,
Fiber:
0.4
g
,
Sugar:
15.8
g
,
Calcium:
62.6
mg
,
Iron:
0.7
mg