I know many of you simply love my cheesecake recipes. Be it baked like these easy mini cheesecakes, Cheesecake Factory inspired or no-bake ones like mango cheesecake or chocolate cheesecake. Well just to name a few.
Of all the flavors that I've made, I've never shared with you this simple no-bake vanilla cheesecake. Right?
Well that's changing because here it is! Just plain old vanilla cheesecake that's super easy to make. And guess what? It doesn't require any gelatine. So that's a plus, right?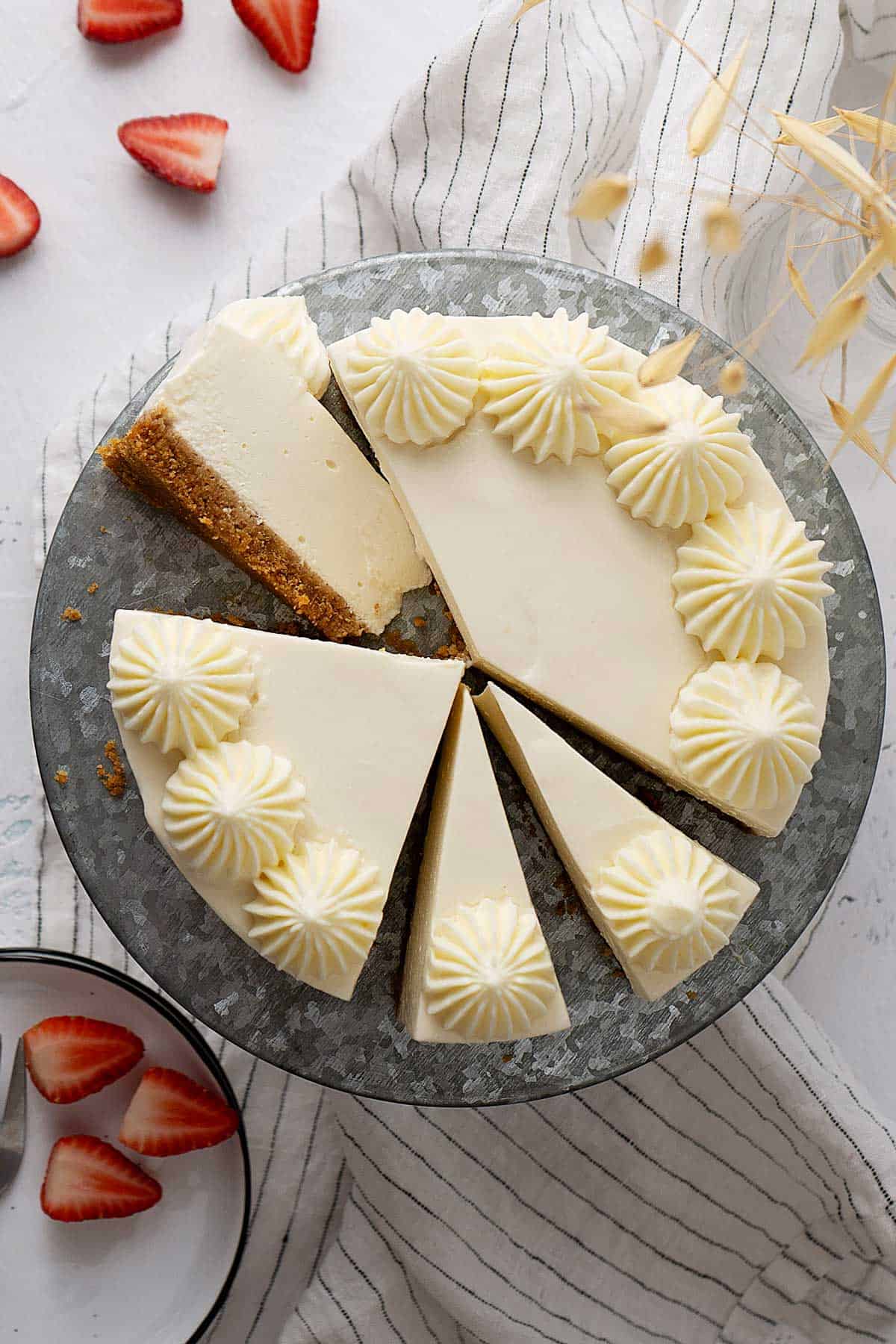 Vanilla Cheesecake
This vanilla cheesecake really is perfect when you just want to enjoy a slice of cheesecake with some berries or apples like our delicious no-bake caramel apple cheesecake. Or use that leftover homemade lemon curd. It's a white canvas that you can flavor with whatever your heart desires. Drizzles of melted chocolate? White chocolate? Why not?
It has this creamy and smooth texture that is just so satisfying. Not overly sweet. Combines perfectly with digestive biscuits that have a slightly salty touch to them.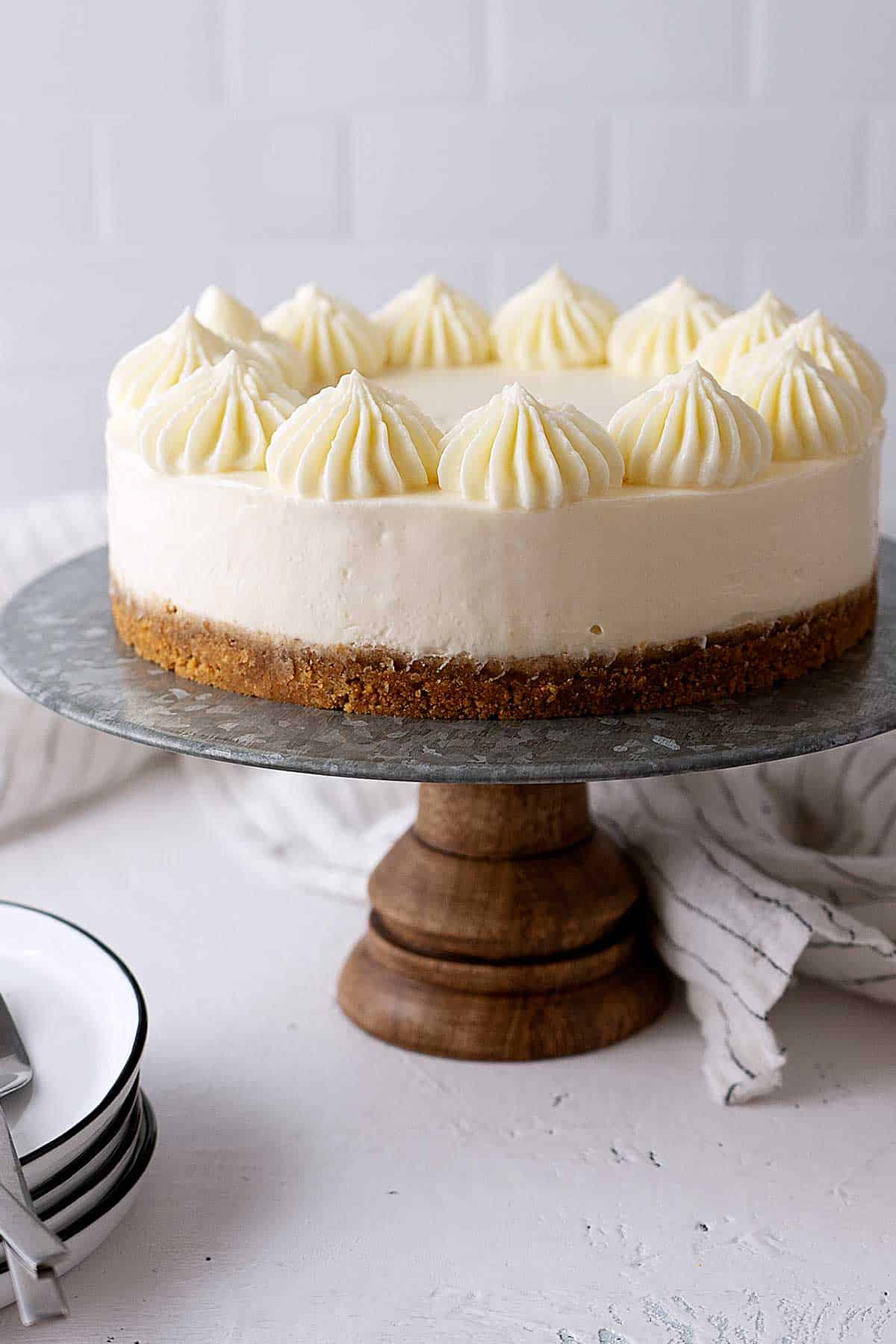 What Biscuits To Use As The Base
As I mentioned earlier, I simply love the contrast of a touch of saltiness from digestive biscuits against the sweet cheesecake filling.
But if you're not living in Europe then maybe digestive biscuits sound weird to you. I have readers asking if they were biscuits to help with digestions or dog biscuits. Haha!
Bottom line is, no worries. You can use whatever biscuits that you like. If you're used to using graham crackers then by all means, use them. Oreo cookies, coconut cookies? Why not?
Create your own base.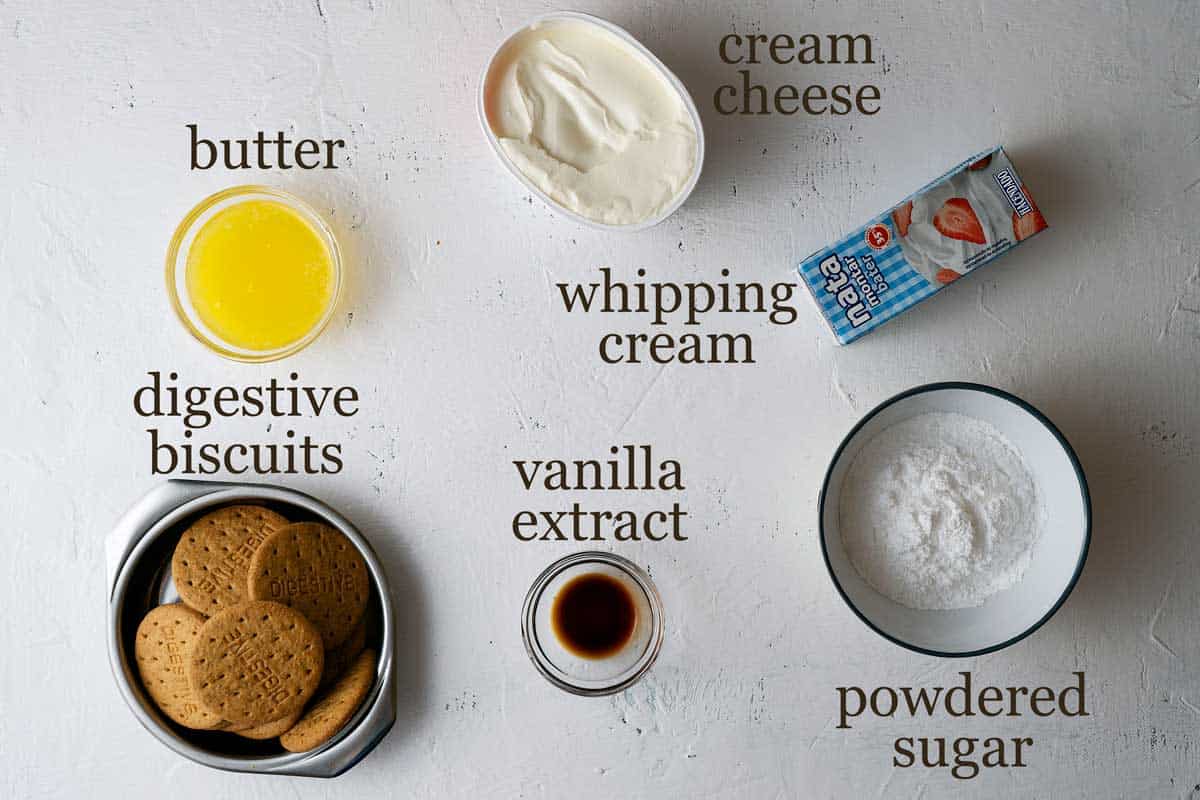 What Cream Cheese To Use
Believe it or not, as simple as choosing the right cream cheese is the ultimate key for this recipe.
Full fat cream cheese - I know some of you would like to make this a light cheesecake but yeah, no. It won't work with light cream cheese. We need the full fat ones so that it holds and firms up in the fridge. Remember we're not using gelatine or eggs (since this is a no-bake one) to hold it together.
Not whipped cream cheese - Somebody asked if I was using whipped cream cheese since the ones that I use always come in tubs. The answer is no. Since I'm in Europe so the packaging is different. So far all cream cheeses that I've seen here are in tubs. Not bricks. Regardless the container, do not use whipped cream cheese that you find in tubs (or any other containers).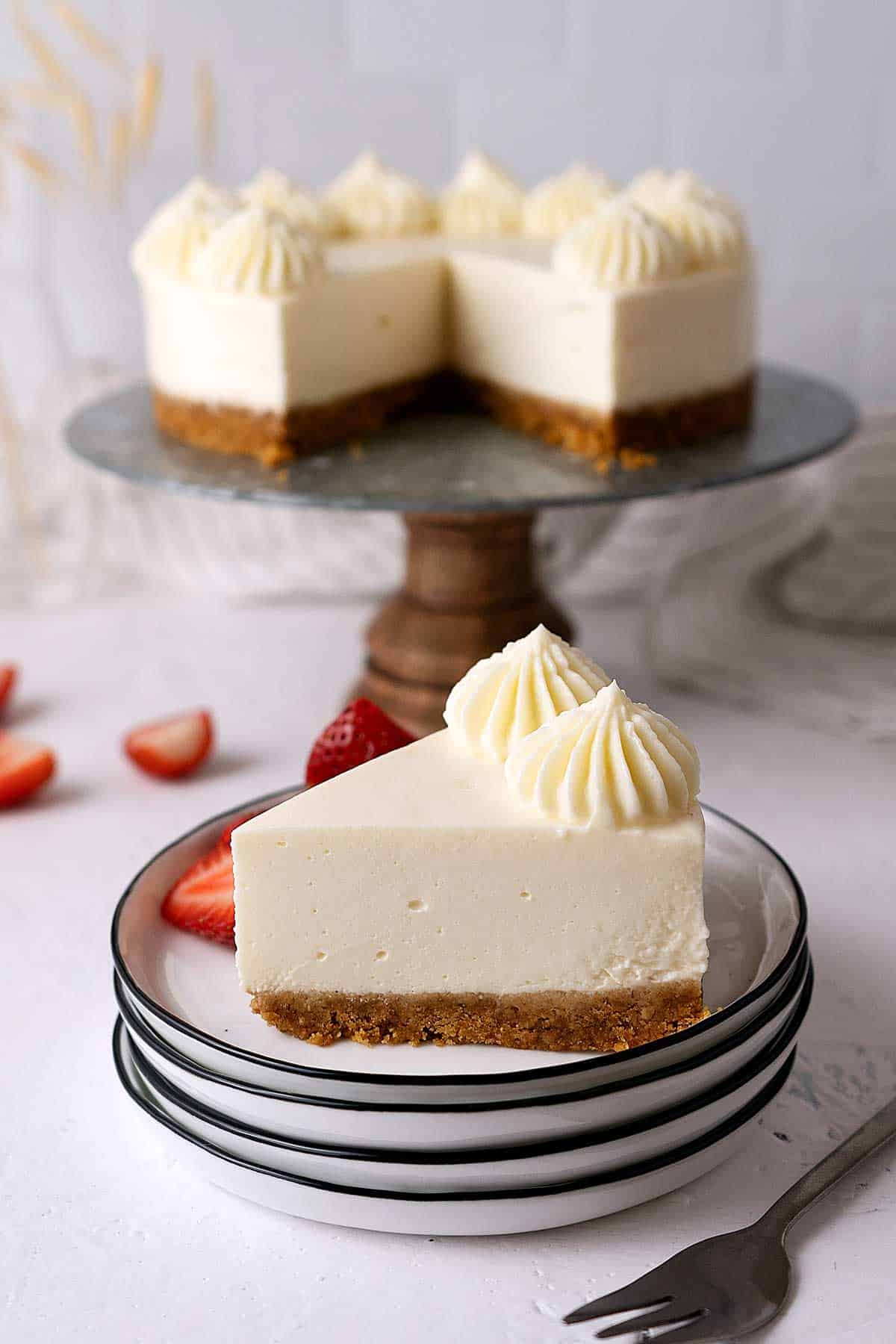 Tips On How To Get It Right
I love to share with you all these simple tips that I religiously follow whenever I'm making a no-bake cheesecake. For me they come as routines or habits and I like to keep sharing them with you so that they can become your routines and habits also.
Ingredients temperature - Follow the temperatures mentioned in the recipe. Cream cheese at room temperature. Whipping cream, chilled.
Fluffy - I like to whisk my cream cheese until it's fluffy first, before starting to add other ingredients. This ensures light textured cheesecakes.
Sifted powdered sugar - Always, always, always sift your powdered sugar. They tend to make these balls of sugar if you don't and we don't want those in our smooth cheesecakes.
Whipping cream - Here in Spain the whipping cream is with minimum 35% fat. Yes, we call it whipping cream. I know in other places it's called differently. Double cream, heavy cream, etc. It doesn't matter what it's called. The important thing is the minimum fat content needs to be at least 35%. It'll help in setting our cheesecakes.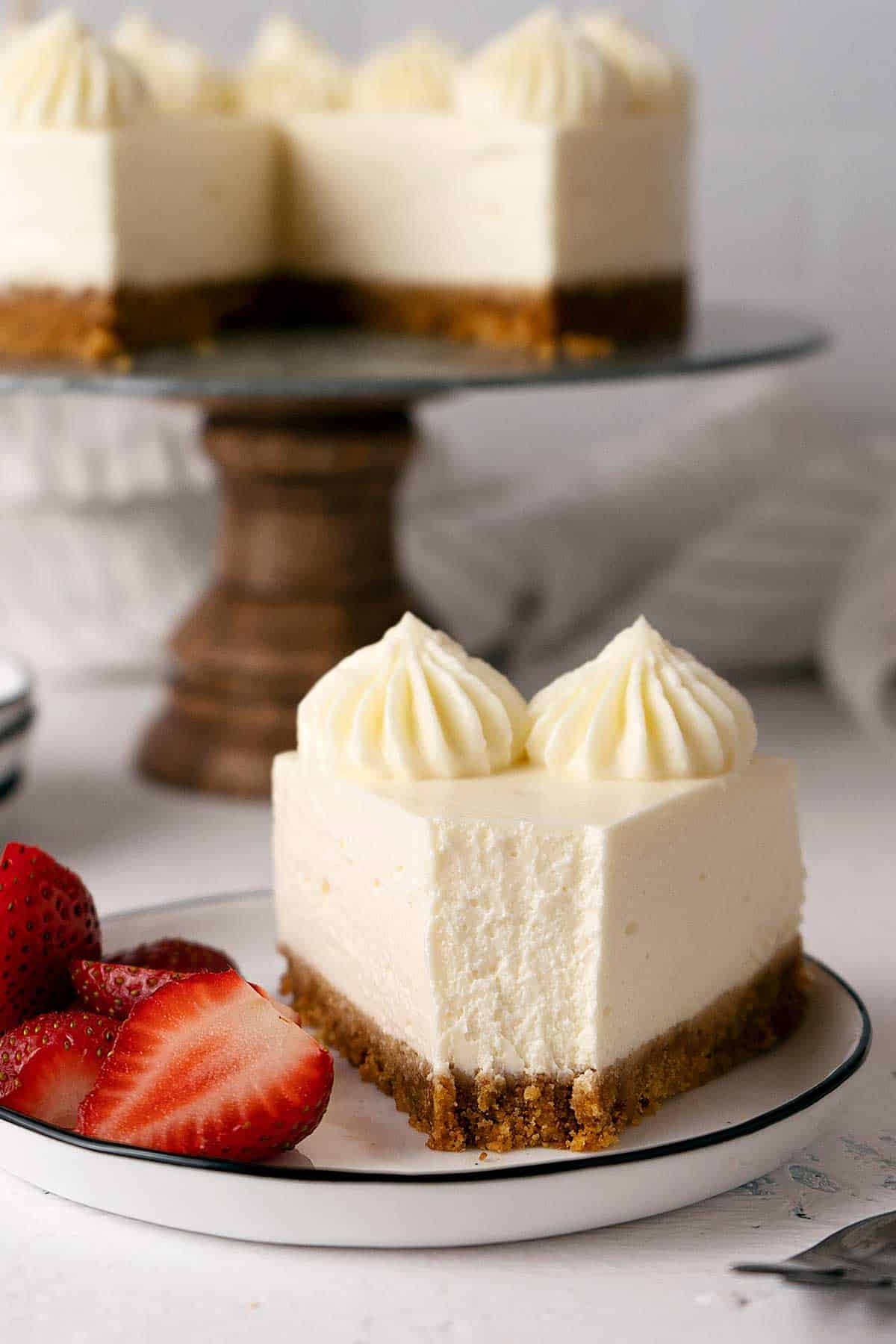 Stiff peaks - Whisk your whipping cream until stiff peaks. Careful not to over whisk it or you'll get grainy texture in your cheesecake. Under whisking it will make the cheesecake not set. So stiff peaks, alright?
Chill - As all ovens come differently in temperature wise, so are fridges in the coldness wise. We can set the level of coldness to our fridge. There's also different rack positions in the fridge. Whenever I make a no-bake cheesecake I always set my fridge to its coldest. I always place the cheesecake in the coldest part of the fridge. Mine is at the lowest rack, above the vegetable containers. Depending on your fridge, you might need to chill the cheesecake more than 8 hours. Or you might need less.
Serve - Cheesecakes need the cold. They're not like cakes that you can display on your dining table for hours while your guests arrive and eat. No. Remove from the fridge just before you slice and serve. If you really want it out for quite a while (or your place is super hot), then place it in the freezer for 1-2 hours. That'll help maintain it.
So there you go. Everything that you need to know to make this no-bake vanilla cheesecake error and stress free. Let me know what you think!
Hungry For More No-Bake Cheesecakes?
Some of our readers' favourites:
Recipe Video
📖 Recipe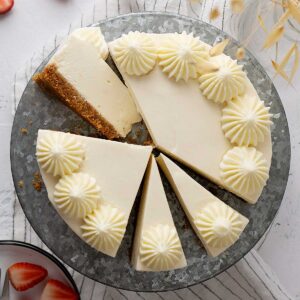 No-Bake Vanilla Cheesecake (No Gelatine)
This no-bake vanilla cheesecake is with smooth creamy filling, perfectly combined with a digestive biscuits base that has a slight salty touch to it. Great combo! Super easy and doesn't require gelatine. Do try!
Print
Pin
Rate
Ingredients
The Base
1 ½

cup

digestive biscuit crumbs

(

150

g)

¼

cup

unsalted butter

(

60

g), melted
The Filling
16

oz

full fat cream cheese

(

450

g), room temperature

½

cup

powdered sugar

(

60

g)

2

teaspoon

vanilla extract

½

cup

whipping cream, min 35% fat

(

125

ml), chilled
Topping
some sweetened whipped cream
Instructions
The Base
Place digestive biscuits in a ziploc bag and bash into a fine mixture using a rolling pin. Pour into a bowl together with butter. Mix well.

Pour into a 7 inch (18 cm) springform pan. Press evenly using the back of a spoon. Place in the freezer for 30 minutes.
The Filling
Add cream cheese into another bowl and whisk until fluffy, using a handheld mixer. Now add in vanilla extract and powdered sugar. Mix until well combined. Set aside.

In another bowl, whisk whipping cream until stiff peaks. Add into cream cheese mixture and gently fold everything together, using a spatula. Pour into prepared springform pan. Chill for minimum 8 hours or until fully set, in the coldest part of the fridge.
How To Remove Cheesecake From The Pan
Run a knife all around the cheesecake to help loosen it up. Release the spring and remove the ring. Run a knife all around under the cheesecake base to loosen it. Insert 2 big flat spatula underneath, on opposite direction. Swiftly yet confidently lift up the cheesecake using the spatulas and place it on a serving plate. Slice and serve!

Please refer to my tips above on how to get it right.
Nutrition Facts
Calories:
367.4
kcal
,
Carbohydrates:
19.5
g
,
Protein:
4.1
g
,
Fat:
30.7
g
,
Saturated Fat:
17.4
g
,
Cholesterol:
78.6
mg
,
Sodium:
204.2
mg
,
Potassium:
88.5
mg
,
Fiber:
0.2
g
,
Sugar:
12.1
g
,
Calcium:
58.9
mg
,
Iron:
0.5
mg