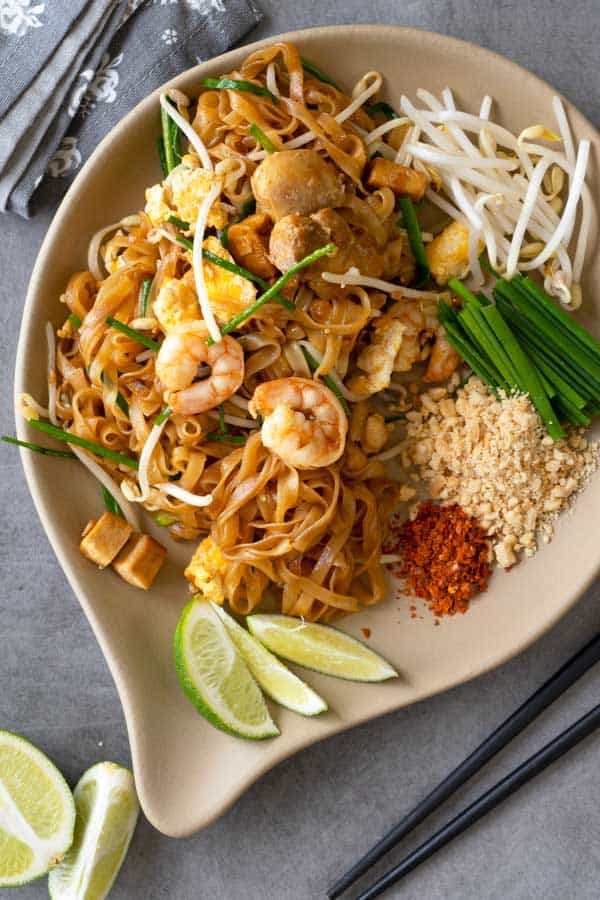 The other day I asked what other Asian meals would you like to see on our Youtube channel and one of our viewers replied with stir-fried rice noodles. Somebody else also asked for laksa, which I have already made.
So here it is, an easy homemade pad Thai or also known as Thai stir-fried rice noodles.
This is a new and improved recipe of mine and if you love stir-fried noodles, I promise you will also love this one.
Let's get on with the recipe!
What Is Pad Thai
Pad Thai, as I mentioned earlier, is a Thai-style stir-fry rice noodle. It's an extremely famous street food in Thailand.
It's one of Thailand's national dishes.
History says that rice noodles were introduced in Thailand during WWII to reduce rice consumption due to rice shortage during the war.
Fascinating, right?
Essential Tastes Of Pad Thai
A great pad Thai would have a balance of these 3 tastes which are saltiness, sourness, and sweetness.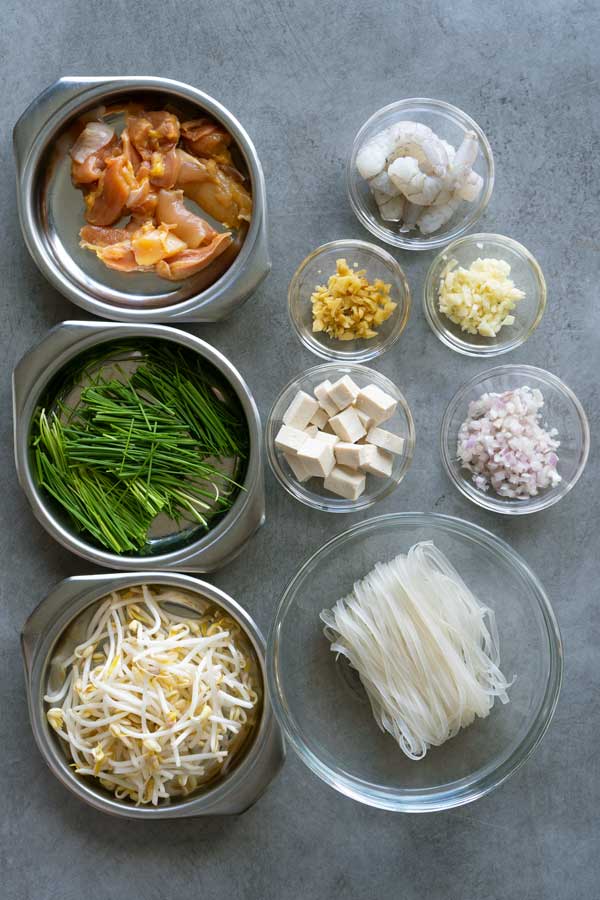 You might think that it should be spicy also as almost all Asian meals are spicy, right?
Well, you're in luck since these delicious stir-fry noodles don't need to be spicy. Another delicious Asian stir-fried that's not spicy is my easy beef lo mein.
In this recipe, I'm using sriracha because, well I LOVE spicy food! For me, food without being spicy is like watching a Survivor episode without having something crunchy to munch on.
It's JUST a must! Haha!
Anyway, my point is.. you can skip sriracha if you want. No problem at all.
Tips For Great Stir-Fry
This stir-fried rice noodles dish doesn't require such specific rules to it.
Having said that, I would like to share some tips to make any of your stir-fry meals from normal to amazing!
Preparations
Stir-fry means you're going to cook everything in a very short time. Cooking the meal will take you less time than preparing the ingredients, trust me.
So I would really recommend you measure, slice and chop all of your ingredients before you turn the heat on.
Heat
Usually, for stir-fry, you will use high heat. For this meal, you can get away with using medium-high heat.
The main point is, the heat will always need to be toward the high level because we want to stir-fry, not simmer.
Cooking Portion
I would really recommend you cook one portion at a time for the maximum experience of enjoying this recipe.
Yes, it would mean the whole family would not be able to eat at the same time, I know.
The other day I cooked for myself first because I don't really mind eating a warm meal, or even cold except for soups (is it an Asian thing?). Then I cooked for Marco because he likes his meals hot.
The reason for this is that you don't want to crowd your pan with extra ingredients that will lead to steaming them instead of frying.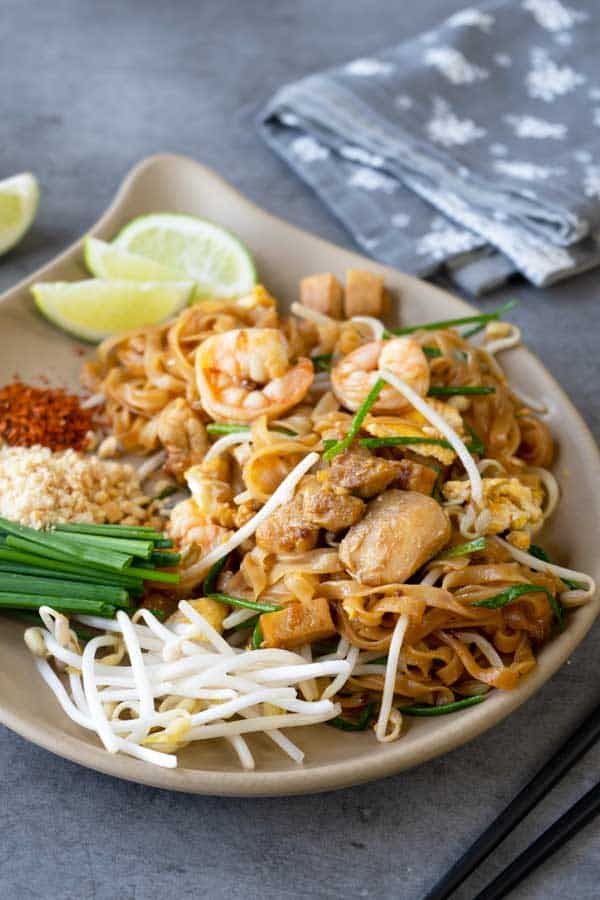 Dry Pan
This leads me to the last tip. Your pan should always be dry.
I mean, the bottom of the pan should never have any liquid until you add in the sauce, of course.
Even that, you will cook until the sauce dries and the noodles should always end up not soggy.
So, are you up for some stir-frying this weekend?
Make it, you're going to LOVE it.
In Summary
This Thai stir-fried rice noodle is:
one of the easiest stir-fry to make
cooks in less than 10 minutes, perfect for a weekday meal
perfect for the whole family as you can adjust to make it spicy or not
a must if you love Asian food or stir-fried noodles in general
is super freaking DELICIOUS!
Before You Go
Perhaps you would also like to see my other stir-fry recipes:
Video
📖 Recipe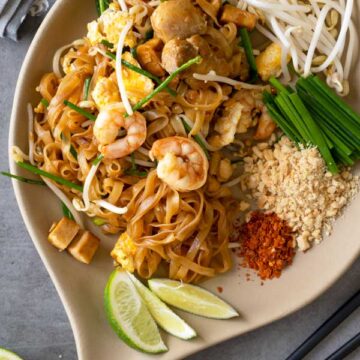 Easy Pad Thai (Stir Fry Rice Noodles)
New & improved recipe of this amazing Thai stir-fry rice noodles. Perfect balance of sourness, sweetness and saltiness. One of the easiest stir-fry noodles that cooks in less than 10 minutes.
Print
Pin
Rate
Ingredients
The Sauce
1

lime, take the juice

2

tablespoon

fish sauce

1

teaspoon

sriracha

1 ½

tablespoon

brown sugar

¼

teaspoon

dark soy sauce

, optional for the color
The Noodles
1

chicken thigh

, boneless, skinless & cut into bite size pieces

2

oz

firm tofu

(

60

gr), cut into small cubes

1

small shallot

, finely chopped

2

garlic cloves

, finely chopped

1

tablespoon

chopped Chinese pickled radish

1.8

oz

dry flat rice noodles

(

50

gr)

1

egg

8

prawns

, peeled & deveined

0.7

oz

chives

(

20

gr), cut into 2 inches (5 cm) length

1 ½

cup

bean sprouts

(

75

gr)
The Sides
some chili flakes or powder

some peanuts

, pound into small pieces

some lime wedges

some bean sprouts and chives
Instructions
The sauce
Put all the sauce ingredients in a bowl and mix until the sugar dissolves. Set aside.
The noodles
Soak the noodles in warm water for 2 minutes or until they're pliable. Wash under cold water, drain and set aside.
Making Pad Thai
Heat a wok or a wide surface pan with some oil using medium high heat. Add in the chicken, tofu pieces and leave untouched for a few minutes to brown them. Then add in shallots, pickled radish and garlics. Fry until they're golden brown, stirring frequently.

Add noodles into the pan together with prawns and sauce. Mix well and cook until the prawns are fully cooked.

Push everything to one side of the pan. Crack in the egg on the empty place. Stir a bit and when it's almost cooked, fold the noodles on top of it and mix everything well.

Turn the heat off. Finally add in chives and bean sprouts. Using 2 forks, toss and mix everything well. Serve immediately.

NOTE: I would recommend you cooking 1 portion at a time to fully experience and enjoy this delicious meal.

This recipes yields quite a large portion for 1 person :D. Share if you wish.
How To Serve
Serve pad Thai on a plate and on the side place bean sprouts, chives, pounded peanuts, chili powder and few wedges of lime.

Mix everything well and enjoy!
Tips For Great Stir-Fry
Please refer to my post above on how to get your stir-fry with amazing result every single time. It's all about preparation, heat, cooking portion and dry pan.
Notes
SUBSTITUTIONS:
I'm using lime because I don't have tamarind paste. Use it if you have.
Use white sugar instead of brown sugar.
Use chicken breast instead of chicken thigh, though chicken breast tends to get dry a bit.
SKIP:
Dark soy sauce, I use simply to get the darker color since I'm not using tamarind paste.
Sriracha if you don't want a touch of heat.
Chinese pickled radish if you don't have one.
The sides ingredients but I would really recommend you add the pounded peanuts because they give texture and a nutty taste to the meal.
Nutrition Facts
Calories:
719.9
kcal
,
Carbohydrates:
85.6
g
,
Protein:
59.8
g
,
Fat:
16.4
g
,
Saturated Fat:
3.3
g
,
Cholesterol:
288.9
mg
,
Sodium:
3827.3
mg
,
Potassium:
1187.2
mg
,
Fiber:
7
g
,
Sugar:
29.3
g
,
Calcium:
253
mg
,
Iron:
5.6
mg