What Is Asam Laksa?
Asam laksa is one of Malaysian famous noodle soup that's originated from Peranakan cuisine. Peranakan is a cultural mix of Malay and Chinese.
There are several variations of asam laksa like Terengganu asam laksa, Kedah asam laksa and Penang asam laksa.
Penang asam laksa was listed number 7 in the world's 50 best foods on the CNN travel website.
This dish consist of aromatic sweet and sour fish broth that's traditionally made by first boiling the fish and then removing the fish meat from the bones. Then blending the bones with some of the broth and straining the concentrated juice to be cooked later together with the rest of the ingredients.
Yes, not such an easy and straightforward recipe, I have to say.
The fish broth contains its sourness from tamarind and uses a bit of sugar to balance it out.
The aromatic smell comes of herbs which are ginger torch and Vietnamese coriander leaves.
And like any other amazing dish out there, this dish also has evolved over the years.
So today I would like to share with you my simplified and quick way of making this delicious asam laksa, Penang style.
Simplified Penang Asam Laksa
Like I mentioned earlier, making this delicious aromatic fish broth is quite troublesome.
Worry not my dear friends. Here's a way to make it simpler.
Instead of doing all of the steps with the fish bones, blending and everything.. we will just use canned fish.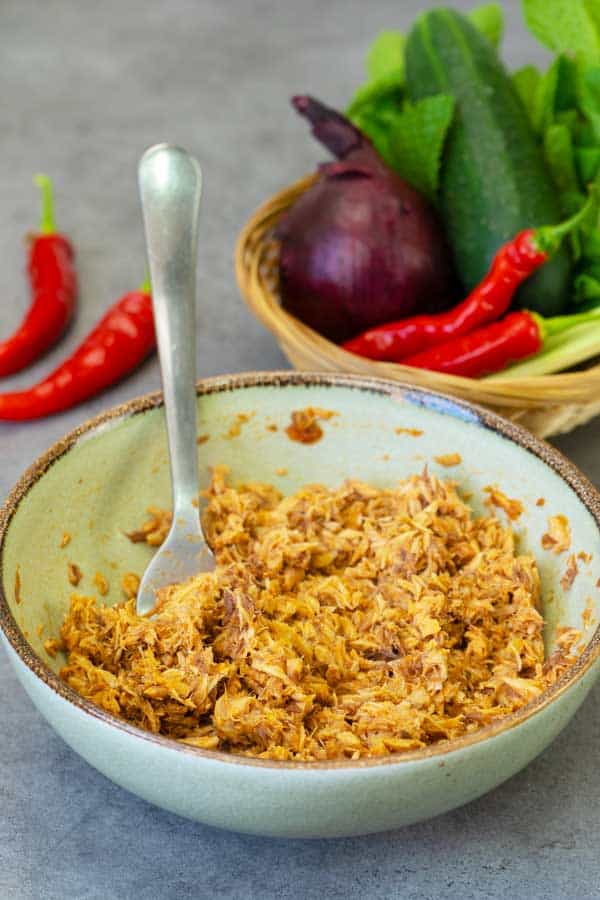 Canned mackerel in tomato sauce, to be precise.
And no I didn't come up with the idea. This way of using canned fish to make asam laksa broth has been out there for several years and whoever came up with the idea is really a genius!
It saves our time for sure and we get to enjoy our asam laksa in a jiffy!
And ohh.. don't throw the tomato sauce. Use it.
Substitutions
If you have been following my posts maybe you noticed that I like to make substitutions for my Asian recipes since I'm living in Spain and in a city where is very difficult to get Asian ingredients.
Knowing that many of you are in my position, either an expat like me or simply interested in trying Asian recipes but are having difficulties in finding most of Asian ingredients.
So for this recipe, there are a few substitutions that I'm making and trust me, they don't affect the taste and this asam laksa is equally delicious.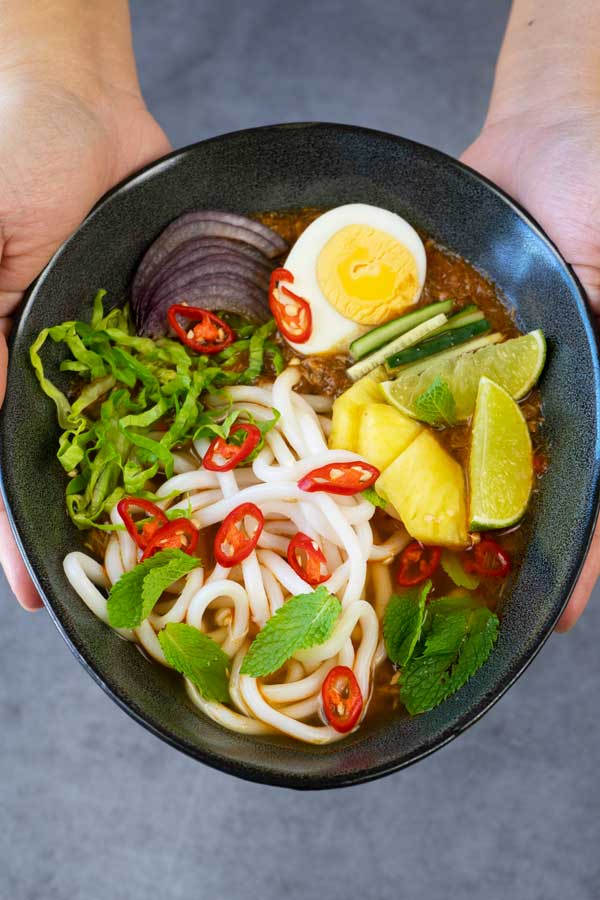 Herbs
Like I mentioned earlier, the common herbs for this fish broth are ginger torch and Vietnamese coriander leaves. And of course, I don't have them.
I found out that cooking abundance of mint leaves together in the broth really recreate the same flavours from ginger torch and Vietnamese coriander leaves.
And sprinkling fresh mint leaves when serving this asam laksa reinforces the freshness taste of it.
Belacan
Belacan is a shrimp paste and it's a very common and important ingredient in Malaysian cuisine.
Yeah, not everybody can find belacan. Fortunately for me, I found my scarce belacan source at an Asian store in Seville.
In this recipe I'm using fish sauce to substitute belacan so that for those of you who can't find it can see that it's totally fine to make asam laksa without belacan.
And yes, I have to admit, fish sauce is far more easier to find.
Noodles
Asam laksa means sour rice noodles. Asam means sour.
Laksa is a type of rice noodles that's similar shape like spaghetti but thicker and it's white in color because it's made from rice flour.
And yeah, I don't have laksa.
I'm using udon noodles to substitute laksa because udon has extremely similar taste and texture to laksa, despite it not being made from rice flour.
And again, udon is way easier to find than laksa.
So there you have it. Several substitutions to get you going in making this delicious Penang asam laksa. Do give it a try and let me know how it goes.
Condiments
There are quite a few condiments to this dish. But worry not, they are so easy to find.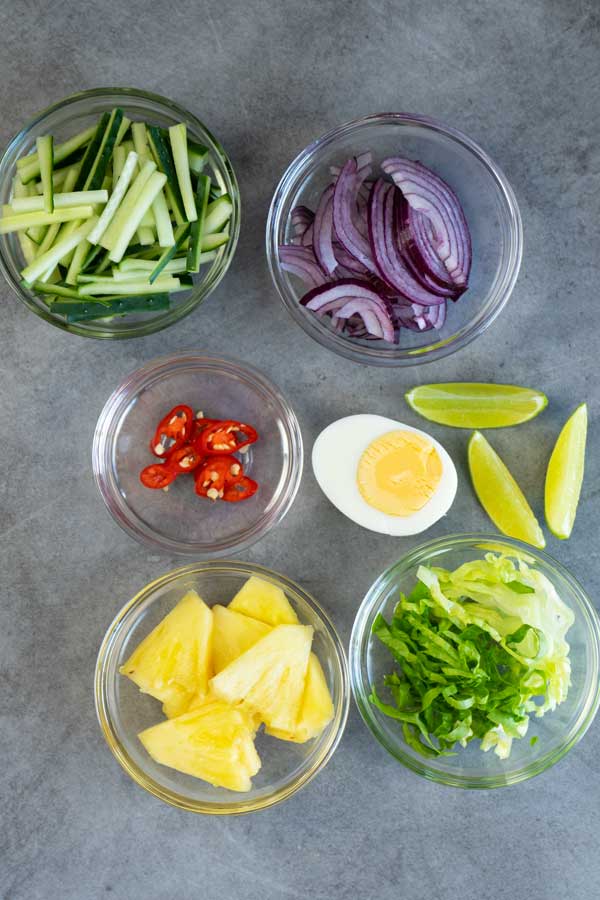 They are cucumber, red onion, mint leaves, boiled egg, lettuce leaves, chili and pineapple.
I know for those of you who are not familiar with this dish would think, why would I want a pineapple in my soup? Haha!
But trust me, every condiment makes sense when you eat them together with your spoon of noodle and broth. Try it.
Before You Go
If you're still reading my post until here, it means that you're an open minded person who loves to try new food from all over the world. I like that.
So maybe I could entice you with some of my delicious Malaysian recipes?
You can find more recipes in my recipe page.
Video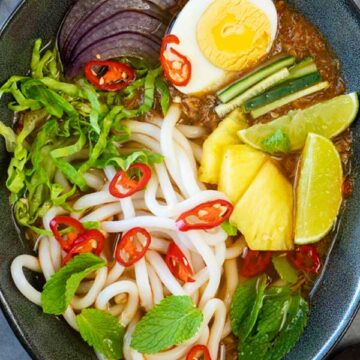 Quick Penang Noodle Soup (Asam Laksa)
A simplified way to make this delicious Penang noodle soup. Asam Laksa is one of Malaysians famous dishes. This sweet and sour aromatic fish broth accompanied with fresh wonderful condiments on the side is a really must-try.
Print
Pin
Rate
Ingredients
The Paste
10

dry chillies

3

red chillies

1

red onion

½

thumb sized

galangal
The Fish Broth
3

lemongrass

, bruised

2

can

mackerel in tomato sauce

(

4.4

oz or 125 gr each can)

0.7

oz

mint leaves

(

20

gr), tied

½

teaspoon

sugar

2

tablespoon

fish sauce

2 ½

cup

water

(

625

ml)
The Tamarind
0.7

oz

tamarind

(

20

gr)

½

cup

warm water

(

125

ml)
Condiments
7

oz

udon noodles

(

200

gr), cooked and drained

2

baby lettuce leaves

, thinly sliced

cucumber

, julienned

½

red onion

, thinly sliced

1

boiled egg

, halved

red chili

, sliced

mint leaves

lime wedges

pineapple

, thinly sliced
Instructions
Tamarind
Add tamarind and warm water. Leave for 10 minutes until tamarind soften. Squeeze the tamarind to release its flavour. Strain the juice to discard the seeds and pulp. Reserve tamarind juice for later.
The Paste
Cut dry chillies into small pieces and remove the seeds. Soak in hot water for 20 minutes. Drain the water, set the chilies aside.

Cut onion and red chillies into chunks. Place all of the paste ingredients into a blender and blend it into a fine paste. Set aside.
The Broth
Place the mackerel together with the juice in a bowl. Using a fork, mash them together. Put it in a pot together with the rest of the broth ingredients, including the blended paste and tamarind juice.

Bring to a simmer and let it cook for 10 minutes. Adjust salt if needed. Serve immediately.
Serving
Place some udon noodles in a bowl and ladle in some of the broth. Then place each of the condiments on the side. Serve hot. Enjoy!
Nutrition Facts
Calories:
701.7
kcal
,
Carbohydrates:
96.3
g
,
Protein:
51.5
g
,
Fat:
14
g
,
Saturated Fat:
3.3
g
,
Cholesterol:
192
mg
,
Sodium:
3172.6
mg
,
Potassium:
949.1
mg
,
Fiber:
10.6
g
,
Sugar:
23.5
g
,
Calcium:
413.3
mg
,
Iron:
5.7
mg