Oh, you really really really have to try this super easy and delicious stir fry glass noodles!
I'm not trying to be pushy but seriously, it takes just a few minutes to prep and few minutes more to cook and the result is just amazing.
Even better than amazing is that you can personalize it to your liking with no problem.
Now let's go straight to the recipe, shall we?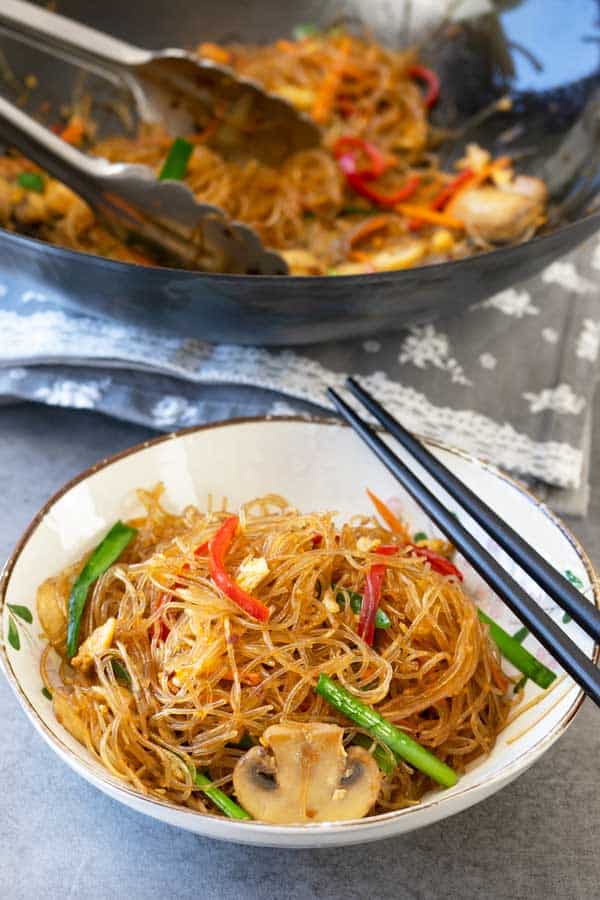 What Are Glass Noodles?
They're definitely not made from glass (thank god) but the name glass noodles come from how the noodles look when they're cooked.
Transparent and glassy looking.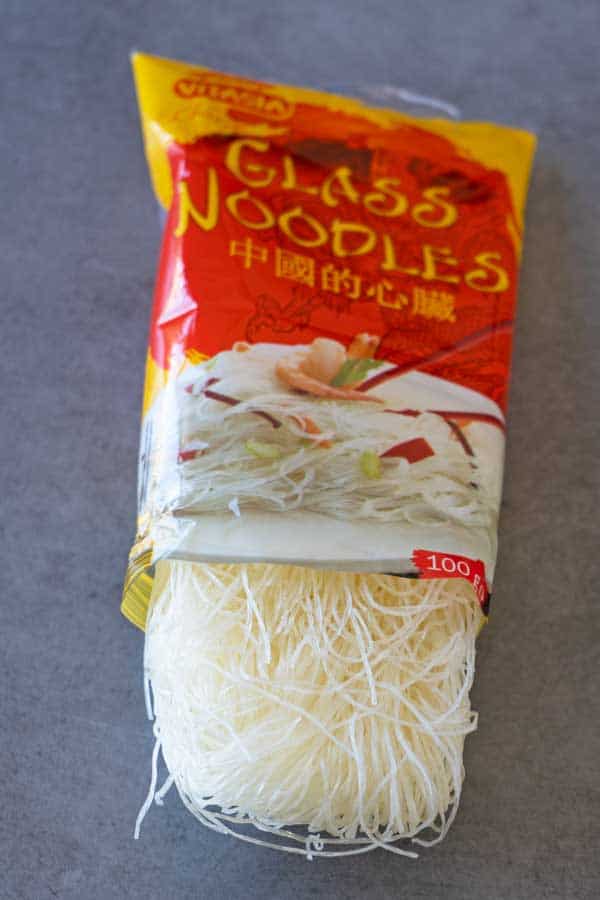 Glass noodles are also known as cellophane noodles or mung bean noodles. The noodles are made from water and a type of starch that can either be mung bean, potato, or tapioca.
The one that I'm using for this recipe is mung bean noodles.
They are sold in dried form so it means that you need to soak them first before using them.
Stir Fry Freestyle
This is a dish that you should really consider when you're having your Asian meal cravings, it's only Monday (weekend cheat day just seems like never coming), the nearest Asian restaurant is a planet away and the only time you can spare to be in the kitchen is 20 minutes.
Yep yep yep.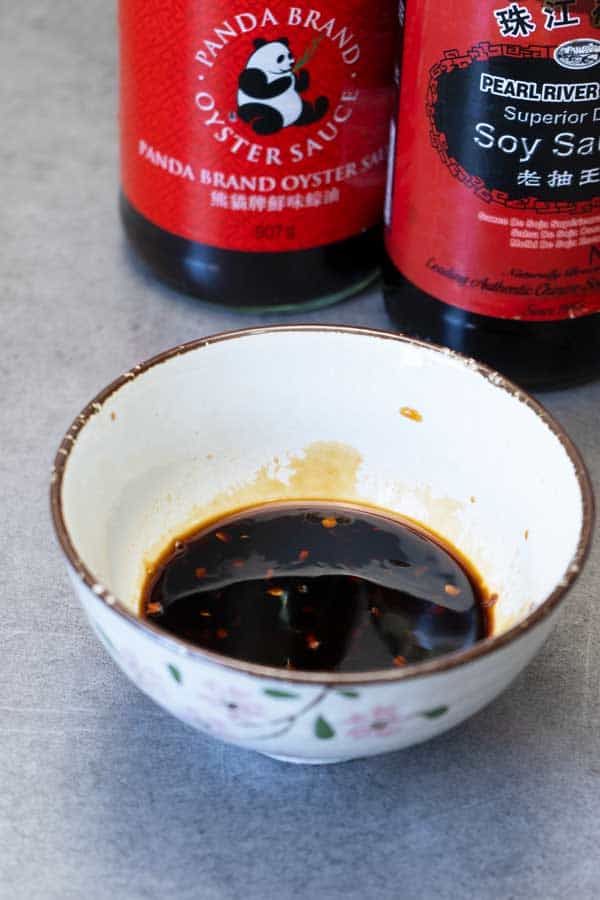 Like any other stir fry, I recommend you prepare the stir fry sauce, vegetables, and noodles before you start cooking.
In this recipe, I'm using a wok that I cured myself (can you tell I'm so proud of it?).
Ok, now let's break things down, if I may, to convince you a bit further about this recipe.
Fastest home-cooked Asian meal ever
Asian meals usually take 10 days to prepare and another 10 days to cook. I know because I'm an Asian. Haha!
But these days everybody is always on the run, rushing to squeeze everything in our to-do list within 24 hours window and on top of that, preparing healthy delicious food for ourselves and our families.
This meal needs a few minutes to slice a few ingredients and then not even 10 minutes of cooking. Another of my Asian stir-fries that takes only 10 minutes is my easy beef lo mein.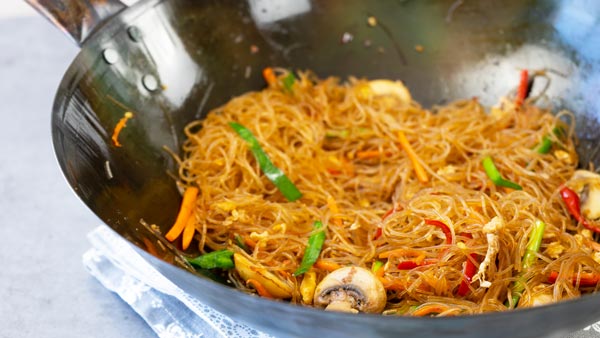 Cheap and delicious
Let's admit it, eating at home is always cheaper than eating out. Right?
Sometimes (most of the time actually) our own home-cooked meals taste even way better.
Personalize it to your liking
Protein - use your choice of protein. Chicken, shrimp, beef, or simply egg like me in this recipe. I've used chicken and shrimp before and they tasted just delicious. If you're using other protein than eggs, slice it thin and add it together with the shallot and garlic.
Vegetables - again, use your choice of vegetables. Since the glass noodles are great in soaking liquid so it's totally fine if you want to use vegetables that release lots of water like mushrooms for example. I'm even using mushrooms in this recipe. You can use red peppers, green peppers, cabbage, spinach, or bok choy. Just slice them thin.
Give this cheap, easy, fast, and delicious recipe a try.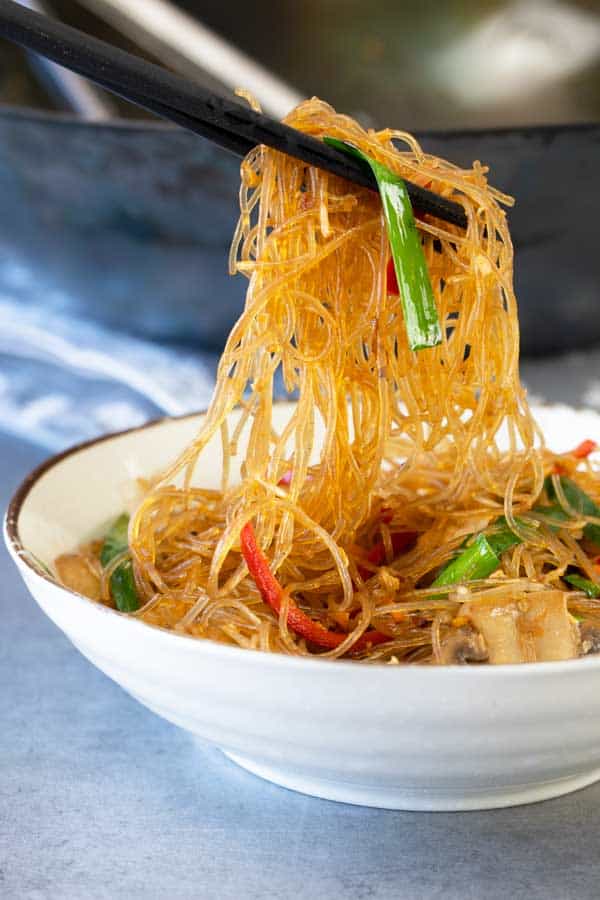 In Summary
This stir fry glass noodles are:
super easy and fast to make
can be personalized to your liking with no problem
healthier than other Asian takeouts since you know what goes in and how much
super DELICIOUS!
Before You Go
If you're into stir fry noodles, then maybe you'd like these recipes also:
Video
📖 Recipe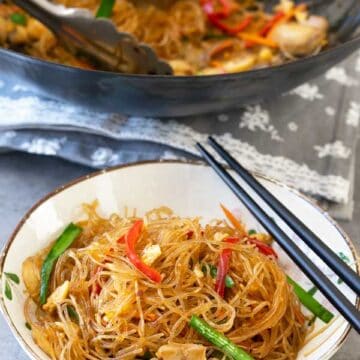 Stir Fry Glass Noodles
A super fast, easy and of course delicious stir fry glass noodles. Ready to enjoy within minutes, so forget about the take outs. Personalise it with your favourite protein source and veggies. Yum!
Print
Pin
Rate
Ingredients
Stir Fry Sauce
½

teaspoon

sugar

¼

teaspoon

chili flakes

1

tablespoon

oyster sauce

1

tablespoon

soy sauce

¼

teaspoon

dark soy sauce

(optional for color)
The Rest
1

shallot

, sliced

1

garlic clove

, chopped

1

small carrot

, julienned

4

mushrooms

, sliced

1

egg

1

stalk

Chinese chives

, cut into 2 inches (5 cm)

1

chili

, deseeded & julienned

3.5

oz

dry glass noodles

(

100

g)
Instructions
Stir Fry Sauce
Add all of stir fry sauce ingredients into a bowl, mix well and set aside.

Continue preparing the rest of the ingredients before starting to cook.
The Glass Noodles
Add noodles into a bowl with hot water. Leave to soak for 5 minutes.

Drain water. Using a scissor, cut the noodles into shorter strands. Set aside.
Cooking
Heat a wok on medium high heat. When the wok starts to smoke, add in some oil.

Now add in shallot and garlic, cook until garlic starts getting brown. Add in carrot, mushroom and continue cooking for another minute.

Push everything to one side of the wok and add egg on the empty side. Scramble the egg and when it's almost cooked, mix everything together.

Now add in noodles with the stir fry sauce. Mix well using a tongs and continue cooking for 2-3 minutes more.

Turn the heat off. Finally add in chives, chili and mix well. Serve immediately.

Note: the bottom of the wok should always be dry
Make It Your Own
Personalise this recipe by using your choice of protein besides egg. Use chicken, beef, shrimps or seafood. Just slice them thin and add together with shallot and garlic.

Use your favourite veggies. Use red pepper, green pepper, bean sprouts, broccoli or shiitake, just to name a few.
Nutrition Facts
Calories:
264.5
kcal
,
Carbohydrates:
53.9
g
,
Protein:
6.7
g
,
Fat:
2.8
g
,
Saturated Fat:
0.8
g
,
Cholesterol:
93
mg
,
Sodium:
869.4
mg
,
Potassium:
399.2
mg
,
Fiber:
2.3
g
,
Sugar:
5.5
g
,
Calcium:
52.5
mg
,
Iron:
2.5
mg