Healthier air-fryer orange chicken that's made even simpler. No more oil splatters in the kitchen, frying-oil smell lingering afterward and no need to babysit the chicken also. I mean, what else do we want, right?
Jump to: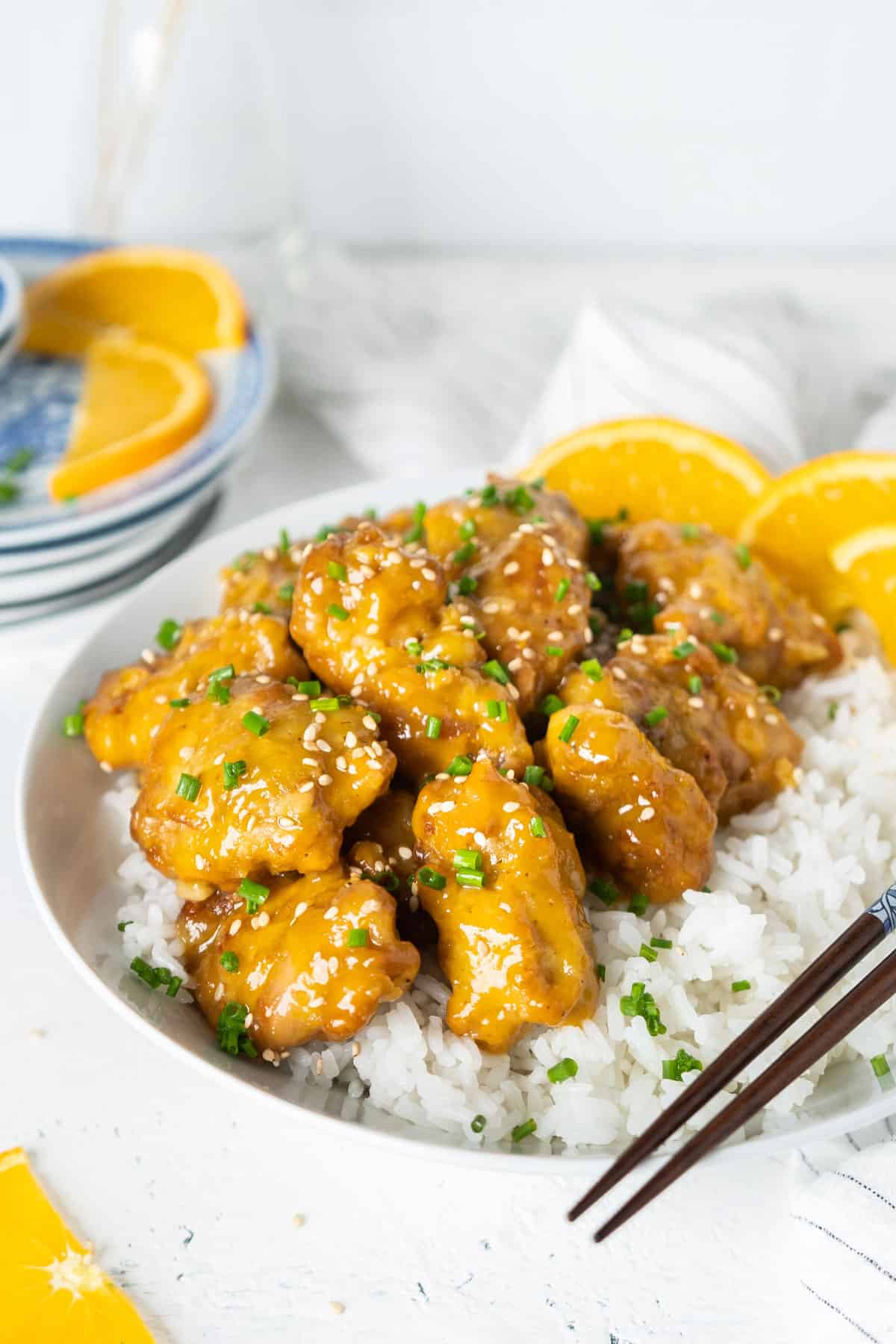 Delicious crispy chicken coated with thick zingy orange sauce. Oh la la! I've made this post more detailed than just writing up the recipe because I want you to come here and enjoy the cooking experience also. After all, great meals start with the chef, eh?
Let's get started!
Ingredients & Substitutions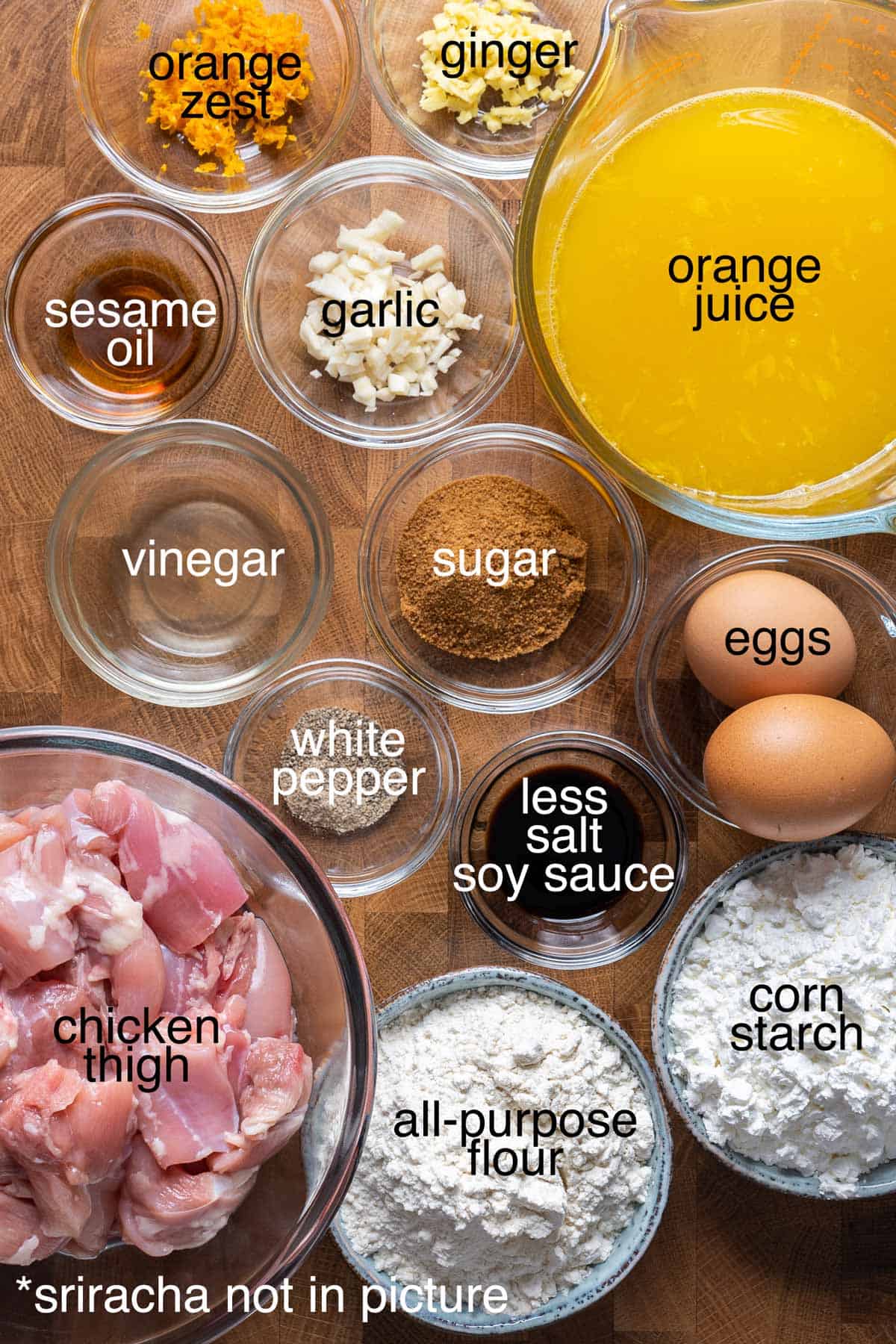 Chicken thigh - I strongly recommend you use chicken thigh instead of chicken breast for this air-fryer recipe. You want juicy crispy chicken. Using chicken breast in small pieces will result in either dry or not crispy chicken bites.
Soy sauce - Always less salt soy sauce! Trust me. You get more flavour without having to worry about over-salting your dish.
Orange - I recommend you freshly squeeze the juice. It tastes better, in my opinion. For this recipe, you'll need around 5 oranges (adult's fist size). Zest one of them.
Sriracha - For the heat, which I love! Omit it if you're not a fan, no problem at all.
SUBSTITUTIONS: 1 teaspoon chili flakes, ½-1 tablespoon of gochujang, or 1 tablespoon of sambal oelek (still delicious but this one does change the whole flavour quite a bit). Adjust the amount to your liking.
Utensils To Use
Air-fryer - Obviously, right? Mine comes with 2 baskets, so I use both at the same time by just matching the cooking setting for both. Lining the basket(s) with some parchment papers really helps avoiding the chicken from sticking. Also, no need to preheat the air-fryer (I used to do it back then but not anymore!).
Carbon steel wok and stainless steel ladle - If you're into Asian cooking, then these two will elevate your cooking experiences. The nature of Asian cooking, like this recipe (or stir-fry) favours a deep, open, wide surface area to cook. Cooking movements feel free and natural. If you're interested in invested in a carbon steel wok, I have a video showing how to cure it.
Casserole - And I understand, not everybody has (or wants) those. Then I recommend you to use a casserole pan like this. Its wide surface and high sides kind of give you that easiness to cook this type of recipe.
Easier & Faster Coating Using A Ziploc Bag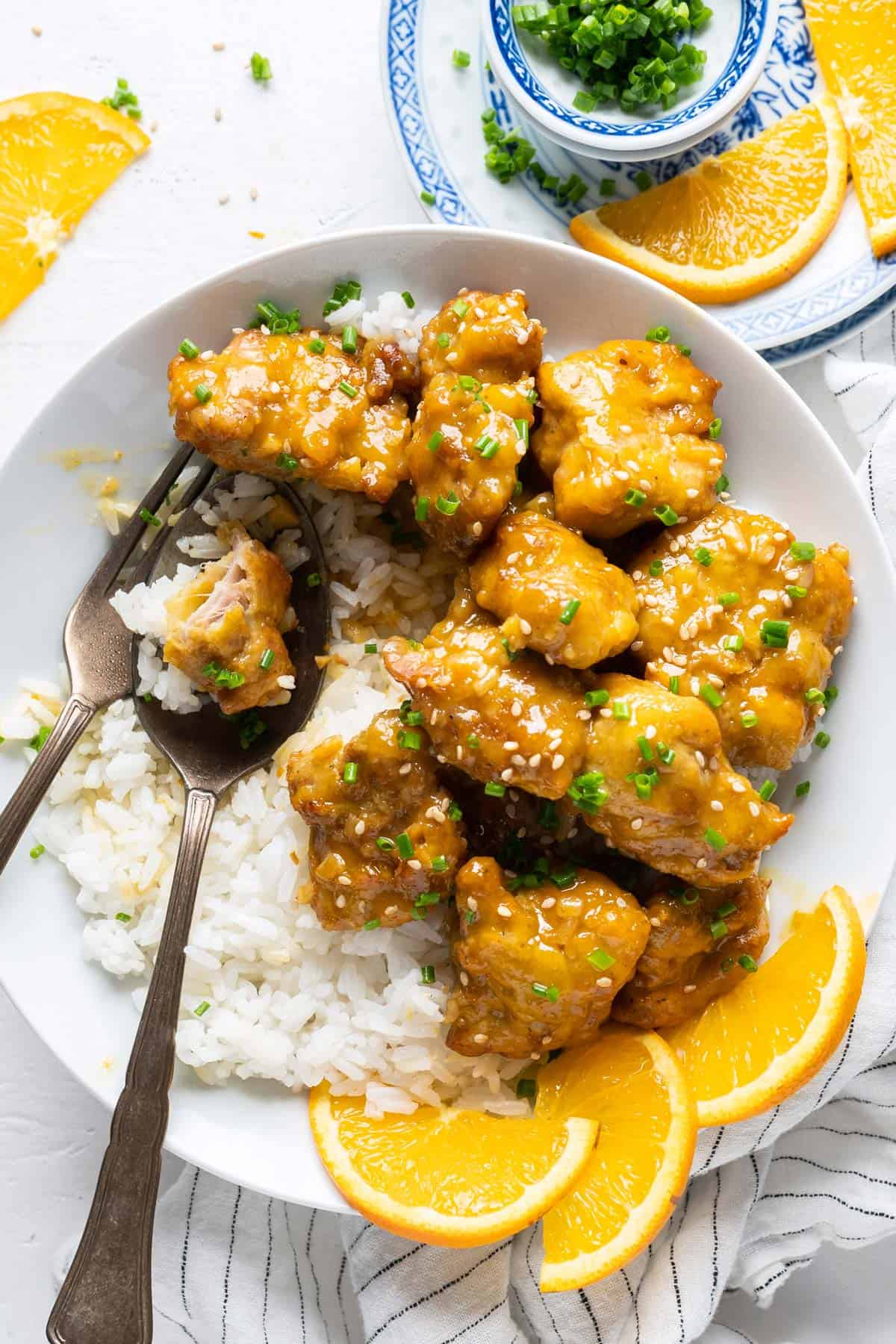 You need to try this method, it's life-changing, I promise. Well, at least for me! Haha!
I find it too slow and too much work to coat small pieces of chicken in flour, eggs, and back in the flour. Urgh!
By putting the coating flours mixture in a ziploc bag, then add in the chicken pieces and you simply shake, shake, shake to coat... I find that is so amazing! And super fast!
No need for an extra bowl also. Try and let me know.
How To Make Air-Fryer Orange Chicken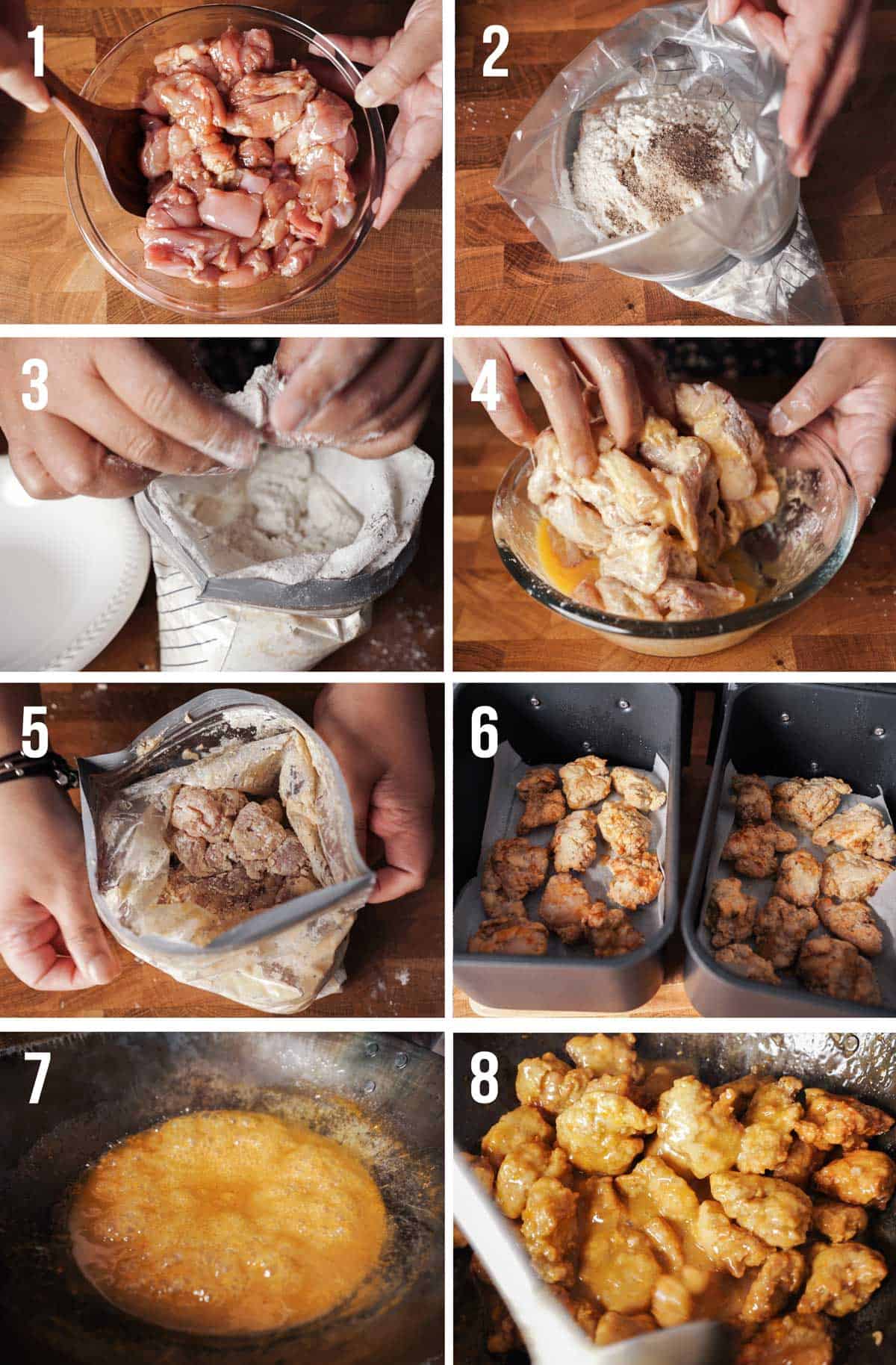 Marinade: Cut chicken thighs into bite-size pieces and mix well with soy sauce, salt and sesame oil for 20 minutes.
Coating mixture: Add all-purpose flour, corn starch, salt, and white pepper in a big ziploc bag (4.5-6 liter size works great). Shake well to mix.
First coat: Put the chicken inside the ziploc bag, seal, and shake well to coat each chicken piece. Remove chicken from the bag into a plate, shaking off excess flour mixture.
Egg: Whisk eggs with some salt in a bowl. Add in chicken and mix well.
Second coat: Place chicken back in the ziploc bag (shake off excess egg mixture), shake the ziploc bag to mix well.
Air-fry: Lay chicken in air-fryer basket, in a single layer and spray generously with some oil. Cook at 400ºF (200ºC) for 8 minutes. Flip them, spray with more oil and continue cooking for another 8 minutes.
Sauce: Saute ginger and ginger. Add in orange juice and zest, sugar, soy sauce, vinegar, sriracha, and bring to a boil. Cook until sugar is dissolved. Add in slurry, cook until sauce thickens.
Add chicken: Add in crispy chicken, mix and coat everything well. Serve immediately.
Tips To Get Crispy Air-Fryer Chicken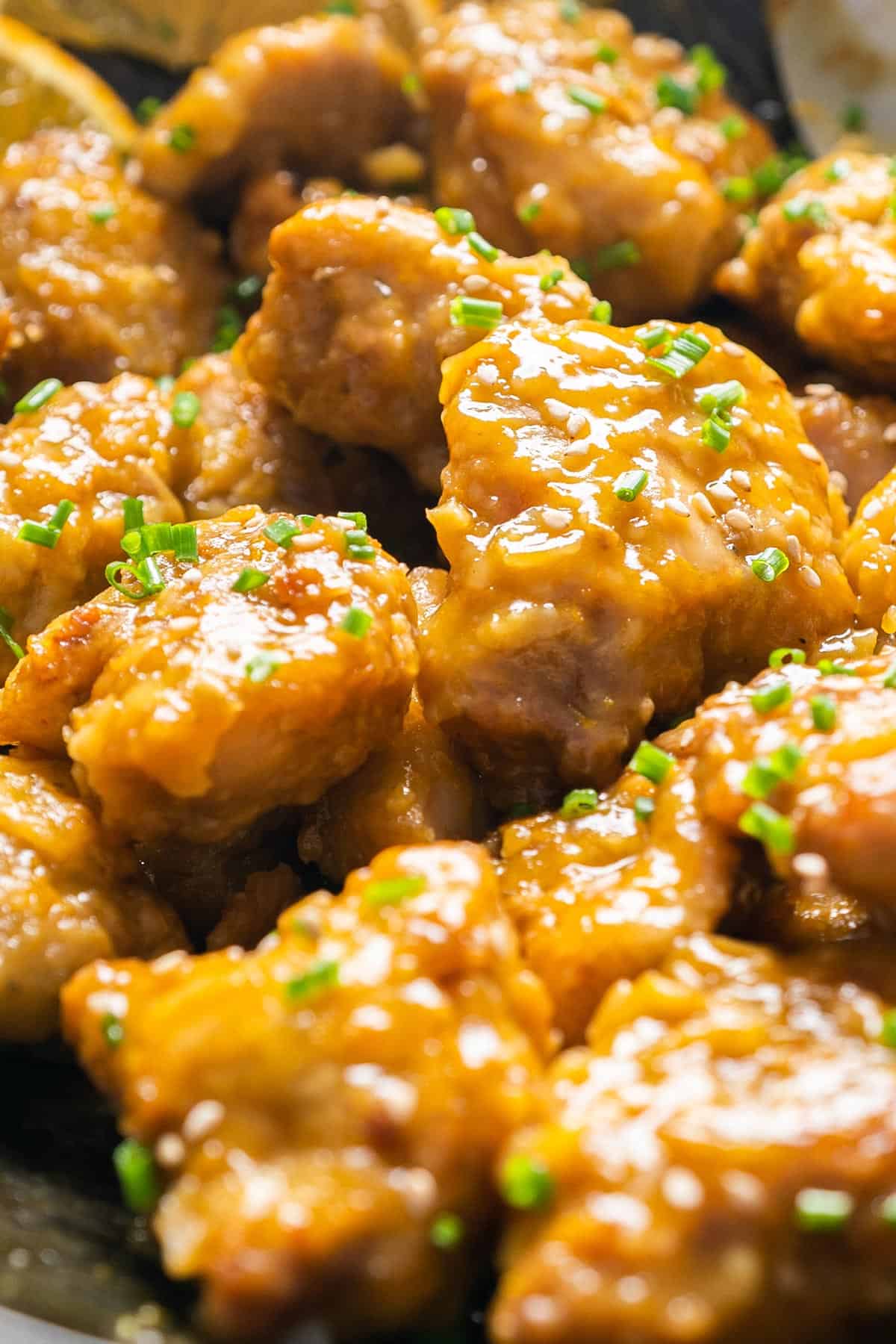 Use chicken thighs, they can stand longer cooking time in air-fryer (to get crispy) without getting dry. Although they don't get golden brown colour like deep-fried chicken, but they're still crispy. They're even healthier and easier to cook.
Use a big ziploc bag to mix and coat the chicken easier and evenly. 4.5-6 liter size works great.
Don't crowd the air-fryer basket. Place the chicken in single layer.
Make sure you spray to cover the coating mixture with oil.
Place cooked chicken on a rack while you continue cooking. This prevent them from getting soggy.
How To Serve & Store
Serve - This delicious orange chicken goes great with some rice or quinoa, something satisfying to carry all the lovely flavours. Since it's already is flavourful, it matches good with mild or neutral-tasting grains (white rice, plain quinoa).
Store - Due to its coating, orange chicken is one of the dishes that you'd simply have to serve immediately to experience its deliciousness.
FAQs
Can I Use Bottled Or Store-Bought Orange Juice?
Yes, you can. Try to find one with no sugar added, else it'll be too sweet.
I Don't Have Less Salt Soy Sauce, What Do I Use?
If you have the common all-purpose soy sauce, then use it. Since it's saltier, just use half of the amount said in the recipe, and go from there.
Can I Use Chicken Breast?
I don't recommend it for this recipe but if you don't mind it getting the chicken a bit dry in the air-fryer, then yes, use it.
Is Orange Zest That Important?
Yes, if you really want that significant orange flavour in this meal.
Watch How To Make It
📖 Recipe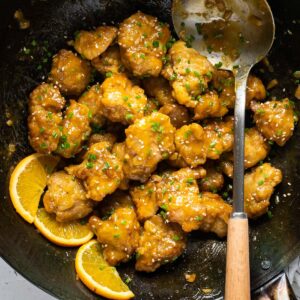 Air-Fryer Orange Chicken
Healthier air-fryer orange chicken. Crispy chicken coated with luscious thick zingy orangy sauce. Yum! No frying mess or smell in the kitchen, and it's even faster. With my ziploc-shake-coat method, it's even easier to coat the chicken pieces.
Print
Pin
Rate
Ingredients
Chicken
1 ½

lb

boneless, skinless chicken thighs

(

675

g), cut into bite-size pieces
Coat Mixture
1

cup

all-purpose flour

(

130

g)

1

cup

corn starch

(

130

g)

½

teaspoon

salt

1

teaspoon

white pepper powder

2

large eggs
Sauce
1

thumb-size

ginger

, minced

4

garlic cloves

, minced

1 ½

cup

orange juice

(

375

ml)
zest of

1

orange

2

tablespoon

sugar

1

tablespoon

less salt soy sauce

1

tablespoon

vinegar

1

tablespoon

sriracha
Slurry
1

tablespoon

corn starch

1

tablespoon

water
Instructions
Marinade
Mix chicken and all of the marinade ingredients in a bowl for minimum of 20 minutes.
Coat Chicken
In a big ziploc bag (4.5-6 liter works great), add all of the coat mixture ingredients, except for eggs, and shake well to mix. Whisk the eggs with some salt in a bowl, set aside.

Put the chicken into the ziploc bag, seal it, and shake well so that each piece is fully coated with the flours mixture. Now put the chicken in the egg mixture, mix everything well with a wooden spoon.

Place the chicken back into the ziploc bag, letting the excess egg mixture off, as you do so. Try not to put them so much on top of each other. Seal the bag, and shake well so the chicken is coated again with the flours mixture.
Air-fry Chicken
Line the air-fryer basket with parchment paper. Lay chicken pieces in a single layer and spray some oil to cover all of the chicken coatings. Air-fry for 8 minutes at 400ºF (200ºC). Flip the chicken, spray again with some oil and continue cooking for another 8 minutes.

You might do this in batches. Place the chicken on a rack meanwhile.
Sauce
Heat a wok with some oil. Add in ginger and garlic, and fry until they're golden brown. Add in the rest of the sauce ingredients. Bring to a boil and cook until the sugar is dissolved.

Make the slurry by mixing the ingredients in a bowl. Add into the wok while stirring, and the sauce will thicken. Continue cooking for a minute.

Finally, add in the chicken and coat each piece well with the sauce. Serve with some rice, sprinkles of sesame seeds, and chopped spring onion. Enjoy!
Notes
Use a big ziploc bag (4.5-6 liter size works great) so that it's easier to shake and coat the chicken pieces well.
Place cooked air-fried chicken on a rack while you continue with the rest of the recipe, to maintain their crispiness.
Nutrition Facts
Calories:
590.4
kcal
,
Carbohydrates:
76.5
g
,
Protein:
41.1
g
,
Fat:
11.7
g
,
Saturated Fat:
2.8
g
,
Cholesterol:
243.4
mg
,
Sodium:
1303.5
mg
,
Potassium:
741.4
mg
,
Fiber:
1.7
g
,
Sugar:
14.6
g
,
Calcium:
55.6
mg
,
Iron:
4
mg