If you love flatbreads then you simply must try these cheese roti canai! Roti canai is a famous Malaysian flatbread, with influenced by India's roti paratha.
I've improved my classic roti canai recipe so that the ingredients are simpler. By using my new method in handling the dough, you'll get less greasy roti canai.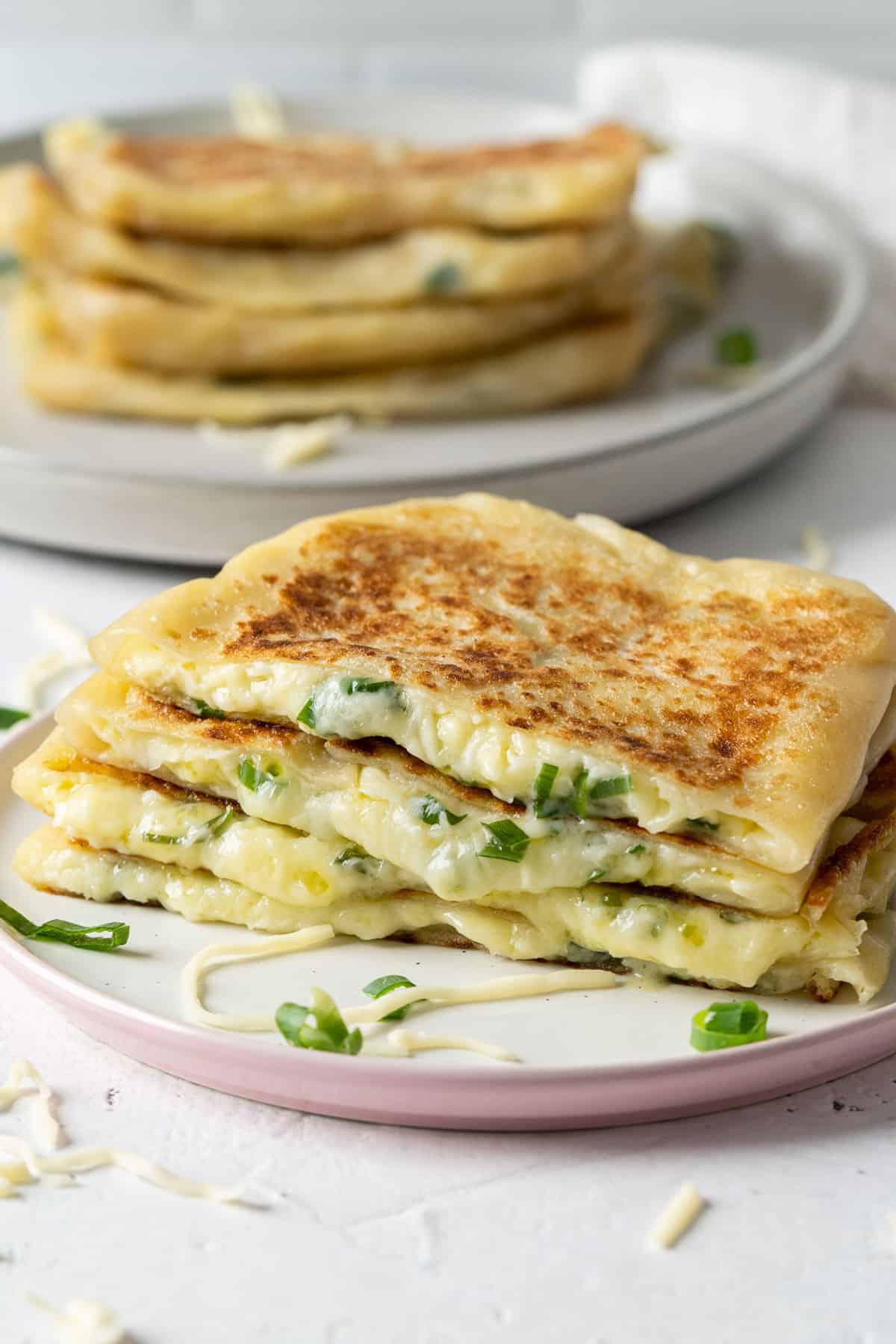 Jump to:
Recipe Highlights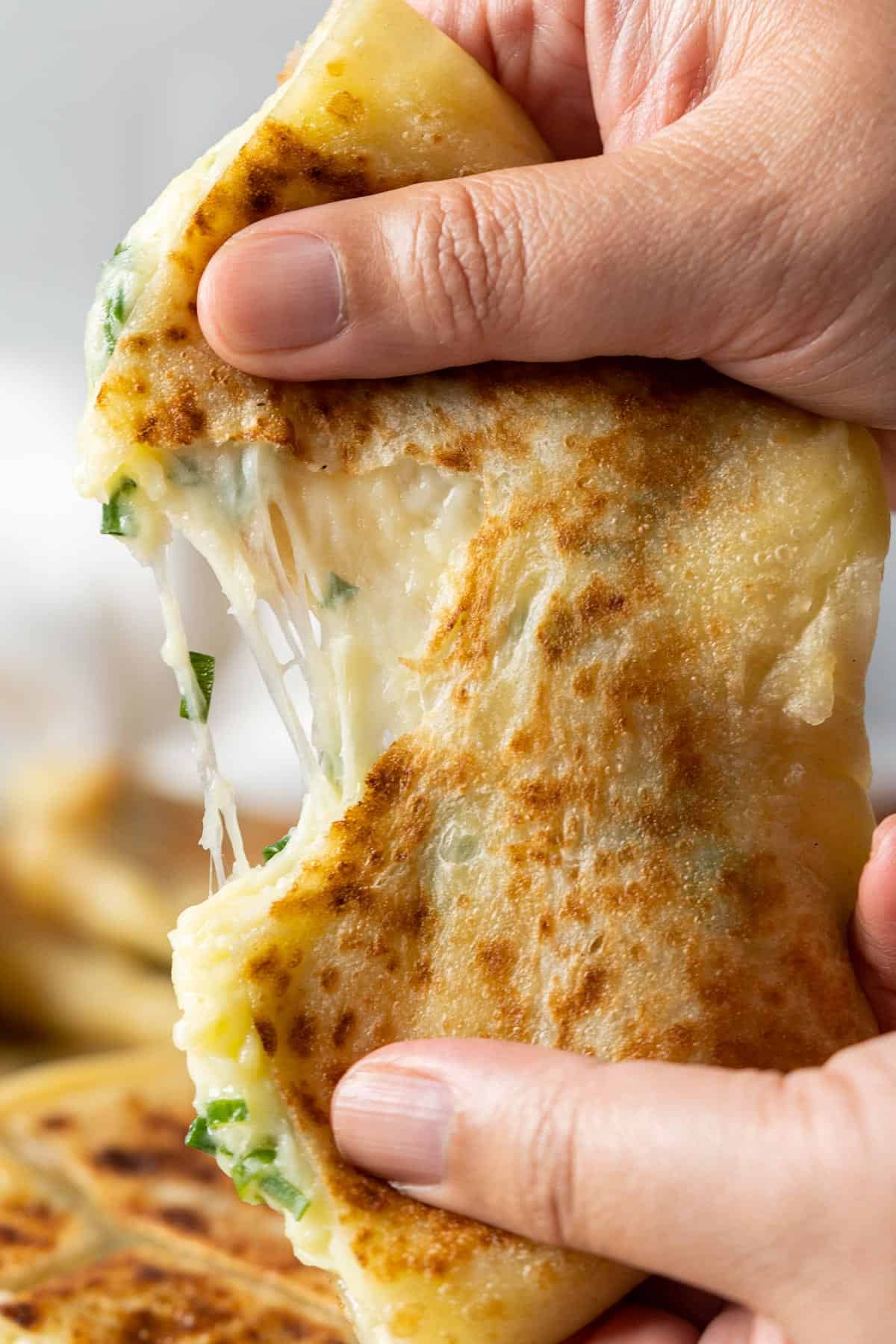 Texture and flavor - Crispy skin flatbread with a soft texture on the inside, stuffed with loads of cheese and spring onion. You don't need yeast for this. If you love this, then you'll also love my Brazilian cheese bread, it's delicious!
Size - 10 pieces. Each is slightly bigger than the size of the palm of a hand.
Level - Easy to intermediate. Everything is easy but you do need some patience when stretching the dough. With a few practices and by watching the video below, you'll be a pro in no time.
Lets Talk Ingredients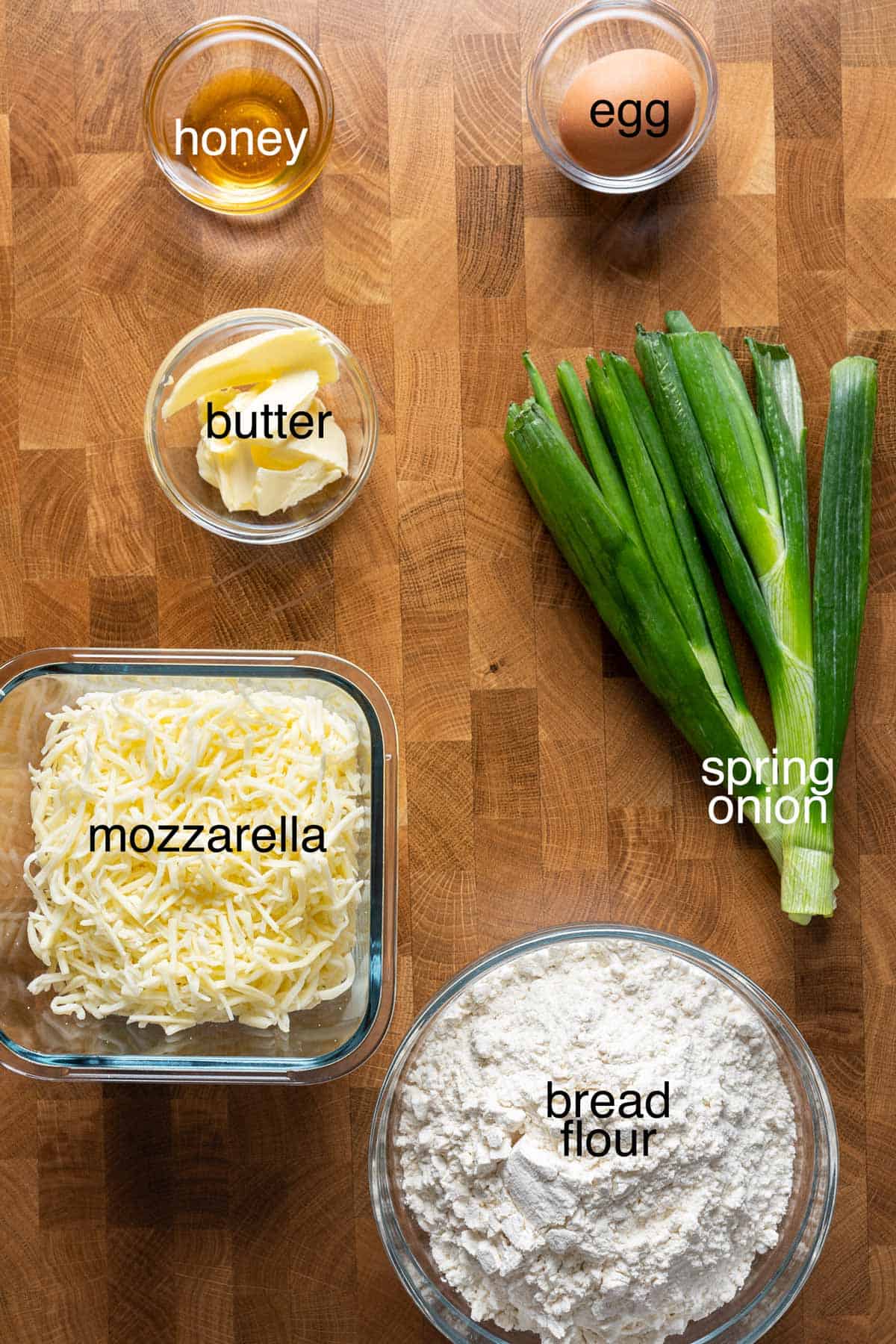 Bread flour - Or also known as high protein flour. It's a must in this recipe because we want to develop strong gluten in our dough. The high-gluten dough will make it easier in the shaping process later because the dough will be very pliable and won't tear.
Honey - Adds a very subtle touch of sweetness. It also helps the dough to be pliable and flexible.
Cheese - I use shredded mozzarella because both Marco and I love it. We love its mild flavour in the roti canai. But you can use whatever cheese that you like. Just make sure it's the type that melts easily.
Spring onion - A touch of freshness that brings everything together. Switch it with cilantro, parsley, oregano or any herbs that you like.
Dough's Texture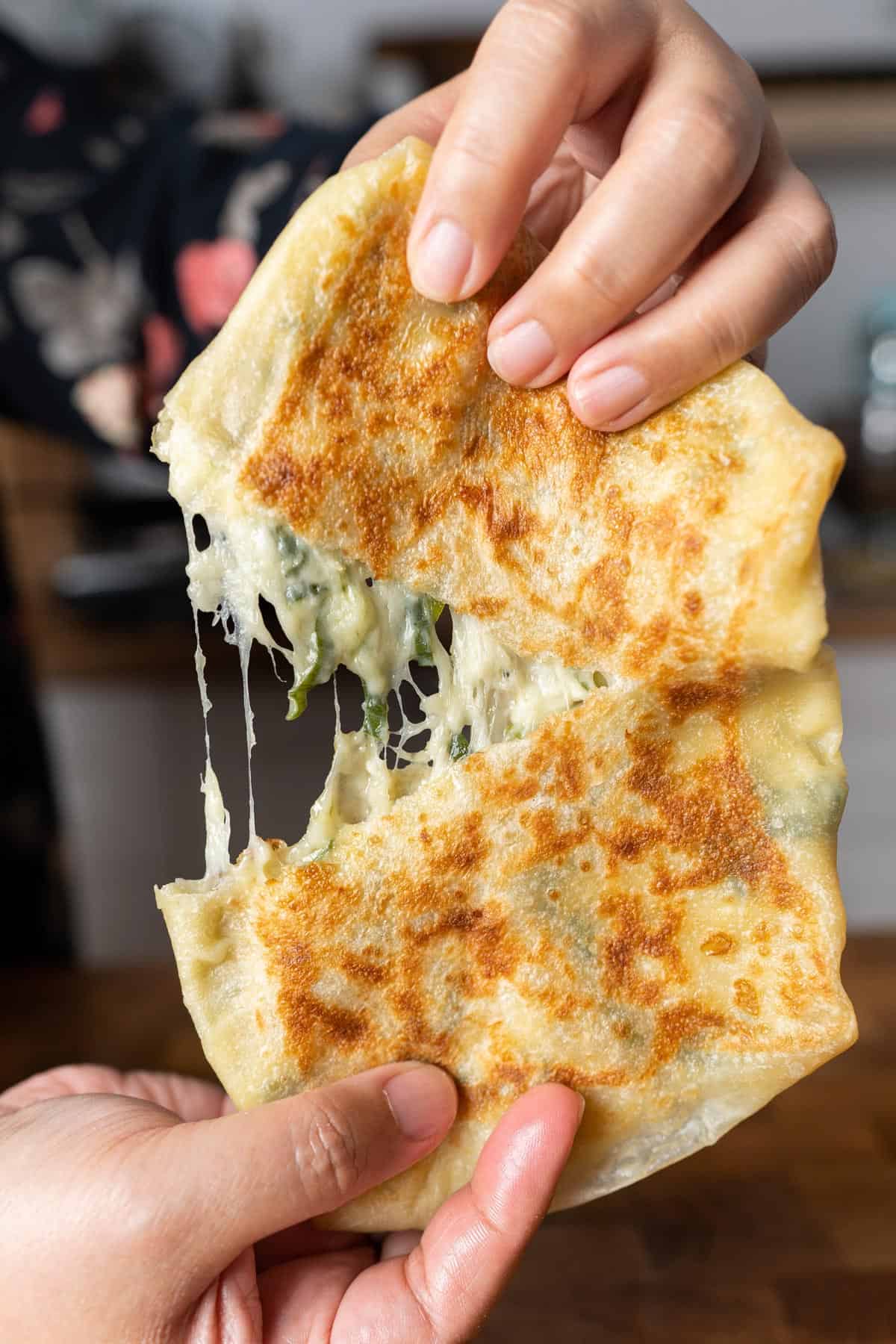 This dough is soft and slightly sticky. Not too sticky that you can't form a ball out of it. I find it extremely easy to use my Kitchenaid standing mixer to knead the dough. I just dump everything in and come back later.
Ok, so you'll knead the dough until it reaches the windowpane stage.
Windowpane - This is when the dough is kneaded very well that it has strong gluten. To test if you've reached this stage is by grabbing a piece of dough and stretching it between 2 hands. The dough will be transparent or see-through, and it will not break.
Tips On Handling The Dough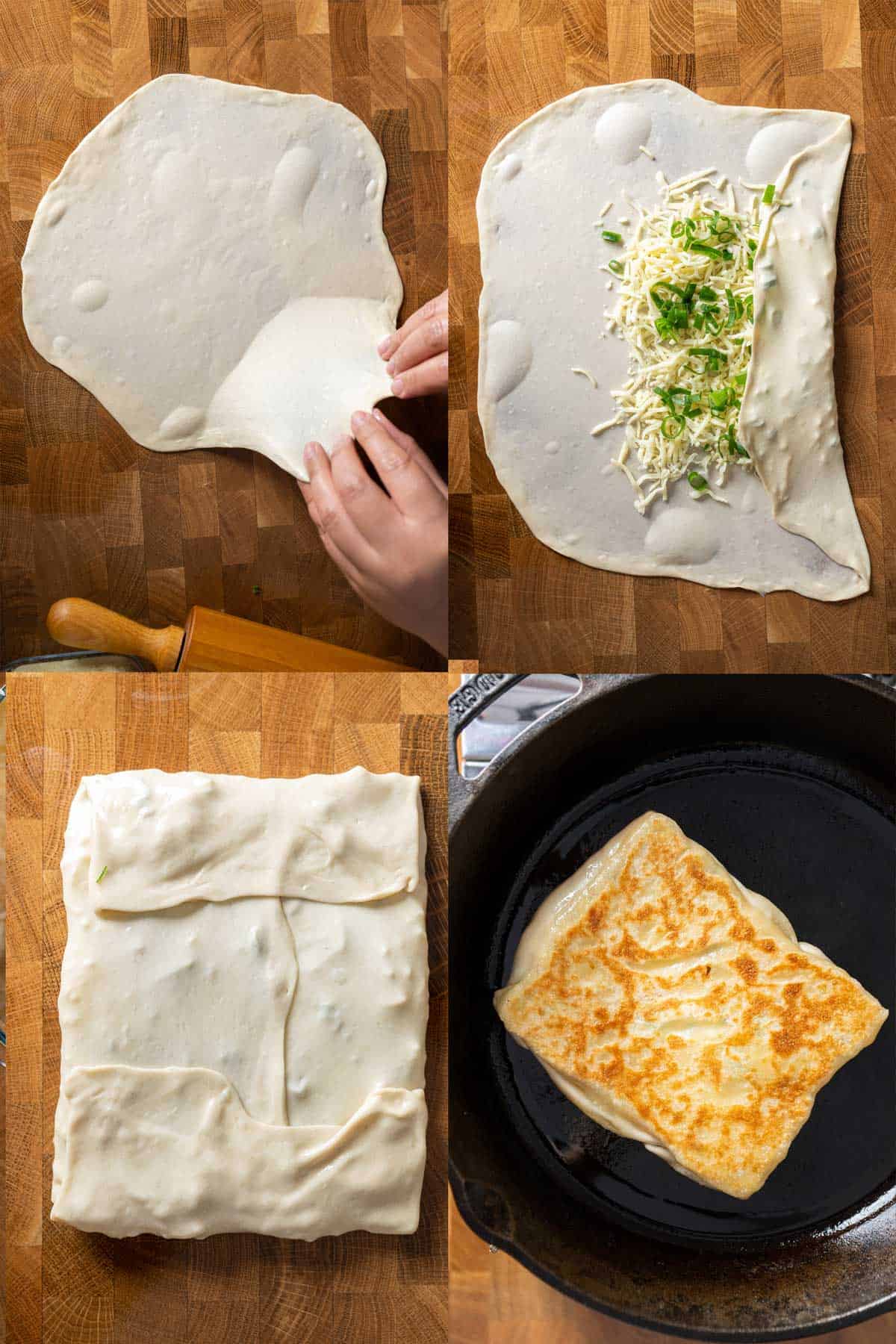 Oil - Lightly oil your hands, your working surface, your rolling pin and the container where you're going to keep the dough.
Room temperature - It stretches better at room temperature. So if your place is hot and you keep the dough in the fridge, make sure to bring it at room temperature before stretching it.
Rest - Give the kneaded dough enough time to rest, minimum 4 hours. I've kept the dough un until 2 days in the fridge.
Can I Freeze Them?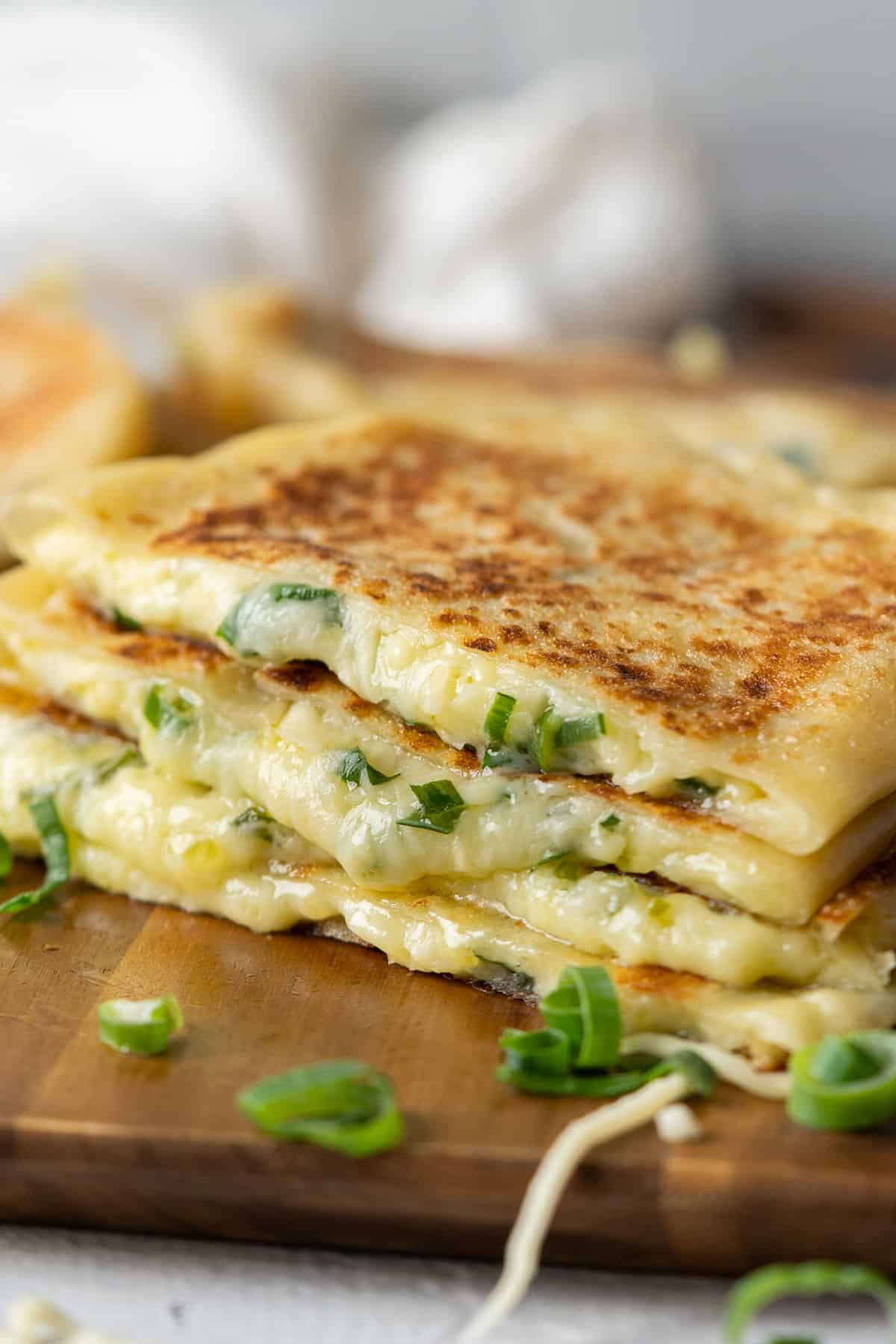 Yes, you can! I've frozen them in different stages and they turned out great.
Raw dough balls - I put them in greased air-tight containers and freeze them all. Another way is to freeze the balls on parchment paper, on a tray, for 2 hours. Once frozen, put them in a ziploc bag. Take the amount that you need, thaw at room temperature before using. Last up to 6 months in freezer.
Raw stuffed and shaped roti canai - Line them between parchment paper and freeze in a ziploc bag. Take the amount that you need and cook without thawing. Last up to 6 months in freezer.
Cooked roti canai - Wrap them individually with cling film and freeze in a ziploc bag. Thaw at room temperature and re-heat in a pan.
What To Eat Them With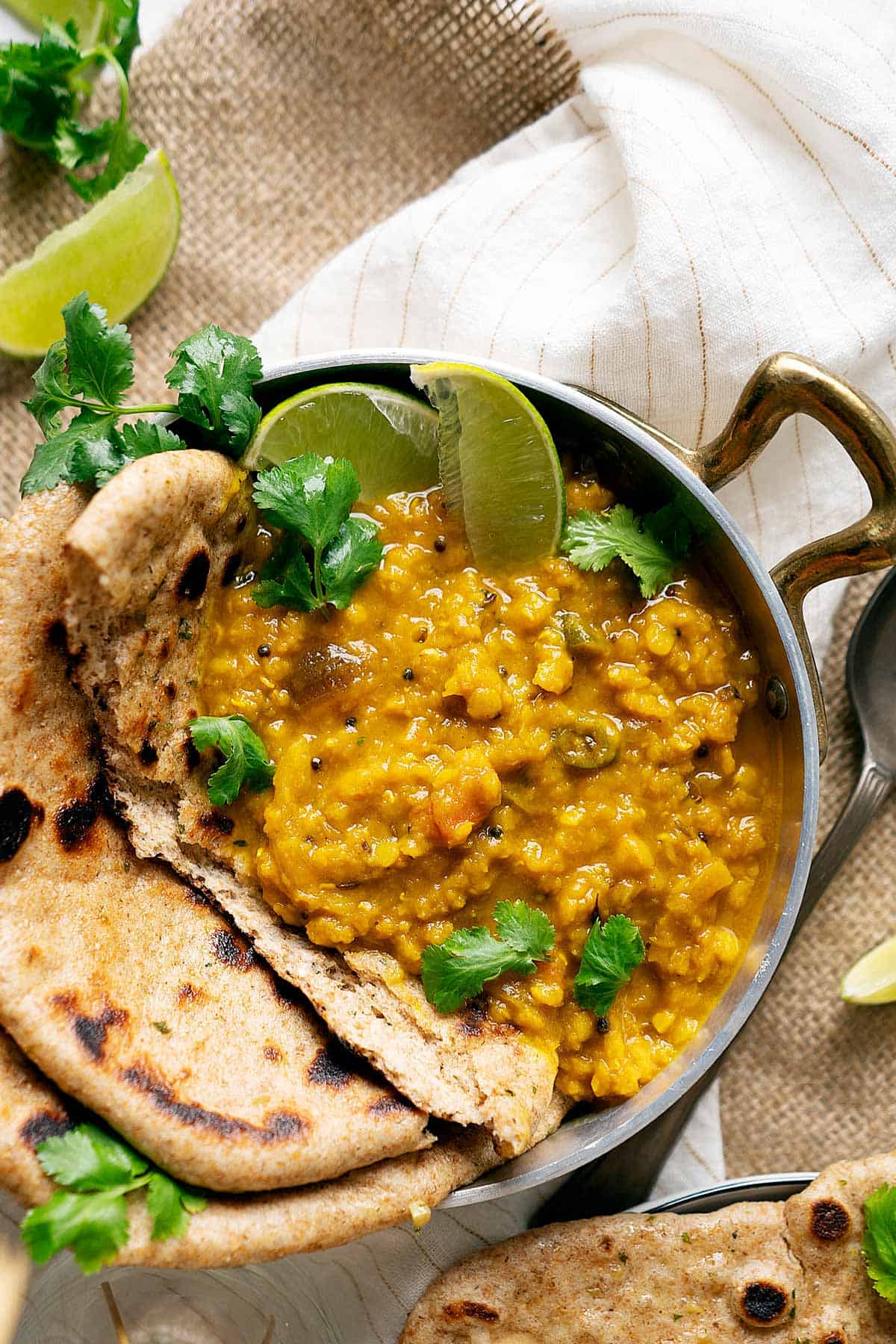 Marco likes to eat them just like that.
I like to dip them in my lentil turmeric curry (pictured above with 100% whole-wheat garlic naan) or lentil coconut vegan curry. Ahhh, so delicious!
Watch How To Make Them
📖 Recipe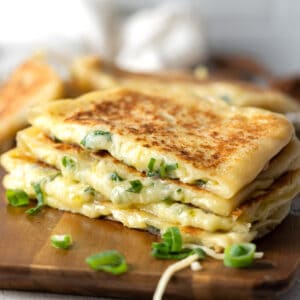 Cheese Roti Canai
Crispy skin Malaysian roti canai flatbread with soft texture on the inside. No yeast needed. Stuffed with loads of cheese and sprinkles of spring onion. Perfect to enjoy as is, or dipped in lentil curry!
Print
Pin
Rate
Ingredients
The Dough
4

cup

bread flour

(

520

g)

1 ¼

cup

water

(

310

ml), room temperature

3

tablespoon

butter

(

45

g), melted

1

large egg

, room temperature

1

tablespoon

honey

1

teaspoon

salt
The Filling
2

lb

shredded mozzarella

(

900

g)

2

cup

chopped spring onion

(

200

g)
Instructions
The Dough
Add all ingredients in a bowl of a standing mixer. Knead for 10 minutes and then rest for 5 minutes. Cover the bowl with a kitchen cloth. Continue to knead for another 10 minutes.

Lightly grease your hands and a container with some oil. Divide the dough into

10

pieces (3.2 oz or 90 grams each). Make into balls and place in the container. Cover tightly with a cling film and leave to rest for minimum 4 hours at room temperature. Place in the fridge if you want to keep them longer than that.
Shaping
Heat a pan with just a bit of oil, on medium heat.

Lightly grease your working surface and rolling pin with some oil. Place a ball on working surface and press into a small square with your fingers. Using a rolling pin, roll it into a bigger square that's almost twice the size of your palm.

Now with your fingers, lift one side of dough and gently pull it. Repeat to rest of the sides, and you'll end up with more or less 12 inch (30 cm) square. Sprinkle a handful of cheese on the center, followed by some spring onion.

Fold the sides like an envelope. Cook for 3-4 minutes on each side or until golden brown. Keep warm in a kitchen cloth while you continue with the rest.
Notes
Keep the raw dough balls in the fridge if your kitchen is too hot.
Raw dough balls last up to 4 days in the fridge.
Bring raw dough balls to room temperature before shaping.
Raw dough and cooked roti canai last up to 6 months in the freezer.
Nutrition Facts
Calories:
513.8
kcal
,
Carbohydrates:
43.7
g
,
Protein:
27.5
g
,
Fat:
25.1
g
,
Saturated Fat:
14.4
g
,
Cholesterol:
99.4
mg
,
Sodium:
845.3
mg
,
Potassium:
189.2
mg
,
Fiber:
1.8
g
,
Sugar:
3.4
g
,
Calcium:
486.3
mg
,
Iron:
1.3
mg