Eager for some crispy crunchy beef spring rolls?
Then you've come to the right place (or post?).
Today I'm sharing these homemade crispy beef spring rolls that's easy to prepare. You won't accept those greasy soggy ones ever again.
Disclosure: some of the links below are affiliate links, meaning at no extra cost to you, I will get a small commission if you click through and make a purchase. Everything I mention in this post is what I personally use and recommend.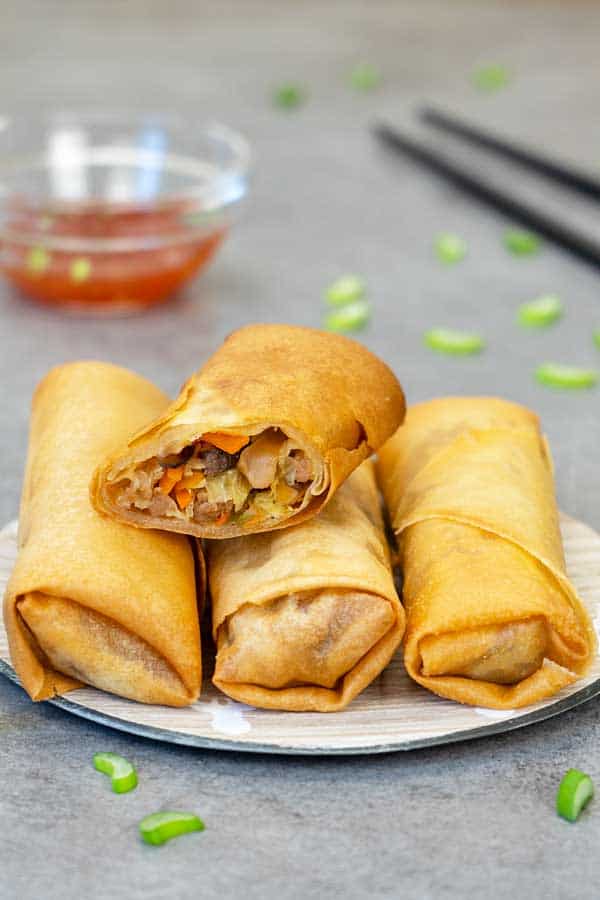 Spring Roll Sheets
You can find these spring roll sheets easily in any Asian supermarket. Just look for them in the frozen section.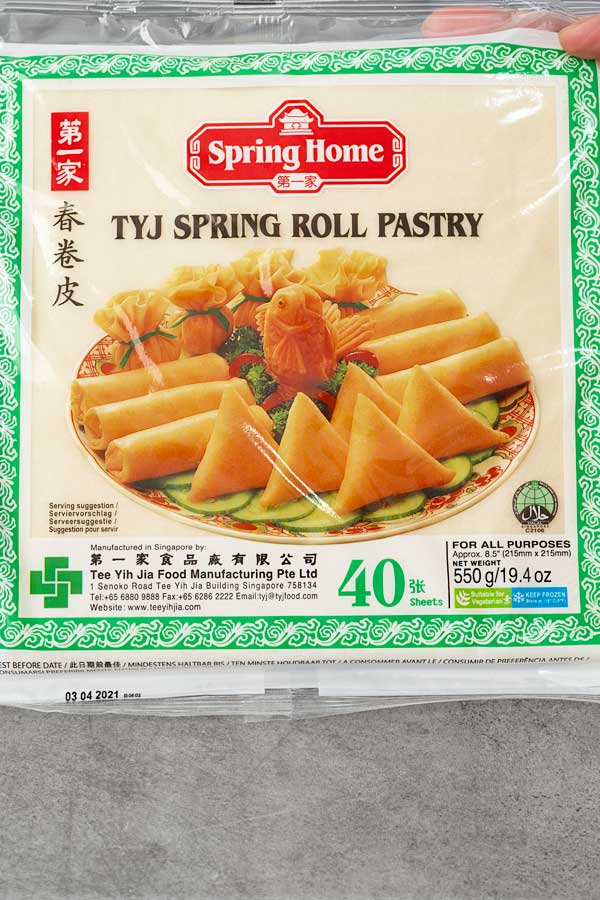 Thaw the packet in the fridge the night before. Use as needed and then keep the packet in a ziplock bag and put it back in the freezer.
So you don't need to worry about the balance of the sheets, they can be re-frozen with no problem.
Handling Spring Roll Sheets
Cover them at all time with a damp kitchen towel because they tend to dry fast and easy. Just like phyllo sheets.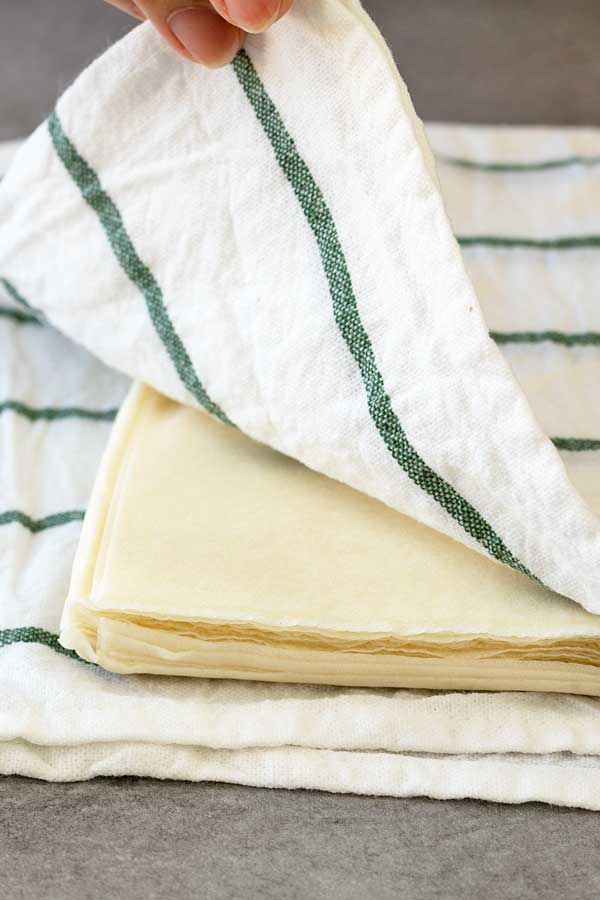 Even cover the rolled ones since you will take some time to roll them before frying.
How To Get Crispy (Not Soggy) Spring Rolls
Soggy spring rolls come from soggy and wet filling.
If you watch the video below you will see that the bottom of the pan where I cook my filling is always dry.
No liquid, no excess oil whatsoever. So when you think about your filling, think of ingredients that don't release too much liquid when being cooked.
But if your filling is in fact soggy and wet, it's not the end of the world.
Simply drain it by putting it inside a strainer while it's cooling off.
How To Correctly Roll A Spring Roll
You can see in the photo or in the video below on how to roll it.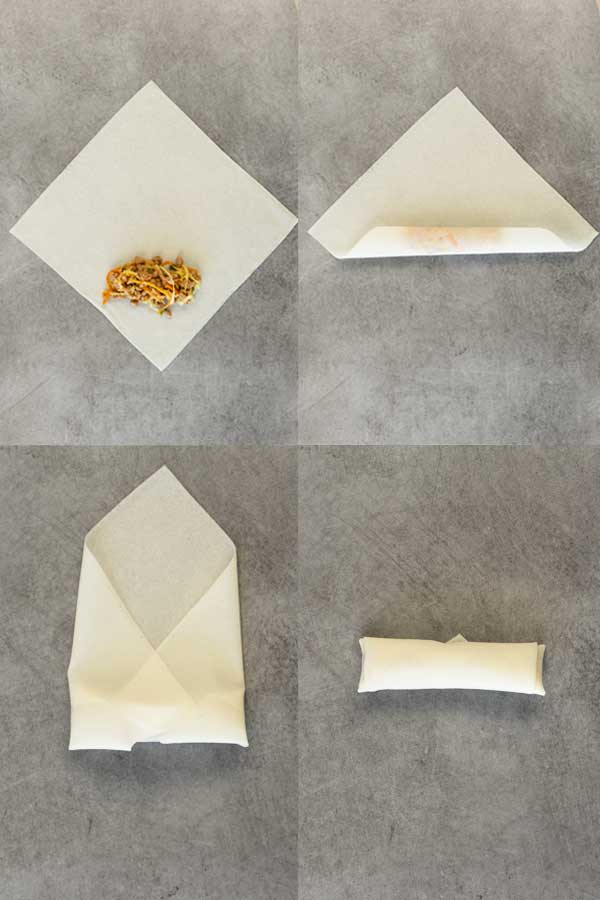 Rolling it correctly will prevent oil from seeping inside the roll and make it greasy.
Please refer to the picture above. Make sure you have the sheet folded at a 90º angle to the spring roll's length. This will secure the filling inside, leaving no holes for the oil to get in.
Also use the slurry glue to seal the seam. Before frying, check the seams again since sometimes they tend to detach. If you see that, simply put some slurry glue and seal again.
I hope you give these delicious beef spring rolls a try. Use your favourite veggies or protein source and make it yours. Or simply use all veggies.
In Summary
These beef spring rolls:
are better, more delicious than store bought ones
can be personalised to your liking by using your favourite veggies or protein source
are super crispy
use easy to find ingredients, including the sheets
are DELICIOUS!
Before You Go
Here are some recipes that maybe you would be interested in:
Video
📖 Recipe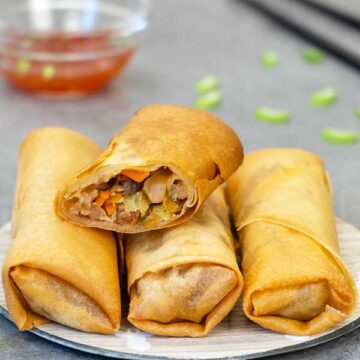 Crispy Beef Spring Rolls
Super crispy beef spring rolls that are homemade using great quality ingredients and are definitely better than store-bought ones. Simple to make and delicious!
Print
Pin
Rate
Ingredients
The Filling
1

teaspoon

corn starch

½

teaspoon

sugar

2

teaspoon

soy sauce

¼

teaspoon

white pepper powder

½

lb

minced beef

(

225

gr)

0.5

oz

dry shiitake

(

15

gr), soak in hot water until soften & then thinly sliced into strips

3.5

oz

cabbage

(

100

g), thinly sliced

1

medium sized

carrot

, thinly julienned

1

oz

spring onion

(30 g), chopped

2

garlic cloves

, grated

½

thumb sized

ginger

, grated

2

tablespoon

oyster sauce
Slurry Glue
1

tablespoon

corn starch

1

tablespoon

water
Others
14

pieces

spring roll sheets of 8.5 inch (21.5 cm)

, thawed

some sweet chili sauce

, for dipping
Instructions
The Filling
Into a bowl, add in corn starch, sugar, soy sauce and white pepper powder. Mix well and then add in minced beef. Mix until well combined, cover the bowl with a cling film and chill in the fridge for 30 minutes.

Heat some oil in a pan on medium high heat. Add in chilled beef and cook until it's fully cooked, breaking it into small pieces as you go. Transfer into a bowl and set aside.

Wipe off the pan clean and heat some oil. Add in grated garlic, ginger and cook until they turn golden brown. Then add in all the veggies, mix well and continue cooking until they're soft but not soggy. The bottom of the pan needs to always be dry.

Add in reserved meat together with oyster sauce and mix everything well for a few seconds. Cool completely before using.
Assembling
Prepare the slurry glue by mixing both ingredients together. Set aside.

Take a piece of spring roll sheet and place it in front of you with 1 corner pointing at you. Take 1 tablespoon of filling and place it at the bottom corner. Roll tightly until the middle of the sheet. Fold left and right side into the middle at a 90º angle.

Continue folding until almost the end. Paint some slurry glue on the sheet and continue rolling until the end. Place in a tray. Continue with the rest.
Frying
Heat abundance of oil in a pan on medium heat. Oil is ready when you place a chopstick standing in the oil and there are bubbles forming around it.

Place a few spring rolls at a time into the oil. Fry until golden brown, turning them frequently for even color. Place them on a plate with kitchen paper to absorb the excess oil. Continue with the rest.
Notes
How to handle spring roll sheets: Always cover them with a damp cloth to avoid them getting dry. Cover uncooked rolled spring rolls with a damp cloth also meanwhile you assemble everything and heat the oil. Pro Tip to get smooth skin spring rolls: Fry using medium heat. High heat will create bubbles on the skin, making it not smooth.
Nutrition Facts
Calories:
109.6
kcal
,
Carbohydrates:
14.1
g
,
Protein:
5.1
g
,
Fat:
3.6
g
,
Saturated Fat:
1.3
g
,
Cholesterol:
13.2
mg
,
Sodium:
244.3
mg
,
Potassium:
111.6
mg
,
Fiber:
0.9
g
,
Sugar:
0.7
g
,
Calcium:
19.6
mg
,
Iron:
1.1
mg