We're super crazy over potstickers. The perfect crispy bottoms with soft casings, and juicy filling.. ohh that's basically heaven in every single bite!
And when you drench them with lots of chili garlic oil, that my friend, is taking the potstickers game to another indescribable deliciousness level.
Can you tell I'm super excited? This is my go-to recipe whenever we want to enjoy some really amazing potstickers. I love it because it only uses the basic ingredients in our kitchen, like in my mini chicken pot pies.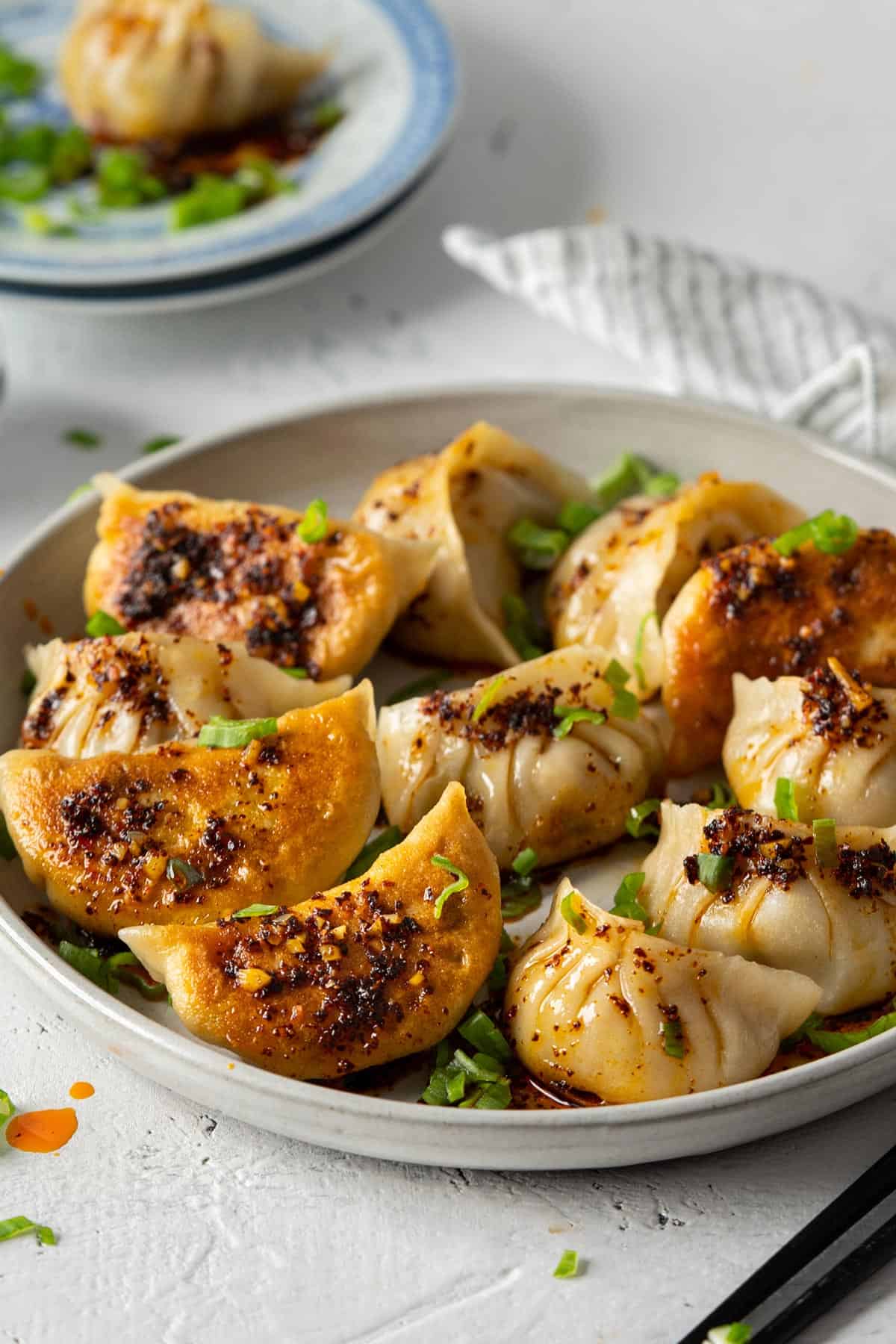 With my super easy homemade potsticker wrappers, you can't lose!
Jump to:
Recipe Highlights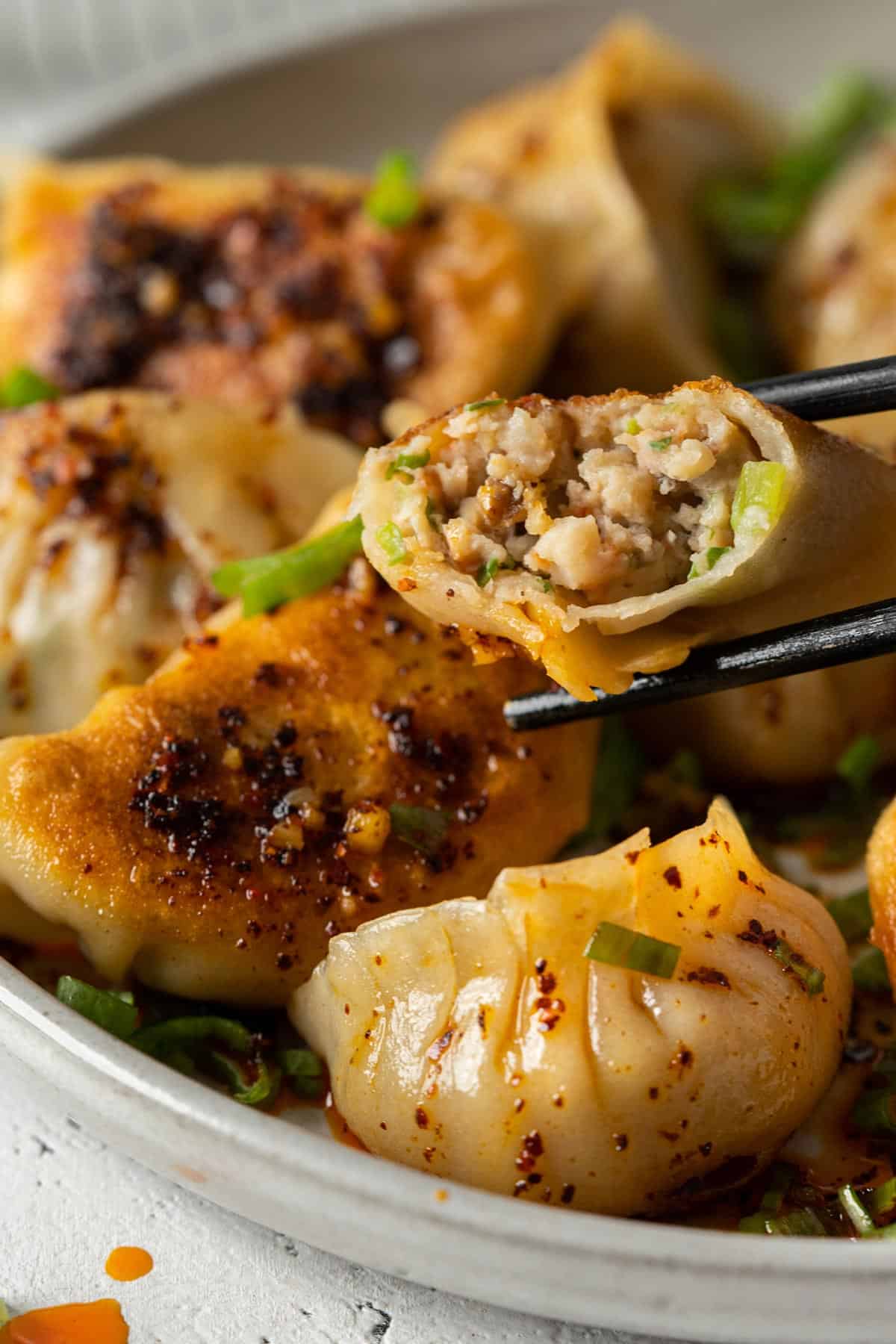 Texture and flavour - Soft casings with crispy bottoms potstickers, filled with delicious juicy filling.
Size - 32 potstickers.
Level - Easy, no fancy devices needed.
Occasion - Whenever you want to enjoy real and delicious potstickers. Making them yourself is another level of deliciousness as you know you're using better ingredients. They taste way better than take-outs, I promise!
Lets Talk Ingredients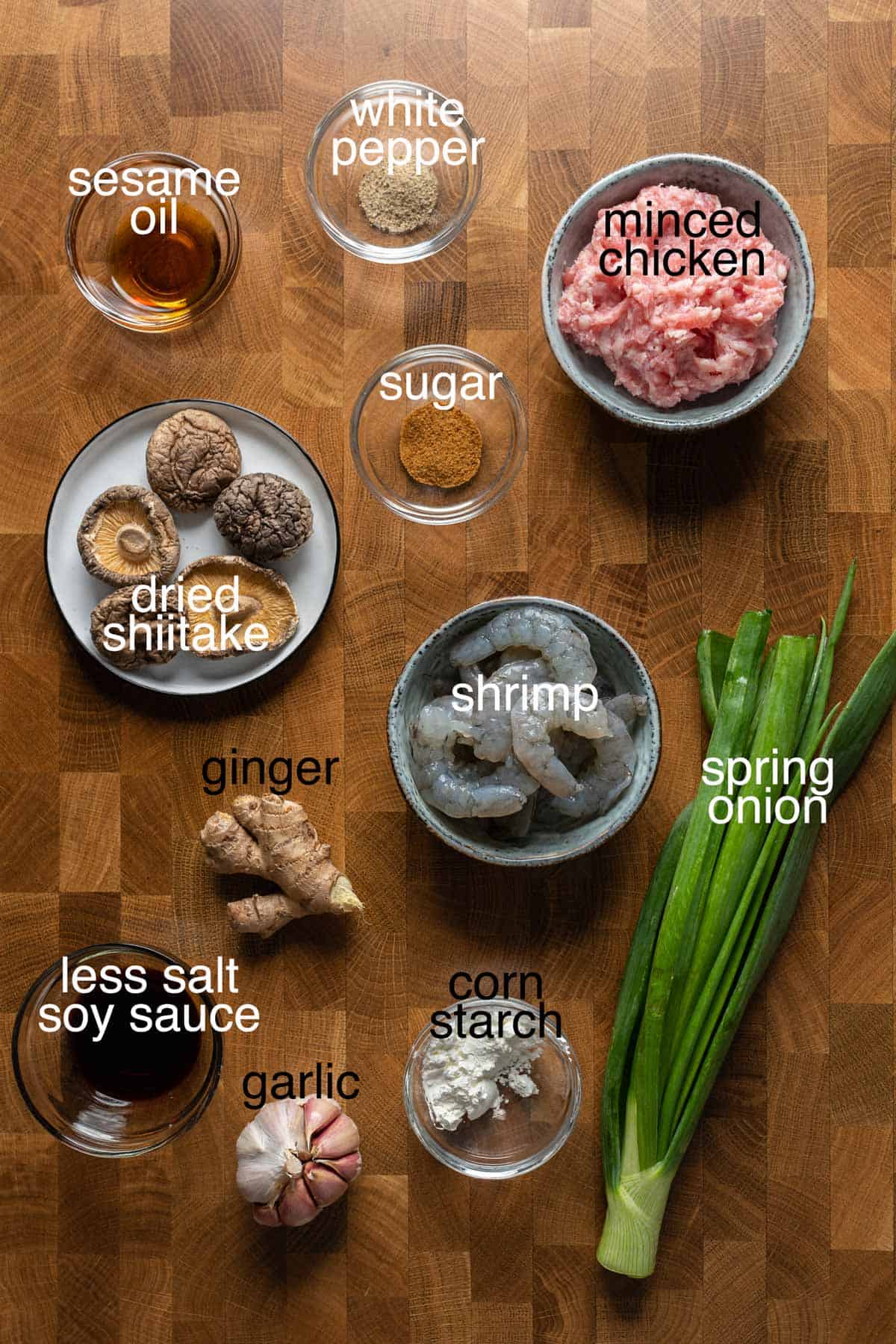 Minced meat - I'm using a combo of minced chicken and turkey. I love the mild flavour that they bring to the filling. But of course, you can use whatever you prefer.
Shrimp - Adding shrimps in the filling really brings out the subtle sweetness to the filling. If you've never tried this before, I really recommend that you should.
Sesame oil - Don't be afraid of the flavour. It brings the nutty, roasty touch to the filling.
Spring onion - This is one of the secrets to make the potsticker juicy. Not also it contributes to the freshness of the whole filling, but it also releases moisture and keep it juicy.
SUBSTITUTION: Use Chinese cabbage, or the typical green cabbage instead. Chop finely and use the same amount.
Shiitake - Dried shiitake has a stronger flavour than fresh ones. It gives that umami flavour and also the contrast chewy small bites to the filling.
SUBSTITUTION: Although it's not the same, but you could use fresh shiitake also. Use around ⅔ cup finely chopped. Or simply use the same amount of spring onion instead.
Tips To Make Potsticker Filling Juicy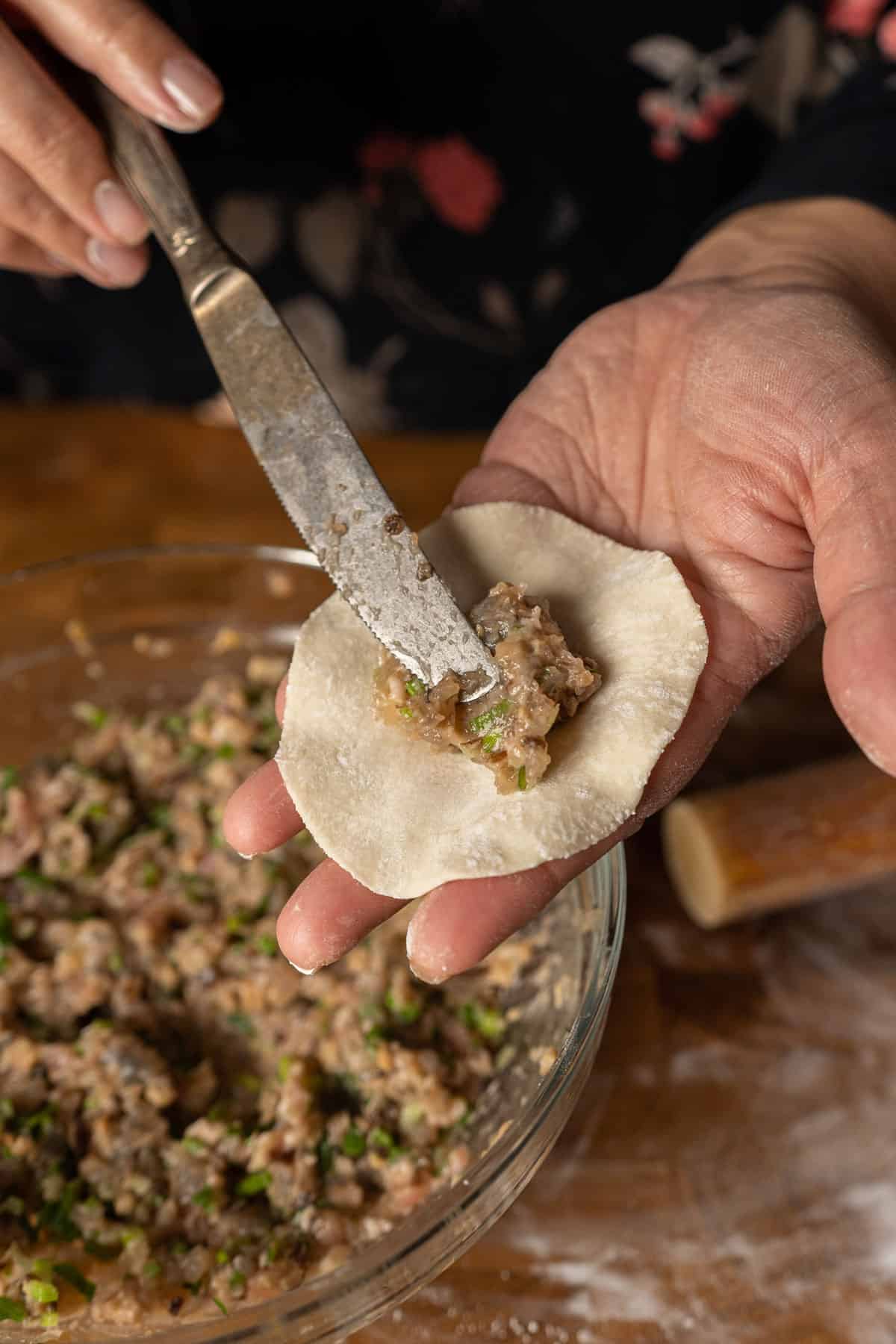 There's nothing more delicious than biting into a juicy delicious potsticker, right?
I've been making lots of potstickers and I noticed that the filling stay juicy when I do these:
Spring onion - Like I mentioned above, spring onion releases moisture and keep the filling juicy. So more is better.
Water - Adding extra water to the filling definitely makes the potsticker juicy. In this recipe, I use the water that I soaked the shiitake in. On top of making the potstickers juicy, it also adds flavour.
How To Get Crispy Bottom Potstickers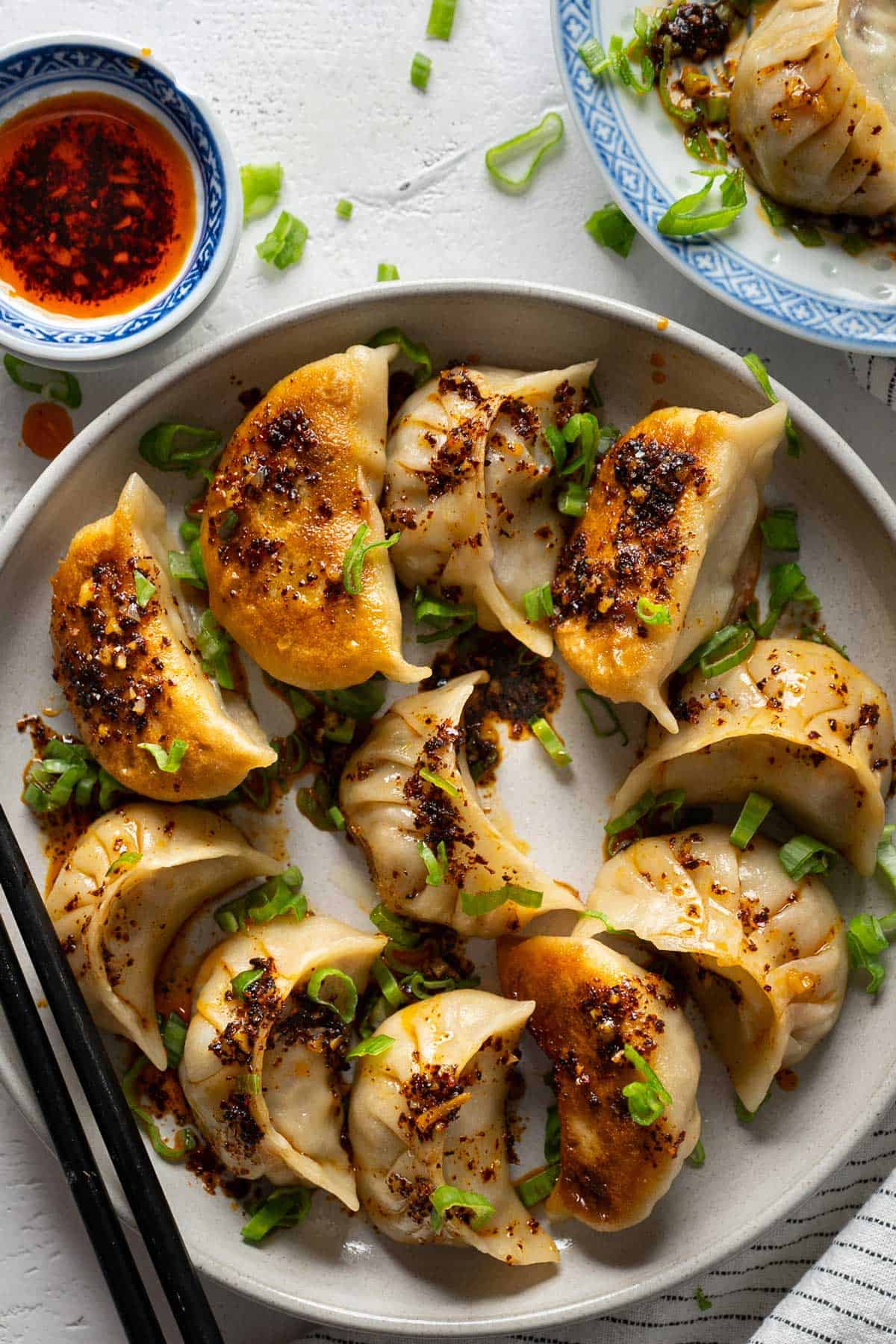 I like to use the "fry-steam-fry" method. It never fails and every single time I have super crispy potsticker bottoms with soft casing. The contrast of both textures is divine!
Here's how you do it.
Fry - Shallow fry the potstickers with a bit of oil, on medium heat until the bottoms are golden brown. I like to use a non-stick pan to avoid them from sticking.
Steam - Have a pan lid and boiling water ready. Once the bottoms are golden brown, then add in a splash of water in the pan, and immediately put the lid on. Be careful because they tend to splash at this point. Don't open the lid.
Fry - Cook until the water is evaporated and you start hearing the frying sound again. That means the potstickers are frying for the second time, resulting in that super crispy bottoms.
Watch How To Make Them
📖 Recipe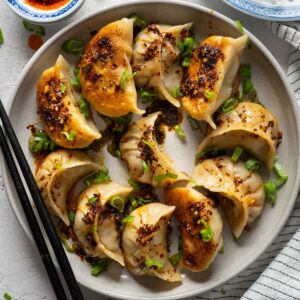 Crispy Bottom Chicken & Shrimp Potstickers
Basic ingredients but definitely amazing result. Super crispy bottoms with soft casing and juicy filling. The definition of heavenly potstickers. And on top of that, they're easy to make!
Print
Pin
Rate
Ingredients
The Filling
⅔

cup

minced chicken and turkey

(

150

g)

⅔

cup

minced shrimps or 15 medium-sized shrimps

(

150

g)

5

dried shiitake mushrooms

1

garlic clove

, grated

½

inch

ginger

, grated

1

tablespoon

corn starch

1

tablespoon

less salt soy sauce

2

teaspoon

sesame oil

½

teaspoon

sugar

¼

teaspoon

white pepper

½

cup

chopped spring onion

(

50

g)
Instructions
The Dough
Please refer to my homemade potsticker wrappers recipe on how to make the dough, cut it, roll and how to handle wrappers. You can also use store-bought ones, you'll need 32 wrappers.
The Filling
Soak dried shiitake in water, preferably overnight, until they're fully hydrated. Squeeze the water out and chop into small pieces.

Add into a bowl with the rest of the ingredients, except the spring onion. Mix everything well. Once you're ready to fill and shape your potstickers, add in spring onion and give everything one last mix.
Shaping
Take a pice of potsticker wrapper and fill around 1 heap teaspoon of the filling in the center. Fold into half moon and pinch in the middle. Start pleating and pinching from the center towards one end, around 4 pleats. Do the same to the opposite end.

Place on a tray lined with kitchen cloth. Repeat until you finish the filling.
Cooking
Heat some oil in a nonstick pan on medium heat. Gently place in your potstickers, making sure they have more or less 1 inch (2.5 cm) space between them. Cook until the bottoms are golden brown.

Add in ¼-⅓ cup (60-80 ml) boiling water and immediately cover the pan with a lid. Cook for 10 minutes until the water has evaporated and you hear the frying sound again.

Serve immediately with some chopped spring onion and lots of chili garlic oil. Enjoy!
Notes
Best served immediately while piping hot.
How to freeze: Place filled and shaped potstickers on tray lined with a parchment paper and freeze for 2 hours. Then put them in a ziplock bag. Last up to 2 months. Cook without thawing, following the cooking instructions above.
Nutrition Facts
Calories:
46.1
kcal
,
Carbohydrates:
6.9
g
,
Protein:
2.8
g
,
Fat:
0.8
g
,
Saturated Fat:
0.2
g
,
Cholesterol:
11.8
mg
,
Sodium:
27.1
mg
,
Potassium:
47.8
mg
,
Fiber:
0.1
g
,
Sugar:
0.1
g
,
Calcium:
4.9
mg
,
Iron:
0.1
mg