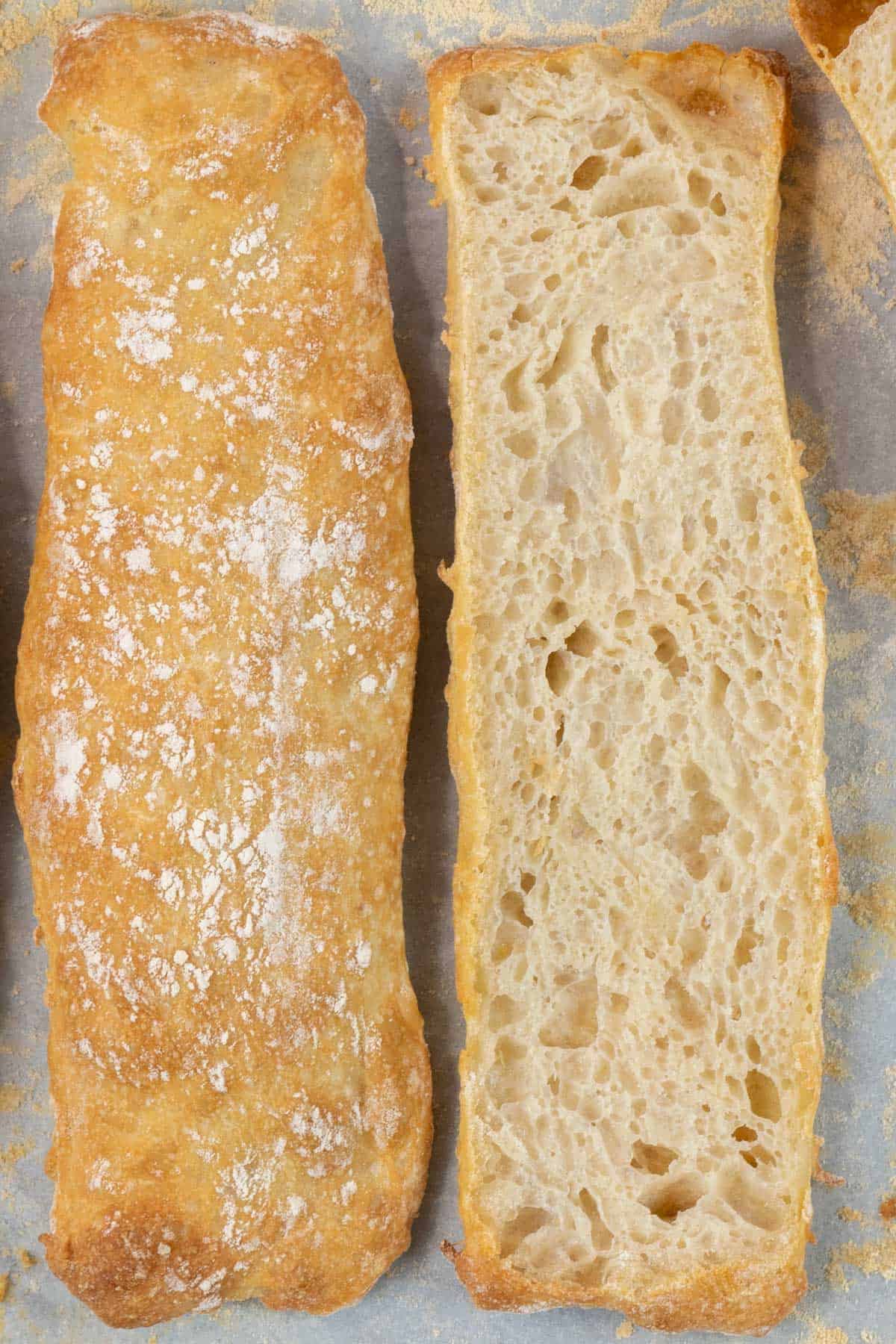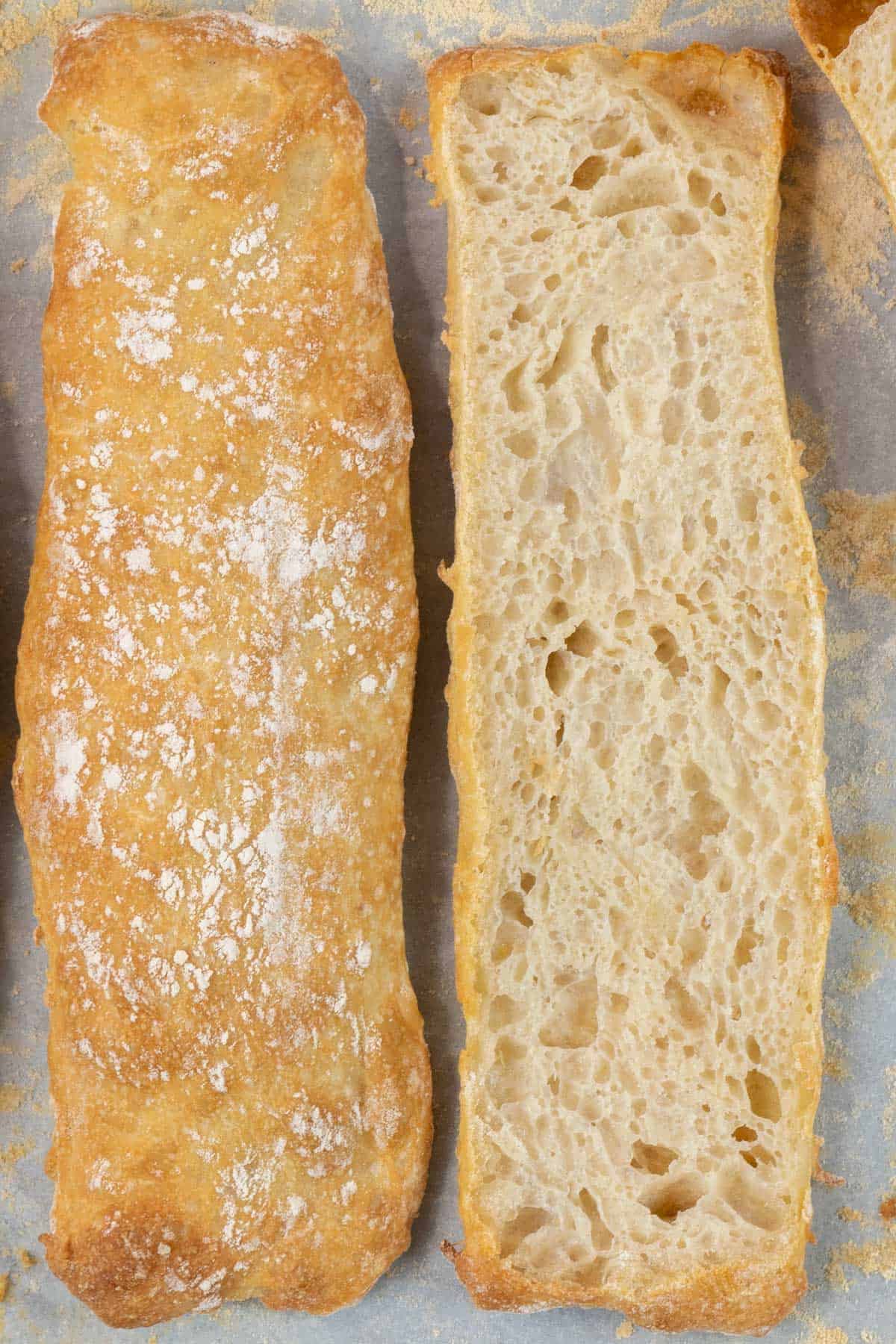 Hoping that each and everyone of you are staying at home, safe and with abundance of positive vibes in this challenging time. And now that everybody seems to have plenty of time in their hands, here comes this crystal bread or some people say that it's the Spanish style ciabatta.
So if you're into making your own bread, you have got to try this super easy (yes, no fancy techniques involved) crystal bread.
Let's start, shall we?
What Is Crystal Bread?
Crystal bread was developed and born in Barcelona, more specifically by the baker Jordi Nomen from Concept Pa Bakery, around 10 years ago. It has lots of similarities to the traditional ciabatta bread, which came from Italy.
So if you've been to Barcelona, you might have eaten this crystal bread. And actually that's how I get to know about it.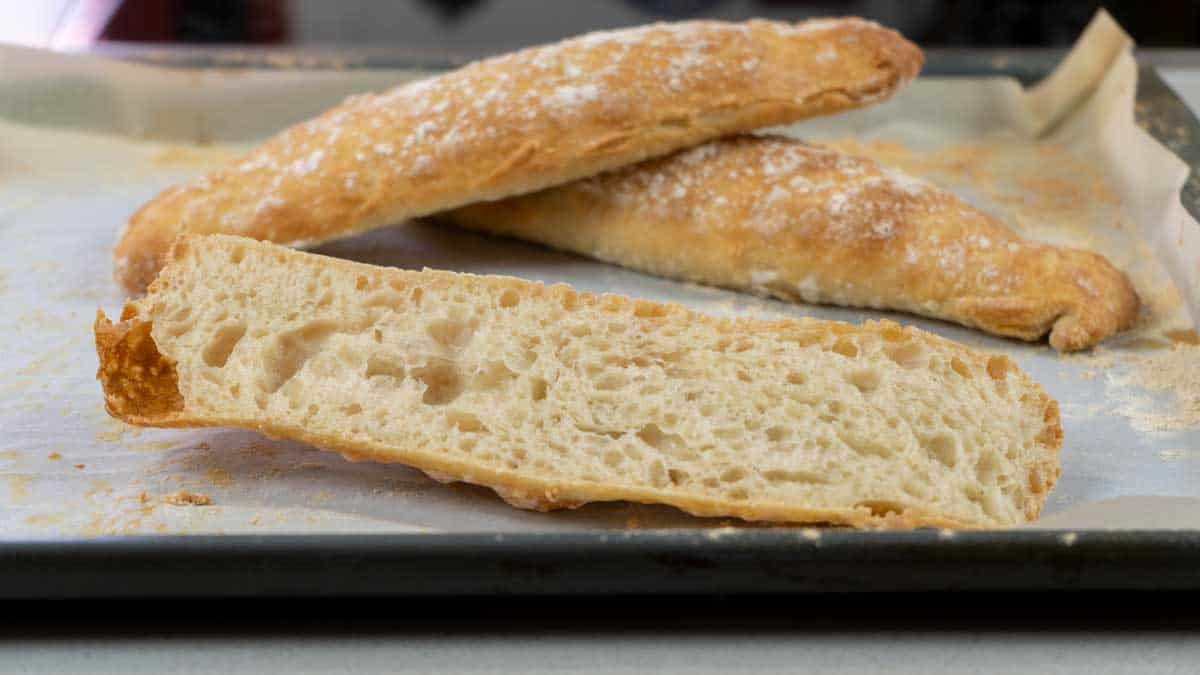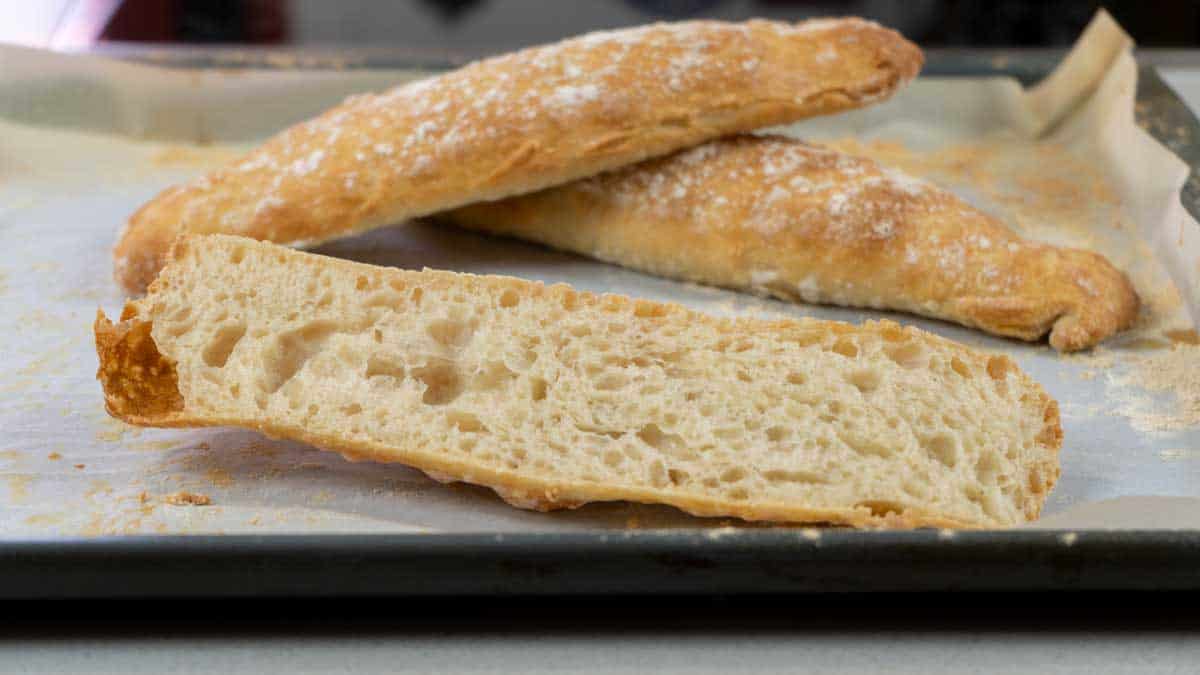 We had to go to Barcelona by the end of January and had to stay there for more than 10 days. We had breakfast almost every single day at this amazing small coffee shop and there they served this crystal bread (amongst other delicious things). The girl at the counter told us the name of the bread (maybe because we were so fascinated by it?) and from that moment I've been looking on how in the world do I make this amazing crystal bread at home. Haha!
I'm happy that I get to make it now, under these circumstances, and share it with you.
Ok, but what makes it a crystal bread and not ciabatta bread?
This bread has a finer translucent crust, thus its name, crystal bread.
It's also with high hydration percentage, which can go up to 90%. With this recipe I'm making it until almost that, which is 89% hydration.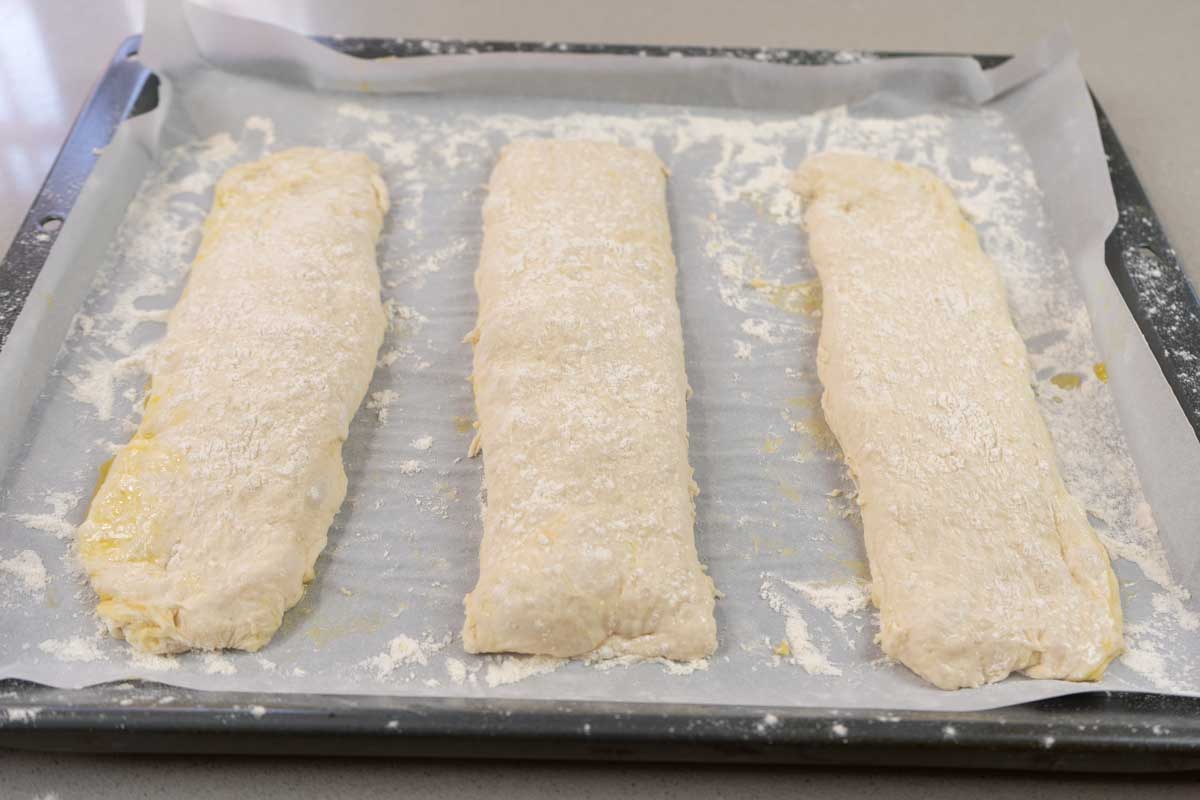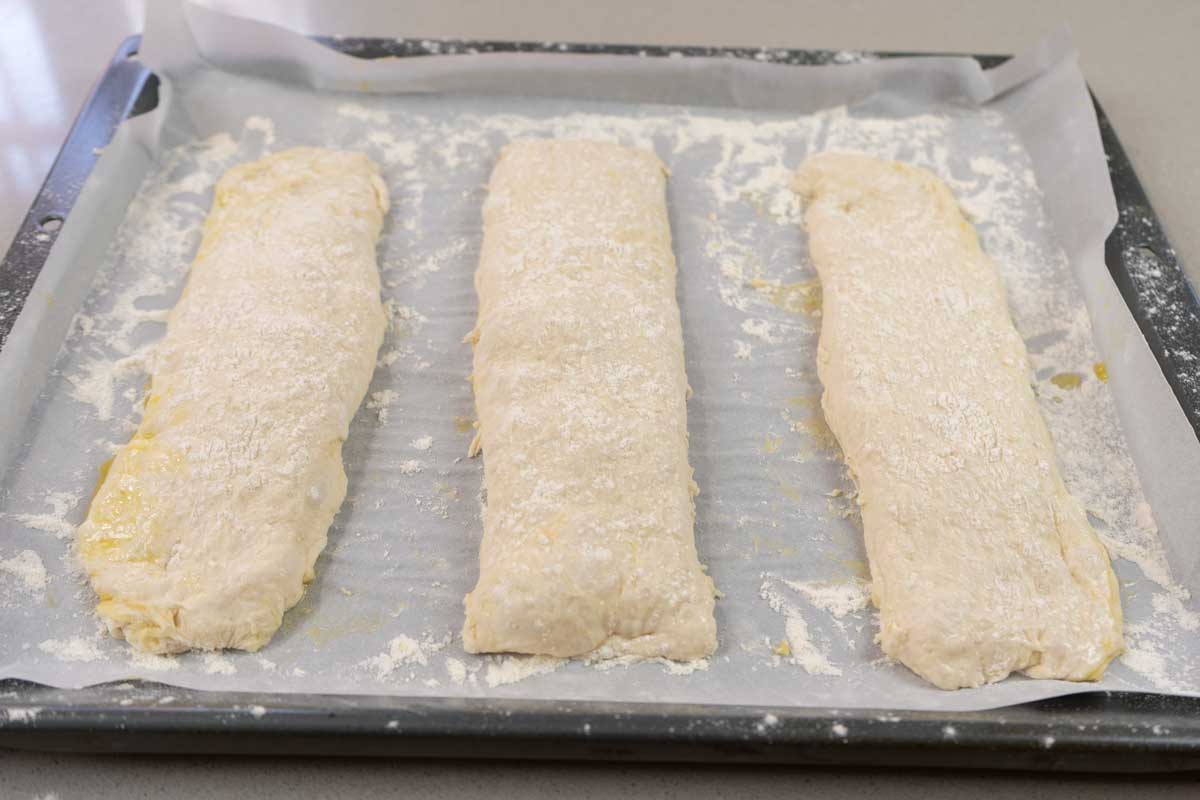 This crystal bread is known for having very light crumbs with large air pockets. You can see it yourself in the photos. Aren't they fascinating to watch? Or it is just me?
For its high hydration characteristic, this bread is made using high protein flour (or bread flour) to help with the absorption of the large amount of liquid.
Although you can enjoy this bread with whatever you like (of course!), this crystal bread is said to be specifically developed to enjoy with a splash of extra virgin olive oil, grated fresh tomato and a sprinkle of salt. Yum!
It's Easier Than You Think
I know lots of us are very intimidated to make our own bread, more with this artisan type of bread. Well you know what? Don't.
This is one of the easiest artisan breads that I've tried making. I even managed to got it right on the first try.
This recipe uses super basic ingredients. Bread flour, salt, yeast, water and olive oil. That's all folks! All that it needs is time (we have plenty of that now, right?).
Just watch the video below and make it. It's super satisfying, seriously. Let me know what you think.
And yes, don't forget to tag me in your Instagram photos if you've made it. These days I've been receiving many photos, tags from all of you that are making these:
Keep them coming! If you follow me in Instagram, I also share my quarantine cookings. Haha! Tag me to yours also!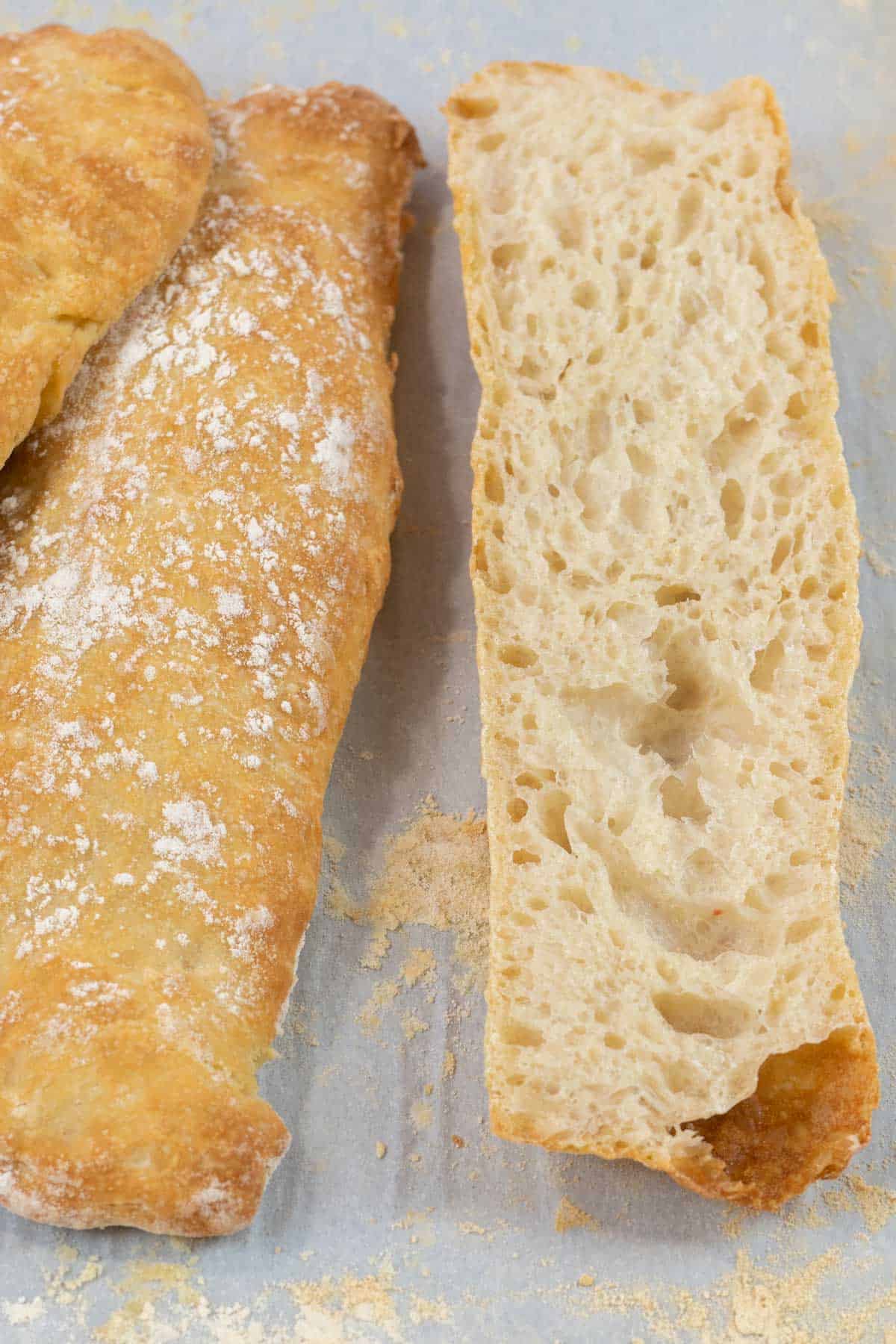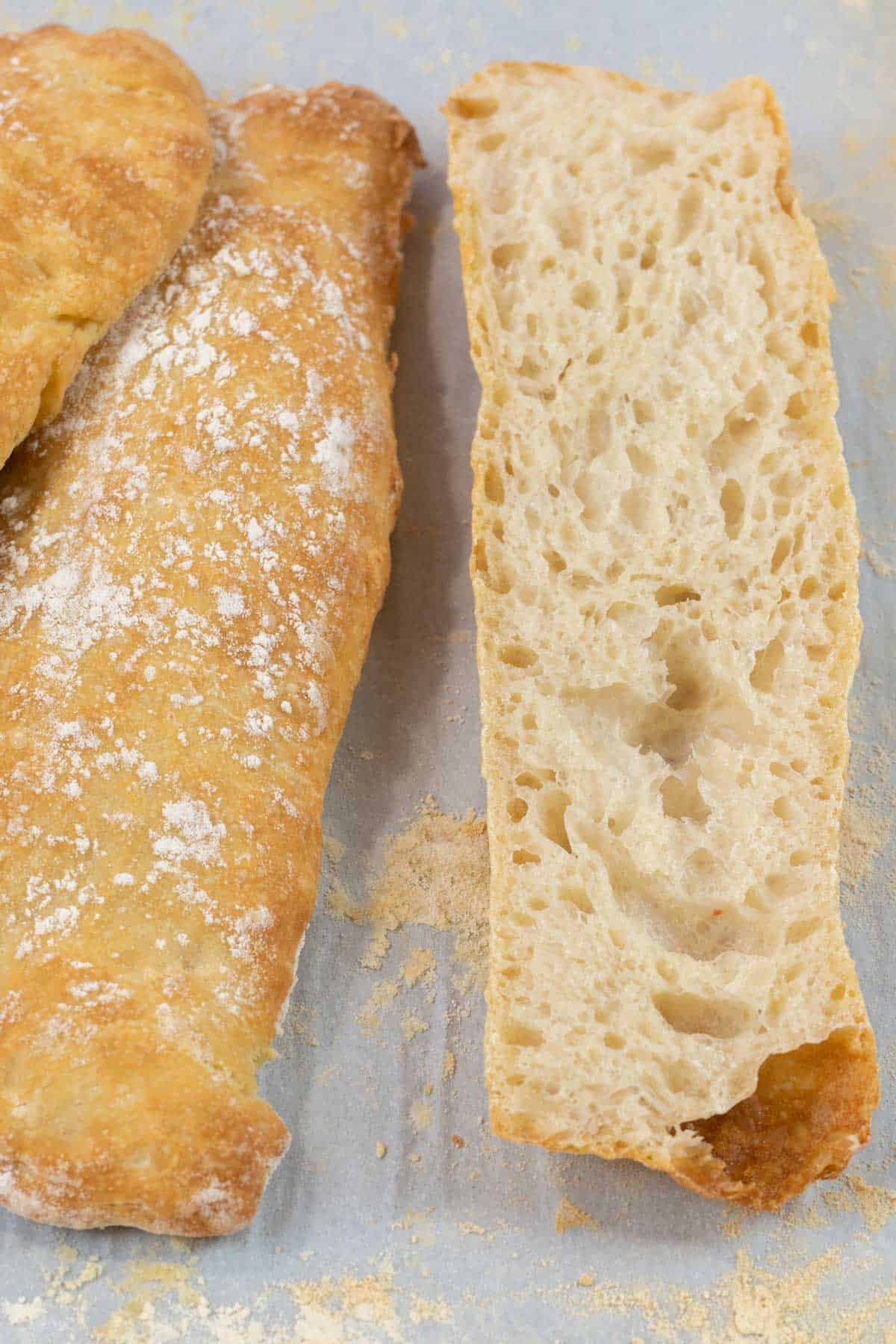 In Summary
This crystal bread is:
a Spanish style ciabatta
easier to make than you think
perfect for breakfast, well or anytime!
uses only few basic ingredients
very satisfying to make
of course, DELICIOUS! I mean, hello?
Video
📖 Recipe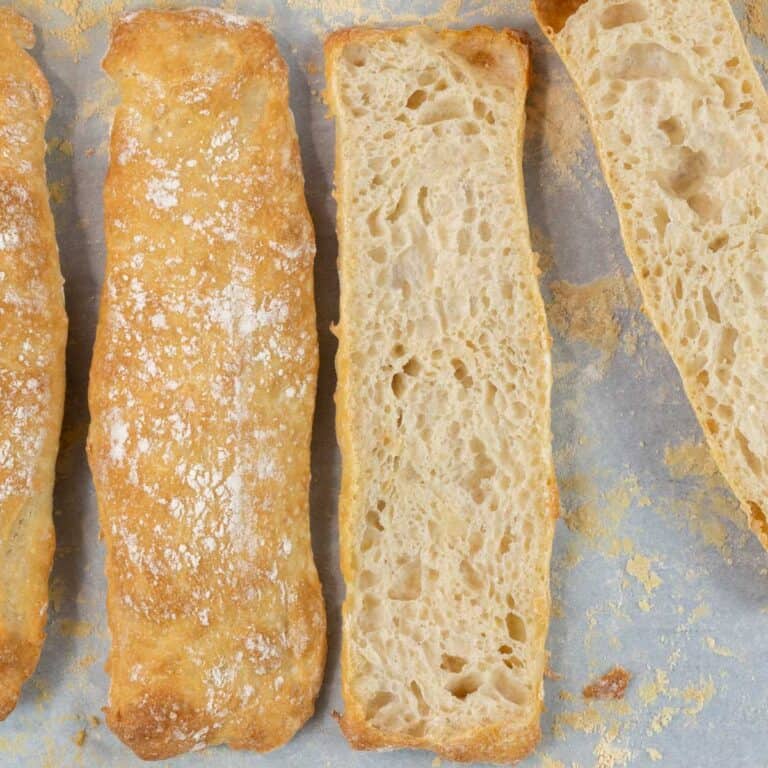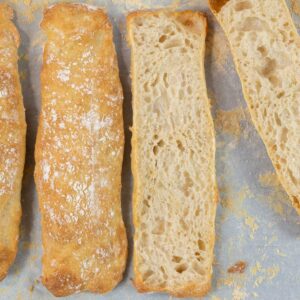 Crystal Bread (Spanish style ciabatta bread)
Homemade bread with super basic ingredients. This crystal bread is a Spanish style ciabatta bread. So if you love ciabatta then you should really try this! It's super easy to make and very satisfying. This recipe is with 90% hydration. I had this when we went to Barcelona last time and was totally in love with it!
Print
Pin
Rate
Ingredients
10

oz

bread flour

(

280

g)

1

teaspoon

salt

1

cup

water

(

250

ml), room temperature

1

teaspoon

instant yeast

(

3

g)

1

tablespoon

olive oil
Instructions
Preparation
Add flour and salt into your standing mixing bowl with a hook attachment. Start the machine on low speed and pour the water bit by bit. You will get a very liquid mixture that's not properly mixed. Don't worry.

Use medium speed and continue kneading until everything is well combined and you have a smooth mixture. Lower the speed and add in instant yeast. Use medium speed again to mix well.

Finally lower the speed and add in olive oil. Give it one last mix on medium speed.

Pour dough into a generously greased container, use a spatula to help scrape everything out. Cover the container tightly with a cling film. Leave at room temperature for 1 hour.
Folding
Fold the dough into an envelope (refer to the video above). Wet both hands to handle it better. Cover again with cling film and leave it for 45 minutes. Then do the folding for the second time. Finally spray some oil on dough and cover the container with a greased cling film. We don't want the dough sticking to it. Place in the fridge for 12 hours.
Baking
Take out dough from the fridge and leave for 15 minutes to bring it to room temperature. Meanwhile preheat oven at 480ºF (250ºC), use bottom heat, place an empty tray at the bottom of the oven. Also bring a small pot of water to a boil.

Flip the dough on top of a generously floured baking sheet on a baking tray. Sprinkle more flour on top. Now using a dough cutter/scrapper, gently cut into 3 loaves. Try not to deflate the dough. Gently separate those loaves apart from each other.

Pour boiling water into the empty hot tray in the oven to create steam. Immediately place the baking tray with loaves on the lowest rack and bake for 10 minutes. Then lower the temperature to 390ºF (200ºC) and continue baking for another 12 minutes or until golden brown and the loaves sound hallow when tapped.

Remove from the oven and cool completely on a rack before slicing. This crystal bread is perfect as toast for breakfast. Enjoy!
Nutrition Facts
Serving:
1
loaf
,
Calories:
396.2
kcal
,
Carbohydrates:
70.2
g
,
Protein:
13
g
,
Fat:
6.6
g
,
Saturated Fat:
0.9
g
,
Sodium:
794.6
mg
,
Potassium:
133.5
mg
,
Fiber:
3.4
g
,
Sugar:
0.3
g
,
Calcium:
18.4
mg
,
Iron:
1
mg