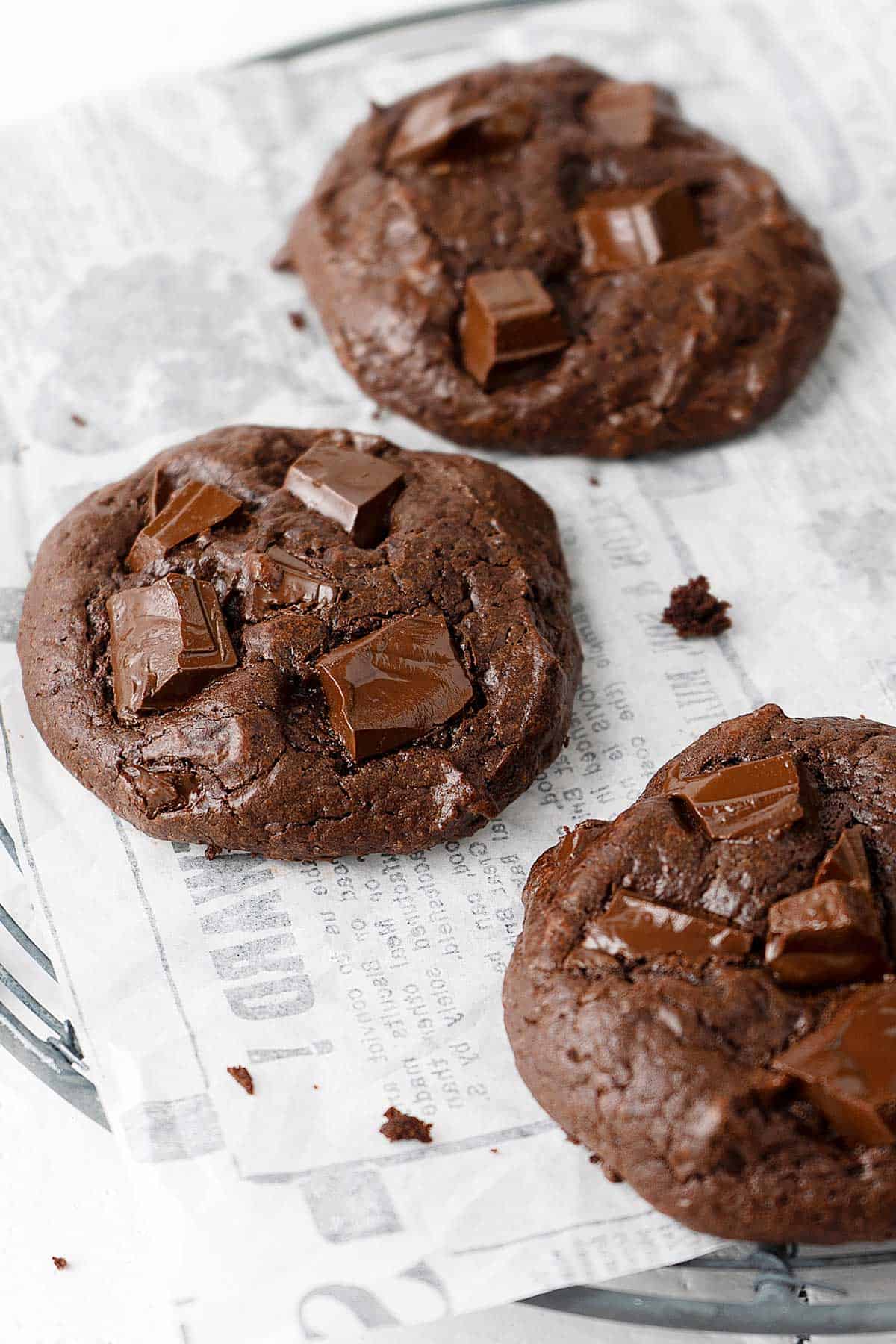 Calling out to CHOCOLATE LOVERS only! If your heart melts just upon hearing a soft whisper of chocolate, then hey, this is your match made in heaven.
These double chocolate fudge cookies are all you need. Seriously. They are.
They are decadent, bursting with chocolate flavour (I mean, we are talking about double chocolate here) and soft and fudgy. My stomach is already tickling yearning for a taste.
I adapted these cookies from my candy cane chocolate cookies recipe and improved it by lowering down the amount of sugar and adding definitely more chocolate! What do they say, the more the merrier? Yes!
What Chocolate To Use
So they are 2 types of chocolate sources that we're using here.
unsweetened cocoa powder
semisweet chocolate (for baking)
There's nothing to say about unsweetened cocoa power. The name explains itself.
As for the semisweet chocolate, I'm using a 54% chocolate. I think it's the best for this recipe. The chocolate is not that sweet and contributes a strong flavour into the cookies.
You can, of course, use dark chocolate but just know that it might take out a touch of sweetness to the cookies and also make them a tad bitter. If you don't mind then hey, go for it.
Do not, I repeat, do not, use regular milk chocolate. Meaning the chocolate that you buy when you have chocolate cravings. The ones that can be plain, with nuts, fruits etc. No, don't use those.
Use chocolate specifically for baking. Alright?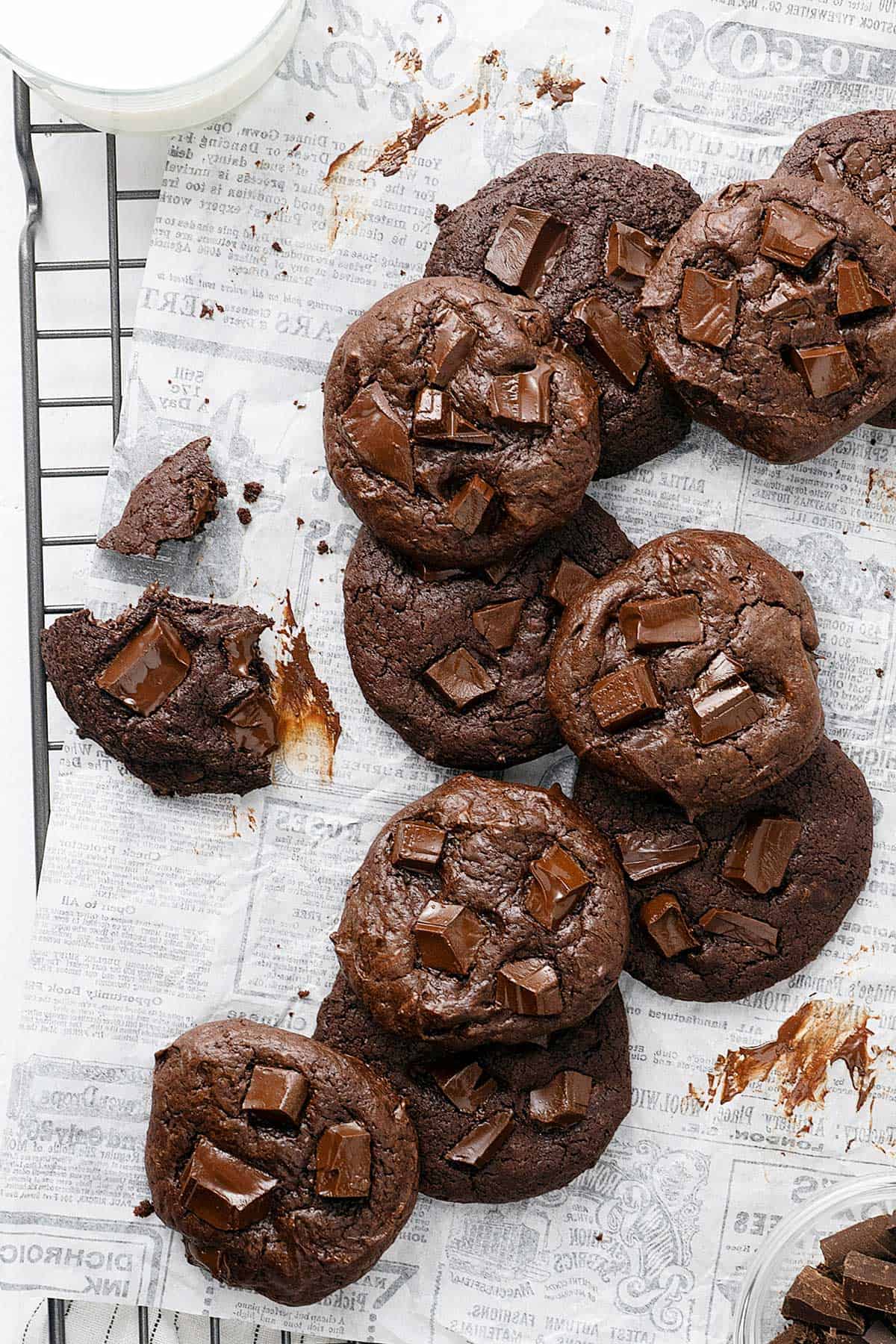 How To Get Them Fudgy
It's not difficult to achieve. Just follow these:
Don't change the recipe or substitute the ingredients - Just make them exactly as the listed ingredients below, you will LOVE them.
Oven temperature - I cannot stress enough that oven temperature is extremely important. And my oven doesn't have the same temperature as yours, it's a fact even though I haven't been in your kitchen. I use a portable oven thermometer, all the time. This ensures that I have the correct temperature. And by the way, my oven reading is 25º off if I don't use the portable oven thermometer (I know, I need to upgrade my old oven).
Baking time - my sweet spot is at 9 minutes. That's how I like them. Soft and fudgy. You can, of course, play around with the baking time. Prefer them less fudgy? Then bake them a few minutes more. Want them super fudgy? Then bake them a few minutes less.
I hope you'd give these double chocolate fudge cookies a try. Let me know what you think!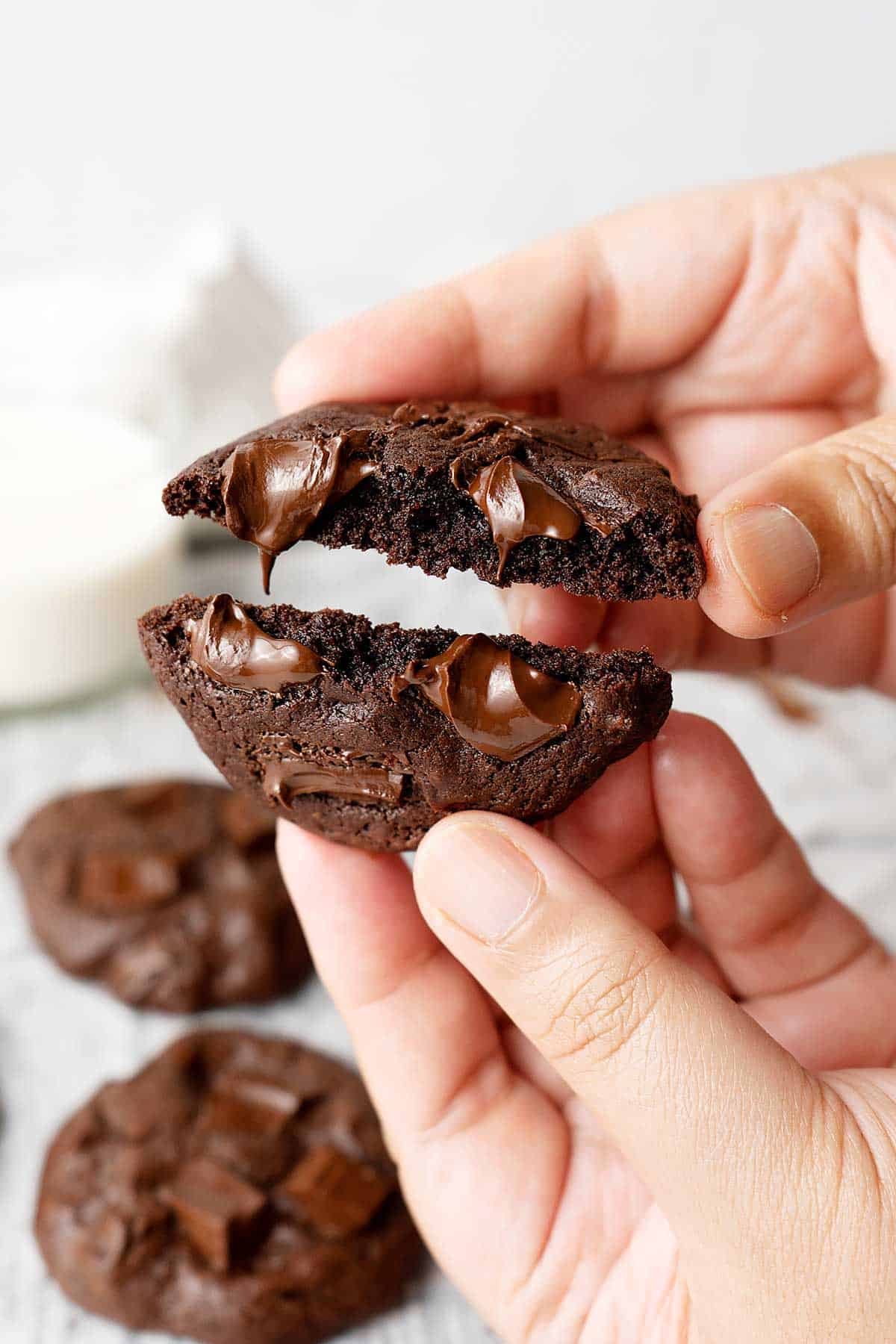 Hungry For More Cookies?
Check these out:
Recipe Video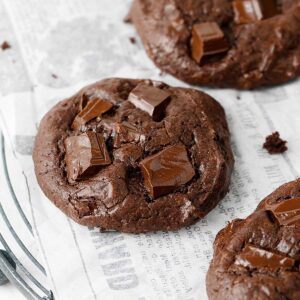 Double Chocolate Fudge Cookies
These double chocolate fudge cookies are decadent, bursting with chocolate flavour, soft and fudgy. With just a handful of ingredients (and loads of chocolate), you can easily enjoy these cookies in 30 minutes. Do try!
Print
Pin
Rate
Ingredients
Dry Ingredients
½

cup

all purpose flour

(

65

g)

⅓

cup

unsweetened cocoa powder

(

25

g)

¼

teaspoon

baking soda

¼

teaspoon

salt
Wet Ingredients
¾

cup

chopped semisweet chocolate

(

75

g)

¼

cup

unsalted butter

(

60

g)

2

tablespoon

brown sugar

(

20

g)

¼

cup

sugar

(

50

g)

1

large egg

, room temperature

1

teaspoon

vanilla extract
Other
some more chopped semisweet chocolate

, for topping
Instructions
Dry Ingredients
Add all ingredients into a bowl, mix well and set aside.
Wet Ingredients
Into another bowl, add in chopped chocolate and butter. Melt in microwave or double boiler. Leave to cool slightly.

Then add in the rest of the ingredients and whisk until everything is well combined, using a hand whisk. Now add in dry ingredients and mix everything together, taking care not to over mix.

Using a 1 ½ tablespoon ice cream scoop, scoop the dough onto a baking tray lined with a parchment paper, leaving around 2 inches (5 cm) space in between. Finally press some chocolate chunks on top.

Bake in a preheated oven at 350ºF (175ºC) with top and bottom heat, at middle rack for 9 minutes. Remove from the oven and leave for 5 minutes before transferring to a cooling rack. They are the best when they're slightly warm. Enjoy!
Notes
Use spoon and level method when measuring the flour, cocoa powder and sugar (for cup measurement)
Use portable oven thermometer (like this one) for a more precise temperature reading (I use it too)
Refer to my post above for tips