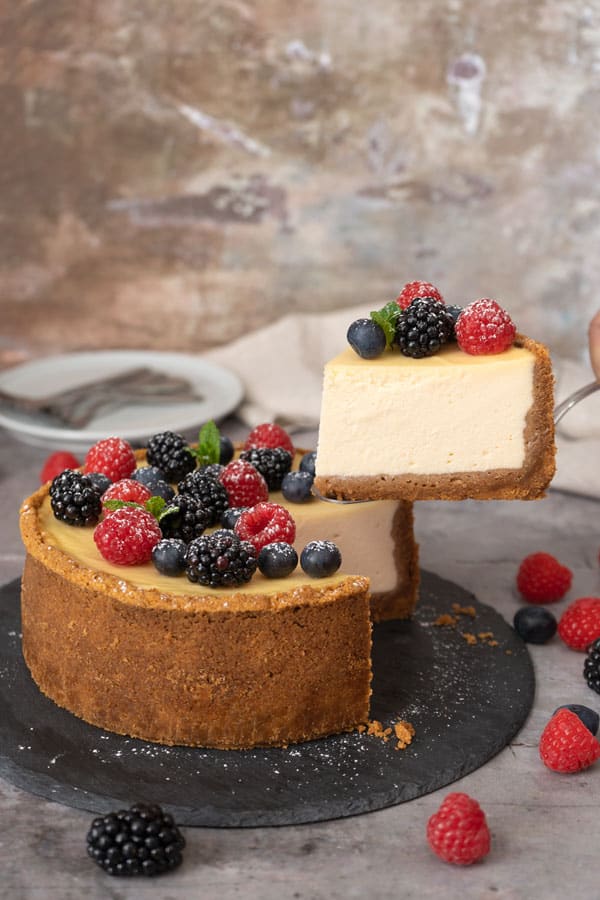 Do you love cheesecakes as much as I do?
If the answer is screaming YES! Then you've come to the right place and I really really have to persuade you to make this for the holidays. This easy cheesecake will definitely grab the attention of your family, friends and the whole town.
I'm so excited to share this recipe, let's go let's go!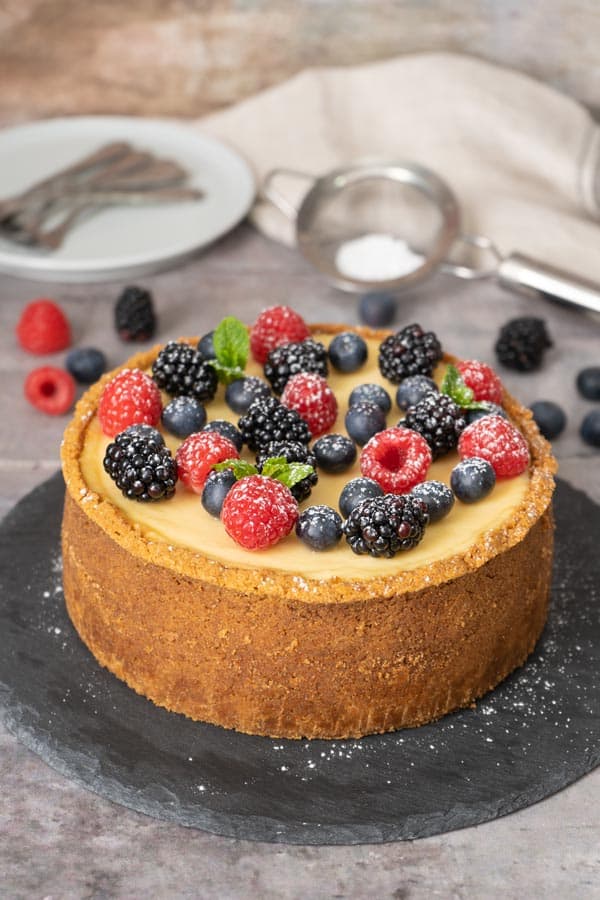 Cheesecake Factory Inspired
Who doesn't know and love cheesecake factory delights, right?
This recipe is inspired by cheesecake factory and I'm sorry (or do I? 😉 ) but I really have to be bias here. This baby tastes even better!
You'll get this fresh taste of creamy cheesecake with that luscious silky texture. Ohhhhhh! And let's not forget the buttery crust that really compliments everything.
Oh la la! Make this and you'll know what I'm talking about 🙂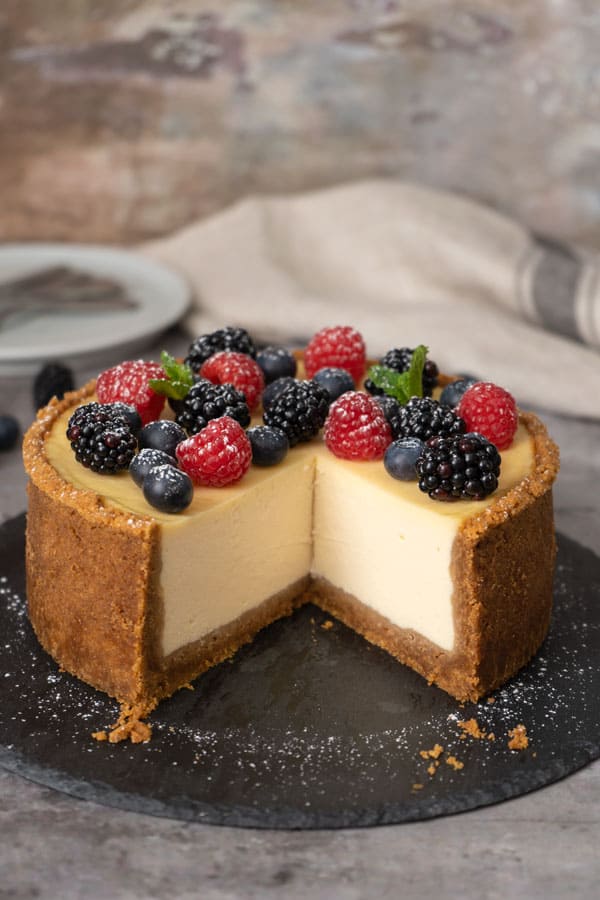 Easy, Yes It Is That Easy
Ok, have you seen my previous post about easy mini chocolate cheesecakes? If you haven't, I mean, what are you waiting for?
And if you have, then you'd know that those beauties are the chocolate version of our readers' favourite easy mini cheesecakes recipe and have had almost 7 millions views so far, in our Youtube channel 😉
And guess what?
Today's recipe is the big (well normal sized?) version of those mini cheesecakes! And if you've made my mini cheesecakes recipe you'd know that it's a very easy recipe and you will not fail.
I've also improved a few things, like I did with my easy mini chocolate cheesecakes recipe just to help you more in the process of making this already-easy cheesecake 🙂
Way of incorporating eggs - this improved way of incorporating eggs means that you will mix less and that will help in preventing cracks. Instead of cracking eggs one by one and mix, we will lightly beat the eggs separately and fold everything together with a spatula 😉
Low Oven Temperature - since this is a tall cheesecake and we will not use bain-marie method (I told you this recipe is easy!) so using a much lower temperature will make sure you don't have any cracks.
Make this cheesecake and place it in the center of your dining table together with all your delicious festive food and watch your guests go WOW!
Let me know what you think and don't forget to tag me in your instagram photos whenever you make any of my recipes. Use @elmundoeats and #elmundoeats. Also, remember that you can rate the recipes that you've made using the stars selection at the comment section below.
Happy holidays everybody!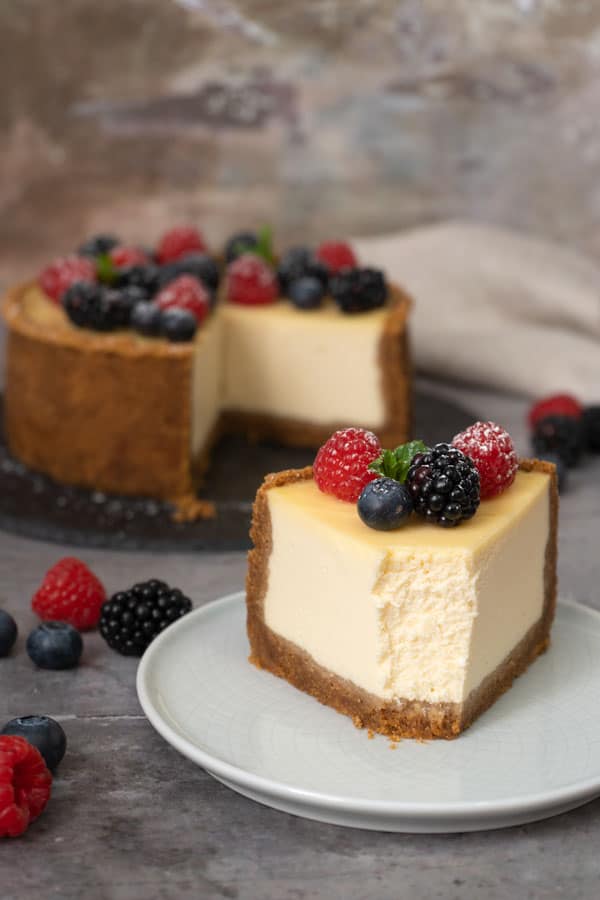 In Summary
This easy cheesecake is:
better than my originally inspired cheesecake factory delight! (yes, I'm being boldly bias here 😀 )
really easy to make, I promise. No bain-marie method needed 😉
super creamy and luscious, with that buttery crust that makes you go Oh la la!
perfect to wow your guests!
the BEST CHEESECAKE EVER! (I don't like to use the term "the best" because it sounds cheesy but hey, it's really appropriate here 😀 )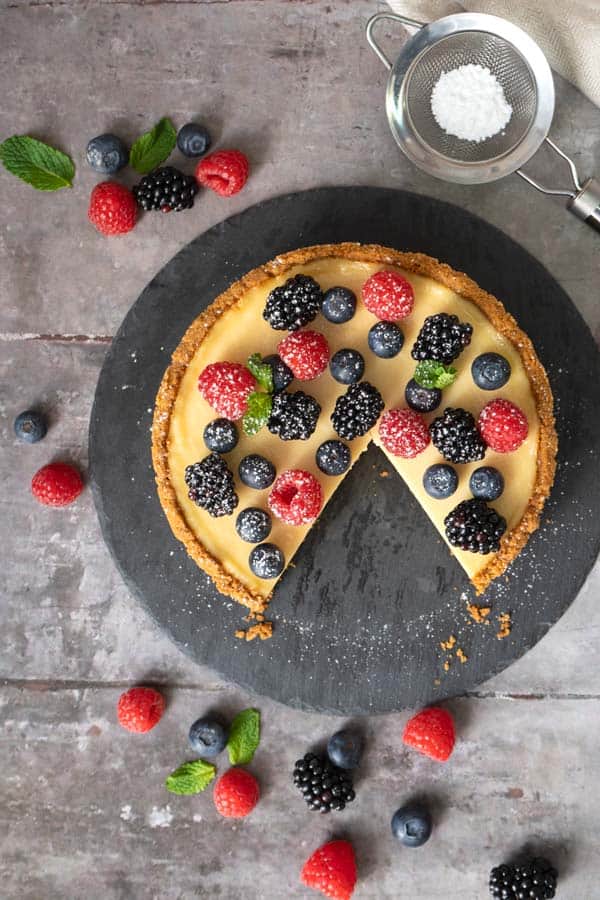 Hungry For More?
Check these out:
Recipe Video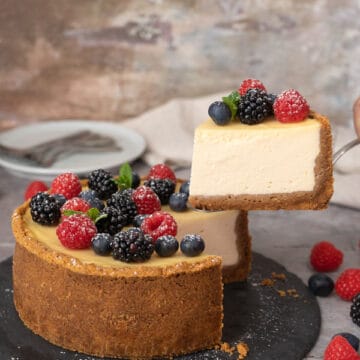 Easy Cheesecake (Cheesecake Factory Inspired)
This is the whole sized version of our readers' favourite, easy mini cheesecakes, with a twist and improved method 😉 ! If you love our mini cheesecakes then you'll absolutely love this easy cheesecake version that's originally inspired by Cheesecake Factory. And I have to be bias here, this tastes even better 😉 ! Buttery tall crust, creamy luscious cheese filling.. oh la la! Perfect for any celebration!
Print
Pin
Rate
Ingredients
The Crust
3

cup

digestive crumbs

(

300

g)

½

cup

unsalted butter

(

113

g), melted
The Cheese Filling
16

oz

full fat cream cheese

(

450

g), room temperature

1 ¼

cup

sour cream

(

285

g), room temperature

¾

cup

sugar

(

150

g)

3

tablespoon

all purpose flour

(

24

g)

1 ½

tablespoon

lemon juice

1

teaspoon

vanilla extract

3

large eggs

, room temperature
Topping
some berries of choice

some powdered sugar
Instructions
The Crust
Place digestive biscuits into a food processor and blend until you have a fine texture. Pour into a bowl together with butter and mix well.

Pour into a 7 inch (18 cm) springform pan and using your fingers, start pressing the mixture against the pan's wall all the way up to the brim. Then do the base by pressing the mixture to the bottom of the pan. Place in the freezer for 30 minutes.

Optional: Use a small knife to scape gently all around the wall to make it even.

Note: You might have balance of crust mixture, depending on your preferred crust thickness.
The Cheese Filling
Add cream cheese into a bowl and using a handheld whisk at lowest speed, whisk it just until creamy. Now add in sour cream, sugar, vanilla extract, flour and lemon juice. Mix until everything is well combined and set aside.

Crack the eggs into another bowl and lightly whisk them. Now pour into the cheese mixture and fold everything together using a spatula. Pour mixture into our prepared pan and spread evenly using an offset spatula.

Bake in a preheated oven (no fan) at 285ºF (140ºC) for 1 hour 45 minutes or until you see the surrounding of the cheesecake has set but the center still wiggles a bit when you gently shake the pan.

Remove from the oven and leave it cool completely. Then chill in the fridge for min 8 hours.
How To Remove Cheesecake From The Pan
This is how I do it with all my cheesecakes. Take out cheesecake from the fridge. Remove the springform. Insert a small knife underneath the cheesecake crust and gently move it all around to help loosen the cheesecake from the pan. Using the same knife, lift the cheesecake a bit and insert a flat spatula underneath. Do the same in the opposite direction.

Holding both spatulas, swiftly and confidently transfer the cheesecake to a serving plate.
Serving
Place some berries on top and lightly dust with powdered sugar. Slice and serve!
Notes
Typo: The correct amount for sour cream is 1 ¼ cup (285 g), not ½ cup (125 g) as it mentioned in the video. Sorry!
Use portable oven thermometer (like this one) for a more precise temperature reading (I use it too)

Like any other cheesecakes out there, this is better served chilled. I would recommend you to plate it right before serving and keep the balance immediately back in the fridge.