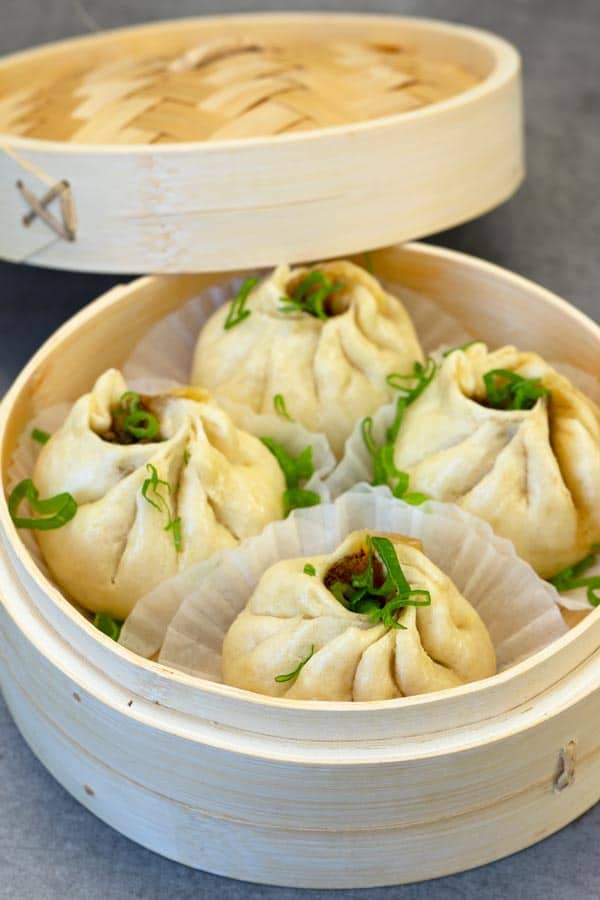 Are you a dim sum lover? Are you a baozi lover?
Well my dear friend, you and me both. Yes!
Today I'm sharing these super quick and easy Chinese steamed buns that you can conveniently prepare in your own kitchen. And guess what?
The buns don't need any yeast! Meaning no kneading, no proofing and no waiting.
You can easily enjoy these fluffy soft buns with delicious filling in less than 40 minutes.
Chinese Steamed Buns Or Baozi
Chinese steamed buns or also known as baozi in Chinese are a type of dim sum.
Dim sum is the Chinese style of I would like to say, tapa here in Spain. It's where you enjoy a varieties of delicious cooked food in small portions.
Baozi is a dim sum bun that has different types of filling in it. It has a bread like texture that usually requires the using of yeast in the dough.
The recipe that I'm sharing today doesn't need any yeast and the steamed buns are equally fluffy and soft.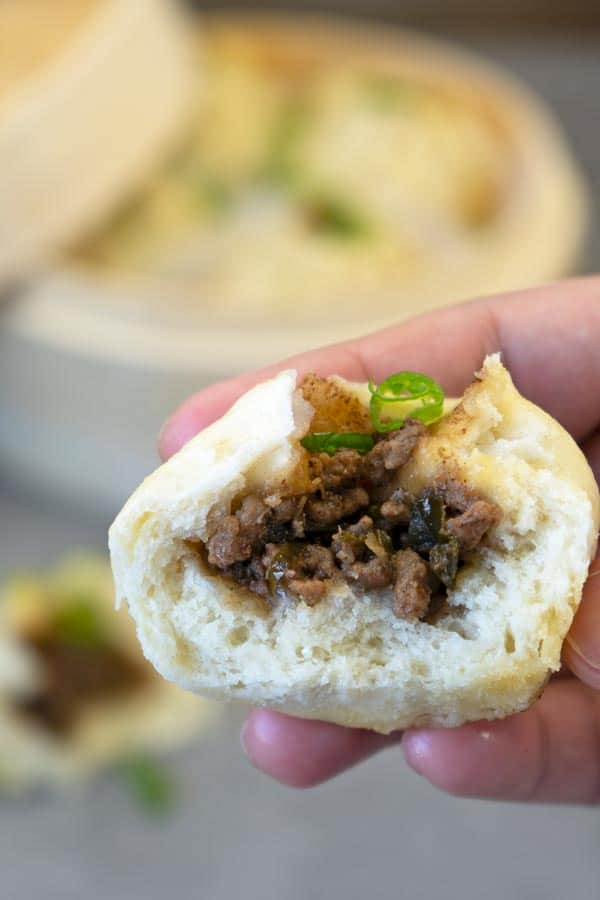 Quick Steamed Buns Dough
I'm simply using baking powder as the leavening agent in the dough.
Super easy, right?
I've tested this recipe for 7 times (yes, believe me) to find the right combinations of ingredients and the ratios to be able to produce fluffy and soft buns while not using yeast.
It's my new and improved recipe.
My quick version is simply putting all the ingredients in a food processor and blend for a few seconds until everything forms into a ball of dough.
That's it.
Then it's just dividing the dough into portions, rolling them and assembling the buns.
Tips On Getting The Dough Right
The liquid for the dough is just the perfect amount to make the dough not too soft nor too stiff to handle.
The key is how you measure your flour. The most precise way is to use a kitchen scale. I always use it.
If you're using a cup to measure, it's important that you spoon the flour into the cup.
Don't compact the flour or scoop it with your cup because you will end up with more amount of flour and the liquid will not be enough to make a good dough.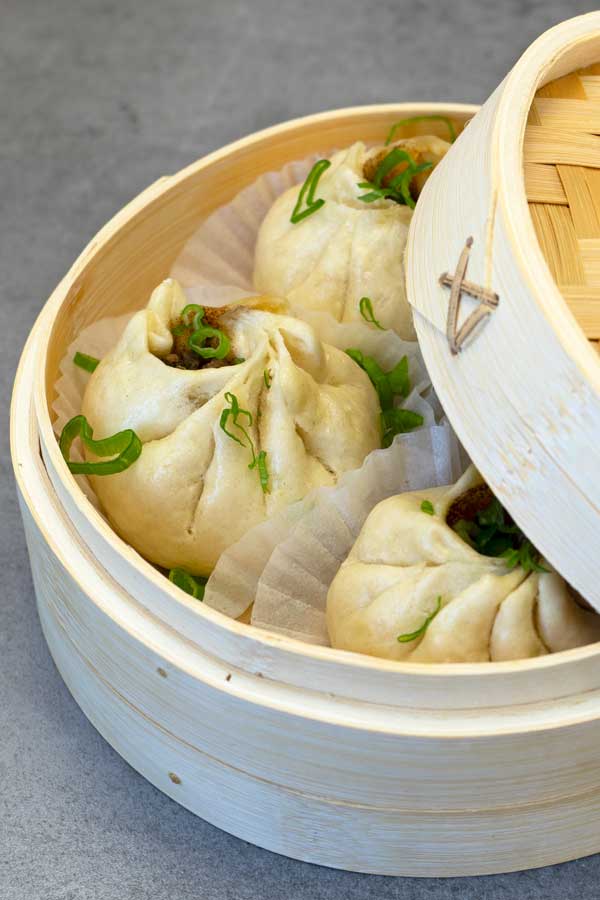 But worry not.
Even if that happens, just add 1 tablespoon of liquid at a time while you're blending the ingredients in the food processor until it gets to the consistency like you can see in the video below.
Don't over do it because we don't want a dough that's too soft because then it will be difficult to pleat later.
I hope you'll give these quick and easy buns a try. Adjust the filling to your liking as that's the beauty of home cooking.
In Summary
These easy Chinese steamed buns are:
quick to prepare without yeast
soft and fluffy
the dough is done is less than 1 minute
can be served in less than 40 minutes
super DELICIOUS and HOMEMADE
Before You Go
Here are some recipes that you might also enjoy:
Video
📖 Recipe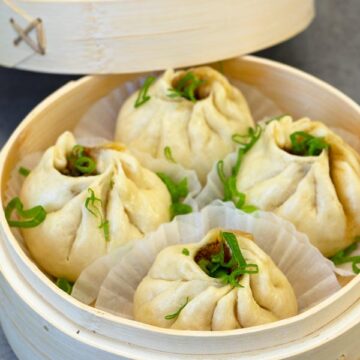 Easy Chinese Steamed Buns (without yeast)
A quicker and faster way to enjoy Chinese steamed buns or baozi. The dough doesn't require yeast meaning no kneading or proofing time. Yet, these buns are equally fluffy and soft. Do try!
Print
Pin
Rate
Ingredients
The Filling
1

garlic clove

, grated

½

thumb sized

ginger

, grated

7

oz

minced beef

(

200

gr)

2

teaspoon

sesame oil

3

tablespoon

hoisin sauce

1

tablespoon

rice vinegar

1

teaspoon

soy sauce

½

teaspoon

Chinese five spice powder

1

teaspoon

honey

½

cup

chopped spring onion

(

20

gr)
The Buns
1 ¼

cup

all purpose flour

(

160

gr)

⅓

cup

cornstarch

(

40

gr)

¼

teaspoon

salt

2

teaspoon

baking powder

½

cup

coconut milk

(

125

ml)
Instructions
The Filling
Heat some oil in a pan and add in grated garlic and ginger. Cook until they turn golden brown. Add in minced beef and continue until it's fully cook, breaking it into small pieces as you go.

Place the meat into a bowl, discard any juice if any. Add the rest of the ingredients and mix well. Cool completely before using.
The Buns
Add all of buns ingredients into a food processor. Blend until everything comes together. Place on a working surface and knead into a dough and form into a log.

Cut into 8 equal pieces and form each piece into a ball. Cover the dough with cling film when not using to prevent from drying.
Assembling
Take a ball and flatten it a bit. Roll into a 3.5 inch (9 cm) disk with a thinner edges all around. You can do this by keep rolling ⅓ in to the center and twisting the dough.

Place the dough on your palm and spoon some filling in the middle. Take one edge and bring it to the center and then keep pleating and pinching the rest of the edges, leaving a small hole in the middle.

Note: You can watch how to do this in the video above

Place the bun in a greased muffin liner. Continue with the rest.
Steaming
Bring some water to a boil in a pan on high medium heat. The water should not be touching the bottom of your bamboo steamer.

Arrange the filled buns in your steamer. Place the steamer on the pan and steam for 10 minutes or until the buns are fully cooked.
How To Serve
These buns are best served immediately after steamed. Sprinkle some chopped green onion on top and serve directly in the bamboo steamer and enjoy them with some tea.
How To Get The Dough Right
The ratio of flours and liquid is just perfect for this recipe. Use a kitchen scale to measure the flours in a more precise way (I always use it).

Read my post above for tips if you're using cup measurement for your flours.
Make It Even Quicker
I've tested not cooking filling. Meaning I just mix all of the filling ingredients in a bowl and have it ready to directly use it to fill the buns. Then I just continued following the steps from Steaming onwards. Even quicker!
Nutrition Facts
Calories:
219
kcal
,
Carbohydrates:
25.8
g
,
Protein:
7.2
g
,
Fat:
9.6
g
,
Saturated Fat:
4.9
g
,
Cholesterol:
17.8
mg
,
Sodium:
343.1
mg
,
Potassium:
155.3
mg
,
Fiber:
1
g
,
Sugar:
2.6
g
,
Calcium:
79.4
mg
,
Iron:
2.4
mg