What is it?
It's a dish that originated from Hainan province in south China from the early Chinese immigrants there. The dish consist of chicken, rice, the sauces and some greens. The most important aspect of this Hainanese chicken rice is the chicken skin. The chicken is cooked in a way to preserve its skin in a springy and firm way.
Hainanese chicken rice is famous in Malaysia and Singapore. It's also known in Thailand but with a slight difference as the Thai version only requires one sauce and the sauce is totally different from Hainanese chicken rice.
Though it's different but it's equally delicious. For me, it's a simpler version of Hainanese chicken rice and if you must know, I've made a recipe video about it.
Click here to see my homemade Thai Chicken Rice
As I mentioned earlier, there are several components to this wonderful dish. Let's go one by one, shall we?
The Chicken
In this recipe I'm using free range whole chicken. I prep the chicken by rubbing some salt on its skin to remove any impurities and resulting the skin being clearer and shiner.
I know it must sound weird but trust me, do it. More when the most important aspect of this dish is the skin.
Then as you can see in the video above, I simply cook it in a pot of gentle simmering water until it's fully cooked.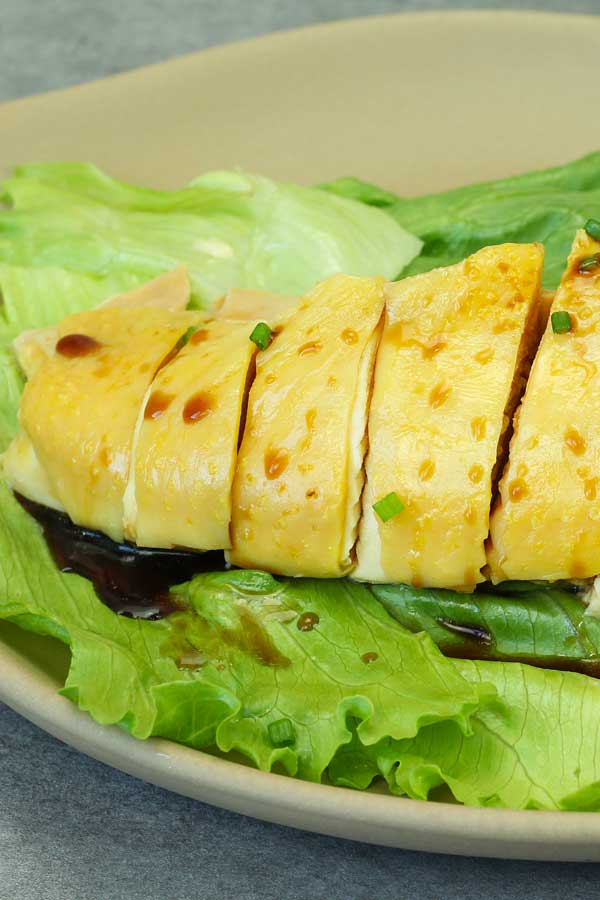 Now comes the crucial part. We need to immediately stop the cooking process of the chicken. We do it by placing the chicken in a pot of ice water. This will also tighten up its skin and make it springy and firm, which is what we're looking for.
Just let it in ice water for 15 minutes and then discard the water and cover the chicken so that the skin doesn't get dry. Remember, we want to take care of its skin.
The Rice
You didn't throw away the chicken stock from cooking the chicken, right? We will use it to cook our rice. It's going to infuse the rice with its wonderful flavour.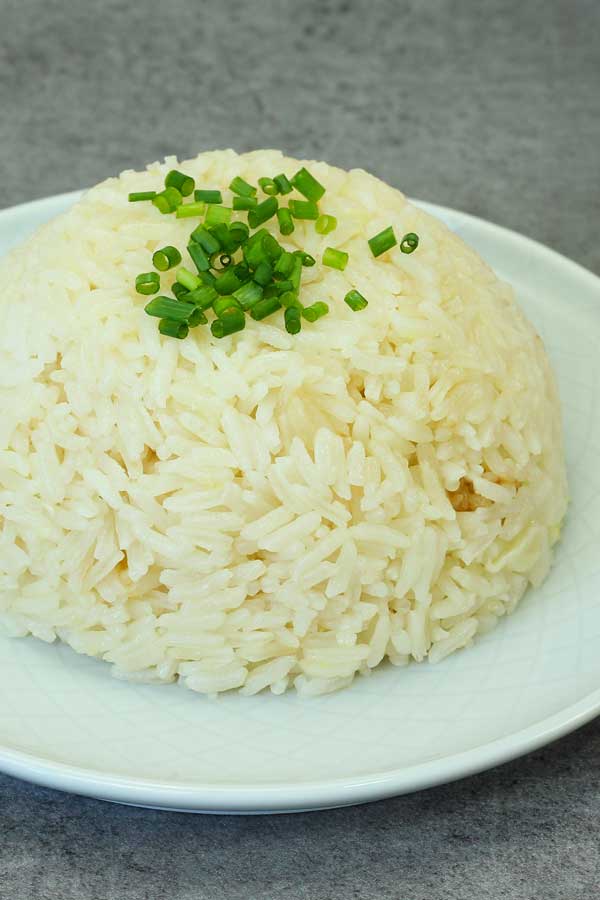 I'm using jasmine rice for this recipe. And like always, I like to use a casserole pan to cook my rice so that it cooks evenly and with perfect result.
In Malaysia, it's common to serve the chicken stock together with the rice in this dish. We call it chicken soup as it is a type of soup anyway, the simplest version of it.
The Soy Sauce
This sauce is usually poured on the chicken when you serve this dish. You can of course serve it on the side so that you can add it as you want. This sauce requires some of our previously prepared chicken stock also.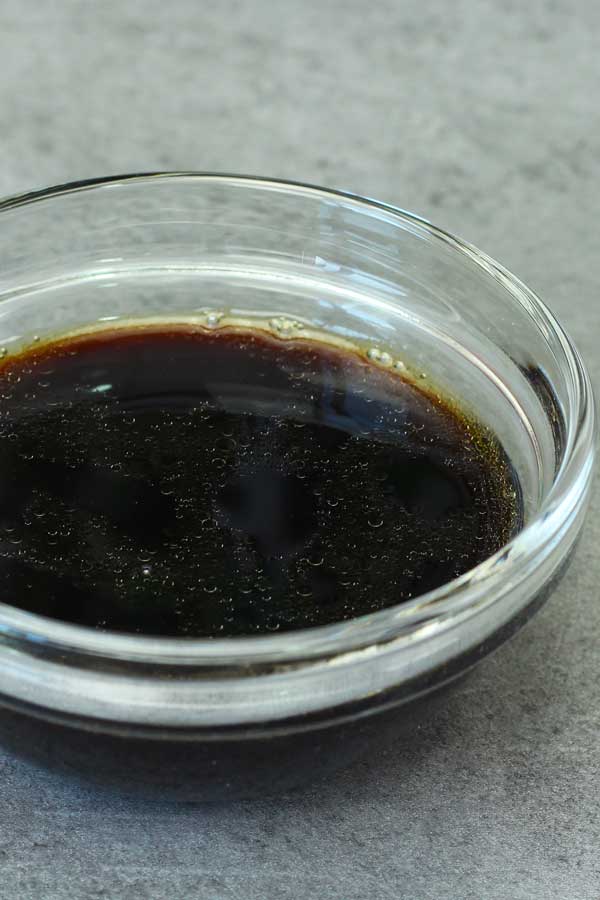 The Chili Sauce
I'm using red capsicum as the red or chili component of this sauce. You can use red chillies if you prefer it spicy. As for me, I'm using sriracha as the spicy component for this sauce.
So you can adjust this sauce according to your taste. Personally for me, even though I'm all about spicy but in this meal I like to keep it mild and moderate as it balances the whole dish.
The Ginger & Garlic Sauce
This is the sauce that you should never skip in this dish. Ever. The combination of ginger and garlics, lots of them, is just amazing when eaten together with the chicken and rice. My husband is nuts about this sauce.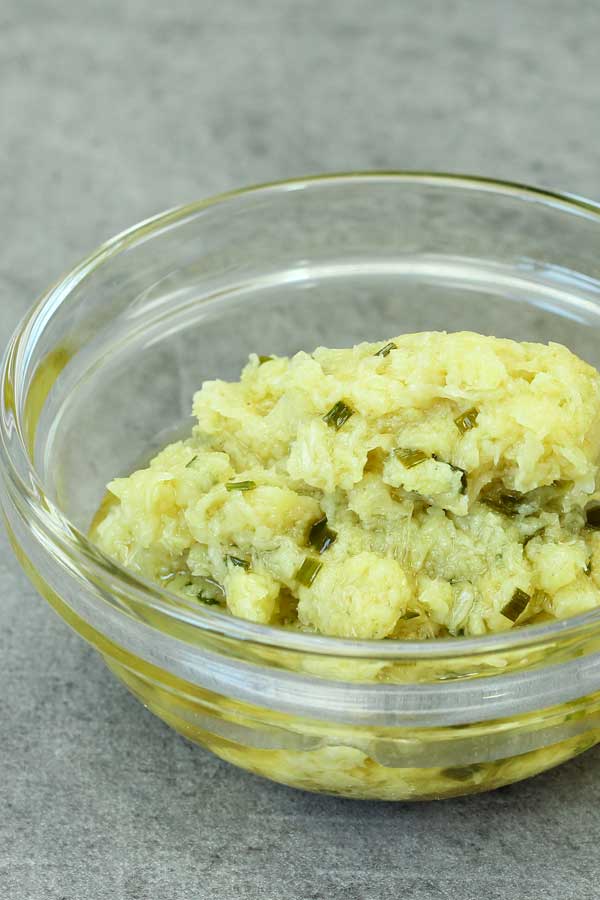 How To Eat It
As we can already see, this dish involves several components to it. What I usually do is serve the rice on a plate. And then I place the sliced chicken on a bed of lettuce and I pour some of the soy sauce on top of the chicken.
Then I serve the chili and ginger garlic sauce separately in a bowl. And finally this is just me, I like to have a small bowl of chicken soup with it.
I will spoon some chicken soup onto my rice. Then with every spoon of rice (yes I'm an Asian, I use spoon not a fork) I will put some chicken, lettuce, the chili and ginger garlic sauce. It's truly delicious! Do give this a try. If you have any questions, let me know. Enjoy!
Related Recipes
Video
📖 Recipe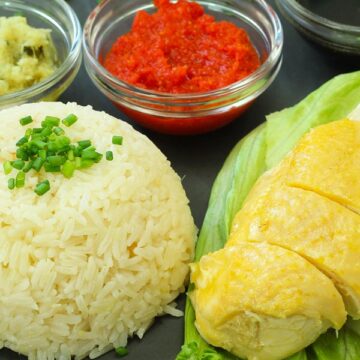 Hainanese Chicken Rice with 3 Sauces
Amazing Hainanese Chicken Rice together with its 3 sauces. This recipe requires a few steps to it but every step is easy with simple ingredients.
Print
Pin
Rate
Ingredients
Instructions
The Chicken
Bring a pot of water to a boil. Gently place in the chicken together with salt, ginger, garlic and spring onion. Bring it to a gentle simmer and cover the pot with a lid.

Cook for 30 minutes or until the internal temperature of the chicken is 165ºF (75ºC). Now gently lift up the chicken with a slotted spoon and place it in a pot containing ice water.

Leave it for 15 minutes then discard the water and cover the chicken so the skin doesn't get dry. Save the chicken stock for later.
The Rice
Using a casserole pan, heat butter on medium heat and then add in grated ginger and garlic. Cook until they start to turn golden brown. Then add in jasmine rice (that has been rinsed until the water ran clear) and continue cooking for another 2 minutes, stirring the rice gently as you cook.

Add in chicken stock, salt and oyster sauce. Gently mix and bring it to a simmer. Cover the pan with a lid, reduce heat to low and cook for 15 minutes or until the rice is fully cooked. Fluff it a bit and it's ready.
The Soy Sauce
Into a bowl, add in all of the ingredients and mix well. The sauce is ready.
The Chili Sauce
In a food processor, blend red capsicum, onion, ginger and garlic into a fine mixture. Pour it into a pan together with sugar, sriracha and salt. Cook on medium heat for a few minutes until the mixture thickens.

Turn the heat off and add in vinegar. Give it one last mix and the sauce is ready.
The Ginger Garlic Sauce
Heat oil in a pan on medium high heat. Then add in grated ginger and garlic. Cook for 2 minutes and then turn the heat off. Now add in the rest of the ingredients and mix everything together. The sauce is ready.
Assembling
Put some rice on a plate. On the side, place some slices of chicken on a bed of lettuce and pour some soy sauce on the chicken. Serve all the 3 sauces separately in a bowl together with a bowl of chicken soup, if you like. Enjoy!
Nutrition Facts
Calories:
708.7
kcal
,
Carbohydrates:
63.3
g
,
Protein:
34.1
g
,
Fat:
34.5
g
,
Saturated Fat:
9.5
g
,
Cholesterol:
119
mg
,
Sodium:
2761.7
mg
,
Potassium:
507.5
mg
,
Fiber:
1.9
g
,
Sugar:
4.5
g
,
Calcium:
72.2
mg
,
Iron:
2.5
mg