I know you guys just love my cheesecake recipes and I'm beyond ecstatic for that. I've been wanting to make healthier cheesecakes so that we all can enjoy it more often because, who doesn't love cheesecakes, right?
Also I want you to know that healthier cheesecakes are possible and they're absolutely delicious. We don't compromise any tastes here *wink!*.
So to start off this spring I'm sharing with you this healthy mango cheesecake that's also a no-bake. Let's get started!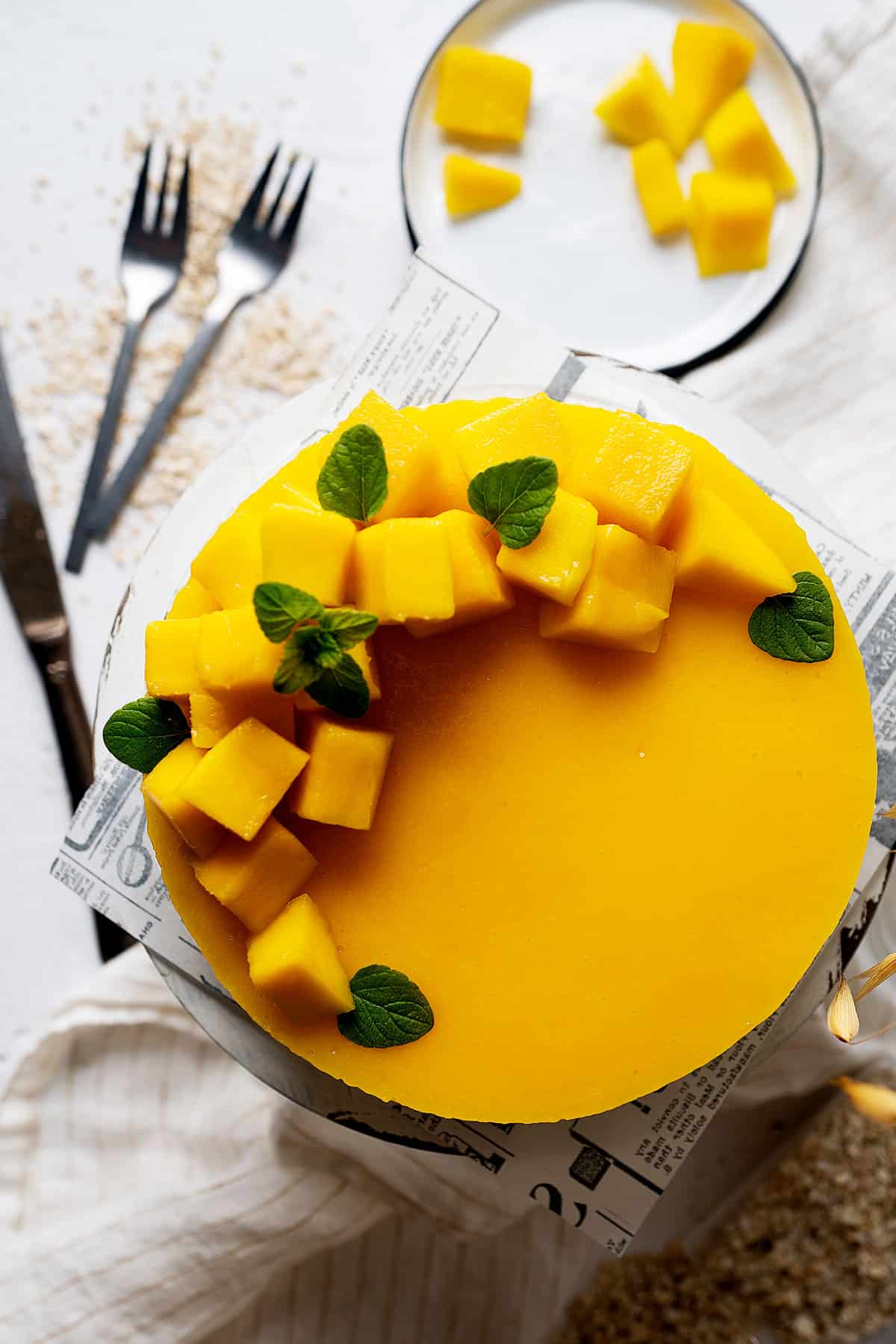 Jump to:
Recipe Highlights
Texture and flavour - Nutty mildly sweet base with creamy fresh mango filling and topped with mango puree and more mango on top
Diet - It's a lighten up dessert with only 169 calories per slice, gluten-free and refined-sugar free
Size - 10 people
Level - Easy
Lets Talk Ingredients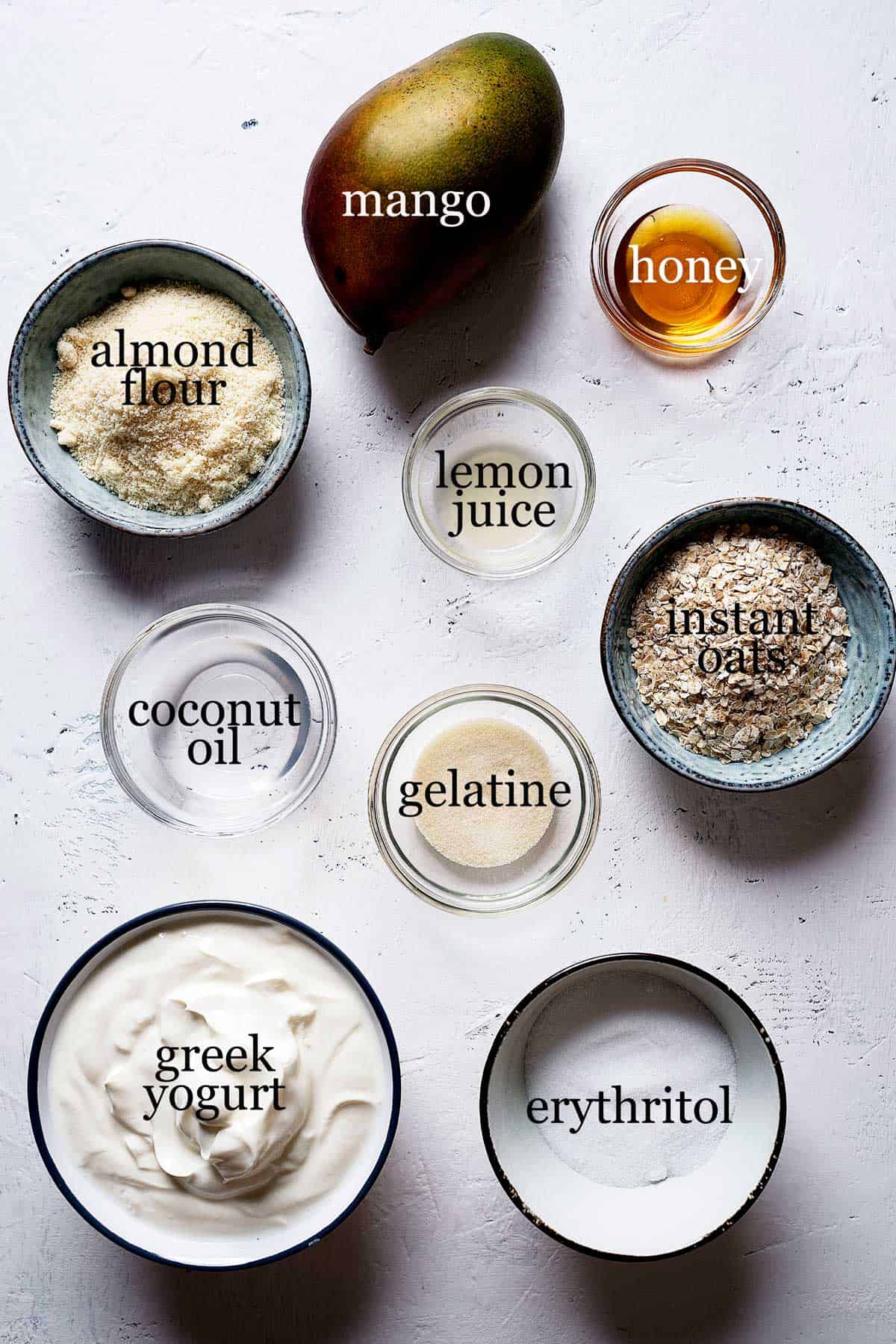 The base - I use a combo of instant oats and almond flour for that nutty flavour. You can use the total amount of just instant oats or just almond flour.
ALMOND FLOUR VS ALMOND MEAL:
- Almond flour is finely ground, boiled, blanched almonds (without skin). It's mild beige almost white colour.
- Almond meal is coarsely ground, raw almonds with skin. It's mild beige with dark brown spots (the skin). You can use this also but just know that the base will have darker colour.
Yogurt - Greek yogurt works the best because of it's texture. Use natural unsweetened full fat yogurt.
Erythritol - It's one of the healthiest sweeteners out there with no calories, prevents blood sugar spike and diabetic friendly. Perfect for this recipe so that the mango colour shines through.
SUBSTITUTION: You can use the same amount of the regular confectioner sugar, if you can't find erythritol. Straying a bit from being healthy but it works.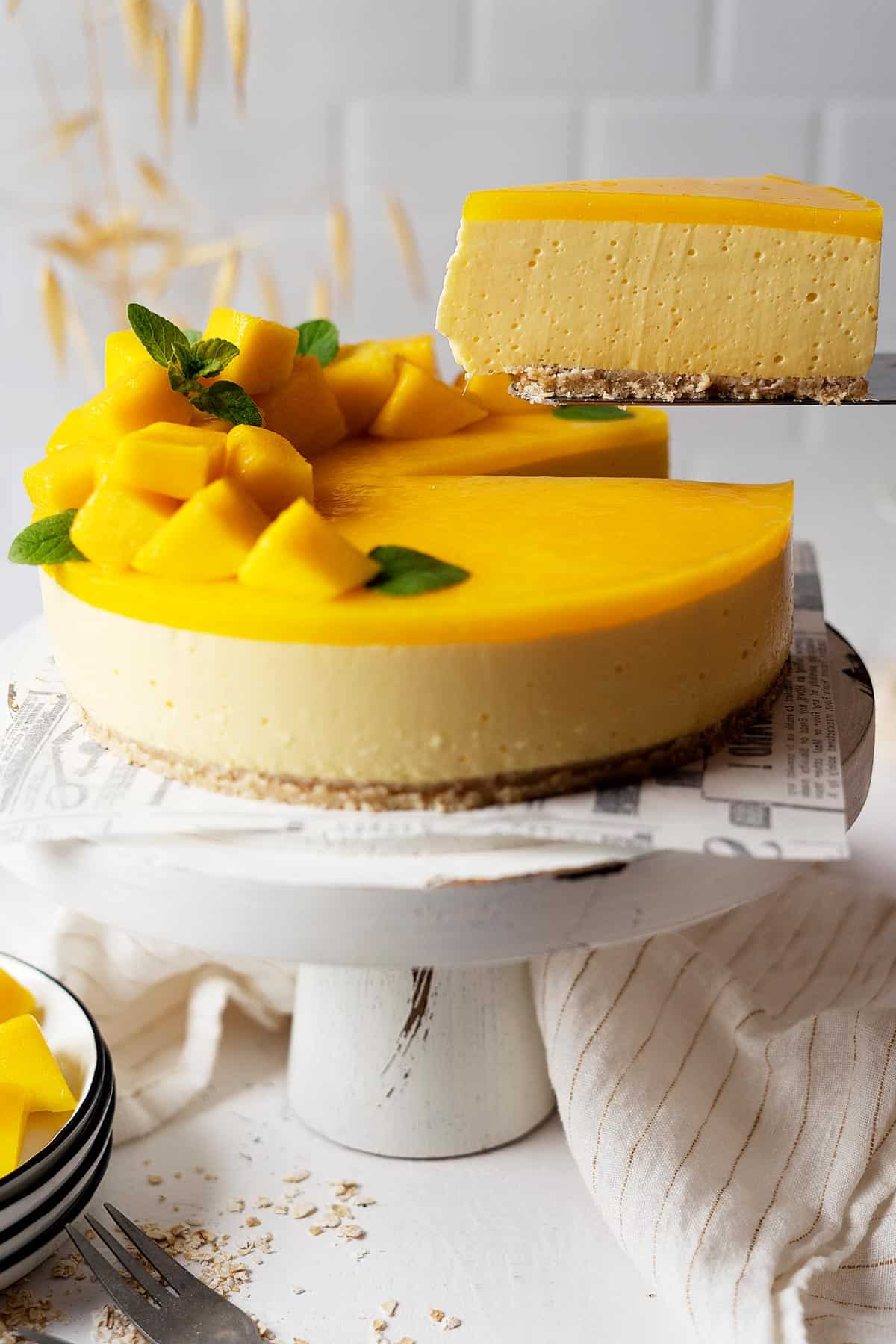 Gelatine - I use neutral gelatine powder for the amount that sets 2 cups (500 ml) of liquid for the filling and ⅓ cup (80 ml) for the topping. You can use agar-agar or gelatine sheets instead.
TIPS: All types and brands have different strength to solidify liquid. So read and follow your packet instructions on the amount and how to use it. Remember, use the amount as I mentioned above.
Mango - I use around 1 ½ large fresh mangos and turn it into smooth puree using my Ninja. I cube the other half and use as topping. You can definitely use frozen mango for puree, just make sure to thaw it first else you'd end up with sorbet-ice-cream-like mixture.
Can I Freeze It?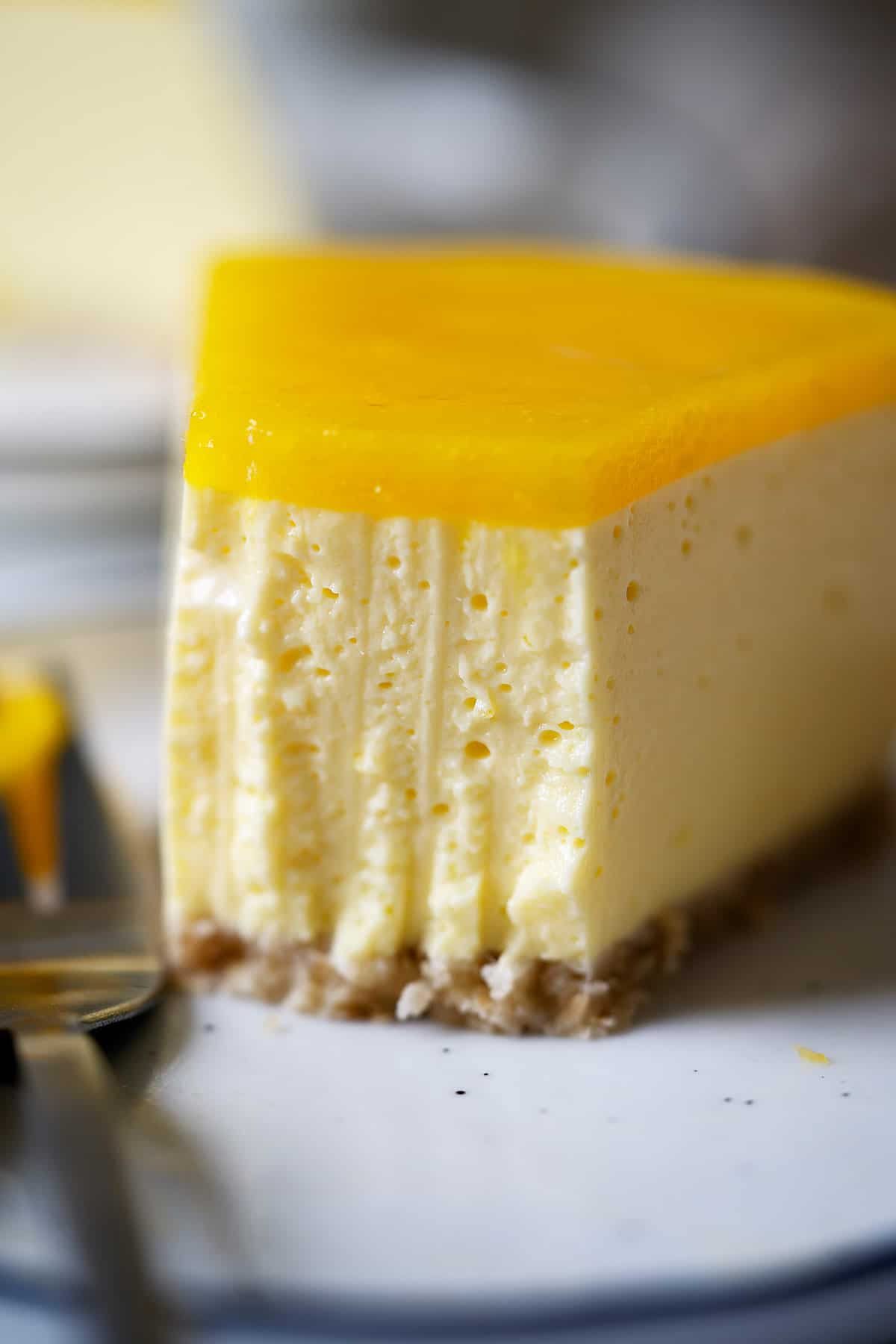 Yes, you can. Like always frozen food is not as fresh tasting as recently prepared ones but hey, it's doable.
Just slice into portions, place them separately on a parchment paper and into the freezer they go for 1 hour. Then wrap them individually or place them in a container, and back in the freezer.
Thaw in the fridge.
How To Store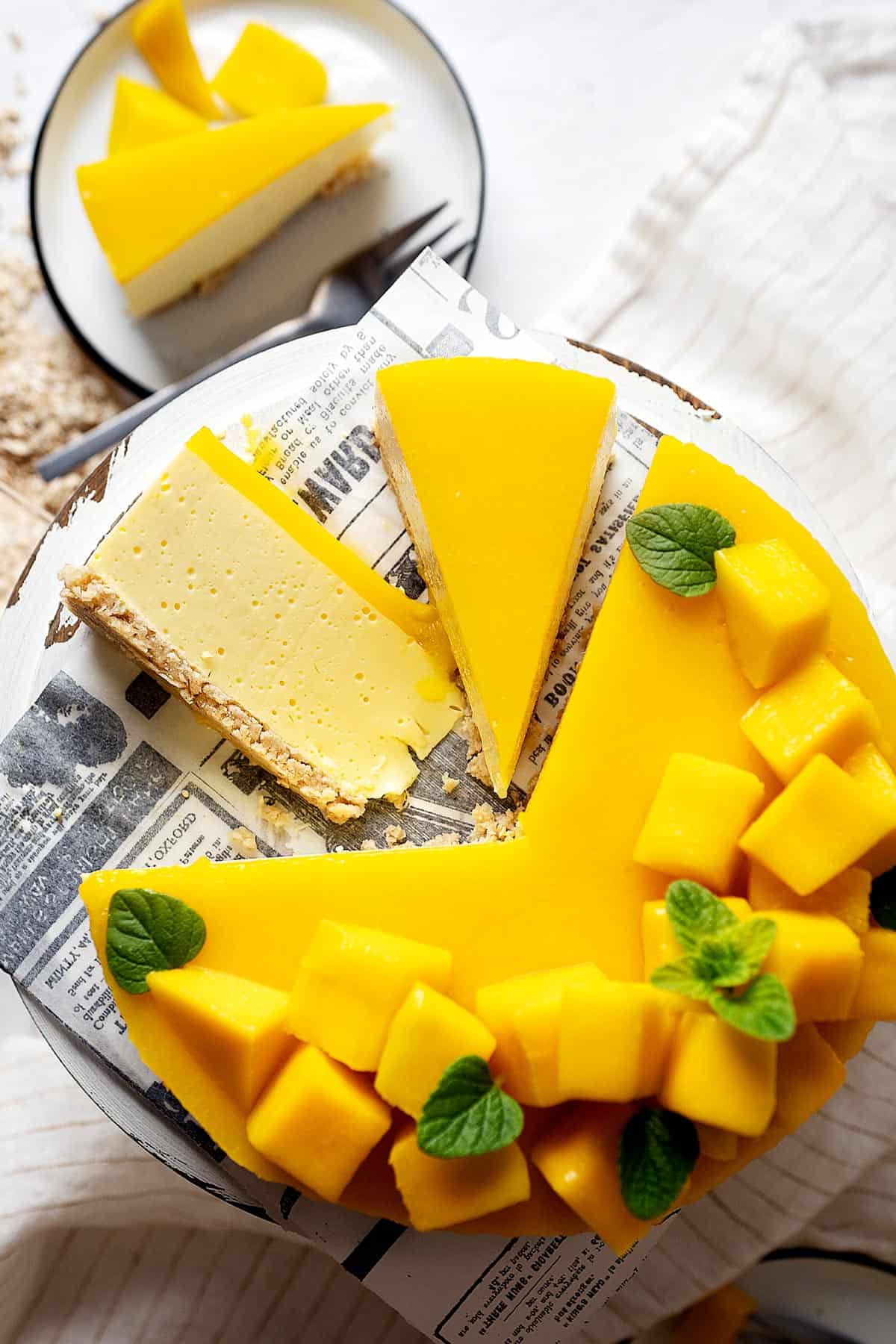 All cheesecakes (bake and no-bake) ones need to be stored in the fridge. Yes, we're using gelatine in this recipe but still, it won't hold up its shape if you have it for hours at room temperature. So always keep it in the fridge.
If you're hosting, place the set cheesecake on your serving platter or cake stand in the fridge while waiting for your guests to arrive. Yes, do this in advance.
Only when it's time for dessert, take it out and show it off to your guests while you're slicing and serving. Place the balance back in the fridge.
More Healthy Sweets
Recipe Video
📖 Recipe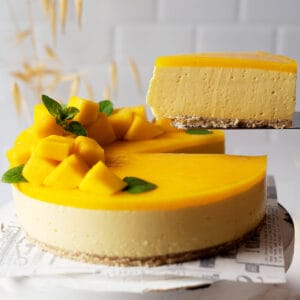 Healthy Mango Cheesecake (No-Bake)
You wouldn't believe how easy and delicious this no-bake healthy mango cheesecake is. Nutty base, creamy mango filling and more mango as topping. It's mango overload and only 169 calories per slice. Give it a try!
Print
Pin
Rate
Ingredients
The Base
½

cup

instant oats

(

45

g)

½

cup

almond flour

(

45

g)

2

tablespoon

melted coconut oil

(

30

ml)

1

tablespoon

honey

(

20

g)
The Mango Puree
1 ½

large ripe mango

1 ½

tablespoon

lemon juice
The Filling
1

lb

natural unsweetened Greek yogurt

(

450

g)

½

cup

erythritol

(

60

g)

1

cup

mango puree

(

250

g)

1

tablespoon

gelatine powder

(

10

g)

3

tablespoon

water

(

45

ml)
The Topping
½

cup

mango puree

(

125

g)

½

teaspoon

gelatine powder

(

1.5

g)

1

tablespoon

water
Instructions
The Base
Add oats and almond flour into a food processor and blend for a few seconds until you get a semi coarse mixture. Then add in coconut oil, honey and continue blending until everything comes together.

Pour into

1

x 7 inch (18 cm) springform pan and using the back of a spoon, press the mixture evenly. Place in the freezer for 30 minutes while you continue with the rest.
The Mango Puree
Add all ingredients into a processor and blend into a smooth puree. Separate it into

1

cup (

250

g) for filling and

½

cup (

125

g) for topping into different bowls. Set aside.
The Filling
Add yogurt and erythritol into a bowl and mix together using a hand held whisk. Set aside.

Into another bowl, add in gelatine and water. Leave for 5 minutes for the gelatine to bloom. Now heat gently in microwave (or double boiler) until everything is dissolved.

Take a few tablespoon of mango puree and mix well with gelatine, using a spoon. Now add the mixture into mango puree bowl and mix everything together. Finally pour into the yogurt mixture slowly while whisking. Once everything is well incorporated, pour into our prepared pan and chill in the coldest part of the fridge for 3 ½ hours.
The Topping
Add water and gelatine powder into a bowl and leave it for 5 minutes for the gelatine to bloom. Heat gently in microwave (or double boiler) until everything is dissolved. Now add into the mango puree bowl and mix everything well.

Pour on top of chilled cheesecake and immediately swirl the pan so that the puree covers the whole top surface. Place back in the fridge for another 30 minutes.
How To Remove Cheesecake From Pan
Run a knife all around the cheesecake to help loosen it up. Release the spring and remove the ring. Run a knife all around under the cheesecake base to loosen it. Insert 2 big flat spatula underneath, on opposite direction. Swiftly yet confidently lift up the cheesecake using the spatulas and place it on a serving plate.
Serve
Cube the balance of half mango flesh and arrange on top. Slice and serve, enjoy!
Nutrition Facts
Serving:
1
portion
,
Calories:
168
kcal
,
Carbohydrates:
29.5
g
,
Protein:
7.2
g
,
Fat:
8.2
g
,
Saturated Fat:
2.7
g
,
Cholesterol:
2.3
mg
,
Sodium:
19.4
mg
,
Potassium:
202.8
mg
,
Fiber:
2.2
g
,
Sugar:
13.3
g
,
Calcium:
73.6
mg
,
Iron:
0.6
mg