What Is It?
Murtabak has quite a few names to it. Some call it matabbak, mutabbak or mutabbaq. Mutabbag in Arab means folded.
A murtabak is a type of flatbread that is usually filled with different types of filling. It can be meat, veggies, eggs, onion.. you get the idea.
It is very famous and loved in various countries such as India, Saudi Arabia, Indonesia, Singapore, Thailand, Brunei and my homeland country, Malaysia. Each of these countries have their own version of murtabak, of course.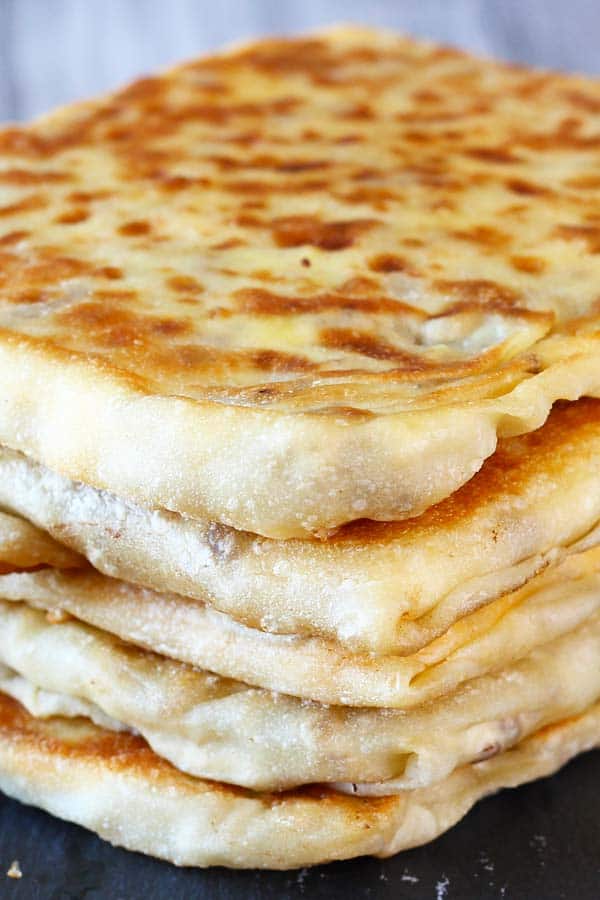 In Malaysia, murtabak originated in Indian Muslim restaurants or we call Mamak restaurants and now it is famous throughout the whole country. It can be found anywhere and is one of the famous street food in Malaysia.
My Style
I have yet to find any restaurant in Spain that offers murtabak in their menu. Having said that, I'm living in a small city in Andalusia. We travel when we can but so far, no murtabak has crossed our path.
Once when we were in Barcelona, we met these kind Indonesians that told us about a Malaysian restaurant nearby where we were staying. Imagine my excitement!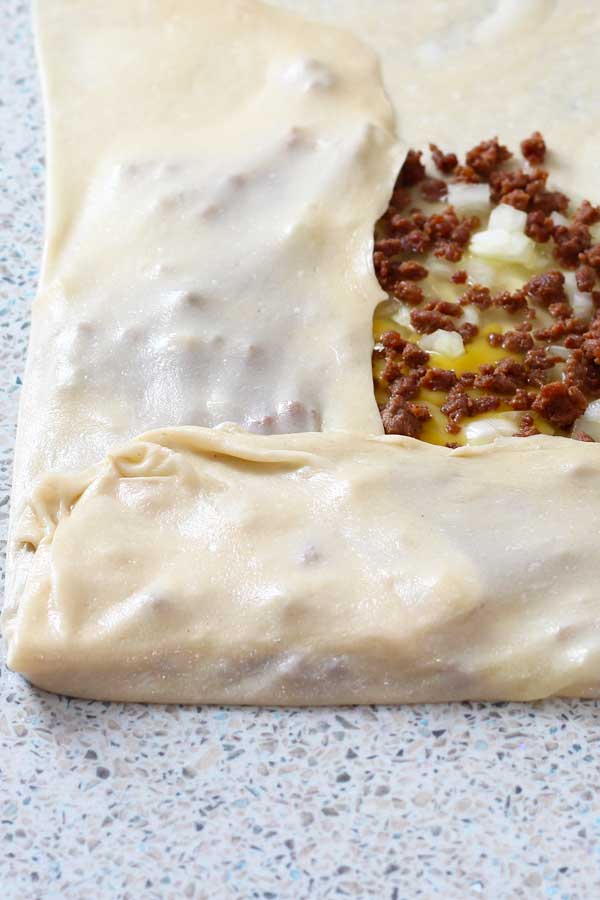 We went to check it out but unfortunately didn't get to taste any dish because of time constraint. Next time perhaps.
By the way if you know any other Malaysian restaurants in Spain, do let me know. I would really love to try!
As you can see it's not easy to find Malaysian food here in Spain, so I make all of my Malaysian food.
And today I'm sharing with you how I make my homemade murtabak with beef, onion and egg filling. It's easier than you might think, actually. So don't worry.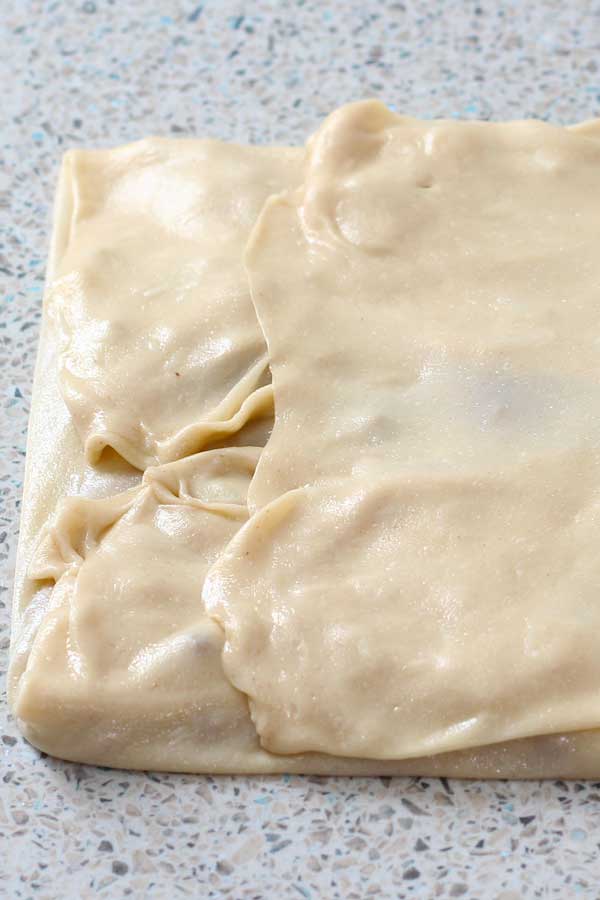 The Dough
The dough that I use to make my murtabak is exactly the same dough that I use for my roti canai.
If you haven't already, you need to check out my roti canai. It's one of Malaysians' famous dish.
The dough is so easy to prepare but it does need some hours to rest and build the taste. I usually prepare the dough one day ahead.
If you ever seen how murtabak or roti canai dough is being stretched in any Mamak restaurants, you would be in awe. They flip the dough in the air!
Me, however, I don't have that skill. Haha! What I do is stretch it with my hands on a working surface until it's transparent thin. Yes, the dough is that elastic that it can be stretched until that point.
You can see in the video below how I do it. It's super easy.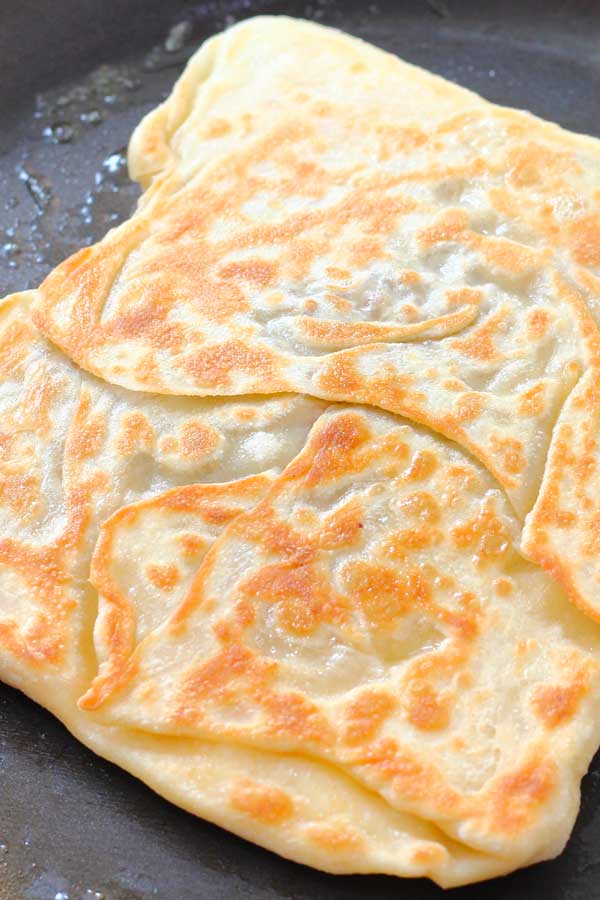 The Filling
As I mentioned earlier, the filling can be whatever your heart desired. For this recipe I'm going with a simple one. Briefly sautéed minced beef with some spices, raw onion and egg.
Some people like to cook the meat, onion and egg together first and form it into square patties. Then they would put the a patty in the center of a stretched murtabak dough and fold it.
As for me, I like to make it simpler by adding the filling directly on the dough. If you're worry that the egg might go everywhere, don't. Crack it on the meat and onion and they will kind of hold the egg in place.
You can see how I do it in the video below.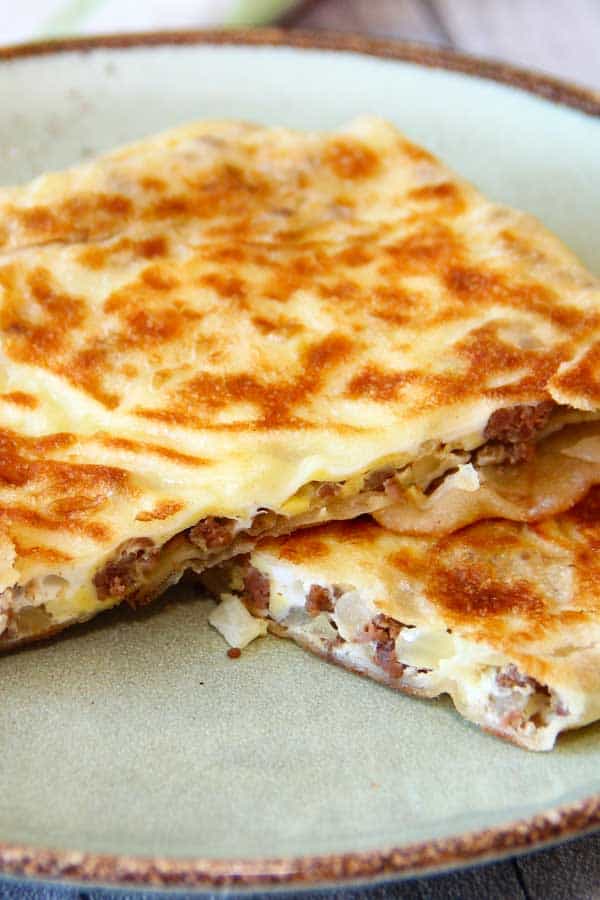 Homemade
So if you're a Malaysian living abroad or if you're into food from all around the world, you should give this murtabak a try.
Dhal or any curry is a great choice to go along with this delicious homemade murtabak. Enjoy!
More Flatbread Recipes
Recipe Video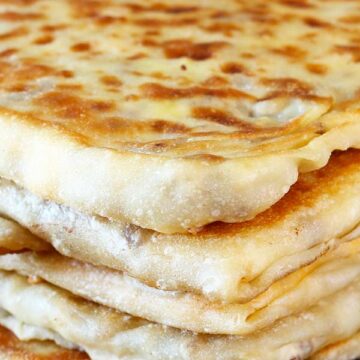 Homemade Murtabak
Authentic Malaysian famous flatbread with egg, onion and meat filling! This is a simple and easy version of murtabak. Dhal or curry are great choices to go with this delicious murtabak.
Print
Pin
Rate
Ingredients
The filling
1

lb

minced beef

(

500

g)

1

teaspoon

salt

1

teaspoon

cayenne pepper powder

2

teaspoon

cumin powder

10

eggs

½

yellow onion (add more to your liking)

, chopped
The bread
4

cups

bread flour

(

520

g)

1

egg

, room temperature

3

tablespoon

unsalted butter

, (

45

g) melted

1

tablespoon

condensed milk

1 ¼

cup

water

(

310

ml)
Others
some butter

, to coat the bread, pan and working surface

1

yellow onion

, chopped
Instructions
The filling
Heat a pan with some oil on medium heat. Add in meat, salt and cook until the meat it fully cooked, breaking up the meat as you go. Add in cayenne and cumin powder, continue cooking for 1 minute until the powdery taste is gone.

Set aside to cool completely before using.
The bread
In a standing mixer bowl, add in all the bread ingredients. Mix to incorporate everything and then knead for 10 minutes. Leave the dough to rest for 10 minutes (cover the bowl with a kitchen towel to prevent it getting dry) and then knead for another 5 minutes.

Form the dough into a log and cut into 10 equal pieces. Form each piece into a ball and coat it generously with some soften unsalted butter. Place the balls in a buttered container. Cover tightly with a cling film and leave to rest in the fridge overnight.
Making murtabak
Coat the working surface generously with some soften unsalted butter. Place 1 ball of dough and flatten it with your fingers. Continue pressing and pushing the dough with the heels of your hand to stretch it.

Stretch it as thin as possible, until you can almost see through it. Now and then spread some soften butter on the dough to help the stretching.

If you want, you can lift 1 edge of the dough and carefully pull to even stretch it more. You can watch in the video to see it better.

Put 1 egg in the center of the dough. Break the yolk a bit with your fingers. Sprinkle some chopped onion on the egg, followed by previously cooked meat. Fold the dough into a square, overlapping in the middle and making sure the filling is fully covered by the dough.

Do the same with the rest of the balls.
Cooking murtabak
Heat some butter in a pan on medium heat. Place the murtabak and cook for a few minutes until the bottom looks crispy. Flip it and continue cooking for a few minutes on the other side also.

Best served hot, enjoy!
Notes
These murtabak are meant to be eaten together (dipped) with some curry of choice. The taste is a tad mild if you were to eat them alone.
Adjust the seasoning if you plan to eat them as they are.
Nutrition Facts
Calories:
426.7
kcal
,
Carbohydrates:
41.6
g
,
Protein:
20.3
g
,
Fat:
19.2
g
,
Saturated Fat:
8.1
g
,
Cholesterol:
213.4
mg
,
Sodium:
346.7
mg
,
Potassium:
282.1
mg
,
Fiber:
1.6
g
,
Sugar:
2.2
g
,
Calcium:
57.5
mg
,
Iron:
2.5
mg