What Is Sambal?
Sambal is a chili paste or sauce that is usually made from varieties of chillies and mixed together with other ingredients such as onion, garlic, ginger, tamarind, soy sauce or shrimp paste.
The sambal word originally comes from sambel, an Indonesian word.
Sambal can be a condiment to other meals like my delicious curry laksa or it can also be a meal by itself like anchovies sambal, just to name one. You typically eat it with: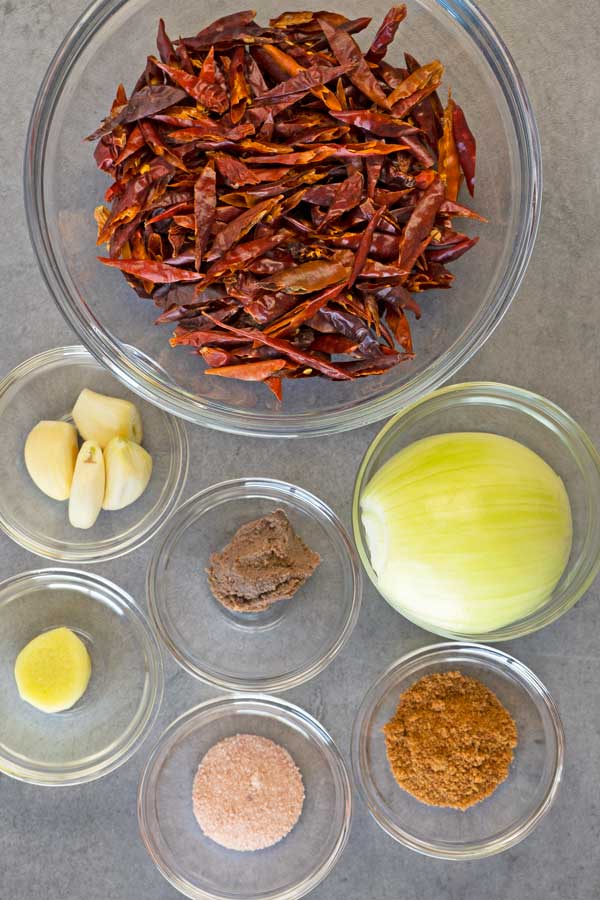 Malaysian Sambal
Though originated in Indonesia, it is as popular in Malaysia, Brunei and Singapore.
Like always, each countries have their own version of it and today I'm sharing how I always make my sambal.
This is the base of sambal and from that I either add some seafood, chicken, veggies into it. Or I simply use it as a condiment.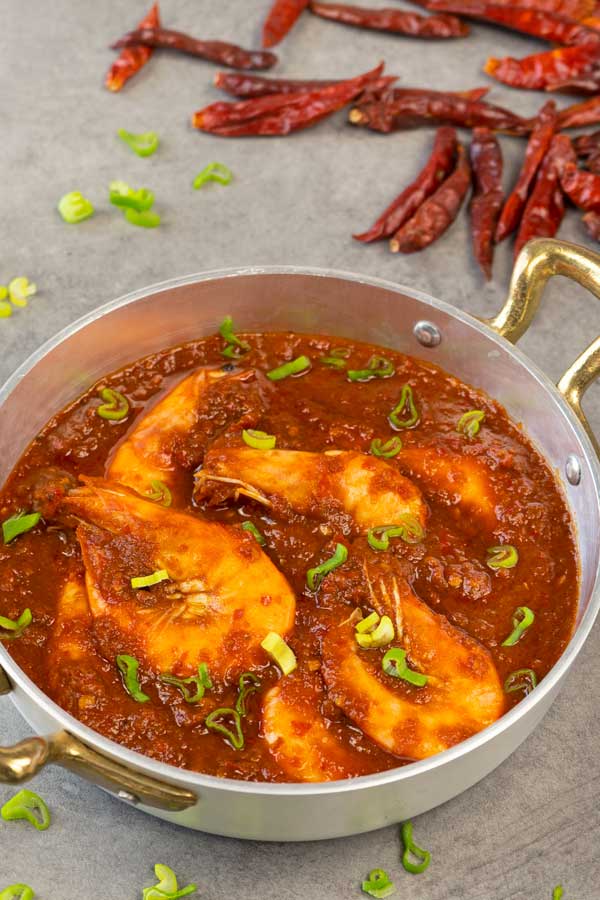 If you cannot take the spiciness of this sambal, no worries. I have a sambal recipe that's made from roasted sweet bell peppers with just enough heat to it for you to enjoy.
Since it's very versatile, it's great to know how to make it and plus, it's so easy!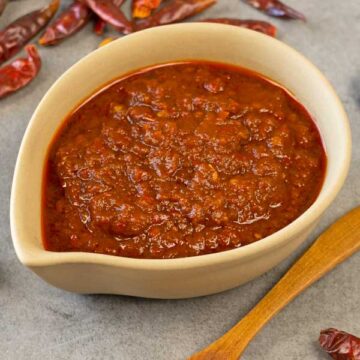 How To Make Malaysian Chili Paste (Sambal)
A base sambal recipe that you should have. You can then turn it into anchovies sambal, seafood, chicken or veggies sambal. Or simply use it as a condiment for your favourite soups.
Print
Pin
Rate
Ingredients
1.8

oz

dry chillies

½

onion

, cut into chunks

4

garlic cloves

1

slice of ginger

1

thumb sized

shrimp paste

1

tbsp

lemon juice

, or lime juice

3

tbsp

coconut sugar

1

tsp

salt
Instructions
Prepping The Chillies
Using a scissor, cut the dry chillies at an angle into small pieces. This is to help remove the seeds. Put them in a bowl and soak with hot water for 30 minutes or until soften.

Drain the chillies in a colander and wash them with running water while mixing around. This will help remove the seeds.

Place drained chillies together with onion, garlic, ginger, shrimp paste into a food processor with ½ cup water (125 ml). Blend into smooth mixture.
Cooking The Sambal
Heat a wok with some oil on medium heat. Pour blended chillies mixture together with 1 cup water (250 ml). Stir a bit and cook until the sambal mixture thickens, around 10-15 minutes.

Add another ½ cup water (125 ml) and mix well. Continue cooking until the sambal thickens once more.

Add sugar, salt and lemon juice. Mix well and continue cooking for another 1-2 minutes. Turn the heat off.
Note: as the sambal thickens, it tends to spit and splatter. Use splatter screen for frying to avoid a mess 😀
How To Serve
Use as a condiment for laksa, soups or as dipping sauce for grilled fish, chicken etc.

Add your favourite protein source such as seafood, eggs, chicken etc and enjoy it with some rice on the side.
How To Store
Store in the fridge for consumption within a few days.

Put in a ziplock bag and store in the freezer up to 6 months.
Notes
A good sambal is a tad sweeter than it is spicy, salty or sour. Adjust to your likings
Adjust seasoning or add water as needed when you add  seafood, chicken etc with the sambal