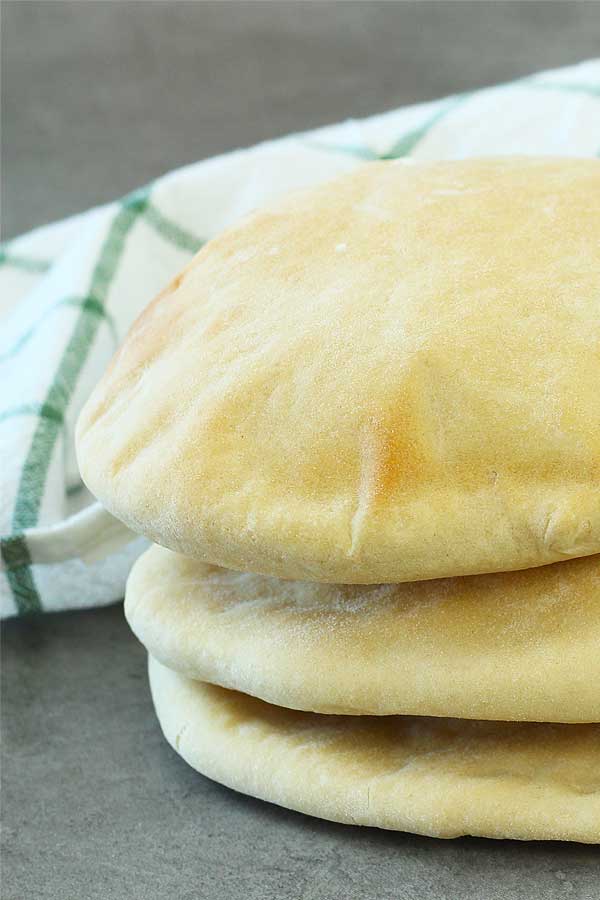 Background
Pita or sometimes called pitta bread, is a type of flatbread. It's origin is Western Asian and sometimes is also known as Arabic bread. Pita bread is usually baked on high temperature causing the dough to puff up and create an air pocket.
With the convenience of the air pocket, it's perfect to stuff with some fillings of your choice.
If you like this recipe, consider checking out my beef Turkish pide, it's a delicious flatbread with a beef filling.
Simple type of bread
Pita bread doesn't require fancy ingredients. Just a handful of basic ingredients in the kitchen. Flour, salt, sugar, water and some oil. I'm using olive oil in this recipe as I simply love the taste.
We use olive oil for almost all types of cooking in our house except for certain occasions when we use sunflower oil for deep frying and baking when needed.
You can knead the dough by hand, of course. How to know when to stop kneading? When you see the dough is smooth and elastic. So depending on your frustration at somebody, you might have the kneaded dough ready in 5 or 15 minutes.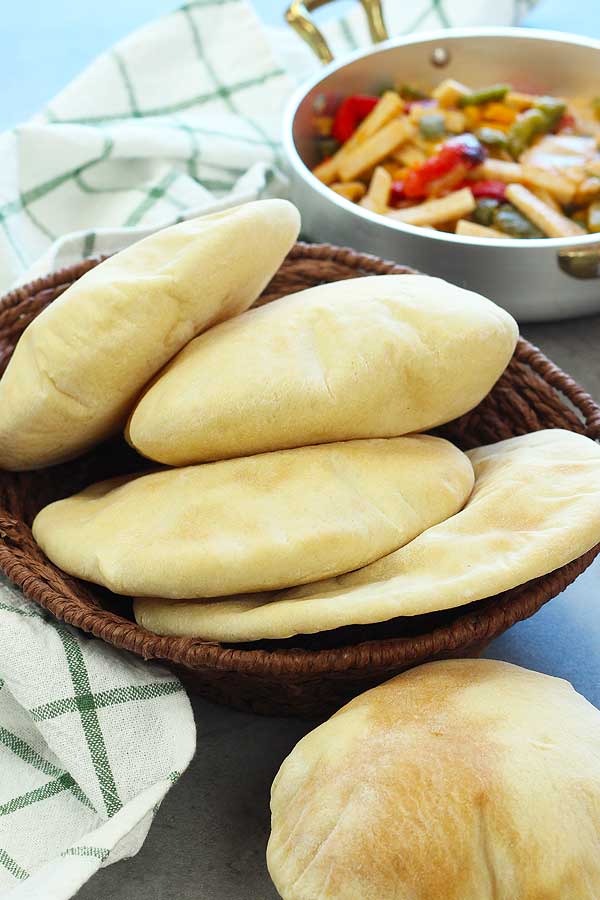 To make sure your pita bread puffs up beautifully, make sure to roll the dough thin. I find that ¼ inch (0.5 cm) thickness is just nice. The thicker the dough is, the more difficult it is to puff up.
So if the rolled doughs are sitting out for a while in the kitchen top and puff up a lot, simple re-roll them again to not more than 1 cm thickness.
How To Bake It
As I mentioned earlier, you need to bake this pita bread on high temperature. What I do is preheat my oven together with the baking tray that I'm going to use. This is so that the baking tray is also very hot when I place the dough on it.
Once the oven is ready, I simply place the dough on the tray and bake it for several minutes. It doesn't take long to cook.
Watch the magic happens as you bake the pitta bread. It's going to puff up like a balloon in the oven! Yep. I don't know about you but I find it so therapeutic.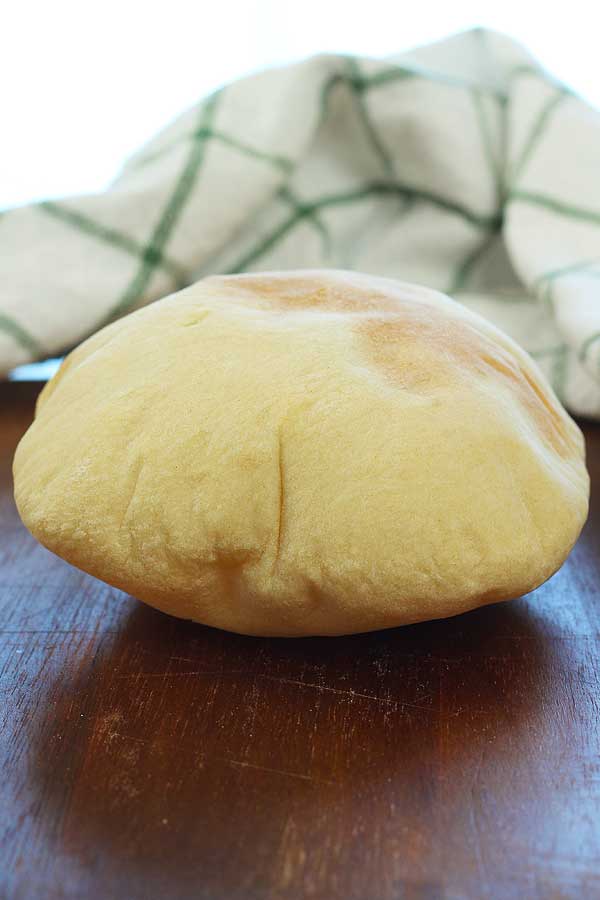 How To Eat It
You can simply eat your pita bread with anything really. Dhal curry, punjabi curry or even rendang. Or you can also fill your pita bread with some grilled meat like beef kofta, chicken satay.
So the list goes on and on. One thing's for sure, whatever you're eating your pita bread with, it's going to be delicious! Enjoy!
Interested in some other flatbreads? I've got you covered.
Check my roti canai, Lebanese flatbread, gozleme, cheese stuffed naan and murtabak,
Video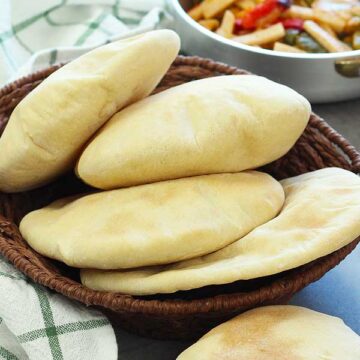 Pita Bread
Soft and fluffy pita bread also known as Arabic bread. Only using basic ingredients in the kitchen. Perfect for stuffing with your favourite fillings.
Print
Pin
Rate
Ingredients
⅔

cup

warm water

(

160

gr)

½

teaspoon

sugar

1 ½

teaspoon

dry yeast

(

5

gr)

2

cup

bread flour

(

260

gr)

½

teaspoon

salt

1

tablespoon

olive oil
Instructions
Add sugar into warm water and stir until sugar is dissolved. Then sprinkle in dry yeast, stir and set aside for it to activate (gets foamy), around 3-5 minutes.

Add the rest of the ingredients together with the activated yeast mixture into a standing mixing bowl. Mix to incorporate and then knead for 10 minutes.

Form the dough into a ball and then place in a greased bowl. Coat the dough with some oil and cover the bowl tightly with a cling film. Leave until the dough rises double its size in a warm and draft free place.

Place the risen dough on a floured surface and lightly knead it into a log. Then cut it into 5 equal pieces. Form each pieces into a ball.

Roll each ball into ¼ inch (0.5 cm) thick circles. Meanwhile place a baking tray in the oven and preheat it at 440ºF (225ºC). Then carefully place the rolled doughs on the hot baking tray. Bake for 5-7 minutes until they puff up.

Stack on top on each other and cover with a kitchen cloth to keep them warm. Fill the pockets with your desired fillings or simply enjoy them as they are!
Nutrition Facts
Calories:
229.3
kcal
,
Carbohydrates:
40.2
g
,
Protein:
7.8
g
,
Fat:
4
g
,
Saturated Fat:
0.6
g
,
Sodium:
240.5
mg
,
Potassium:
87.8
mg
,
Fiber:
2.3
g
,
Sugar:
0.6
g
,
Calcium:
10.2
mg
,
Iron:
0.6
mg