Oh how we both love to try food from all over the world. Which is what our Youtube channel and our website is all about. El mundo means the world in spanish.
Today's recipe we will be tasting an amazing Lebanese flatbread with za'atar or it's also famously known as Man'oushe za'atar.
What Is Man'oushe
Man'oushe (singular) or manaeesh (plural) - correct me if I'm wrong, is a very famous flatbread from Lebanon.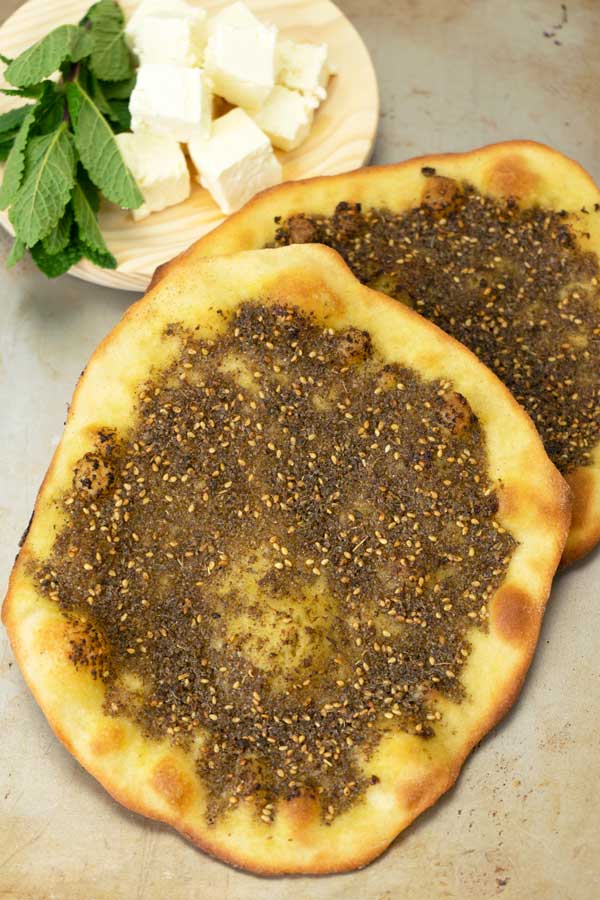 The flatbread usually has some type of topping on it. The topping varies from minced meat, feta cheese, fresh herbs like mint, cucumber, tomato and za'atar.
What Is Za'atar
Za'atar is a very popular mix of herbs and spices in the Middle East.
It consists of a blend of thyme, oregano, sesame seeds, marjoram and sumac.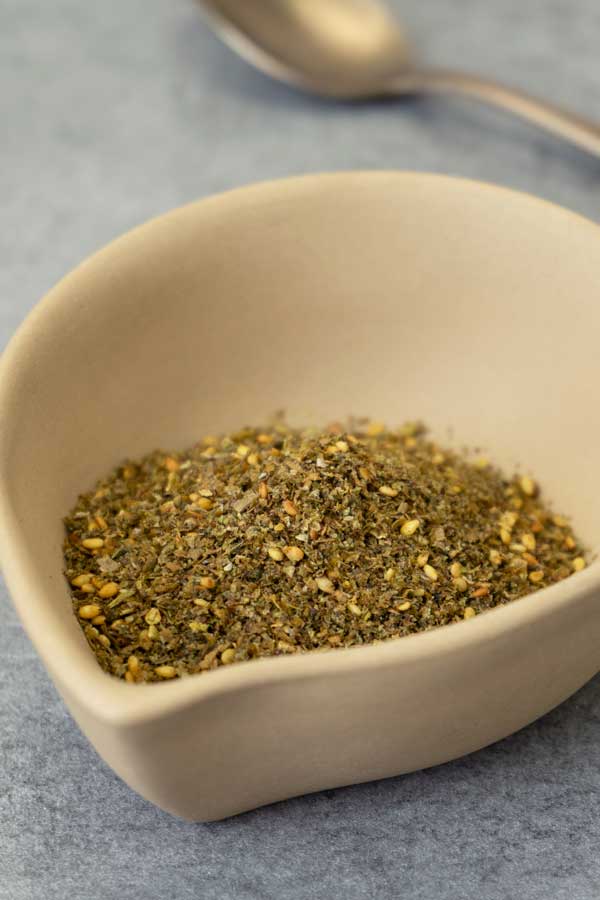 Za'atar is used in various dishes and meals preparation. You can have it with bread (a dip of za'atar with olive oil), bread filling, have it as tea, condiment for hummus or seasoning for meat.
And the smell! It has this lemony smell that's really amazing.
How To Achieve Flatbreads With Air Pockets In The Oven
Quite a lengthy title but it's worth it.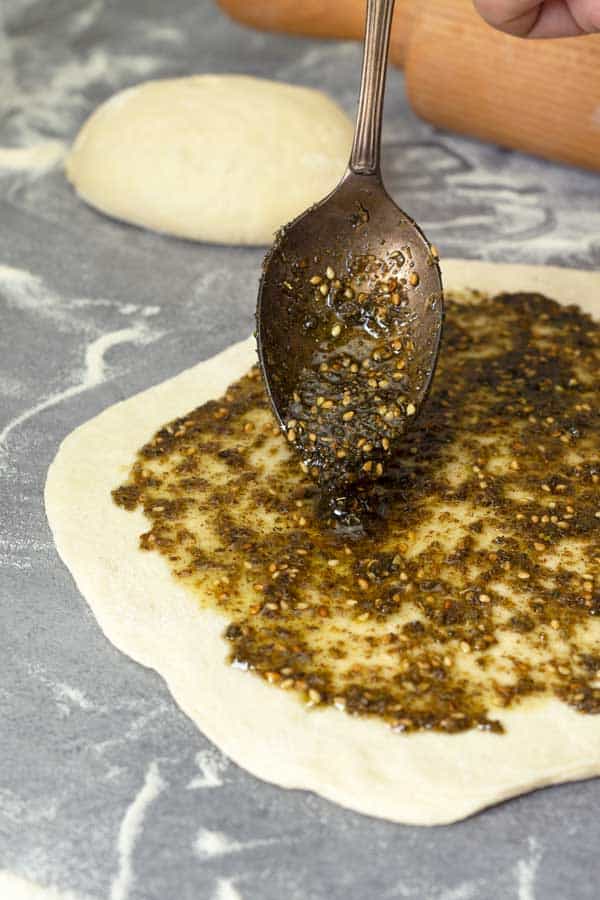 We love the rustic look of a flatbread that has those random air pockets on it with bits of charred and golden brown color here and there.
So artisan looking, right?
Usually they use a special oven either a tandoor or special pizza oven that we, as home cooks don't have the luxury of having. If you have one, just know that I envy you.
But worry not my fellow home cooks, we CAN achieve those looks also. Yeay!
Here's how:
high temperature - 500ºF or 250ºC would do the trick. preheat your oven for a good 30 minutes at least, together with the pizza stone
pizza stone - yes, pizza stone works amazing in maintaining the heat and cooking the flatbread. we're trying to imitate the tandoor or pizza oven by using pizza stone (mine is from Spain and it's the same size as this one)
use higher ⅔ rack in the oven - place the pizza stone on the higher ⅔ rack so that it's closer to the upper heat in the oven. we want the flatbread to cook on high heat and fast
roll the dough quite thin - thinner flatbreads tend to have more air pockets than thicker ones
control the air pockets - we love air pockets but not too much, agree? so when the flatbread is baking sometimes huge air pockets will appear and if you don't do something, your flatbread might end up looking like a pita bread. so when you see air pockets starting to get out of control huge, open the oven door, carefully poke them with a skewer, close oven door and then let it continue baking
I hope you would give these flatbreads a try. They taste remarkable!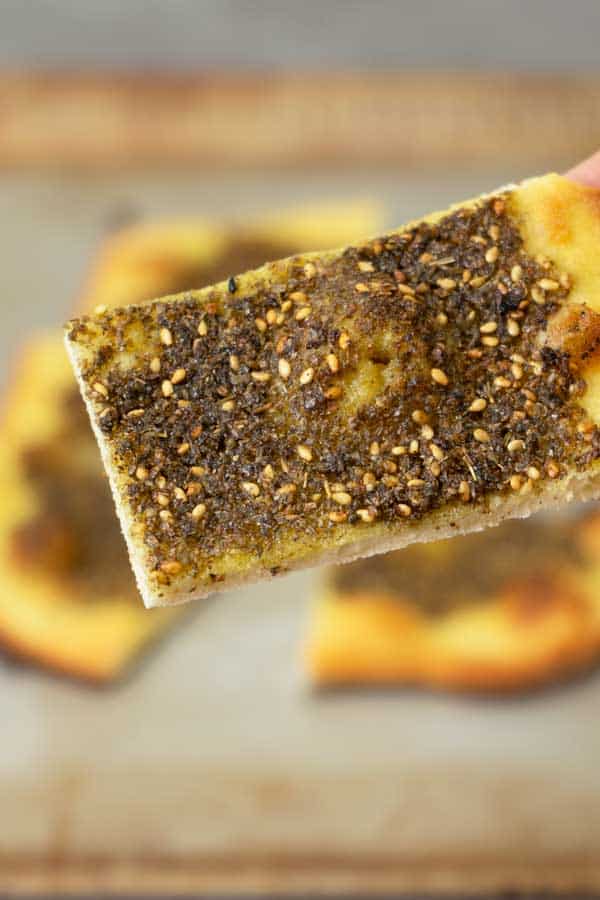 In Summary
These Lebanese flatbreads are:
super easy to make
very delicious with the za'atar topping
can be personalized to your liking. add feta cheese if you want
so fun to make especially the baking part
perfect to impress your guests when you're hosting some events
Before You Go
If you're a fan of flatbreads and similar, I have a few more recipes for you.
Video
📖 Recipe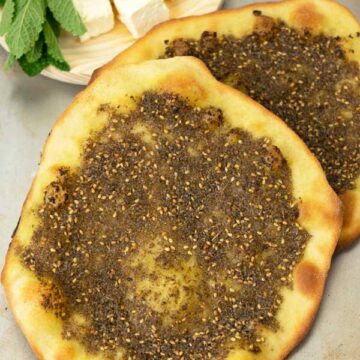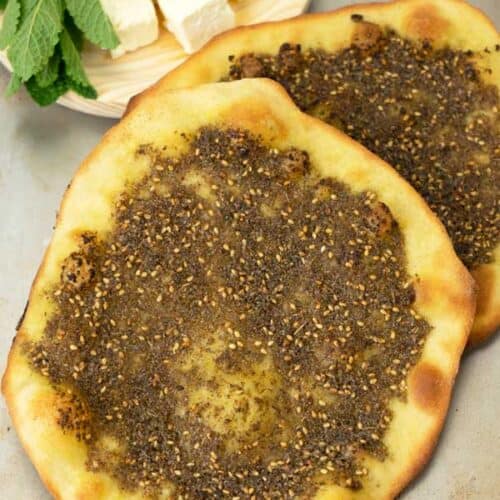 Lebanese Flatbread (Man'oushe Za'atar)
A unique and delicious Lebanese flatbread with za'atar or famously known as man'oushe za'atar. These are baked in the oven and even that, they still have that rustic look that we love about flatbreads. Easy and delicious!
Print
Pin
Rate
Ingredients
The Dough
1

cup

warm water

(

250

ml)

1

teaspoon

honey

(

7

gr)

1 ½

teaspoon

dry yeast

(

5

gr)

3

cup

bread flour

(

390

gr)

1 ½

teaspoon

salt

2

tablespoon

extra virgin olive oil
The Topping
⅓

cup

za'atar (

33

gr)

¼

cup

extra virgin olive oil

(

60

ml)
Instructions
The Dough
Mix honey with warm water. Sprinkle dry yeast and mix. Leave to activate.

In a standing mixing bowl, add the rest of the dough ingredients including yeast mixture. Mix to incorporate and then knead for 10 minutes. Form into a ball and place in a greased bowl. Cover the bowl tightly with cling film and leave for dough to rise double its size.
The Topping
Mix the topping ingredients, set aside. Use good quality extra virgin olive oil for better taste.
Assembling
Place risen dough on a working surface that has been lightly sprinkled with semolina. Lightly knead into a log and cut it into 6 equal pieces. Form each piece into a ball.

Take a ball and roll it into (4 mm) thickness. Slide it onto a pizza peel that has been sprinkled also with some semolina.

Spoon some topping on top and spread all around leaving around ½ inch (1.3 cm) empty around the edges.

Preheat the oven at 500ºF (250ºC) with a pizza stone on the higher rack for at least 30 minutes.

Bake for 7 minutes or until it turns golden brown around the edges. Continue with the rest of the balls while baking.
How To Achieve Flatbreads With Air Pockets
The combination on high oven temperature, pizza stone, using higher rack, thin dough and controlling the air pockets are the keys to get that rustic flatbread looks with air pockets.

Refer to my post above for details.
How To Serve
These flatbreads are best served warm with some feta cheese, tomato, mint leaves on the side. Use the balance of the topping as dipping sauce. They also go great with some mint tea 😉

Keep them under a kitchen cloth to maintain warm before serving.
Nutrition Facts
Calories:
416.2
kcal
,
Carbohydrates:
59
g
,
Protein:
10.4
g
,
Fat:
16.6
g
,
Saturated Fat:
2.5
g
,
Sodium:
602.7
mg
,
Potassium:
209
mg
,
Fiber:
7.5
g
,
Sugar:
1.4
g
,
Calcium:
275.1
mg
,
Iron:
17.9
mg