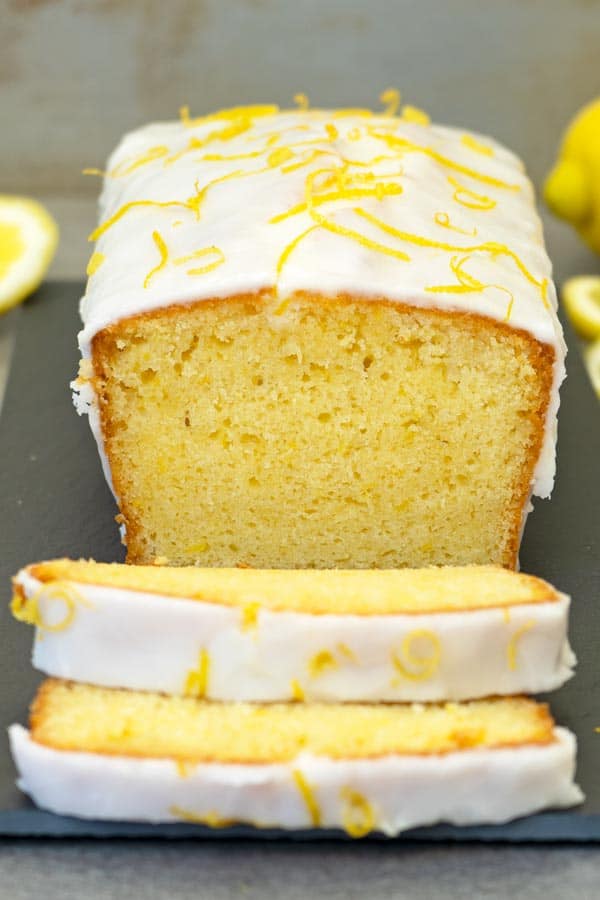 Spring is just around the corner and what better than to bake a delicious lemon loaf cake. Don't you agree?
This lemon loaf cake actually has 3 layers of lemon flavour in it. In the cake itself, in the lemon syrup and of course in the lemon frosting.
If you're crazy about lemon AND the Starbucks lemon loaf, then I dedicate this lemony lemon loaf cake to you.
And hey, just to be clear.. this is NOT the Starbucks lemon loaf cake. It's even better!
The Loaf Cake
I bake a lot and of the baked goodies, I would have to say I'm just a simple girl who loves simple cakes. My favourite would definitely be banana bread and loaf or pound cake.
Are you the same?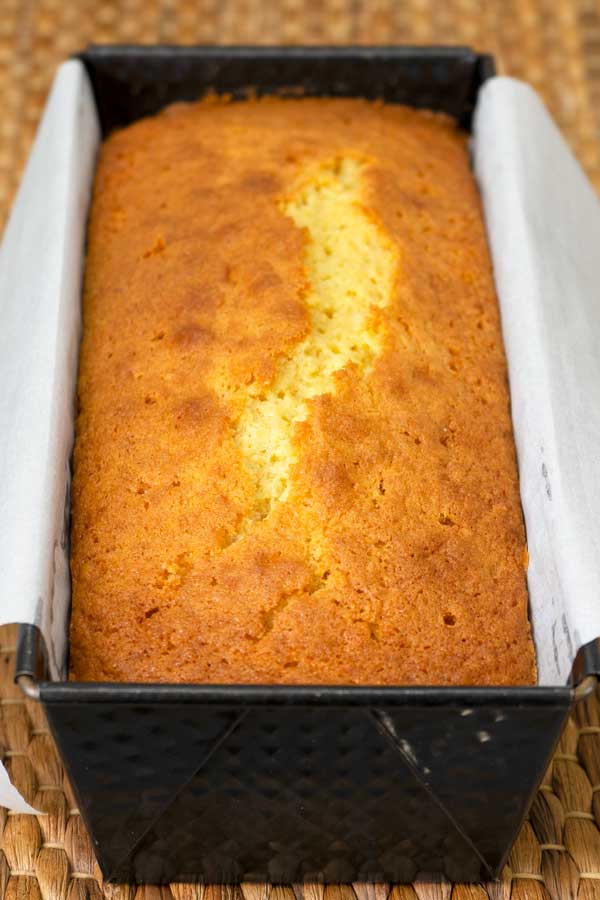 I grew up in a family where we didn't have much. My mother used to borrow a portable oven from one of her friends whenever she wanted to bake something (which was once in a blue moon).
So baked goods were not a common thing in our family. But I do remember when my mother baked, she really came out with some delicious sweet treats. I remember her marble cake, her loaf/pound cake and of course.. her banana cake.
And ohh.. her pineapple tart cookies!
Anyway.
So this is the typical pound cake recipe that I've converted into a lemon loaf cake by adding lots of lemon zest, some lemon juice and a few changes here and there.
The lemon flavour really shines in this cake and that my fellow friends, is what we want .
If you don't feel like it, you could just stop at the loaf cake. But why just leave it like that when you can push a tiny bit more and end up with some lemony syrup and lemon frosting?
Right?
Ok, let's just be clear. This lemon loaf cake is perfect for the weekends or gatherings. Not to be indulged daily. Alright?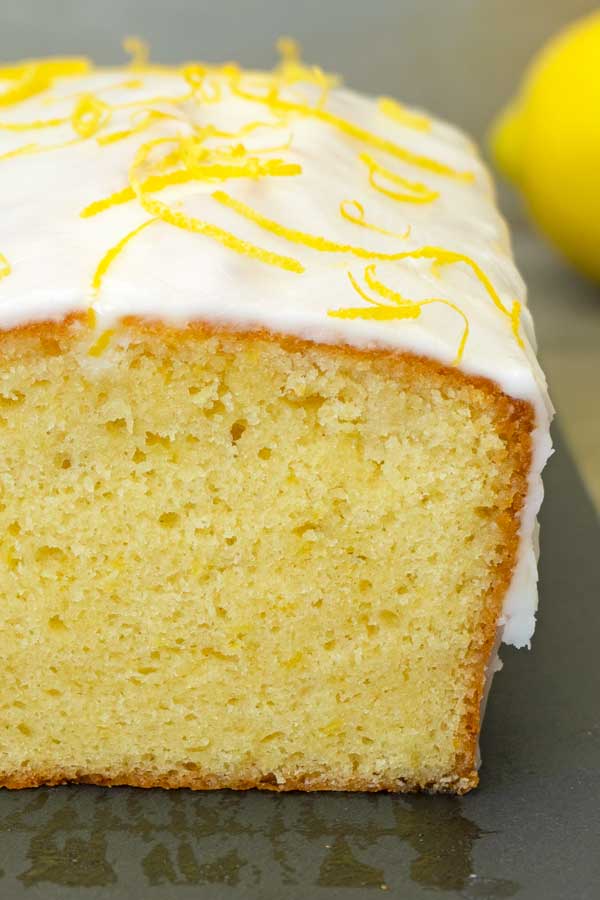 The Lemon Syrup
To infuse more lemon flavour in this cake we will drizzle it with lemon syrup as soon as it comes out from the oven. Yes.
The syrup not only enhances the lemon flavour but also helps keep the cake moist.
Who wouldn't want that?
The Lemon Frosting
Ohhh we've come to the naughty bit of all in this recipe. The lemon frosting!
I have to tell you, just a bit goes a long way so be warned. And be happy!
This frosting gives this lemon loaf cake that beautiful and elegant look. I don't know why but the look of this cake reminds me of Downton Abbey. Ha!
I really hope you'd give this lemon loaf cake a try. Let me know what you think.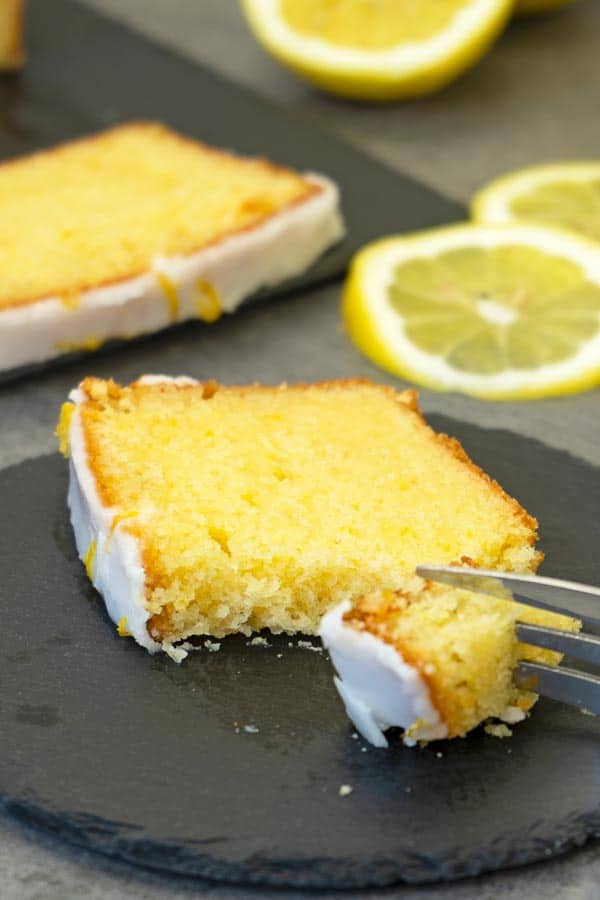 In Summary
This lemon loaf cake is:
perfect for the spring and summer
packed with lemon flavour
easy to prepare, really
dedicated to lemon and Starbucks lemon loaf lovers out there
fancy, beautiful and DELICIOUS!
Before You Go
Here are a few recipes that you might be interested in:
Recipe Video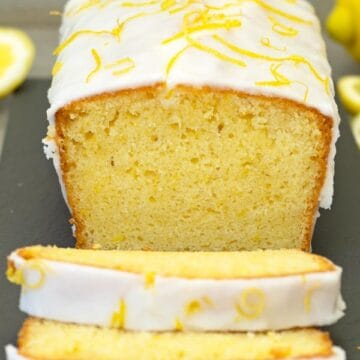 Lemon Loaf Cake
This lemon loaf cake is packed with lemon flavour. It's super moist and soft. The lemon is incorporated in all 3 components of this delicious cake; the loaf cake itself, the lemon syrup and the lemon frosting. A definite must try to lemon lovers out there!
Print
Pin
Rate
Ingredients
The Lemon Loaf Cake
½

cup

butter

(

113

g), softened

1

cup

sugar

(

200

g)

3

lemons, take the zest

1

teaspoon

vanilla extract

3

eggs

, room temperature

1 ½

cup

all purpose flour

(

195

g)

2

teaspoon

baking powder

½

teaspoon

salt

½

cup

plain Greek yogurt

(

125

g)

2

tablespoon

lemon juice
The Lemon Syrup
¼

cup

sugar

(

50

g)

2

tablespoon

lemon juice
The Lemon Frosting
1

cup

icing sugar

(

120

g)

3

tablespoon

lemon juice
Instructions
The Lemon Loaf Cake
Sift flour, baking powder and salt into a bowl. Set aside.

Add butter and sugar into a another bowl. Using a hand held mixer, whisk them until fluffy and pale, around 10 minutes.

Then add in vanilla extract, lemon zest and 1 egg. Continue mixing for 1 minute. Add the rest of the eggs 1 by 1, mixing for 1 minute after each addition.

Add ½ of flour mixture and mix just until combine using low speed. Add in yogurt and lemon juice, continue mixing just to combine. Finally add the rest of the flour, mixing just to combine also.

Pour batter into a loaf 4.4x10 inch (11x25 cm) loaf pan that has been buttered and lined. Spread batter evenly.

Bake in a preheated oven 320ºF (160ºC) with upper and lower heat, at lower ⅔ rack, for 60 minutes or until a skewer inserted in the center comes out clean.
The Lemon Syrup
Add sugar and lemon juice into a bowl. Heat gently in microwave until sugar is dissolved.

Poke holes on the cake using a skewer. While the cake is still hot, pour the lemon syrup on top and brush evenly. Leave to cool completely.
The Lemon Frosting
Once cooled, remove the baking sheet and place the cake on a rack.

Add icing sugar and lemon juice into a bowl. Using a spatula, mix everything well into a thick mixture. Start with 1 tablespoon lemon juice and add as you go to get your desired consistency.

Pour the lemon frosting on the cake. Spread evenly using the back of a spoon. Sprinkle some lemon zest on top.
How To Serve
Slice lemon loaf cake and serve it with some tea, or your favourite drink.
How To store
Place the cake in an airtight container and keep at room temperature. Best consumed within 3 days.

To freeze: after the icing hardens, slice the lemon loaf cake into portions. Wrap them individually with cling film. Place in ziplock bag and in the freezer. Thaw at room temperature.