I bet you haven't tried matcha boba tea in this beautiful way, eh? All 3 layers are visibly separated making any drinks so exciting. I'm going to show you how ridiculously easy it is to prepare this.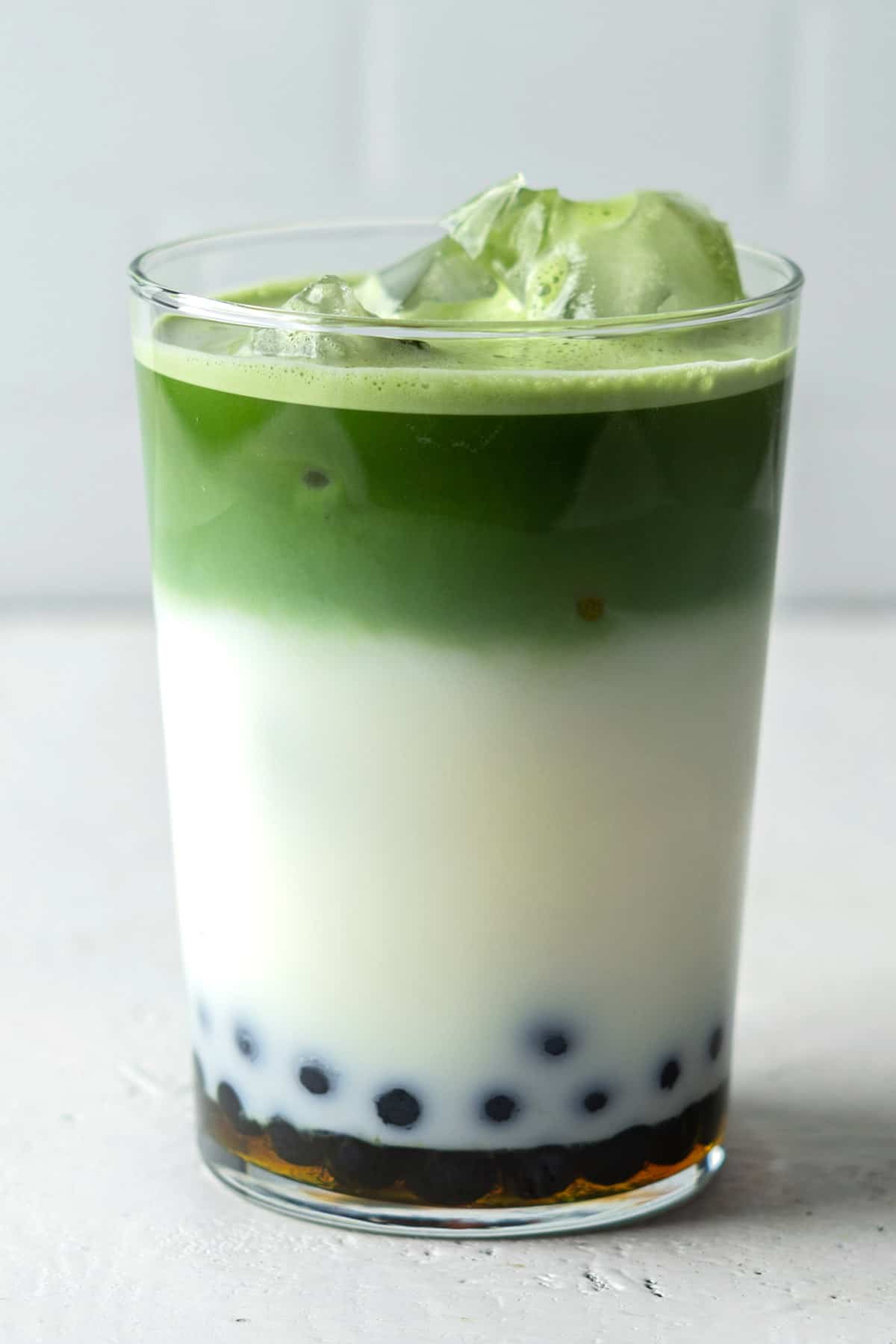 Jump to:
Ingredients & Substitutions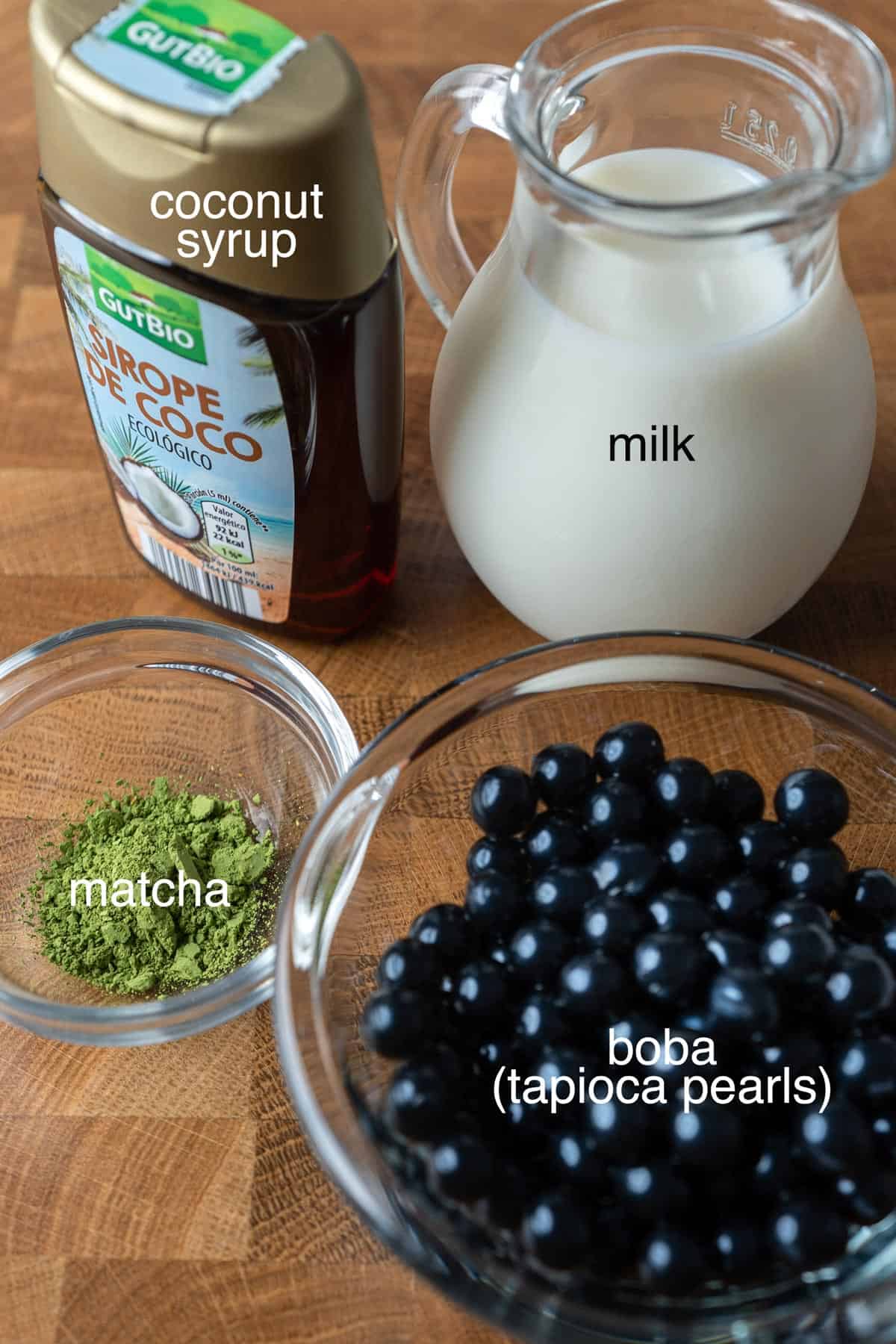 Matcha - Is green tea leaves that have been finely ground into powder form. Find the best that you can. Vibrant green matcha means that it's still fresh and newly processed. Darker-greyish matcha means that it's been there for a long time, hence the colour change.
Boba - Or also known as tapioca pearls. They are round, chewy small balls made from tapioca. They usually come as dried balls and generally, you boil them for a minimum of 30 minutes (depending on brands and instructions) and then continue cooking in brown syrup to sweeten them.
PRO TIPS: Save yourself the hassles by using already cooked boba. Depending on the packet's instructions, you'd only have to cook them for 5 minutes.
Milk - Any milk (dairy or non-dairy) of your choice.
Sweetener - I use coconut syrup. You can use honey or maple syrup. Or you can make your own brown (or white) sugar syrup and use that.
NOTE: Not a fan of liquid sweetener? Then mix your dry sweetener of choice with your matcha mixture or milk. Or hey, even totally skip any sweetener. You do you boo.
Best Way To Whisk Matcha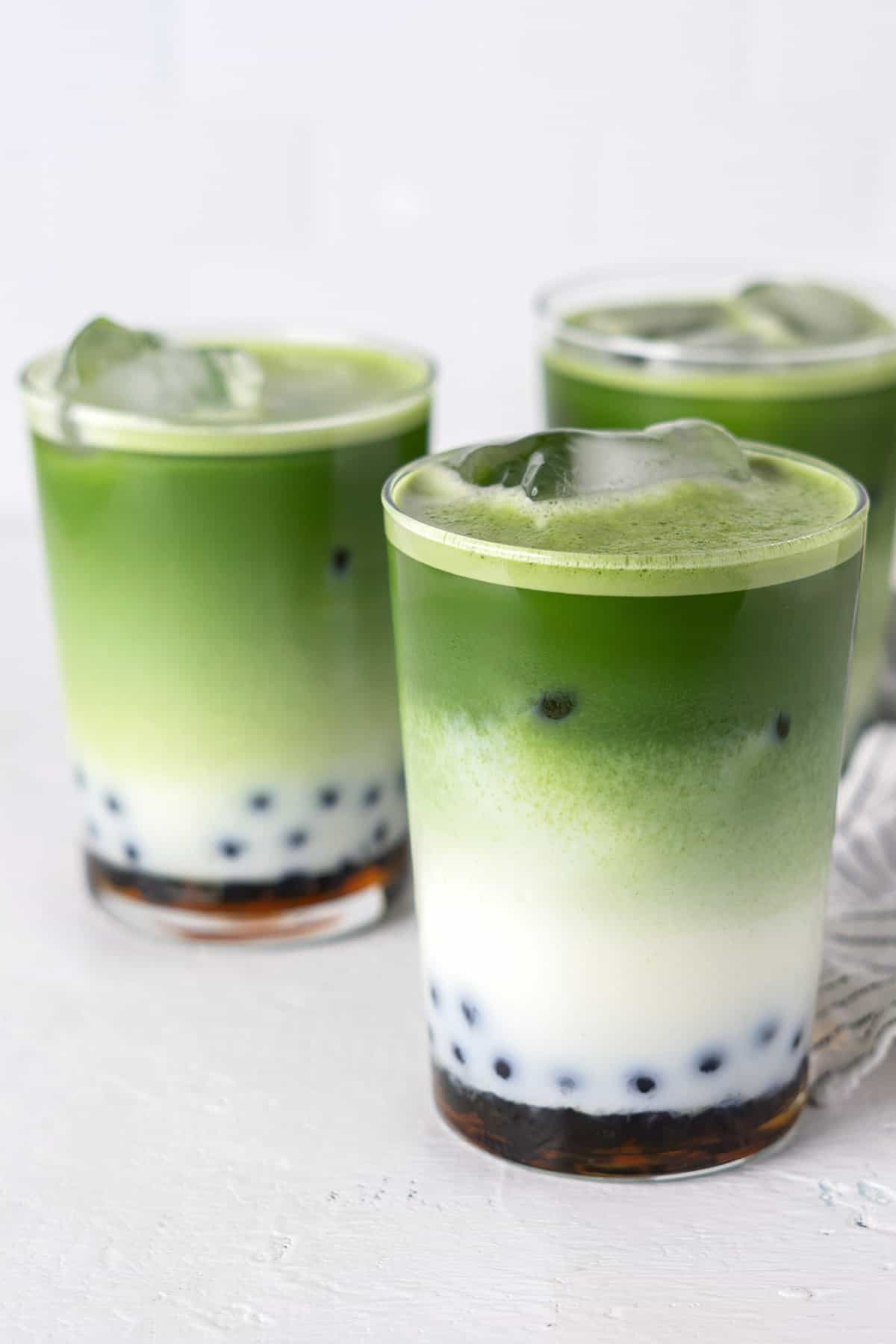 Matcha doesn't dissolve easily in liquid. If not whisked properly, you'll have lumps everywhere. Not good.
Traditionally matcha is whisked using the Japanese whisk called chasen. Well, I don't have it so I simply use an immersion blender like this, for this recipe. It works amazing! I've also written a detailed post on 5 ways to make matcha without a chasen whisk. Just use these basic kitchen tools that you already have in the kitchen.
FUN FACTS: Did you know that matcha can be used in other recipes apart from drinks? Well, my swirl matcha bread is one of our readers' favorites! And these cutest pineapple tart cookies also have matcha in them.
How To Make Matcha Boba Tea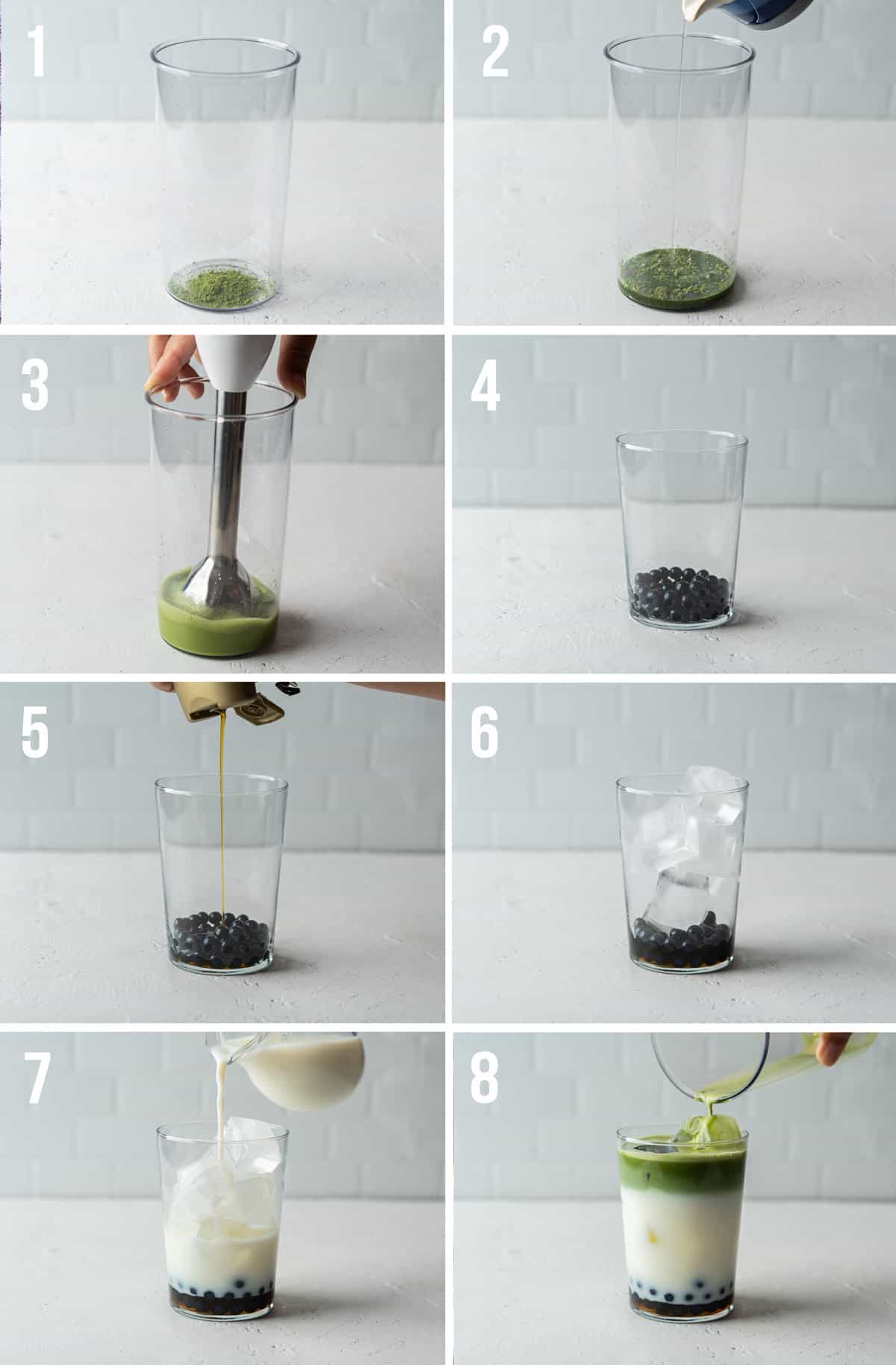 Matcha - Add matcha powder into a tall container.
Water - Add in some water.
Whisk - Make matcha mixture. Use an immersion blender to blend everything until there are no lumps. It takes around 1-2 minutes. See more methods on how to whisk matcha using your basic kitchen tools.
Boba - Add some into a glass.
Sweetener - Add in coconut sugar or any sweetener of your choice.
Ice - Fill the glass with ice cubes. Ice will dilute your drink in time, so consider making a stronger matcha mixture if you simply can't tolerate it.
Milk - Pour in milk (dairy or non-dairy).
Matcha mixture - Slowly pour in the matcha mixture, in the center. Pouring it too fast will make the matcha layer blend with the milk layer. You'll not get that visibly separated layers look.
Tips To Get Beautiful Separate Layers
Use tall glass so that each layer has space to form, thus making them more visibly contrast each other.
Do not mix when assembling each layer. This will prevent them from blending into each other.
Pour slowly the milk and matcha mixture. Especially the matcha mixture. I like to pour it in the center, streaming slowly on a piece of an ice cube.
How To Serve & Store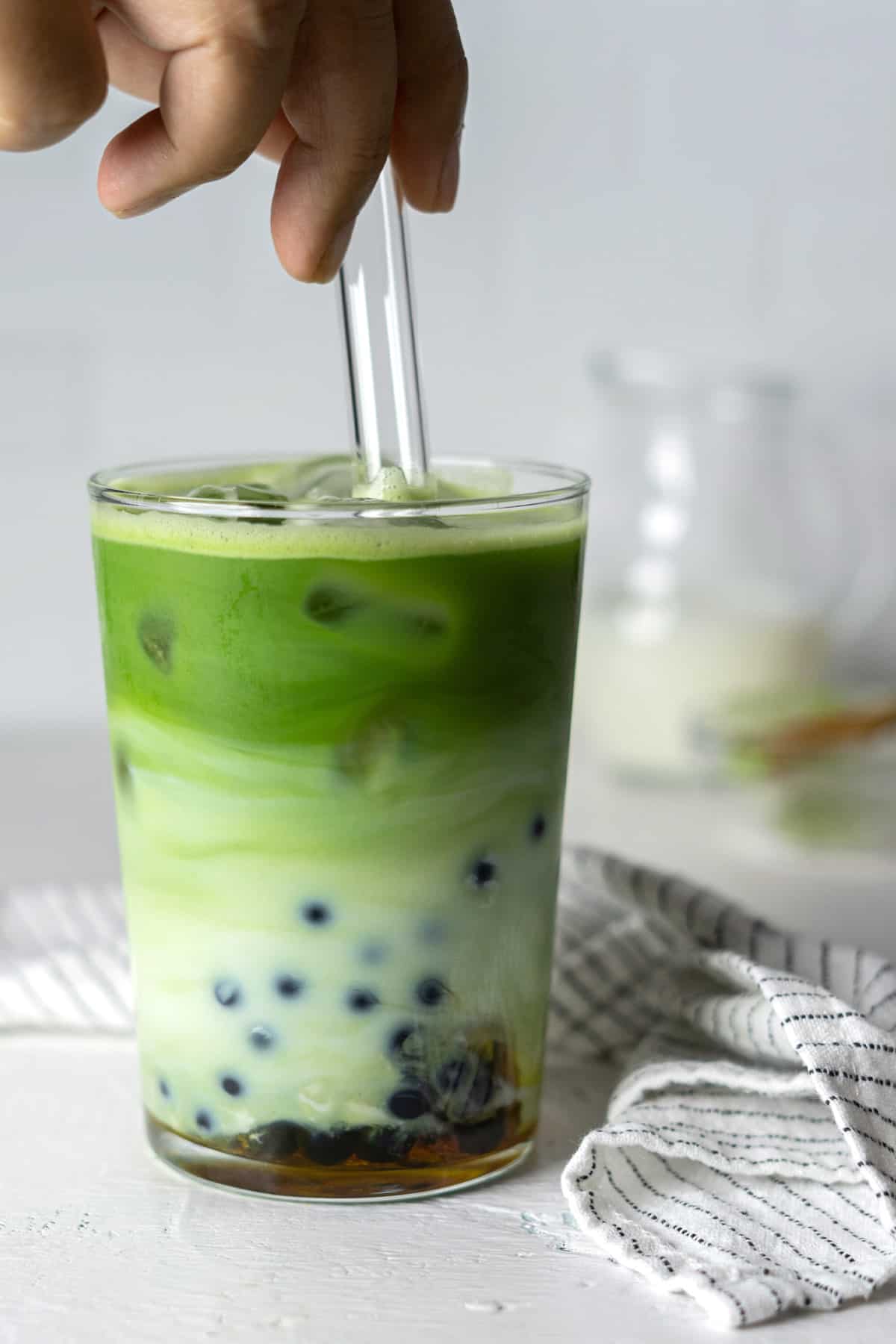 Serve - Immediately for that beautiful look and fresh taste. In time (after 10-15 minutes) all the layers will start to blend into each other.
Store - This matcha boba tea drink can last up to 3 days in the fridge. If you're using dried boba and cook them yourself, the boba is best stored in the fridge for a maximum of 72 hours, in some syrup.
FAQs
Is boba tea the same as bubble tea?
Yes, the names are used interchangeably and it's understood generally that you're talking about the same thing. Although if being pickier, boba is the tapioca pearls while bubble tea is referred to as the whole drink that contains boba.
Is matcha powder better mixed with water or milk?
Water, definitely. You'll tend to get lumps if you use milk. I've written in detail about how to mix matcha and what are the basic kitchen tools that you can use for that.
Can I use non-dairy milk?
Yes, of course. No problem at all.
Watch How To Make This
📖 Recipe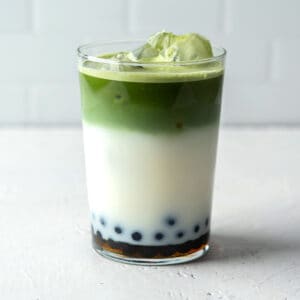 Matcha Boba Tea
These 3 separate layers of matcha boba tea really bring your matcha game to another level. It's way easier to make than you think. And the bonus, there's no new fancy tool needed than the basic one that you already have in your kitchen.
Print
Pin
Rate
Ingredients
1

teaspoon

matcha powder

¼

cup

water

½

cup

cooked boba

1

tablespoon

coconut syrup

, or any sweetener

1

cup

milk

(dairy or non-dairy)

ice cubes
Instructions
Prepare the boba. I use already cooked ones that come in a light syrup. Please follow the instructions on your boba packet on how to prepare them.

Add matcha and water in a tall container. Using an immersion blender, blend for 1-2 minutes or until there's no lumps and you get a frothy mixture. Set aside.

Add some cooked boba into a tall glass, followed by coconut syrup. Add some ice cubes and then slowly pour in the milk. Finally slowly pour in matcha mixture in the center. Enjoy!
Notes
If you don't have an immersion blender, then check out these basic kitchen tools that you can use to mix matcha with.
Generally dried boba will double its amount after cooked. So bear that in mind if you're using them.
Nutrition Facts
Calories:
375.1
kcal
,
Carbohydrates:
65.3
g
,
Protein:
10.7
g
,
Fat:
8.3
g
,
Saturated Fat:
4.8
g
,
Cholesterol:
30.9
mg
,
Sodium:
102.8
mg
,
Potassium:
406.7
mg
,
Fiber:
0.8
g
,
Sugar:
32.6
g
,
Calcium:
336.3
mg
,
Iron:
2.1
mg