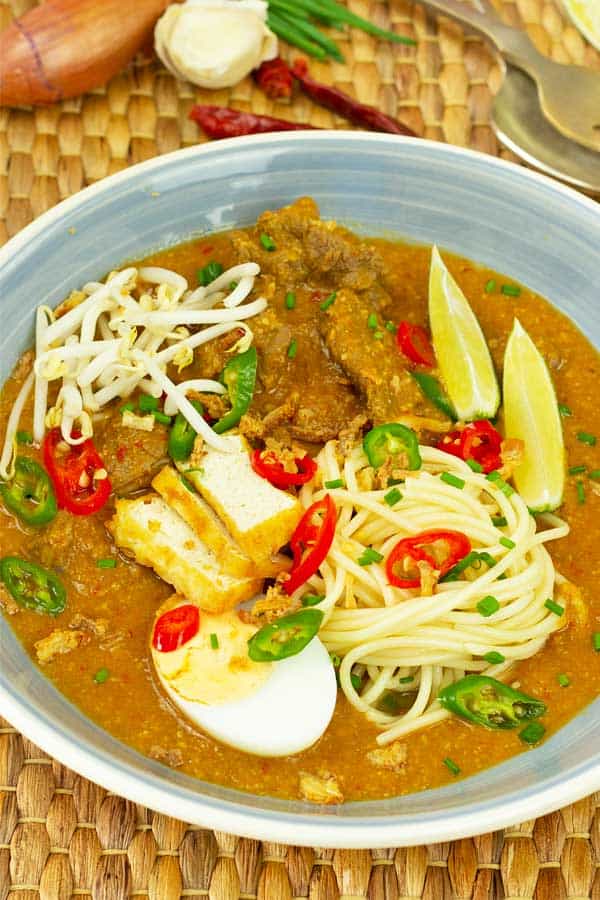 Mee rebus or if directly translated to English would be "boiled noodles". It is a type of noodle soup that is known in Southeast Asia countries like Malaysia, Singapore and Indonesia. It's a dish that can be separated into 2 components which are the soup and the noodles with condiments.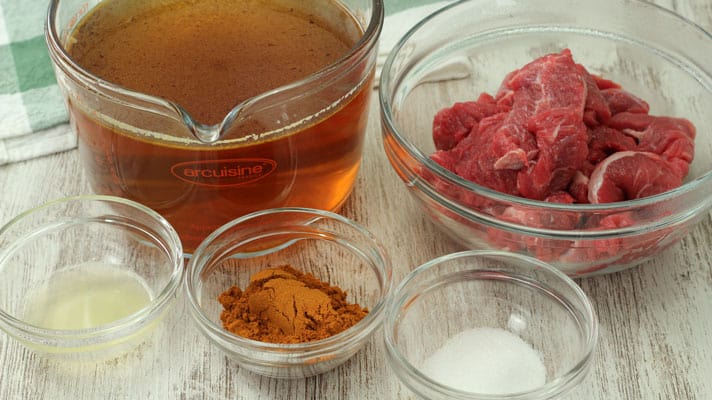 The soup is usually made using beef base and dried shrimps. This soup is also flavoured with curry, lemongrass, galangal and some other common ingredients in Southeast Asian cuisine to create that wonderful yummy taste.
It is thickened with sweet potato, which also contributes to the color and the sweetness touch to the soup.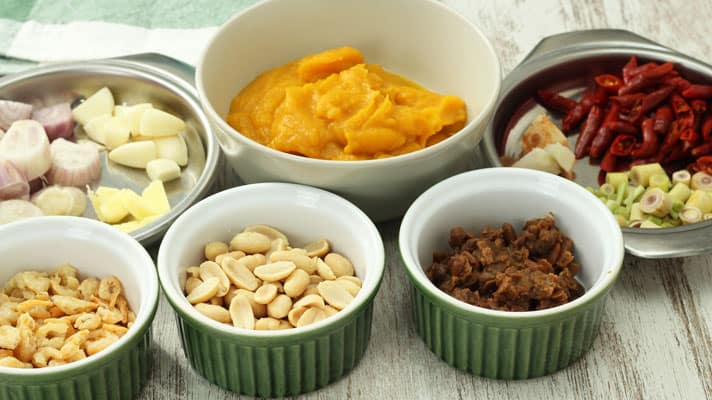 The noodles used in this dish are the yellow noodles. Living abroad and being in my city here, yellow noodles don't come easy for me.. as crazy as you might think that it. I usually substitute yellow noodles with spaghetti.
What I do is boil the spaghetti a bit longer than the packet's instructions so that they get softer, imitating the texture of yellow noodles. It works for me. If you have yellow noodles laying around at your door step, don't make me envy you!
The condiments for most noodle soup dishes in Malaysia especially, are quite similar to each other. In this mee rebus dish, you will have boiled egg, bean sprouts, tofu, spring onion, fried shallots, a wedge of lime and chili slices.
You would want to eat this bowl of mee rebus piping hot, trust me. There's nothing more wrong and worst than eating a bowl of cold noodle soup. At least for me.
More Asian Soups
Recipe Video
📖 Recipe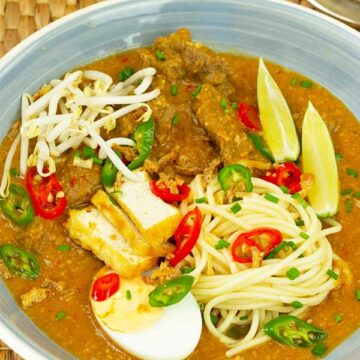 Mee Rebus
These noodles in sweet potato curry soup, also known as mee rebus in Malaysia, is a very popular Southeast Asian noodle soup dish. A must try!
Print
Pin
Rate
Ingredients
The base
2

shallots

4

garlic cloves

1

inch

ginger

(

2.5

cm)

1

inch

galangal (

2.5

cm)

⅓

cup

dried shrimps

(

30

gr), soaked in hot water for 10 minutes and then drained

10

dried chillies

(

10

gr), cut and soaked in hot water for 15 minutes and then drained

3

tablespoon

curry powder

(

18

gr)

½

cup

water

(

125

ml)
The soup
1

lb

beef meat

(

450

gr), thinly sliced

4

cup

beef stock

(

1

liter)

8.8

oz

sweet potato

(

250

gr)

½

cup

taucu (fermented yellow soybeans)

(

135

gr), rinse under water to discard the sauce and reduce saltiness

2

tablespoon

sugar

½

cup

ground roasted peanuts

(

70

gr)

juice of ½ lemon
The Noodles And Condiments
3.5

oz

dried spaghetti

(

100

gr)

some bean sprouts

some red chillies

, thinly sliced

some green chillies

, thinly sliced

some fried shallots

some spring onion

, chopped

4

hard boiled eggs

, peeled and cut into halves

some tofu

, fried and cut into pieces
Instructions
The Preparations
Blend all the base ingredients into a fine paste, except for curry powder and water. You can blend them all together or separately. Add few tablespoon of water to help with the blending process.

Add the blended mixture into a bowl together with curry powder and water. Stir and mix everything together. Set aside

Blend taucu separately with a few tablespoon of water, into a fine paste. Set aside.

Boil sweet potato with a bit of salt. Drain of water and blend into a puree with ¼ cup water. Set aside.

Boil spaghetti according to packet's instructions with extra 4 minutes cooking time. Drain of water and drizzle a bit of olive oil. Toss everything around and set aside.

Slice both red and green chillies and set aside. Cut some limes into wedges. Slice boiled eggs in halves. Chop some spring onion. Fried the whole tofu block until golden brown and then cut it into small pieces. Set everything aside as condiments later when serving.
The Soup
Heat a deep pan or a pot with some oil on medium heat. Add in previously prepared base mixture. Cook for 10 minutes until it becomes thick and shiny. Stir now and then to prevent it from getting burnt.

Then add in beef slices. Stir everything together to coat the meat well with the mixture. Add in beef stock and stir everything well. Bring it to a gentle boil and cover the pan with a lid. Cook for 30 minutes or until the meat is tender.

Add in sweet potato puree, previously blended taucu and peanuts together with sugar. Adjust the sugar to your liking but the soup needs to be a bit sweet. Stir everything together and lastly add in lemon juice. Give it one last stir and cook for a final 2-3 minutes so that all the wonderful flavours are well combined. Serve immediately.
Serving
In a plate of a bowl, add in spaghetti. Then laddle in some soup together with some pieces of the tender meat. Now add in the fried tofu, boiled egg, spring onion, red and green chillies, fried shallots and some fresh bean sprouts. Enjoy!
Notes
You can make your own beef stock by boiling ½ kg of beef bones (ask your butcher for this) with some water and use it in the recipe when it calls for beef stock.
Or you can use the amount of water mentioned in the recipe and 2 beef bouillon granules to make it easier.
I didn't use any salt in this recipe as the saltiness of dried shrimps, taucu and beef stock is already enough. Adjust the salt to your taste.
The soup for Mee Rebus needs to be a bit sweet. If your sweet potato is already very sweet, you can omit the sugar. Else adjust the sugar to your liking.
Also adjust the spiciness to your liking. Or totally omit the dried chillies if you prefer.
Nutrition Facts
Calories:
645.6
kcal
,
Carbohydrates:
54.6
g
,
Protein:
55.4
g
,
Fat:
24
g
,
Saturated Fat:
5.6
g
,
Cholesterol:
290.4
mg
,
Sodium:
833.5
mg
,
Potassium:
1690.8
mg
,
Fiber:
8.2
g
,
Sugar:
13.8
g
,
Calcium:
183.7
mg
,
Iron:
7.9
mg