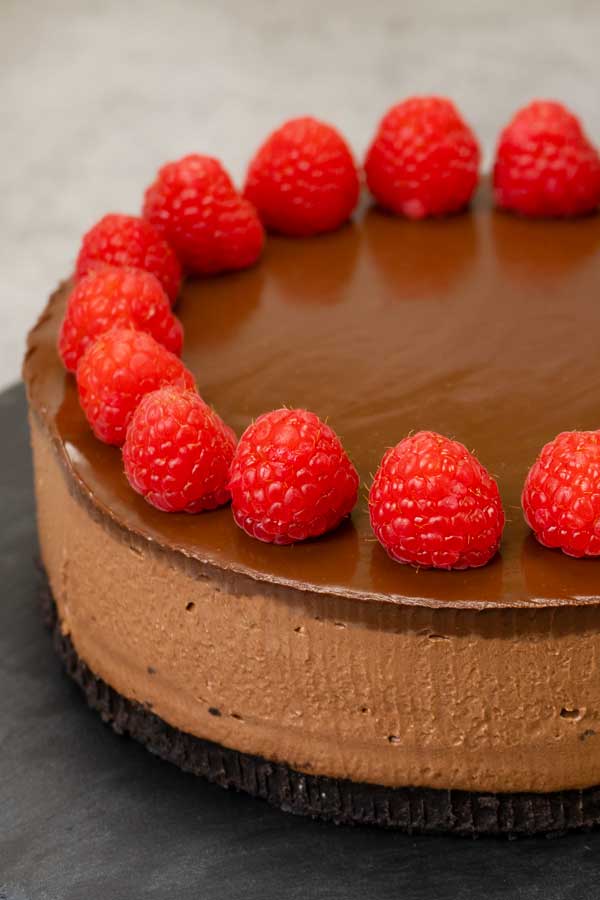 Smooth creamy decadent no bake chocolate cheesecake, just for you.
Like my other no bake cheesecakes, this recipe is simple yet extremely delicious.
Disclosure: some of the links below are affiliate links, meaning at no extra cost to you, I will get a small commission if you click through and make a purchase. Everything I mention in this post is what I personally use and recommend.
Perfect For The Holidays
Yes the holiday season is upon us. It's my favourite time of the year!
What is more appropriate than going all chocolaty for the holidays, right?
In our house I'm the one who's not into sweets (yes, it's unbelievable for all the sweet treats that I've been making) but I simple LOVE to cook and bake. My husband and his side of the family simply love sweet treats so it definitely works out for us in the end.
And for some reason when the holiday season is approaching I find myself craving for chocolaty treats. Do you feel the same?
I've been telling Marco, ohhh we HAVE to make a no bake CHOCOLATE cheesecake! Him being a sweet tooth, I didn't need to convince him that much. Haha!
So if you're looking for something elegant, decadent and amazing then look no more. Try this. I promise everybody will love it.
Let's get on with the recipe, shall we?
The Base
As you can see in the video below, I'm using oreo cookies for the base.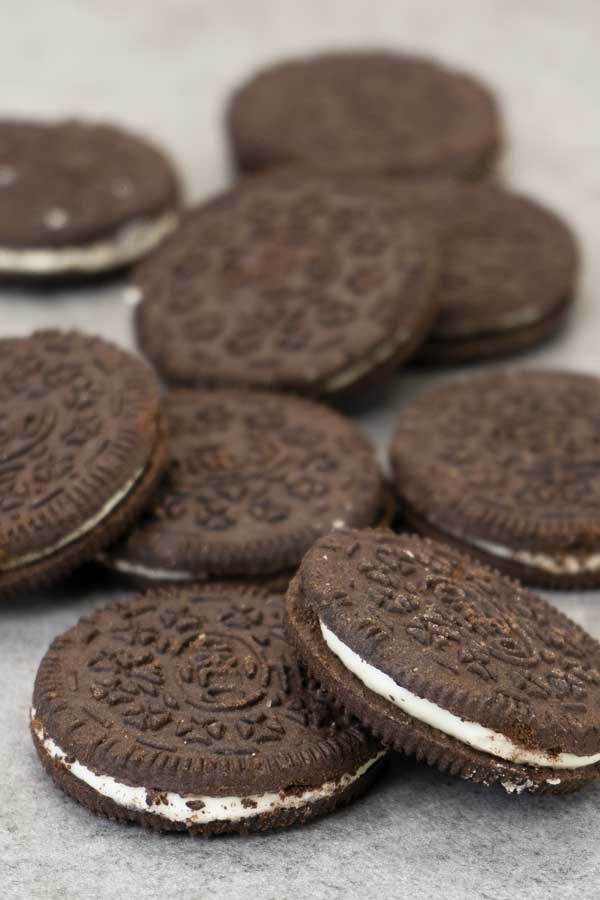 The whole cookies with the cream. Yes, everything goes. Who wants to spend time scraping the cream out from each cookie, right? Besides the cream will help in bringing the crumbs together.
If you're not into oreo cookies, you can always use other type of cookies for the base. There's no harm in it.
One thing though, if you're not using oreo cookies, please refer to my other no bake cheesecake that uses digestive biscuits for the base as the measurement is slightly different from this recipe with oreo cookies.
The Chocolate Cheesecake
This cheesecake has NO GELATIN in it. Yep. Many of you have been asking for cheesecakes that have no gelatin in it so here it is.
I'm using semisweet 55% cocoa chocolate for this recipe. I find it has a perfect balance of sweetness and chocolaty taste to flavour this lovely cheesecake.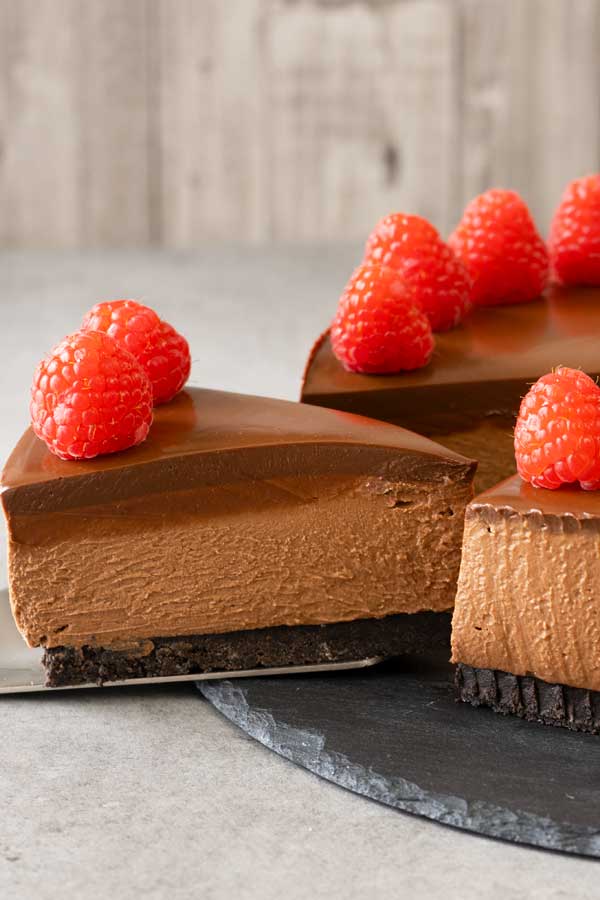 If you're into dark chocolate, by all means use it if you want to. Just know that the exact strong slightly bitter taste of a dark chocolate will be transferred into the cheesecake.
And of course, your cheesecake will be slightly darker.
I'm using a pinch of salt in the chocolate cheesecake mixture. It might sound weird to use salt in a sweet dish but trust me, it will bring out the chocolate taste to another level.
What I like to do with the chocolate is melt it first before I start whisking my cream cheese and everything else. This will give the melted chocolate a bit of time to cool down before I use it later.
How To Melt Chocolate In Microwave
And I like the convenience of melting my chocolate in the microwave instead of double boiler. Less hassle.
What I do is chop the chocolate into small pieces so that they are easier to melt. Then put them in a microwavable glass bowl and heat for 30 seconds.
After 30 seconds I will take out the bowl and mix the chocolate. The chocolate won't be melted yet at this point but it's important that you mix it anyway to help in distributing the heat evenly between the chocolate pieces.
Then I will repeat the process until the chocolate is fully melted. And yes, I stir every 30 seconds intervals.
Easy, right?
The Chocolate Ganache
It is for the holidays anyway, right?
Go big or go home.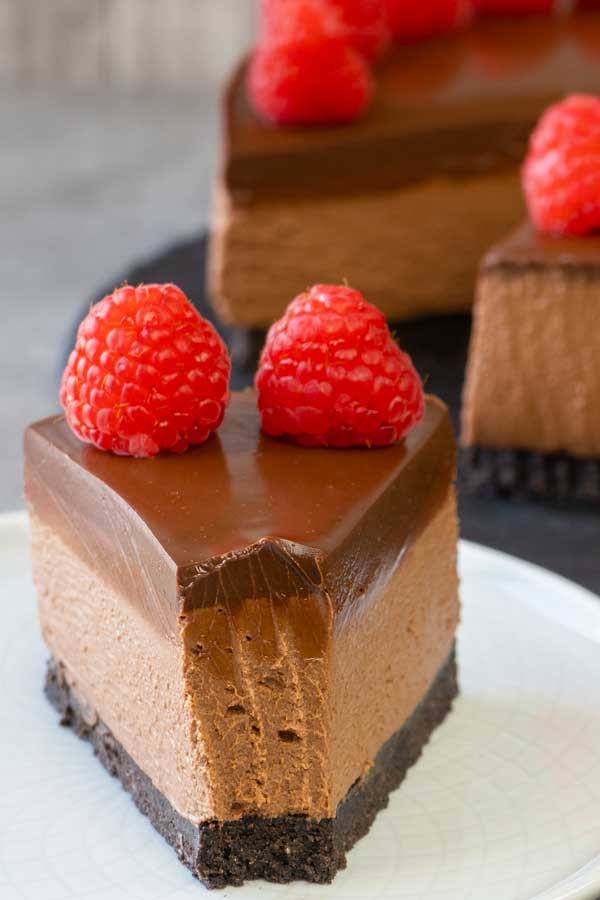 To further bring this chocolate cheesecake to another chocolate level, let's cover it with a smooth silky chocolate ganache, shall we?
It's not a thick layer, don't worry. It's just a nice perfect thin layer to give that decadent chocolaty taste in your every bite.
And I'm using the same semisweet chocolate of 55% cocoa for it, combined with some whipping cream.
If you don't feel like putting some ganache on top, you can simply dust the cheesecake with some cocoa powder. That works also.
Well there you go. As you can see in the step by step video below this wonderful chocolate cheesecake is super easy to do with just a few basic ingredients. Let me know if you liked it.
Before You Go
If you're a no bake cheesecake lover, then I would want to entice you to my other no bake cheesecake recipes. I promise you they are delicious.
Or simply go to my recipe page to see more of my yummy cheesecake recipes.
Video
📖 Recipe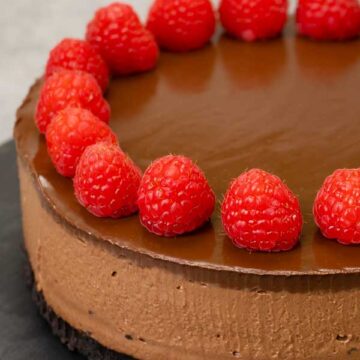 No-Bake Chocolate Cheesecake
Decadent creamy no-bake chocolate cheesecake with Oreo cookies for the base and a thin luscious chocolate ganache on top. Perfect for this holiday season. It doesn't have any gelatin, super easy to prepare with a few basic ingredients.
Print
Pin
Rate
Ingredients
3

tablespoon

unsalted butter

(

45

gr), melted
The Chocolate Cheesecake
8

oz

semisweet chocolate

(

230

gr), chopped into small pieces

14

oz

cream cheese

(

400

gr)

1

cup

icing sugar

(

120

gr), sifted

1

teaspoon

vanilla extract

Pinch of salt

½

cup

whipping cream min 35% fat

(

125

ml), chilled
The Chocolate Ganache
3

oz

semisweet chocolate

(

85

gr), chopped into small pieces

⅓

cup

whipping cream min 35% fat

plus

2

tablespoon more, (

110

ml), chilled
Instructions
The Base
Using a food processor, blend the oreo cookies into fine crumbs. Pour into a bowl together with melted butter. Mix well and pour into a

7 inch (18 cm) springform pan

. Press tightly and evenly to the base. Place in the freezer for 30 minutes.
The Chocolate Cheesecake
Melt chocolate and set aside to slightly cool before using.

In a bowl, put in cream cheese and whisk for a few minutes until light and fluffy. Then add in icing sugar and vanilla extract. Mix until well combined.

While mixing, pour in the melted chocolate into the cream cheese mixture. Continue to mix until everything is well combined. Set aside.

In another bowl, whisk whipping cream until soft peaks. Then pour it into the chocolate cream cheese mixture and gently fold using a spatula until everything it well combined. Pour into the base and spread evenly. Chill in the fridge overnight or until fully set.
The Chocolate Ganache
Heat whipping cream until it's about to boil and then pour it into a bowl containing the chopped chocolate. Let it sit for 3 minutes then gently whisk until everything it combined.

Pour onto the cheesecake and swirl around to help cover the surface. Chill in the fridge for 1 hour or until the chocolate sets. Remove cheesecake from the pan, decorate with some raspberries, slice and enjoy!
How Transfer To Serving Plate
It's easy since this cake is small. First insert a knife under the cheesecake and carefully run it all around to detach the cheesecake from the base.

Using the same knife, gently lift the cheesecake a bit and insert 1 flat spatula. Do the same in the opposite direction.


Carefully yet confidently lift the cheesecake with both spatulas and place on a serving plate. Gently remove spatulas out.


Or place a baking sheet on the base of the springform pan before assembling. You will have a slightly bigger baking sheet coming out from the springform pan after assembling it. Before serving, gently slide the cheesecake onto a serving plate.

How To Serve
Keep the cheesecake in the fridge all the time until just a few minutes before serving. Cut the slices as needed and put back the cheesecake in the fridge to maintain chill.
Notes
Please use full fat cream cheese. Meaning, do not use light cream cheese else it won't set as good.
Please use minimum 35% fat content for the whipping cream. The fat is needed to help set the cheesecake.
This recipe doesn't uses gelatin so it usually takes longer to set.
Use unsalted butter.
Nutrition Facts
Calories:
401
kcal
,
Carbohydrates:
32.6
g
,
Protein:
4.3
g
,
Fat:
28.8
g
,
Saturated Fat:
16.4
g
,
Cholesterol:
53.4
mg
,
Sodium:
148.5
mg
,
Potassium:
214
mg
,
Fiber:
2.3
g
,
Sugar:
24.2
g
,
Calcium:
55.4
mg
,
Iron:
3.1
mg