I think I'm long overdue with a cheesecake recipe, right? Well, that's why this week's recipe is a no-bake raspberry cheesecake, and it's everything that you want in a cheesecake in this coming hot season.
The base is made from digestive biscuits. If you have no idea what they are, you can check out my post on what are digestive biscuits.
The filling is super creamy, flavoured and coloured naturally with fresh raspberries. And yes, we'll throw more raspberries on top for good measure.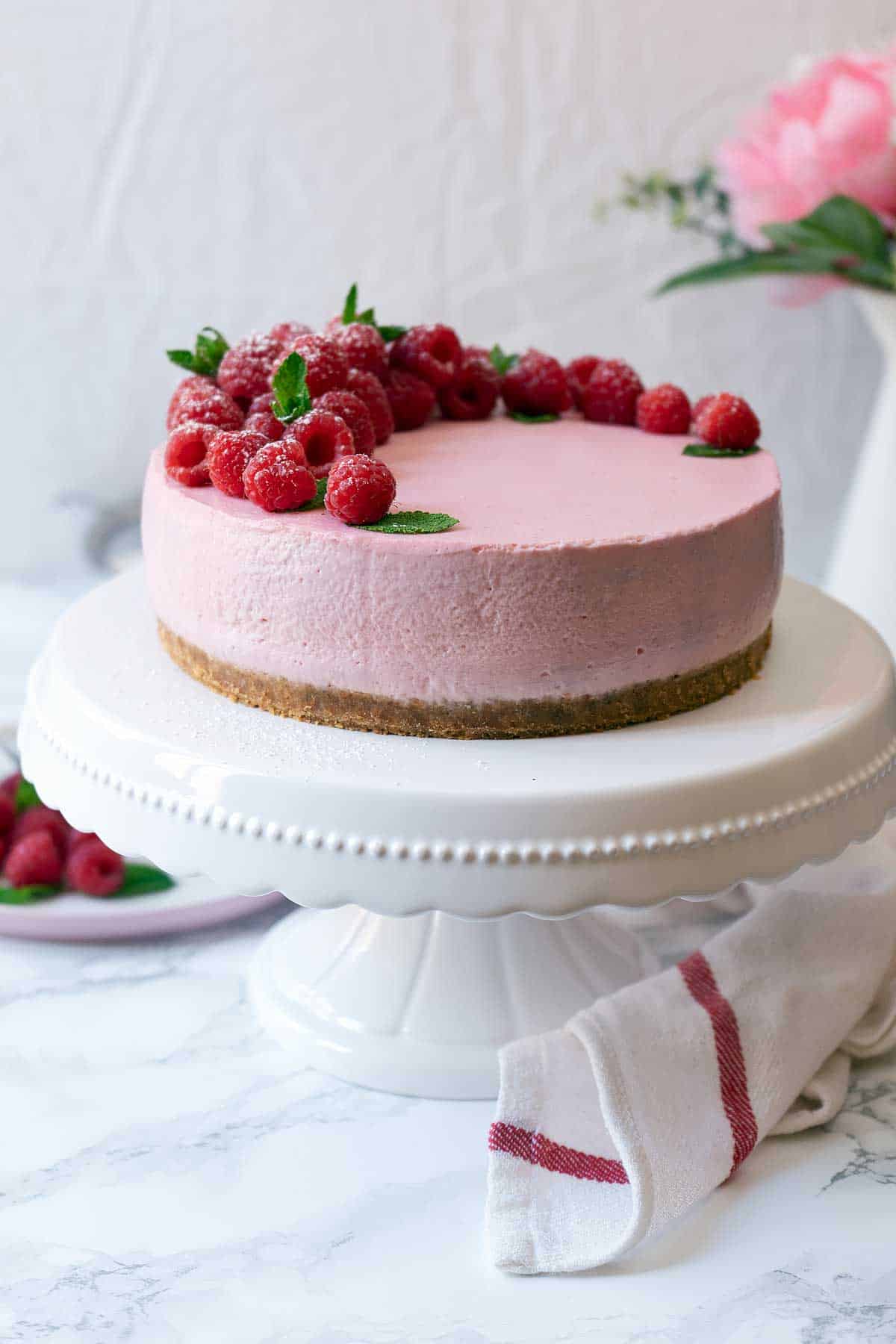 The base has a touch of saltiness to it, which is always great for a dessert like this. The filling is a luscious creamy raspberry cheese flavour and not overly sweet. Just perfect, in my opinion.
I've adapted this easy recipe from my no-bake strawberry cheesecake recipe. If you love strawberries then you'd love that one!
Ok, let's start, shall we?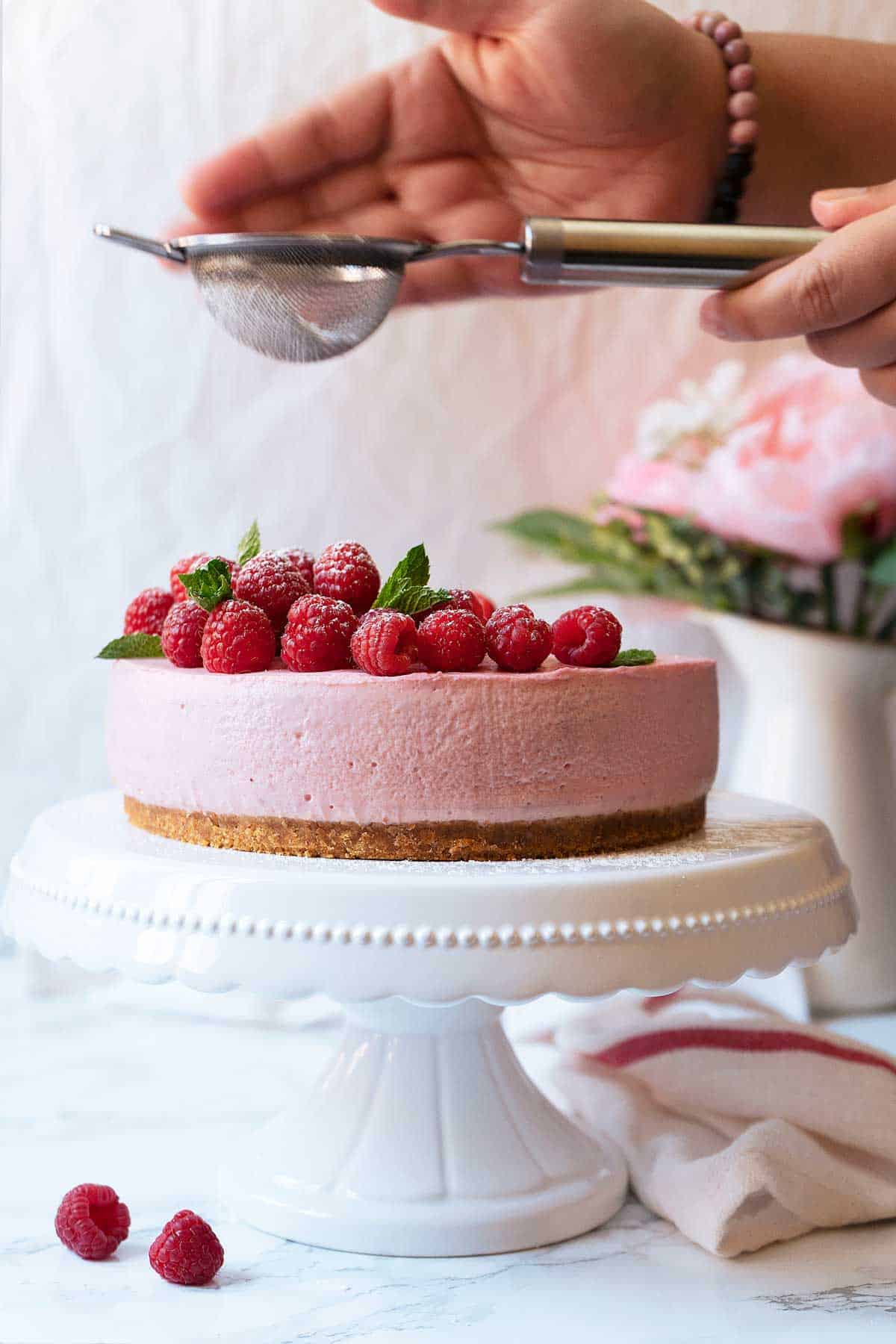 Making Our Own Raspberry Coulis
Yes, we'll be making our own raspberry coulis to flavour the cheesecake filling. Excited!
Some of you might think, What? But what the heck is coulis? Must be difficult then!
Well, you couldn't be more wrong.
Coulis is just a sauce that you get from pureed or strained fruits and vegetables. And the way that you make it is just throw everything in a pan and cook until the fruit (in this case raspberries) is broken down and you get a thick mixture. Then you strain it, and you'll get a homemade fresh coulis.
Super easy, isn't it?
And you know what? The darker red your raspberries are, the more bright pink your cheesecake filling will get. So choose wisely *wink*.
Ok, let's talk about raspberry for a bit. Fresh or frozen? Well, you can use both. How to use them?
Fresh raspberry - Easier to cook, throw everything in all at once.
Frozen raspberries - Have to thaw them first, and then cook them together with the rest of the ingredients.
You choose.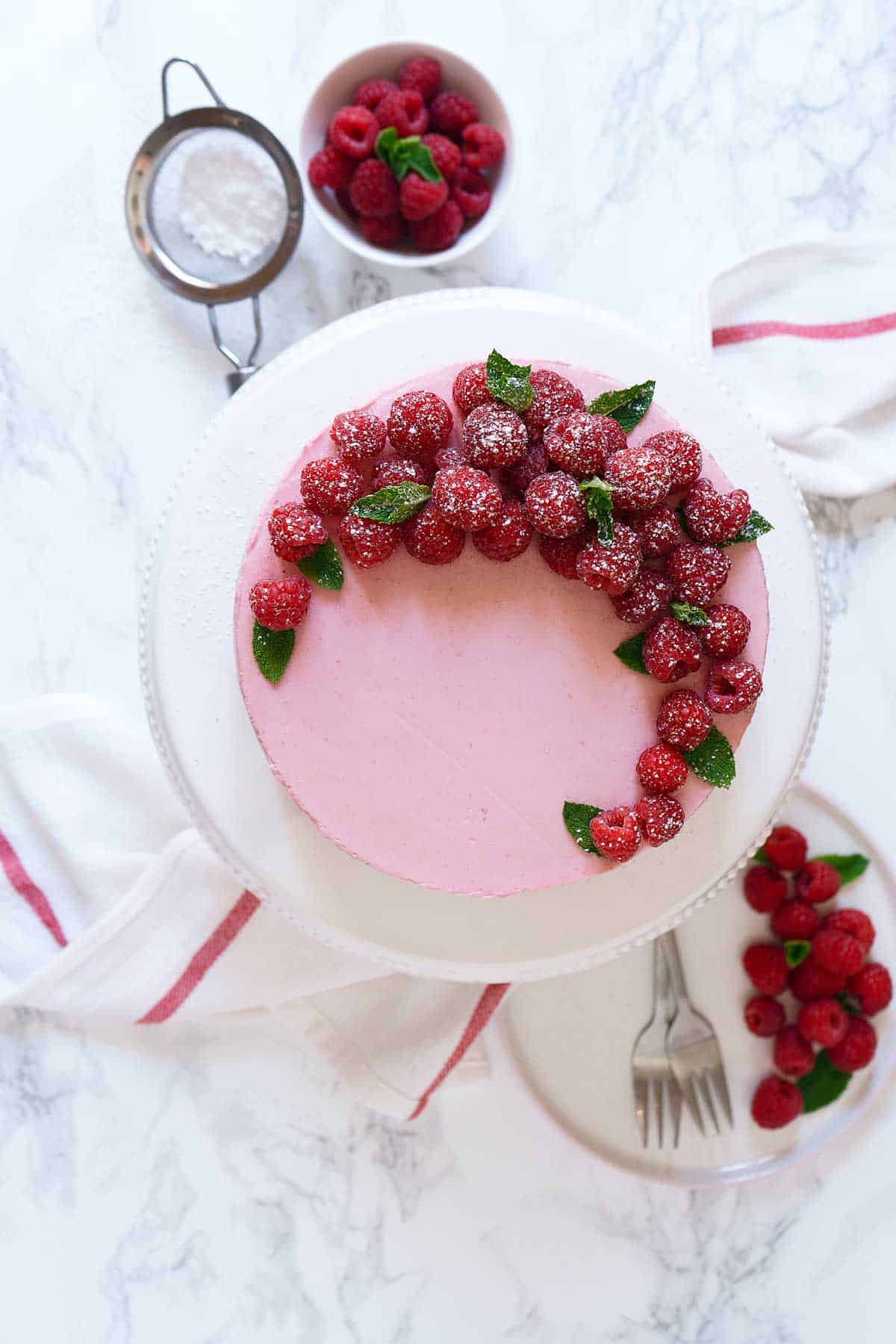 Super Creamy
Yes, this cheesecake is super creamy as you can see from the pictures. Luscious!
I don't like the solid texture of no-bake cheesecakes. Nope, I really don't.
The solid texture, depending on what flavour of cheesecakes, usually is from using a certain amount of a firming agent. It can be gelatine powder, gelatine sheets or agar-agar.
Using fruits that release a lot of water, in this case, raspberries have more than 80% water content, is tricky for a no-bake cheesecake to set, without any help of a firming agent.
So for this cheesecake, I use the minimum amount possible of gelatine powder, to help set it but without making the texture solid. Meaning, still preserving its luscious creamy texture.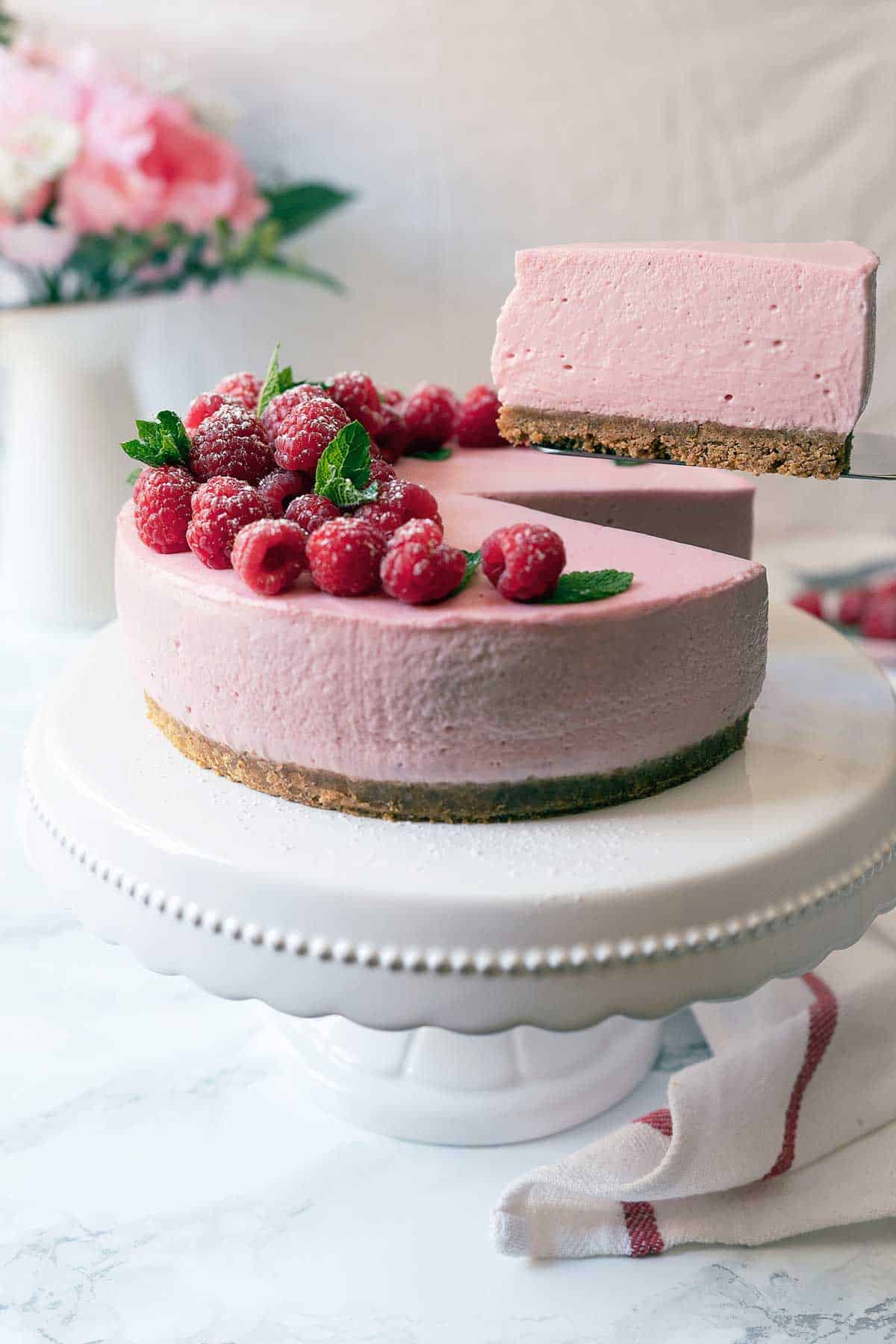 Gelatine Powder, Gelatin Sheets or Agar-Agar?
Since whenever I need to I always use gelatine powder, so many of you ask what's the amount if you use gelatine sheets or agar-agar instead.
Well, the answer is not as straightforward, unfortunately.
A firming agent is determined by its strength to solidify a certain amount of liquid. It's also known as blooming strength. And it differs by brand (Royal, Dr Oetker, etc) and type (powder, sheets, gelatine, agar-agar).
I always use the Royal brand of gelatine powder, which is easily available here in Spain. You might not use the same. And it's totally fine. No worries.
So if you're not using the same brand and type as I do, this is what you need to do:
Packet instructions - Read the packaging instructions. They will always specify what amount of firming agent to use to solidify what amount of liquid, and how to use it.
Amount - Based on YOUR packaging instructions, use the amount needed to solidify 1 cup (250 ml) of liquid, for this recipe.
See? Everything has its solution *happy!*
Hope you'll give this a try! Let me know what you think!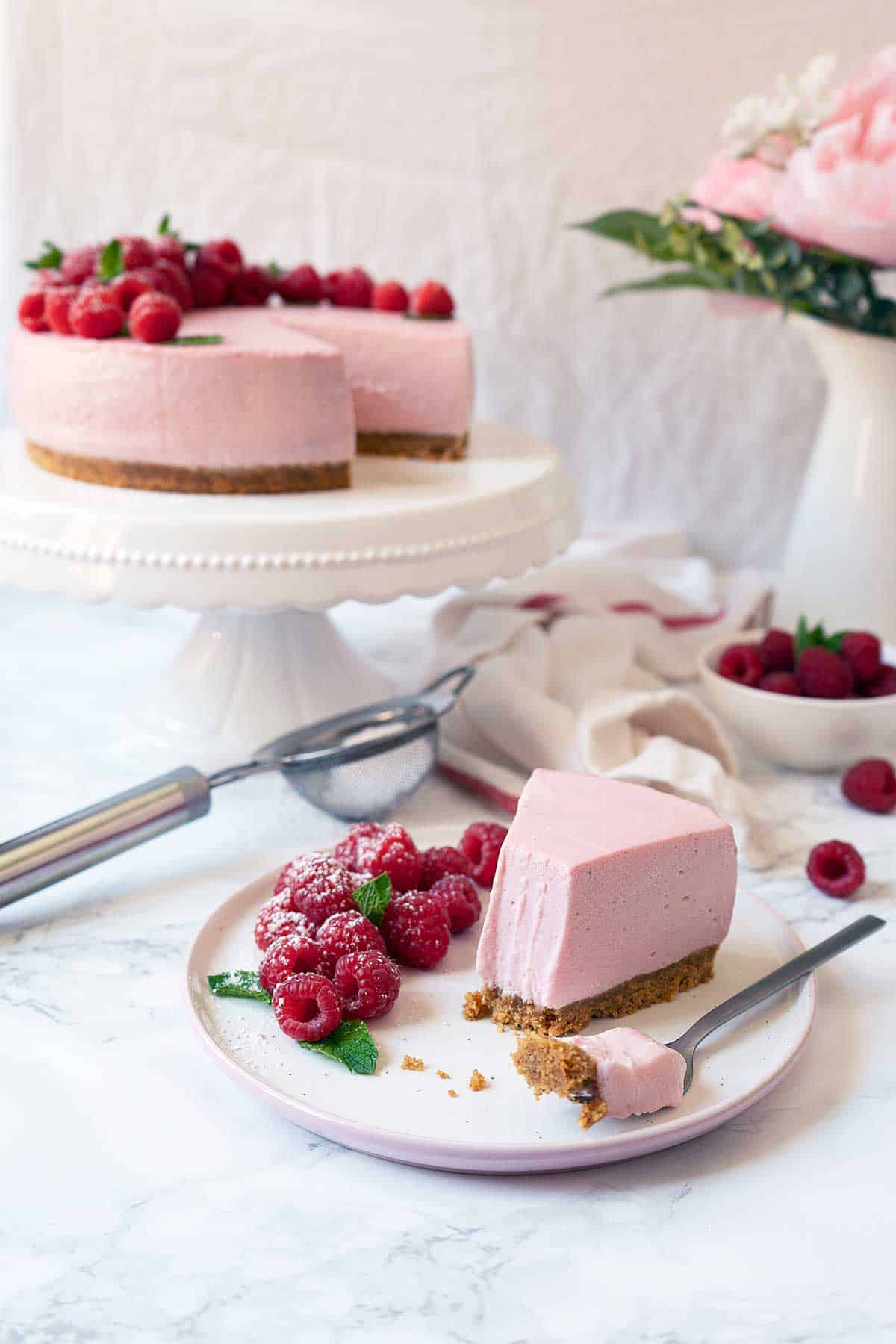 Hungry For More No-Bake Cheesecakes?
Check these out:
Video
📖 Recipe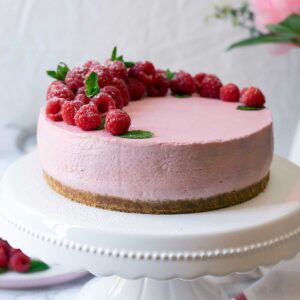 No-Bake Raspberry Cheesecake
Creamy luscious no-bake raspberry cheesecake that uses fresh raspberry for flavour and colour. Easy to make and it's just a perfect summer dessert!
Print
Pin
Rate
Ingredients
The Base
1 ½

cup

digestive biscuits crumbs

(

150

g)

¼

cup

unsalted butter

(

60

g), melted
The Coulis
1 ½

teaspoon

gelatine powder

(

5

g), or amount to set

1

cup (

250

ml) liquid

2

tablespoon

lemon juice

2

tablespoon

corn starch

(

16

g)

¼

cup

granulated sugar

(

50

g)

2 ⅓

cup

fresh raspberry

(

290

g)
The Filling
16

oz

full fat cream cheese

(

450

g), room temperature

¾

cup

powdered sugar

(

90

g), sifted

1

teaspoon

vanilla extract

⅔

cup

whipping cream, min 35% fat

(

160

ml), chilled
Other
some fresh raspberry

, for topping

some powdered sugar

, to dust on top
Instructions
The Base
Place digestive biscuits in a sealed bag and smash them into fine crumbs using a rolling pin. Pour into a bowl together with melted butter and mix well.

Pour mixture into a 7 inch (18 cm) springform pan. Press evenly using the back of a spoon. Place in the freezer meanwhile you proceed with the rest.
The Coulis
Combine both gelatine powder and lemon juice in a bowl and leave for 5 minutes for the gelatine to bloom.

Now add bloomed gelatine into a pan, together with the rest of the ingredients and cook them on medium heat until you get a thick mixture (refer to video above for the texture). Press the raspberries as you go to help break them.

Sift the mixture into a jar and leave it to cool to room temperature before using. You will get around ½ cup of coulis.
The Filling
Add cream cheese into a bowl and whisk until fluffy, using a handheld whisk. Now add in powdered sugar and vanilla extract, mix until everything is well combined.

While whisking, slowly pour in cooled coulis bit by bit. Once you've mixed everything good, set it aside.

In another bowl, whisk the whipping cream until soft peaks. Then add it into the cream cheese mixture and gently fold everything together using a spatula.

Pour filling into prepared pan. Give it some wiggles to help the filling settle in. Smooth out the top using an offset spatula. Chill in the coldest part of your fridge for min 8 hours or until it fully sets.
How To Transfer To A Serving Plate
It's easy since this cake is small. Run a knife all around the cheesecake and remove the springform pan. Insert a knife under the cheesecake and carefully run it all around to detach the cheesecake from the pan's base. Using the same knife, gently lift the cheesecake a bit and insert 1 flat spatula underneath. Do the same in the opposite direction.

Carefully yet confidently lift the cheesecake with both spatulas and immediately place it on a serving plate. Gently remove spatulas out.
How To Serve
Decorate the cheesecake with some raspberries and dust lightly with some powdered sugar. Slice and serve.

Place remaining cheesecake back in the fridge. I strongly recommend you to keep the cheesecake as much as you can in the fridge since although it has gelatine, it's in small amount.

If you want to have it outside the fridge longer or your place is hot or your fridge is not that cold, then I'd suggest you putting it in the freezer for 1 hour before removing it from the pan and serving. I did it due to nature of filming and taking photos, since we needed it to be outside the fridge for a longer time. After we were done, I just keep in in the fridge.
Gelatin Powder, Gelatin Sheets Or Agar-agar?
Please refer to my post above on the amount to use.
Notes
The same like oven, every fridge is not the same. You have different strengths to choose from, to keep your fridge cold.
Having that in mind, if your fridge is not that cold then you might need to chill the cheesecake for more than 8 hours.
You can also just place it in the freezer for 1 hour to speed things up, if you see it's still not set after 8 hours. No problem.
Nutrition Facts
Calories:
429.5
kcal
,
Carbohydrates:
34.6
g
,
Protein:
5.2
g
,
Fat:
31
g
,
Saturated Fat:
17.4
g
,
Cholesterol:
77.7
mg
,
Sodium:
205.6
mg
,
Potassium:
154.4
mg
,
Fiber:
2.8
g
,
Sugar:
22.4
g
,
Calcium:
69.1
mg
,
Iron:
0.8
mg