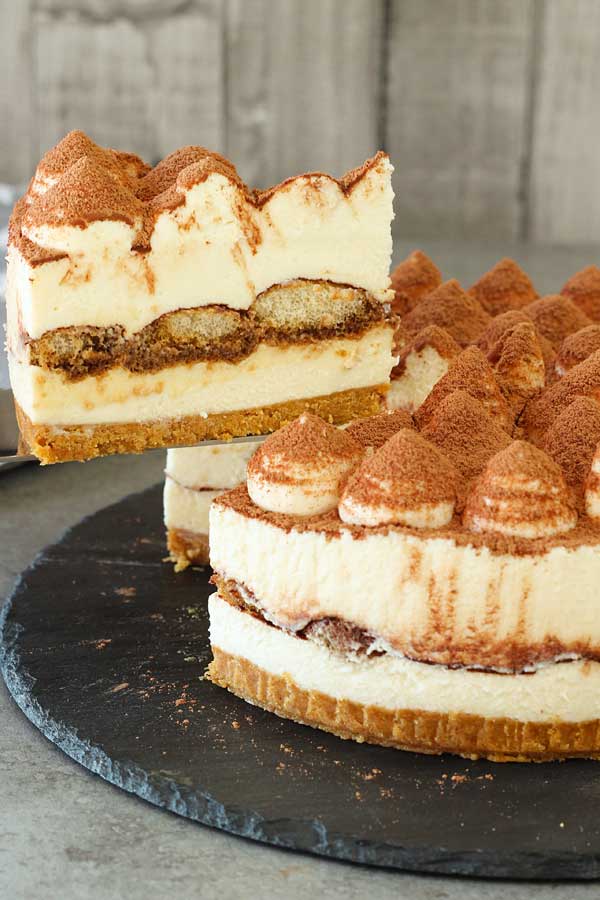 Tiramisu. No Introduction Needed
Because it's so unbelievably deliciouuuuuuss!!
Yep!
This world famous dessert is from Italy and in Italian tiramisu means cheer me up. A perfect description after a bite of this yummness, right?
Tiramisu is a coffee flavoured dessert that contains mascarpone cheese, eggs, sugar, cocoa powder and how can we forget the ladyfingers. A crucial ingredient in a tiramisu.
This dessert is assembled in layers of mascarpone cheese, ladyfingers soaked in coffee, cocoa powder before starting with the mascarpone cheese layer again. It's usually finished off with a generous dust of cocoa powder.
Tiramisu flavour has been adapted into cakes, muffins, cupcakes and other desserts.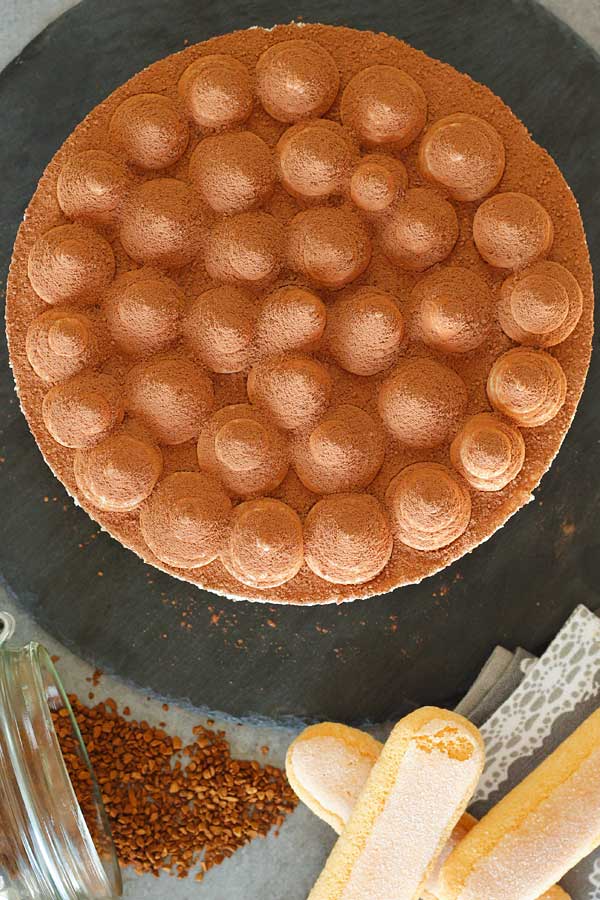 Which brings us to today's recipe.
My No-Bake Tiramisu Cheesecake
My husband loves tiramisu and he's the one who prepares it in our family for any type of gatherings. Yes, that's how good he is.
His recipe changes according to the type of tiramisu dessert that he's going to prepare. More than he's willing to admit (I bet), he's winging it as he goes and the result is always awesome.
But there's one tiramisu that he never made and it's a no-bake tiramisu cheesecake! And though I want the glory all to myself (don't judge me), this no-bake tiramisu cheesecake wouldn't have come to be without his guidance.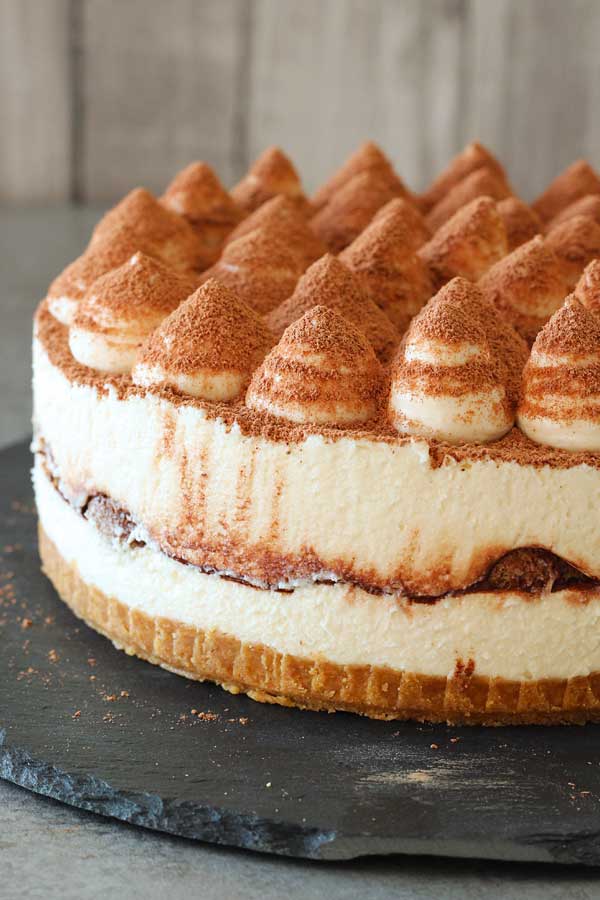 Tiramisu has that wonderful coffee flavour to it and I wanted to incorporate that in this no-bake cheesecake without turning it into a no-bake coffee cheesecake, in taste and colour. And hey, have you seen it by the way? It's beautiful and most importantly, it's delicious and it delivers the coffee flavour as it should.
Click here to see my No-bake Coffee Cheesecake recipe
This no-bake tiramisu cheesecake has the touch of coffee flavour without pushing it too far. Just the way I like it.
Talking about coffee, I'm using Nescafe Gold instant coffee. I simply love the colour and taste of it for these type of desserts.
For the cheesecake, I'm using a combination of cream cheese and mascarpone cheese. I'm not using all mascarpone cheese because I don't want it to be richer than it already is. I think the combination of both of these cheeses really makes it flavourful for a no-bake cheesecake.
And as the written law of tiramisu, I simply have to use ladyfingers. It gives this no bake cheesecake a special and different texture.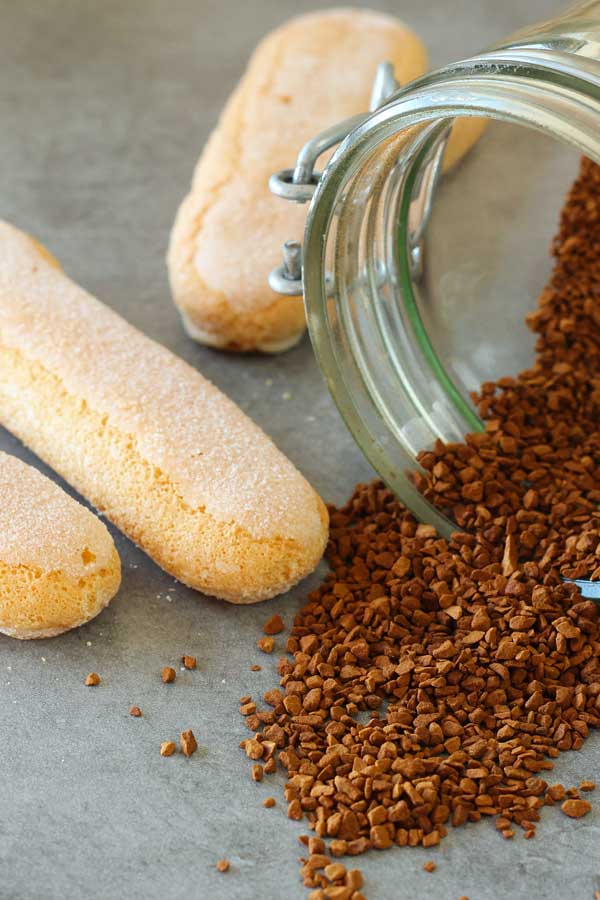 I don't soak the ladyfingers that long in the coffee mixture because I want the ladyfingers to still be visible when I slice the cheesecake. If it's too soggy then it's going to be a bit of a mush.
If you don't mind or even prefer it like that, by all means do soak the ladyfingers longer in the coffee mixture. It's always up to you.
And what makes a tiramisu look like a tiramisu is that final generous dust of cocoa powder on top. Thought it's the simplest act but it gives any tiramisu dessert that wonderful look. Don't you agree?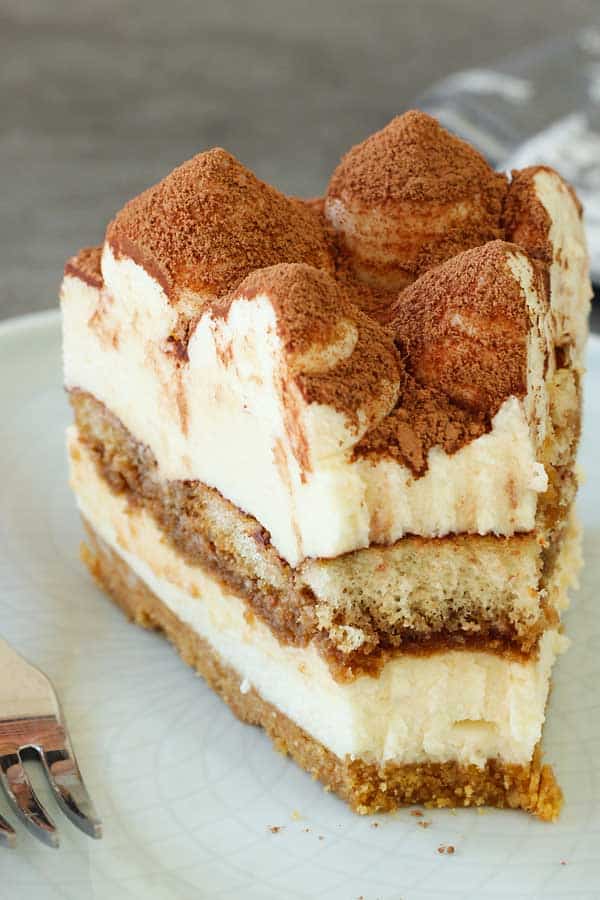 This is another simple no-bake cheesecake recipe that uses simple and basic ingredients. If you're a tiramisu lover, then I think you're really going to love this. Give it a try.
More No-Bake Cheesecakes
Video
📖 Recipe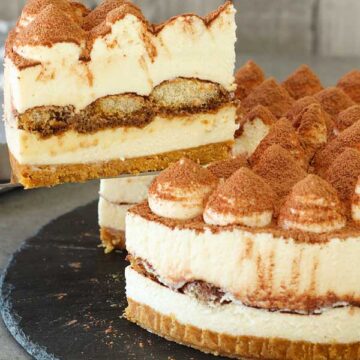 No-Bake Tiramisu Cheesecake
Another version of the world famous tiramisu dessert, this is a no-bake tiramisu cheesecake. Incorporating the essential flavours of a tiramisu, this no-bake cheesecake is easy to prepare.
Print
Pin
Rate
Ingredients
The Cheesecake
10.5

oz

full fat cream cheese

(

300

gr), room temperature

10.5

oz

mascarpone cheese

(

300

gr), room temperature

1 ½

cup

icing sugar

(

180

gr), sifted

1

teaspoon

vanilla extract

¾

cup

whipping cream min 35% fat

(

190

ml), chilled

1

tablespoon

powder gelatin

(

10

gr) or type/quantity that sets 2 cup (500 ml)
Instructions
The Coffee
Mix warm water and coffee well. Separate 3 tablespoon of coffee mixture into another bowl. Set aside.
The Base
In a

food processor

, blend the digestive biscuits into fine crumbs. Pour into a bowl and add in butter. Mix well.
The Cheesecake
Add cream cheese and mascarpone into a bowl and whisk for a few minutes until they're light and fluffy. Then add in icing sugar and vanilla extract. Mix well to combine. Set aside.

In another bowl, add in whipping cream and whisk it until soft peaks. Pour the whipped cream into the cream cheese mixture and mix just to combine. Don't over mix. Set aside.

Add powder gelatin into the bowl that contains 3 tablespoon coffee mixture and mix. Leave for 5 minutes for the gelatin to soak. After that heat the mixture in microwave until the gelatin is totally dissolved.

Take a few teaspoon of cream cheese mixture and add into gelatin mixture. Mix well. Then pour gelatin mixture into cheesecake mixture and immediately mix just until well combined.

Pour ⅓ of the mixture into our prepared pan. Spread evenly. Soak ladyfinger one at a time for 2 seconds in the coffee mixture and then arrange them on top to cover the surface. Then sprinkle generously with cocoa powder.

Put another ⅓ of the mixture on top and spread evenly. Place the balance of mixture into a piping bag and pipe some balls on top of the surface. Chill in the fridge overnight or 12 hours or until it fully sets. * please see notes

Once set, sprinkle the cheesecake with cocoa powder. Remove it from the pan, slice and enjoy!
How To Transfer To Serving Plate
It's easy since this cake is small. First insert a knife under the cheesecake and carefully run it all around to detach the cheesecake from the base.

Using the same knife, gently lift the cheesecake a bit and insert 1 flat spatula. Do the same in the opposite direction.


Carefully yet confidently lift the cheesecake with both spatulas and place on a serving plate. Gently remove spatulas out.


Or place a baking sheet on the base of the springform pan before assembling. You will have a slightly bigger baking sheet coming out from the springform pan after assembling it. Before serving, gently slide the cheesecake onto a serving plate.

How To Serve
Keep the cheesecake in the fridge all the time until just a few minutes before serving. Cut the slices as needed and put back the cheesecake in the fridge to maintain chill.
Notes
 If the balance of cheesecake mixture is too soft to pipe and holds its shape, place it the fridge for 15-25 minutes for it to set a bit. Check and gently mix every 5 minutes so that the mixture sets evenly. Once it holds it's shape, put it in a piping bag and start piping.
Please use full fat cream cheese. Meaning, do not use light cream cheese else it won't set as good.
Please use minimum 35% fat content for the whipping cream. The fat is needed to help set the cheesecake.
Use unsalted butter.
Nutrition Facts
Calories:
378.5
kcal
,
Carbohydrates:
29
g
,
Protein:
5.3
g
,
Fat:
27.2
g
,
Saturated Fat:
16.1
g
,
Cholesterol:
84.5
mg
,
Sodium:
151.8
mg
,
Potassium:
80.8
mg
,
Fiber:
0.7
g
,
Sugar:
17.2
g
,
Calcium:
74.2
mg
,
Iron:
0.8
mg