What is Panettone?
Panettone is a sweet bread originally from Milan, Italy. It is usually served for Christmas and New Year.
The bread is round, tall and has a cupola shape. It contains candied fruits, raisins and in some versions even chocolate. The process of preparing it takes longer than a normal bread would.
Disclosure: some of the links below are affiliate links, meaning at no extra cost to you, I will get a small commission if you click through and make a purchase. Everything I mention in this post is what I personally use and recommend.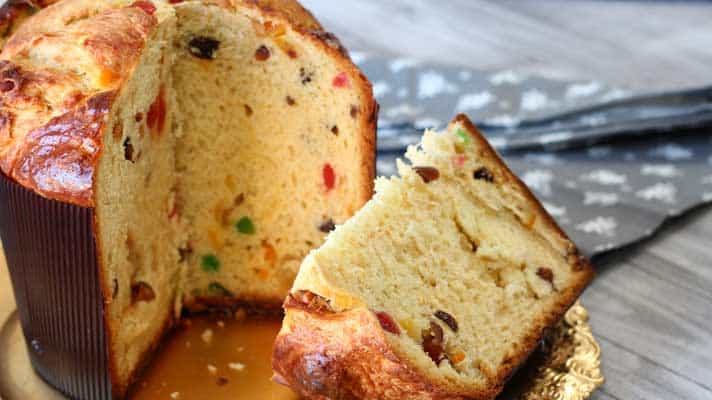 My Version
Honestly I've only ever tasted panettone when I came and live here in Spain. My husband and his family on the other hand, are already familiar with it as their ancestors were from Italy. Back then I would buy panettone from our nearest Aldi store and we would enjoy it for Christmas.
Me being me, I started to wonder how it would be like to be making my own panettone. After several experiments, some errors and some adjustments I have finally perfected, for me personally, my version of panettone recipe.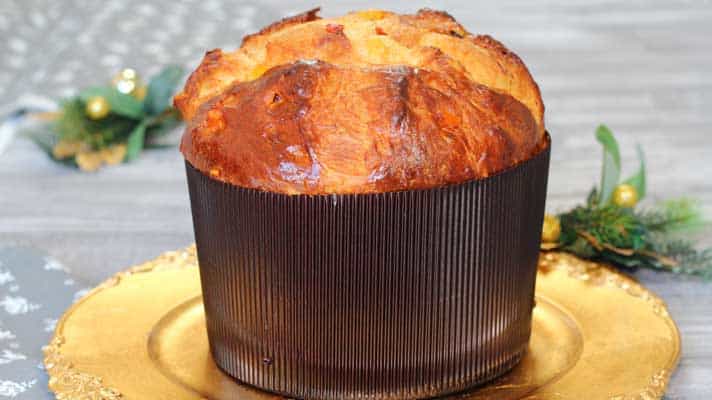 The Process and Tips
So with this recipe, there will be 3 times of rising the dough. I find it easier to use my trusty standing mixer in this recipe as it needs quite some kneading time.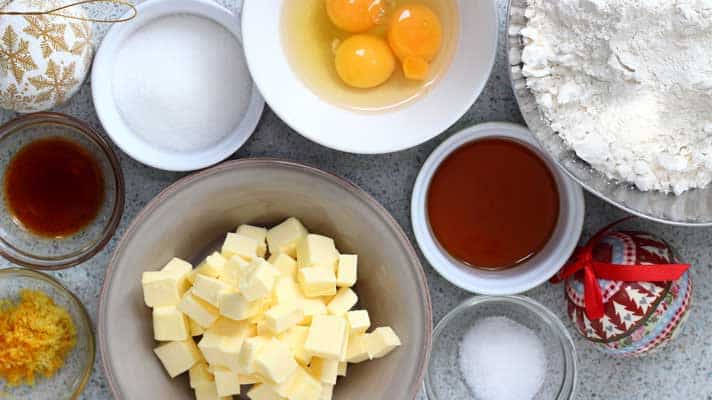 So I started the night before by soaking some raisins in some rum. We love the taste of rum and I incorporate it by using the rum itself and of course the soaked raisins.
So the next day I usually start early, since the dough takes longer to rise in cold weather. You can watch the video above for the the detailed steps on how to make my version of panettone.
Here I will share with you some tips that I've been noting ever since I've been making my own panettone.
Like I mentioned earlier, always start early.
Have all the ingredients measured, candied fruits and almonds chopped and ready. This will make the process smoother for you and not overwhelming.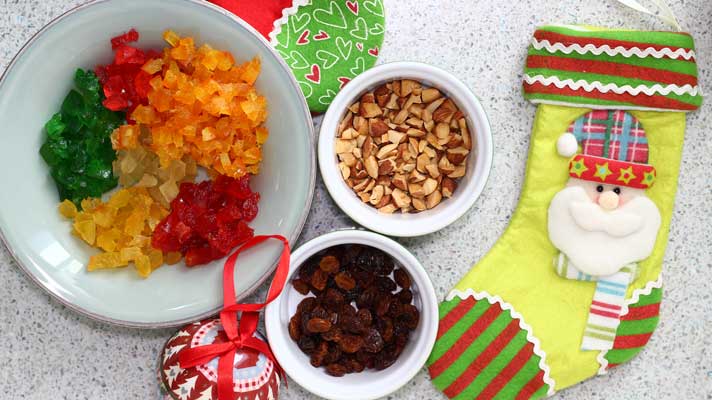 If your kitchen is way too cold and the dough is taking way too long to rise, don't worry. Heat up your oven at 300ºF (150ºC), with no fan and leave the oven door open. Place the bowl containing the dough somewhat near the oven like 3-4 feet away.
Preferably in the direction of the opened oven door. That helps me a lot as my kitchen tends to be extra cold than the rest of the house, during the cold weather.
The texture of the dough will be sticky. Don't be tempted to add more flour to make it otherwise. We want sticky dough for our panettone. So when the time comes to kind of stretch the dough and mix in the chopped candied fruits, almonds and raisins, don't use flour on your working surface.
Simply spread some natural oil like sunflower oil and some on your hands also. This will make the dough manageable and not sticking to the working surface while you mix and knead it.
Once you have mixed in the candied fruits etc, form the dough into a ball and place it inside the panettone mold of this size. Place the mold on top of a baking tray. This will make it easier for you to move the mold around without risking collapsing the dough, if you were to grab it by the mold rim.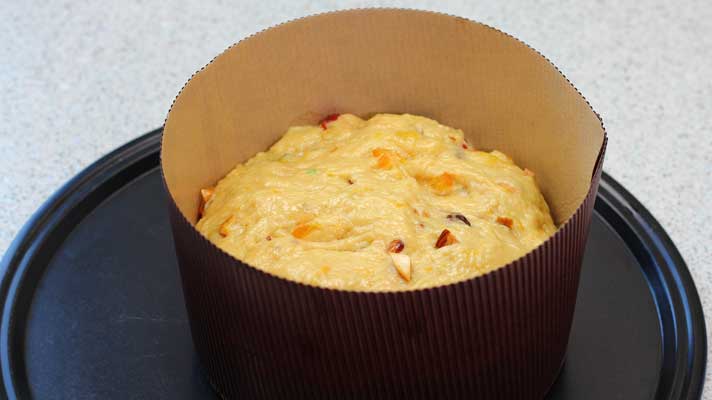 This panettone dough will rise a lot. So when baking, try placing the baking tray with the panettone on the lower rack. This is to leave space for the dough to rise without risking the dough top touching the top grill and burning. My oven is with 4 racks option. I always use the lowest rack when baking my panettone.
Since the dough will rise a lot, it also means the top will brown faster while the rest of it is still not cooked. I always put a piece of aluminium foil after first 15 or 20 minutes of cooking time even though the top isn't that brown yet. I cook it like that until it's fully cooked and just discard the aluminum foil at the last 3-5 minutes of cooking time to get that perfect golden brown color.
Since this type of bread is not only wide but also tall so it does take time to cook. Depending on the temperature of each oven also, of course. Check to see if it's done at minute 40. I simply insert a skewer stick and if it comes out wet, then I leave it to continue cooking. Every 10 minutes after that I check again. This is to prevent it over-baking and dry.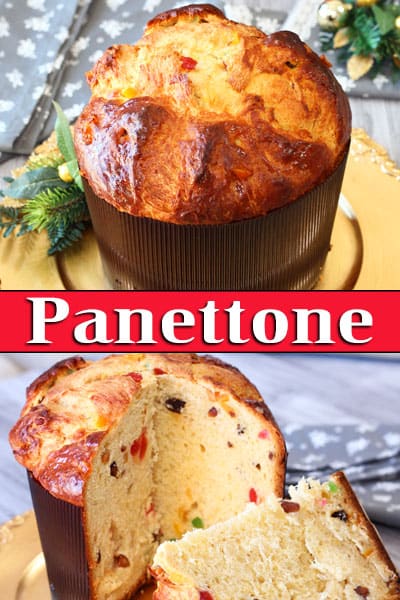 Once the panettone is fully cooked and taken out of the oven, it needs to be immediately put upside down. So I would suggest you prepare the setting of where to let it hang before it's fully cooked so you wouldn't lose time.
So when it's still hot, insert through 2 metal skewers at the bottom part of the panettone. You can see this part clearly in the video above. Then simply flip it and let it hang like that until it's completely cooled. This will ensure the panettone doesn't collapse on itself and retain its beautiful and airy texture.
Well after that, enjoy!
I hope you do try this recipe if you're thinking of making panettone this Christmas. It's easy, I'm not kidding. Just give it time and with some of the tips that I've shared I'm sure yours will turn out great!
More Sweet Bread Recipes
Video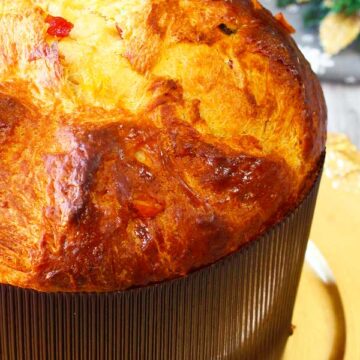 Panettone
It's that time of the year to make panettone!! Soft fluffy christmassy smelling bread with candied fruits and toasted almonds. Even with the raw dough you can already smell this wonderful panettone. Make it for this Christmas, you won't regret it!
Print
Pin
Rate
Ingredients
½

cup

warm milk

and

1

tablespoon more, (

140

ml)

1

teaspoon

granulated sugar

4

teaspoon

dry yeast

(

11

gr)

4 ¼

cup

bread flour

(

550

gr)

1 ½

teaspoon

salt

½

cup

rum

(

125

ml)

3

eggs

, room temperature

1

orange, the zest

1

lemon, the zest

½

cup

granulated sugar

(

100

gr)

3

egg yolks

, room temperature

1

tablespoon

vanilla extract

7

oz

unsalted butter

(

200

gr), soften & cut into small cubes

7

oz

assorted candied fruits

(

200

gr), cut into small cubes

¼

cup

raisins

(

40

gr)

⅓

cup

toasted almonds

(

50

gr), chopped

1

teaspoon

Sunflower oil

, to use on working surface

1

egg

, beaten for egg wash
Instructions
In a bowl, add the warm milk, sugar and mix. Add dry yeast and give it a quick stir. Leave it to activate and get foamy for 3-5 minutes.

In a standing mixer bowl, add in flour, salt, rum (from soaking the raisins), eggs, orange and lemon zest and the prepared yeast mixture. Mix to incorporate and then knead for 10 minutes. Form the dough into a ball and place it in the bowl. Wrap the bowl with cling film and leave the dough to rise until double in size, in a warm and draft free place.

After it has risen double in size, punch the dough to knock out the gas. Add in sugar, egg yolks and vanilla extract. Mix to incorporate. Once incorporated, slowly add in cubed butter. Mix to incorporate well after each addition. Once all the butter is incorporated, knead for 10-15 minutes or until it forms a soft dough ball. The dough will be soft and sticky and that's what we want. Cover with cling film again and let it rise until double in size, in a warm and draft free place.

Once doubled in size, pour the dough onto an oiled working surface. Do not use additional flour. Press the dough with your fingers and stretch it into a square, more or less. Sprinkle in chopped candied fruits, raisins (soaked overnight with rum and squeeze slightly so that they're not too liquidy) and almonds. Fold the edges to the center and lightly knead to distribute the fillings evenly.

Form the dough into a ball, more or less and place it in a 2 lb (1 kg) panettone mould, on a baking tray. Cover with greased cling film and leave the dough to rise until it reaches the mould's rim. Once it has reached the mould's rim, carefully remove the cling film. Brush the surface with an egg wash. Using a sharp knife, make a cross on its top surface. Place some sliced butter on the inside of the cross.

Bake at 175ºC (350ºF) in a preheated oven with no fan, at a low rack for 50-60 minutes or until fully cooked. Cover the top with aluminium foil if the top gets brown too fast. To check if it's fully cooked, insert a skewer stick. If it comes out wet, continue cooking for several minutes more.

Once fully cooked, remove the panettone from the oven. While still hot, immediately insert though 2 metal skewers at the lower part of the panettone and hang it upside down until it's completely cooled. Once fully cooled, slice it and enjoy!
Notes
Please read the article above for tips that I've shared from my experience on how to make a perfect panettone. Hope you'll enjoy it!