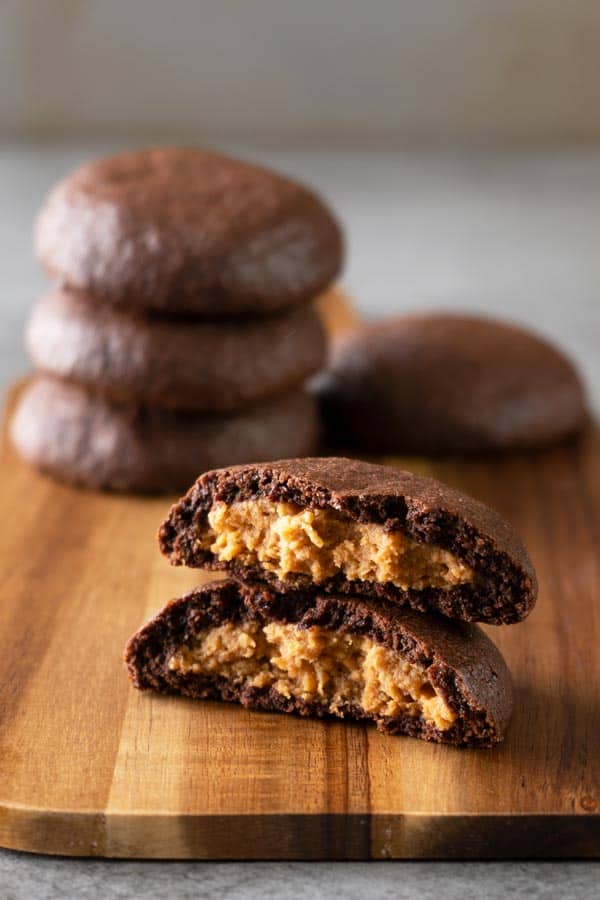 Can I tempt you with these ohh goodness licious peanut butter chocolate cookies?
Please!
Intense flavour of chocolate cookies stuffed with peanut butter.
If you love Reese peanut butter cups then I would say these beauties taste exactly like that but in cookies form.
And yes, you gonna LOVE these cookies. I promise.
Chocolate Cookies
I know I made a super healthy recipe last week, I didn't forget about it.
But hey, life is about balance right? Sometimes you're naughty sometimes you're an angel.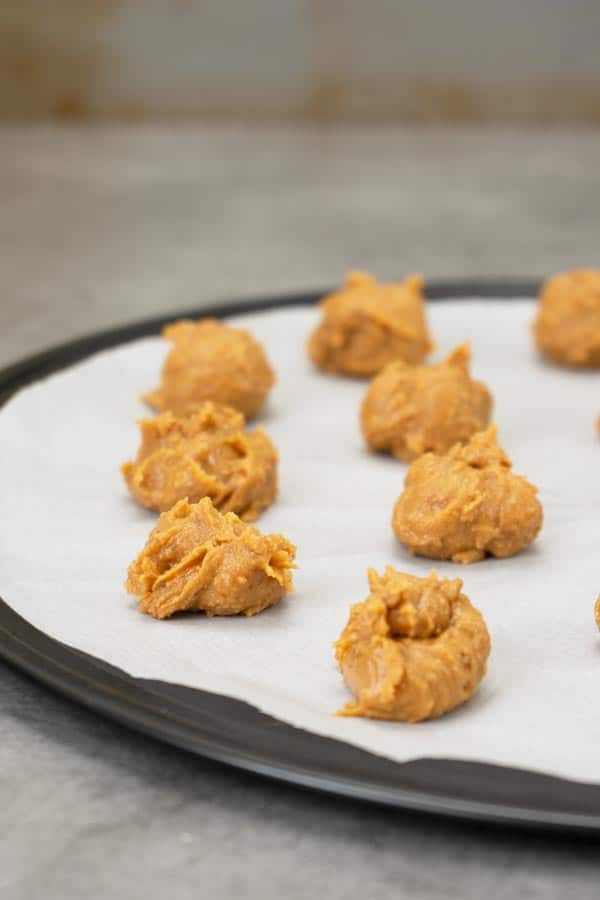 I really love the intense chocolate flavour that the cookies have. And it's super easy to make also.
Tips On How To Prevent The Cookies From Spreading
Ok so let's talk a bit on how to work with this cookie dough.
It's a soft dough so you will need to chill it in the fridge for 30 minutes or until it's firm enough to handle without giving you a migraine or panic attacks.
Don't leave it too long in the fridge though because then it will be too firm and making it difficult to work with.
I'd say 30 minutes in the fridge is the sweet spot. But if you forgot and it passed 3 hours, and the dough is rock hard.. no worries.
Just bring it to room temperature, scoop the dough and warm it with your hands to soften it.
Now if you're like me who doesn't like super flat cookies, then you should keep on reading.
There are several reasons that your cookies turn out flat.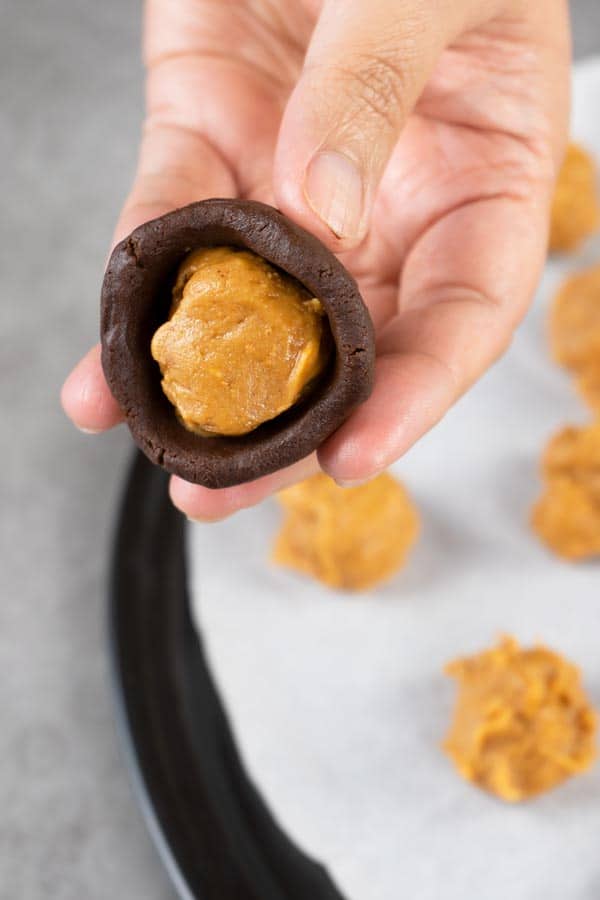 Oven Temperature
When the oven is too hot then the fat in the dough melts faster than it could set.
That's why the cookies spread.
So know your oven.
Don't Over Mix The Ingredients
Over mixing the ingredients will incorporate air in and it messes up with the structure.
Chilling The Dough
This is kind of similar but.. not really, from the point above.
When the dough is soft like in this recipe, it's extremely important to chill it first so that it's colder and firmer. Which then leads to cookies not spreading.
Make Your Cookies Tall
If you watch the recipe video below you can see that before baking I didn't flatten my cookies dough.. at all.
Flattening the dough will of course help the spreading. Let the nature take its course.
Bake In Middle Rack
Using the middle rack will ensure the cookies rise and bake evenly.
Super simple.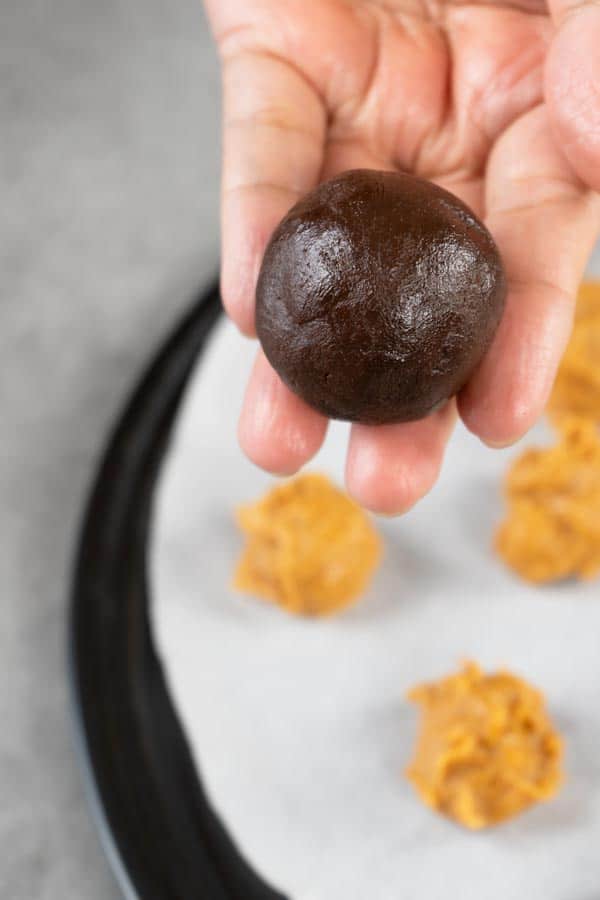 Tips On How Not To Get Stiff Peanut Butter Filling
I thought I'd share what I encountered when I tested this recipe.
For testing I used peanut butter with 90% peanuts and I didn't mix it with anything else. I just used it as it came from the jar.
What I noticed is that the peanut butter filling got quite stiff after baking that when I broke the cookies in half, the peanut butter filling didn't break together with the cookies. Haha!
It was not hard like a rock but it was not a beautiful view because one half of the cookie will have empty hole due to the filling being whole still with the other half of the cookie.
So I changed strategies.
Lesser Content Of Peanuts
For this recipe I'm using 85% peanut in my peanut butter.
I love how the result is, as you can see in the pictures.
Mixing With Honey
Honey soften the peanut butter due to its texture and it also adds a wonderful taste to the filling.
Using honey really helps. At least for me.
But hey then again, if you don't mind you can simply use your peanut butter as is. No problem at all.
Hope you'd give these delicious cookies a try!
In Summary
These amazing peanut butter chocolate cookies are:
just like Reese peanut butter cup but in cookies form
easy to make, seriously
have intense chocolate flavour
with good amount of peanut butter filling, for good measure
simply AMAZINGLY DELICIOUS, I kid you not
Before You Go
Maybe you would also like to check out these:
Video
📖 Recipe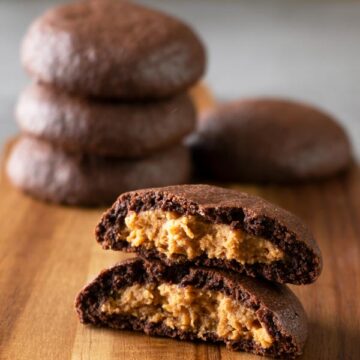 Peanut Butter Chocolate Cookies
Intense chocolate-flavored cookies filled with delicious peanut butter. Imagine Reese's peanut butter cup, that's what these delicious cookies are like.
Print
Pin
Rate
Ingredients
The Cookies
1

cup

all purpose flour

(

130

gr)

½

cup

unsweetened cocoa powder

(

60

gr)

½

teaspoon

baking soda

½

teaspoon

salt

½

cup

butter

(

113

gr)

4

oz

semisweet chocolate 55%

(

113

gr), chopped into small pieces

½

cup

sugar

(

100

gr)

½

cup

brown sugar

(

80

gr)

1

egg

, room temperature

1

teaspoon

vanilla extract
The Filling
1

cup

peanut butter

(

250

gr)

⅓

cup

honey

(

110

gr)
Instructions
The Cookies
Sift flour, cocoa powder, baking soda and salt into a bowl and set aside.

Put chopped chocolate and butter into a bowl and melt either in microwave or double boiler method. Once the mixture is not too hot, add in both sugars, egg and vanilla extract. Mix well using a hand whisk.

Add in half of flour mixture and combine everything without overmixing. Add the rest of the flour and fold everything together using a rubber spatula.

Cover the bowl with a cling film and leave to chill in the fridge for 30 minutes or until firm to handle.
The Filling
Add peanut butter and honey into a bowl and mix well.

Scoop 2 teaspoon (10 gr) more or less of filling mixture and place on a baking tray with baking sheet. Use 2 small spoons to make it easier.

Place in the freezer for 30 minutes or until firm.
Assembling
Using a 1 ½ tablespoon ice cream scoop, scoop the dough batter and form a shape similar to tall bowl. Place the firm filling inside and cover it with the dough. Roll between your palms and place it on a baking tray with baking sheet.

Continue with the rest. Make sure to have at least 2 inches (5 cm) space in between the balls.

Bake in a preheated oven at 350ºF (175ºC) for 15 minutes or until fully cooked. Leave for 5 minutes before transferring to a rack to cool completely.

Note: If your balls soften while you're finishing up, place the baking tray with the balls in the fridge meanwhile.

Take out the filling 2,3 at a time to prevent them getting soft and difficult to handle.
Tips On How To Prevent The Cookies From Spreading
It has to do with oven temperature, chilled dough, no overmixing, tall cookie balls and baking in the middle rack. Read more in my post above.
How To Work With Peanut Butter Filling
Refer to my post above to make sure your peanut butter filling stays nice and beautiful with your chocolate cookies.
How To Store
Place in an airtight container at room temperature up to 2 weeks.

To Freeze Baked Cookies: place baked cookies on baking tray with baking sheet in the freezer for 30 minutes. Once they are hard, put them in a ziplock bag and into the freezer up to 1 month.

Defrost Baked Cookies: thaw at room temperature. Heat in the oven at 275ºF (135ºC) for 10 minutes to bring them back to life.

To Freeze Raw Cookies: place the formed unbaked balls on a baking tray with baking sheet in the freezer for 30 minutes. Once they are hard, put them in a ziplock bag and into the freezer up to 9 months.

To Bake Frozen Cookies: place frozen raw balls on a baking tray with baking sheet and bake as per instructions above, with a few minutes more of cooking time.
Nutrition Facts
Calories:
218.4
kcal
,
Carbohydrates:
24.6
g
,
Protein:
4.3
g
,
Fat:
12.7
g
,
Saturated Fat:
5.2
g
,
Cholesterol:
19.6
mg
,
Sodium:
165.6
mg
,
Potassium:
145
mg
,
Fiber:
1.9
g
,
Sugar:
16.9
g
,
Calcium:
19.3
mg
,
Iron:
1.2
mg