My family used to sell the classic pineapple tart cookies when I was a kid. My sisters and I would help peel the pineapples, roll the jam, and shape the tart cookies.
We were selling them so much (they were a total hit!) that our clothes started to smell like pineapple tart cookies. Haha! Small home production, what can I say? And those are the best memories, I can tell you that.
I've modified my late mother's recipe and adapted it to make these pineapple-shaped tart cookies. I hope my late parents would be smiling with pride.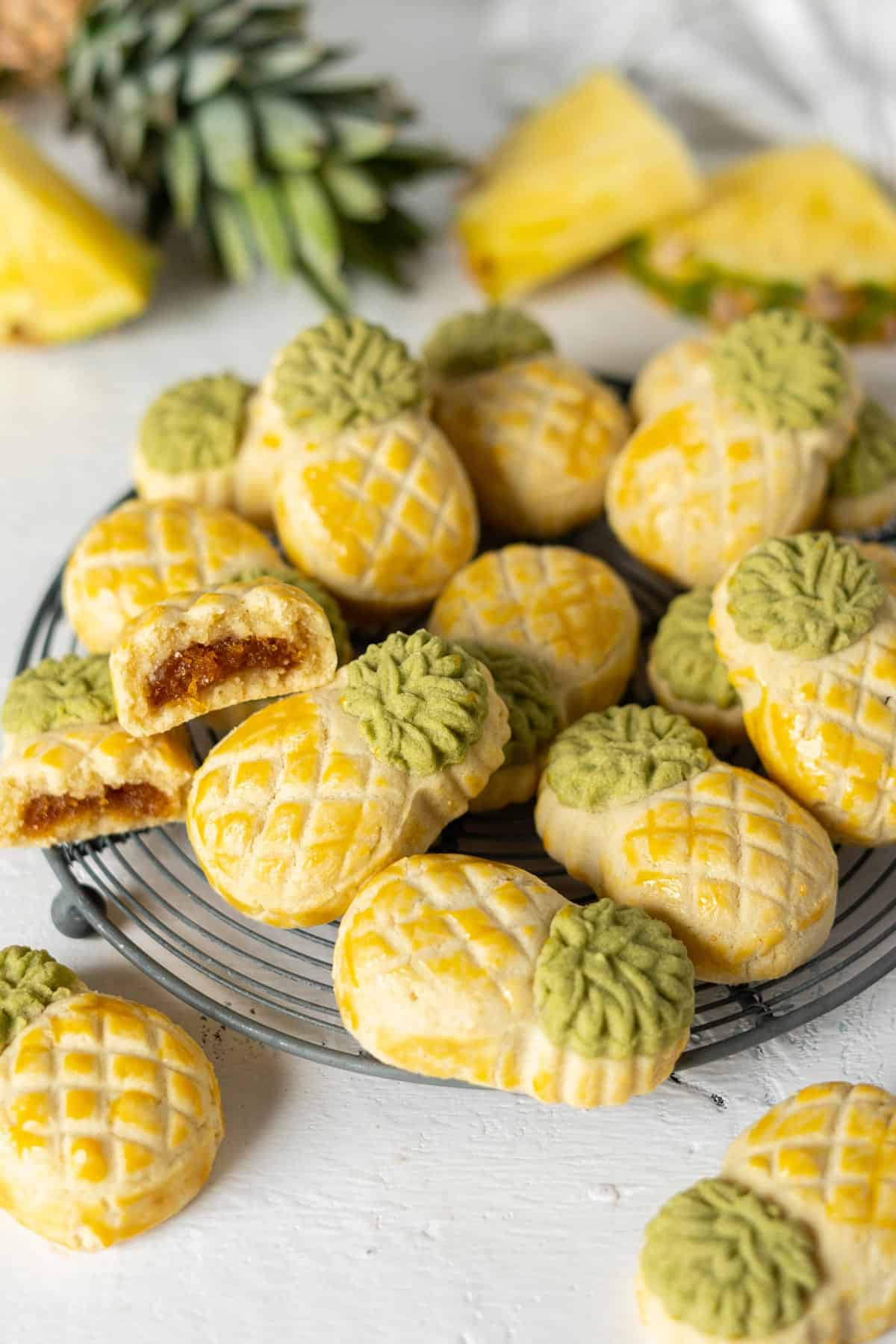 Jump to:
What Do They Taste Like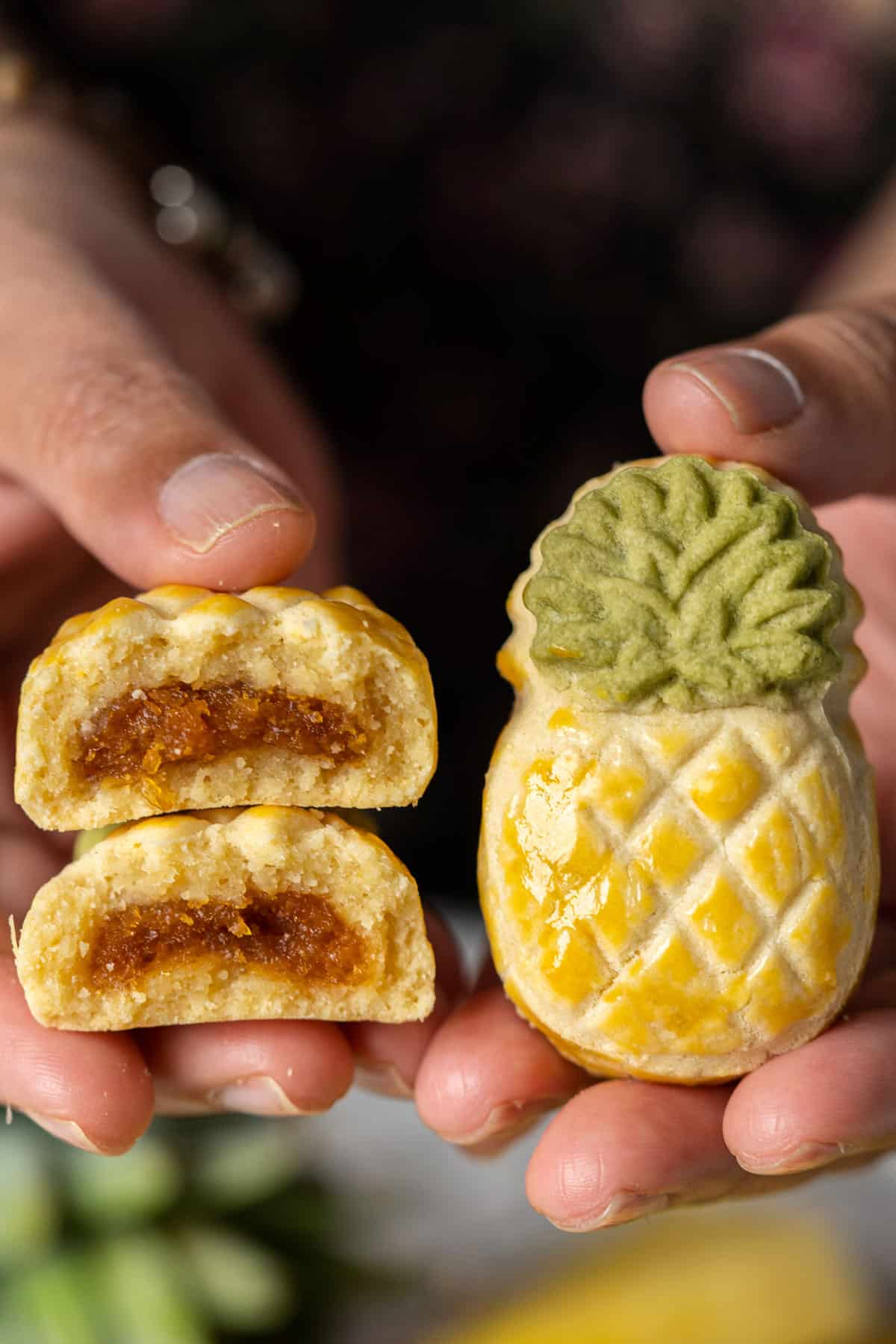 Like any other Asian cookies and desserts, they're not overly sweet. They have this light hint of milky taste to them. The sweetness comes mainly from the pineapple jam so the ratio of jam and dough is important.
They're soft, tender and have that almost melt-in-your-mouth texture. So delicious!
What Pineapple To Use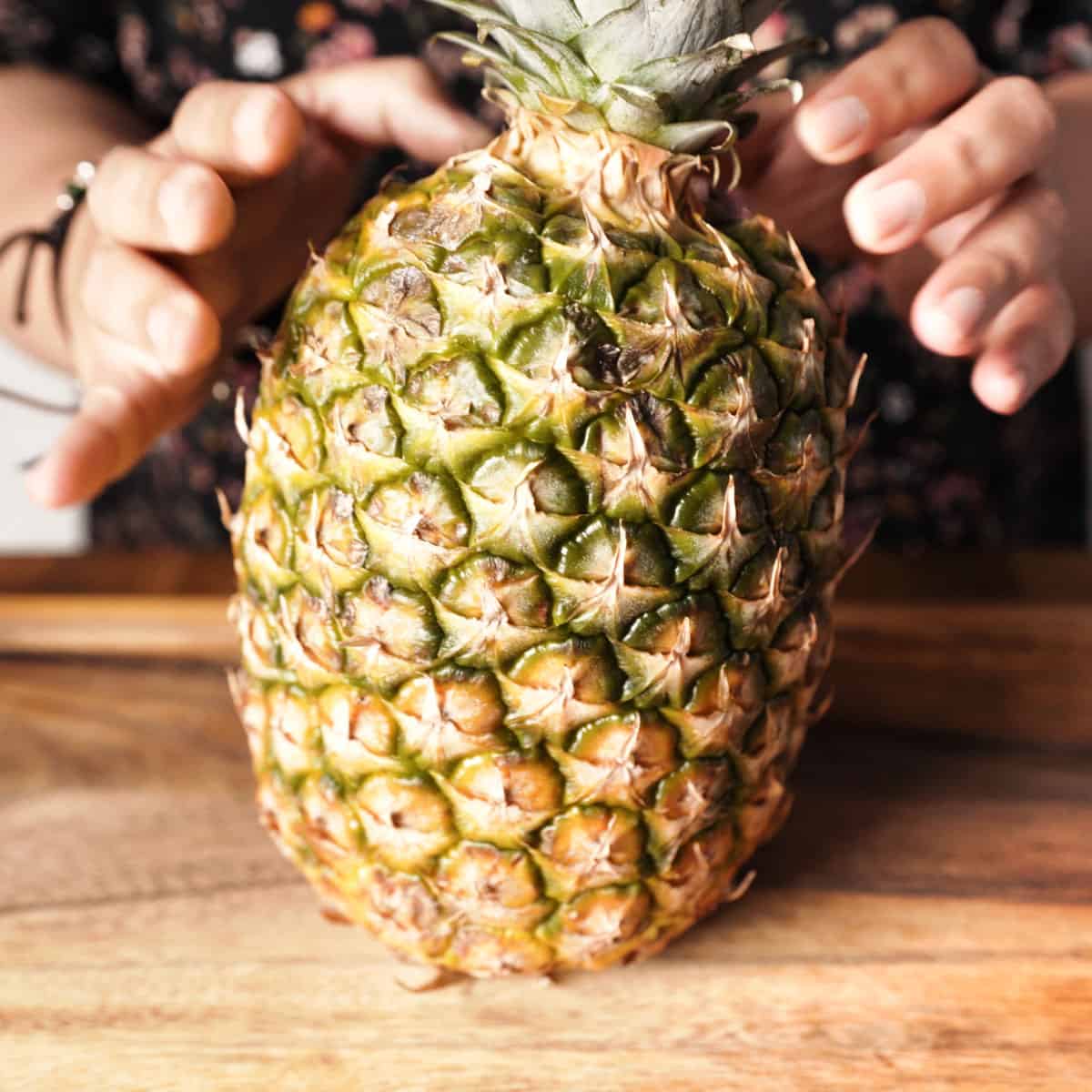 I remember my mother going early to the market to buy pineapples for us to make the jam. She liked to hand-select them herself because, despite the typical ripe fruits commonly used for jam, it's not the same in this case.
For this pineapple jam, you'll need one that's not fully ripe. You'd want to see some green skin on it still. Think about a pineapple that's ready to be consumed in 2,3 days.
Fully ripe pineapple would be too juicy and it'll take way too long to cook into a thick jam for this recipe.
A common-sized pineapple, unpeeled, weighs around 5 lb (2.2 kg), and I'm using half of that for this recipe.
Ingredients & Substitutions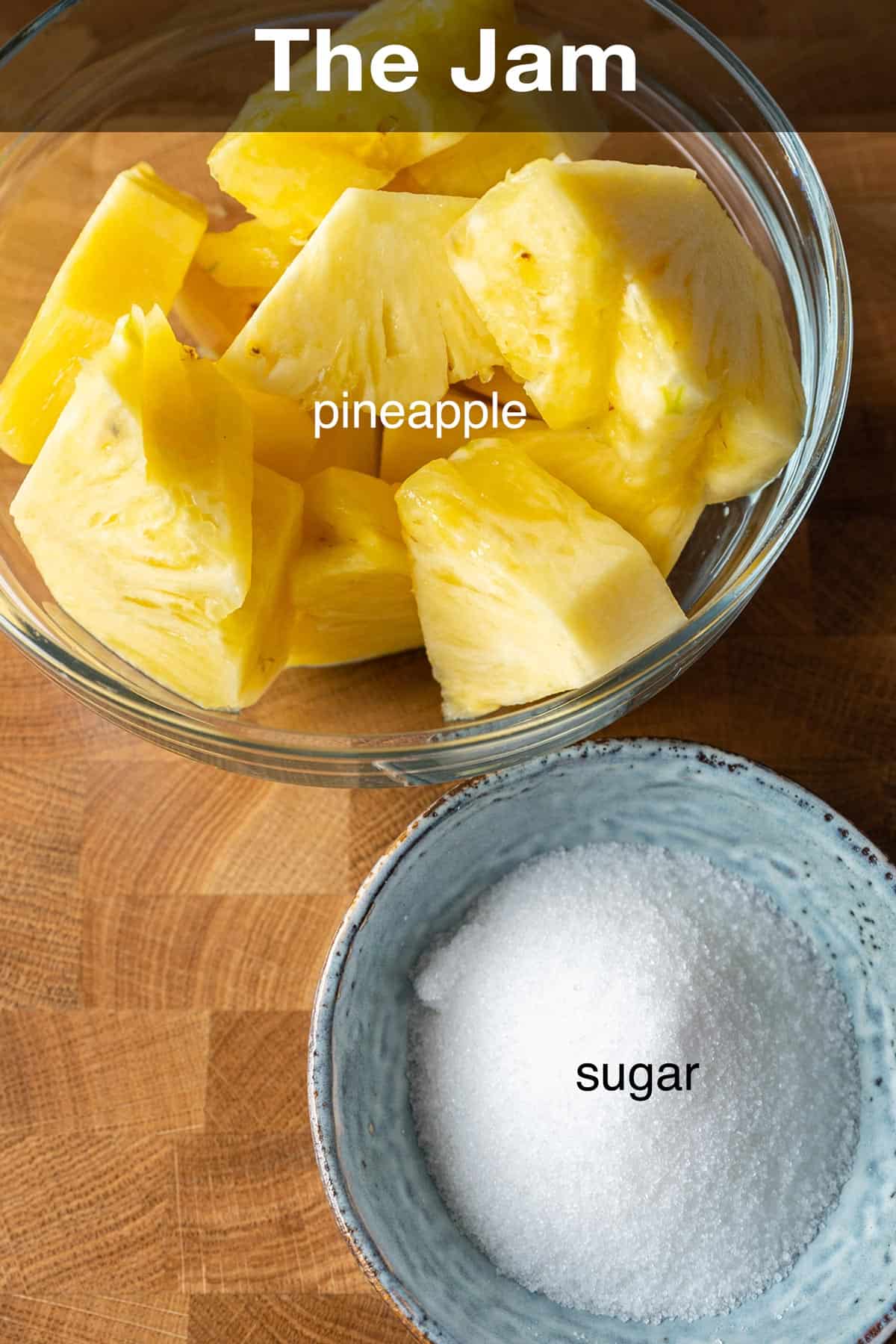 Sugar - Granulated white sugar for the jam. Depending on the sweetness of the pineapple, adjust the amount to your liking.
SUBSTITUTIONS: Use brown sugar, coconut sugar or any sweetener that you prefer.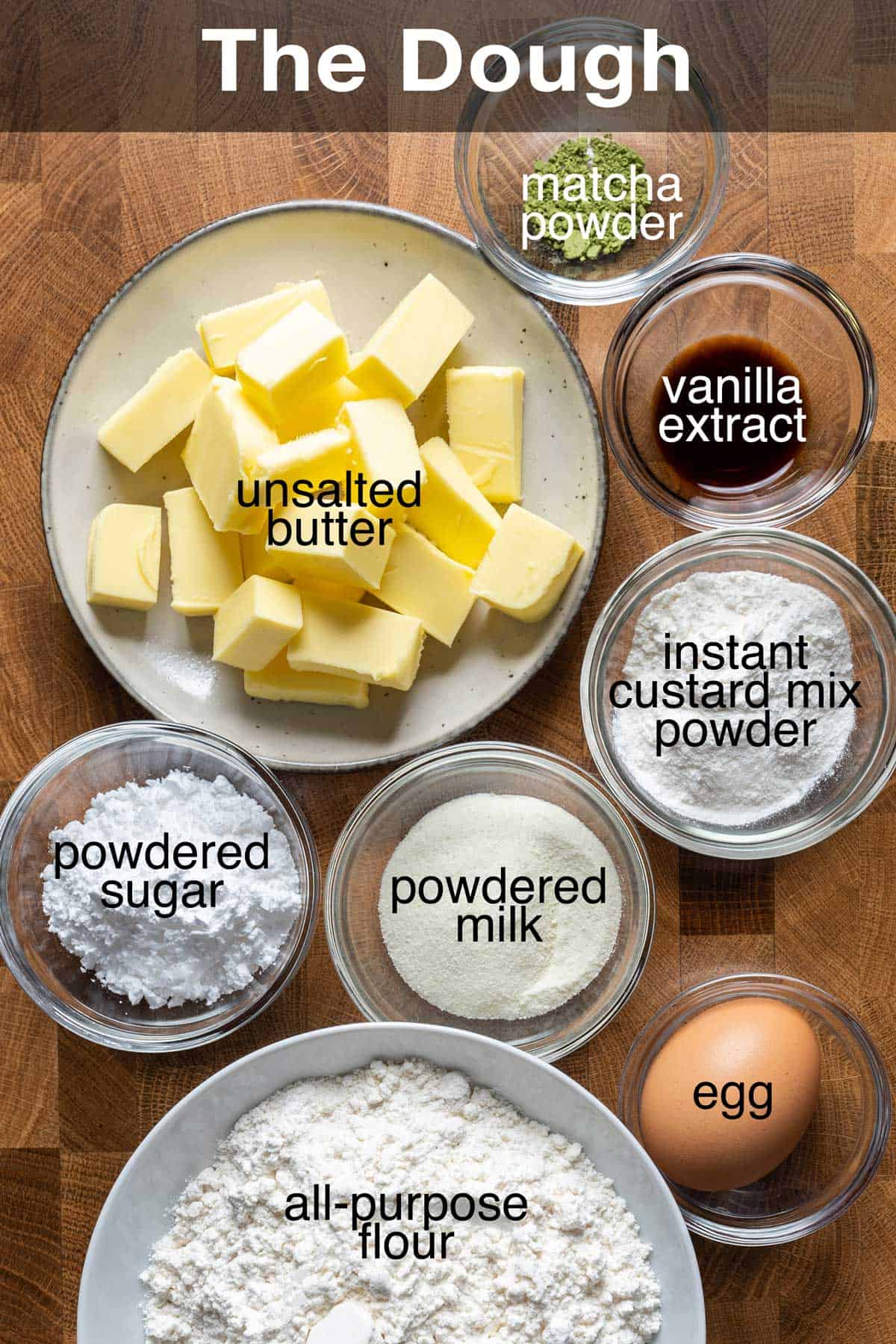 Powdered sugar - Since these cookies emphasize on the soft and tender texture, so powdered sugar is better compared to granulated sugar (which makes the cookies crunchier).
PRO TIPS: Make your own powdered sugar by grinding white granulated sugar into powder. Measure the amount needed after grinding.
Powdered milk - Any unsweetened powdered milk will do, either skimmed or full fat. It's not as common in cookies but it works so beautifully. The same as powdered sugar, it also helps in making the cookies have that soft and tender texture, apart from giving that touch of milky flavour. If you don't have it, then omit it.
But, I highly recommend you to have a small packet of powdered milk in your pantry as it's also great for creating soft texture bread like these soft Chinese sausage buns and Japanese milk bread rolls.
Instant custard powder mix - Not common also, I know. But it works so great in this. It makes the dough manageable since it acts as a thickening agent, apart from adding some flavour and colour. Find the no-cook instant mix, where you only add water and whisk to make the custard.
Matcha powder - For the green leaves of the cookies.
SUBSTITUTION: Few drops of green food colouring.
What Utensils To Use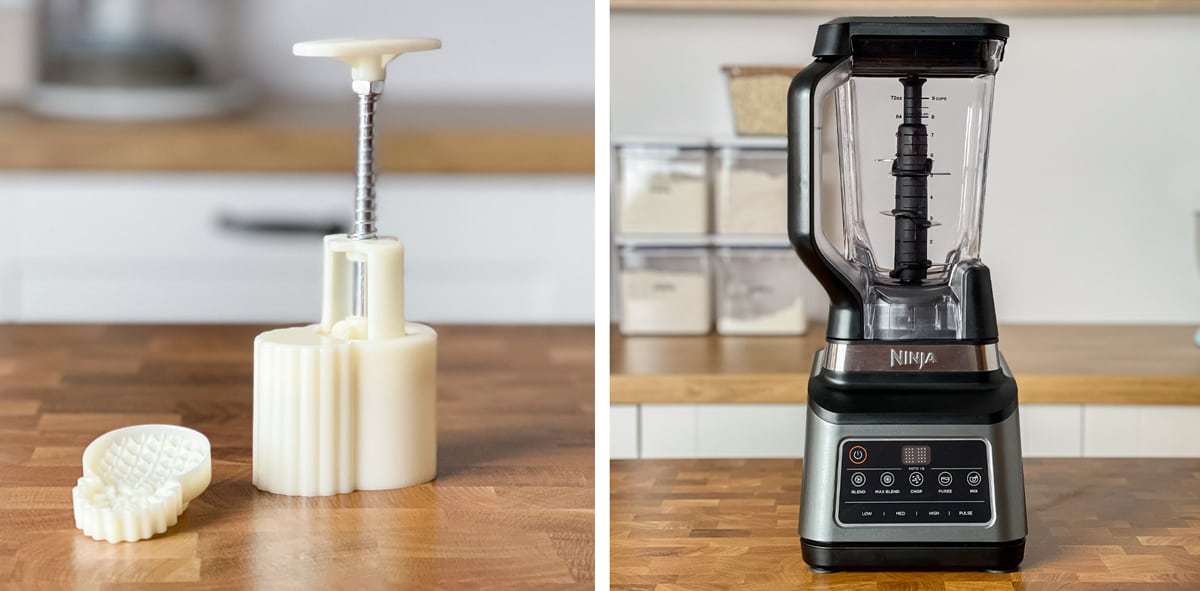 Pineapple-shaped mooncake mould - This is a mooncake mould with a pineapple shape. It comes with 2 prints. I just love it as it's extremely cute and what's more accurate than to use it for these pineapple-shaped tart cookies, right?
You can, of course, use other designs. Just try to use one that fits 2 oz (50 grams) dough.
Blender - Any blender will do. I blend the pineapple with mine in less than 10 seconds. The tall jar with multiple blades really helps.
How To Make Pineapple Tart Cookies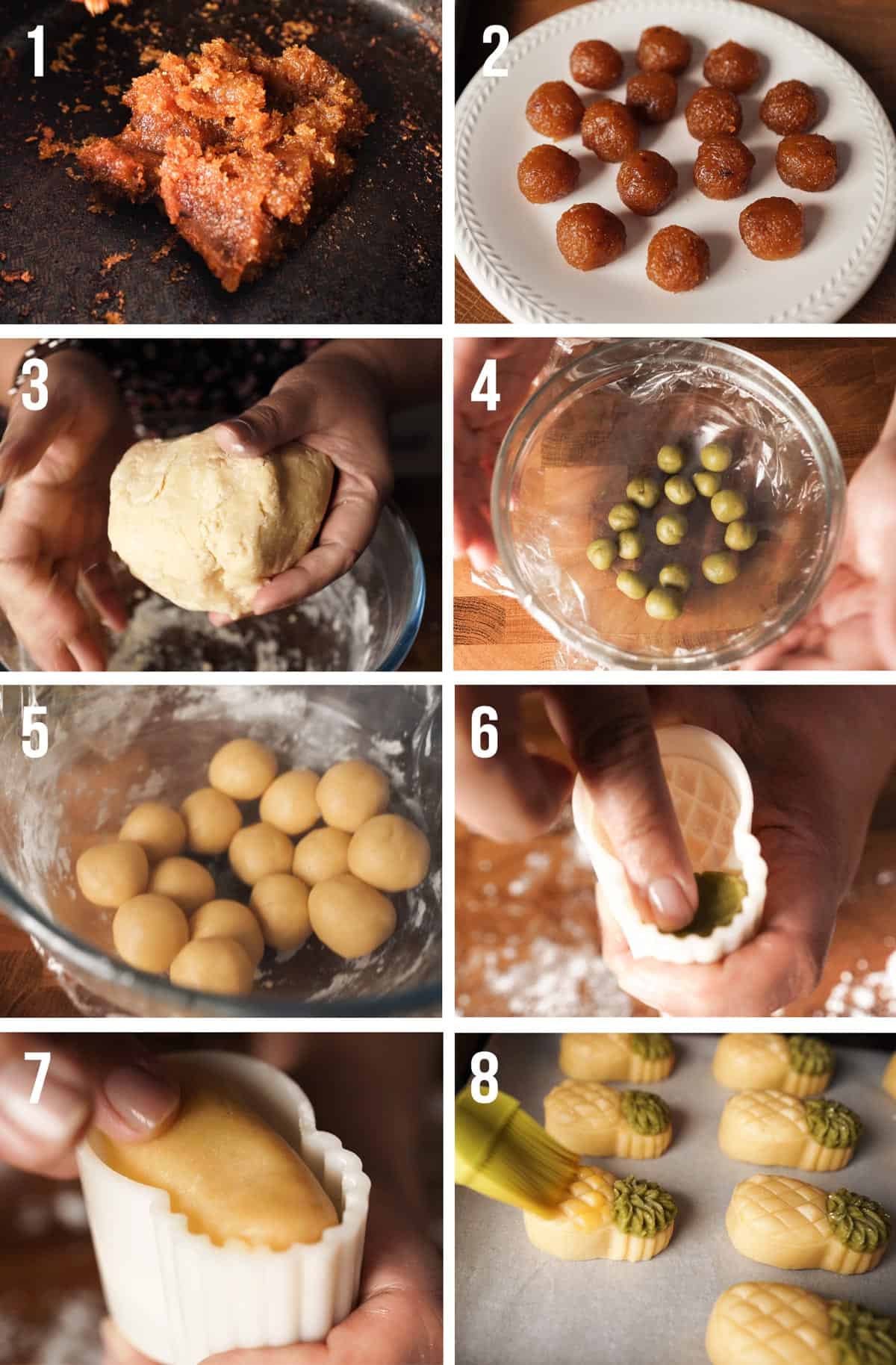 Make the pineapple jam: Briefly blend the pineapple and cook with sugar in a pan until you get a thick jam.
Shape the jam: Cool completely and form into grape-sized balls.
Make the dough: Mix butter, powdered sugar and vanilla in a bowl. Add in eggs and mix briefly. Add in flour mixture and form into a dough.
Make green dough for pineapple leaf: Remove some dough and add matcha powder for the leaves. Divide into 15 portions.
Make dough for the pineapple body: Divide the rest of the dough into 15 portions also.
Shape the leaves: Add the green dough into the mould, and press with your finger.
Shape the pineapple body: Fill the dough with a ball of jam and form it into an oval. Add it into the mould, press on a working surface, gently lift up and peel the shaped pineapple from the mould, and place it on a baking tray.
Bake: Brush with egg yolk on all surfaces except for the leaves, and bake.
Tips In Making These Cookies
Make sure the butter is softened, else you'd find your dough dry and crumbly.
Always cover the doughs tightly with cling films when they're not in use. This is to prevent them from getting dry.
I like to weigh the jam and both of the dough in portions. Weighing them makes it easier and you'll have cookies in the same size.
Don't leave the dough for too long before shaping them. I'd highly recommend you to immediately shape the cookies after you've made the dough. Else, it'll get too dry and crumbly as time passes.
How To Store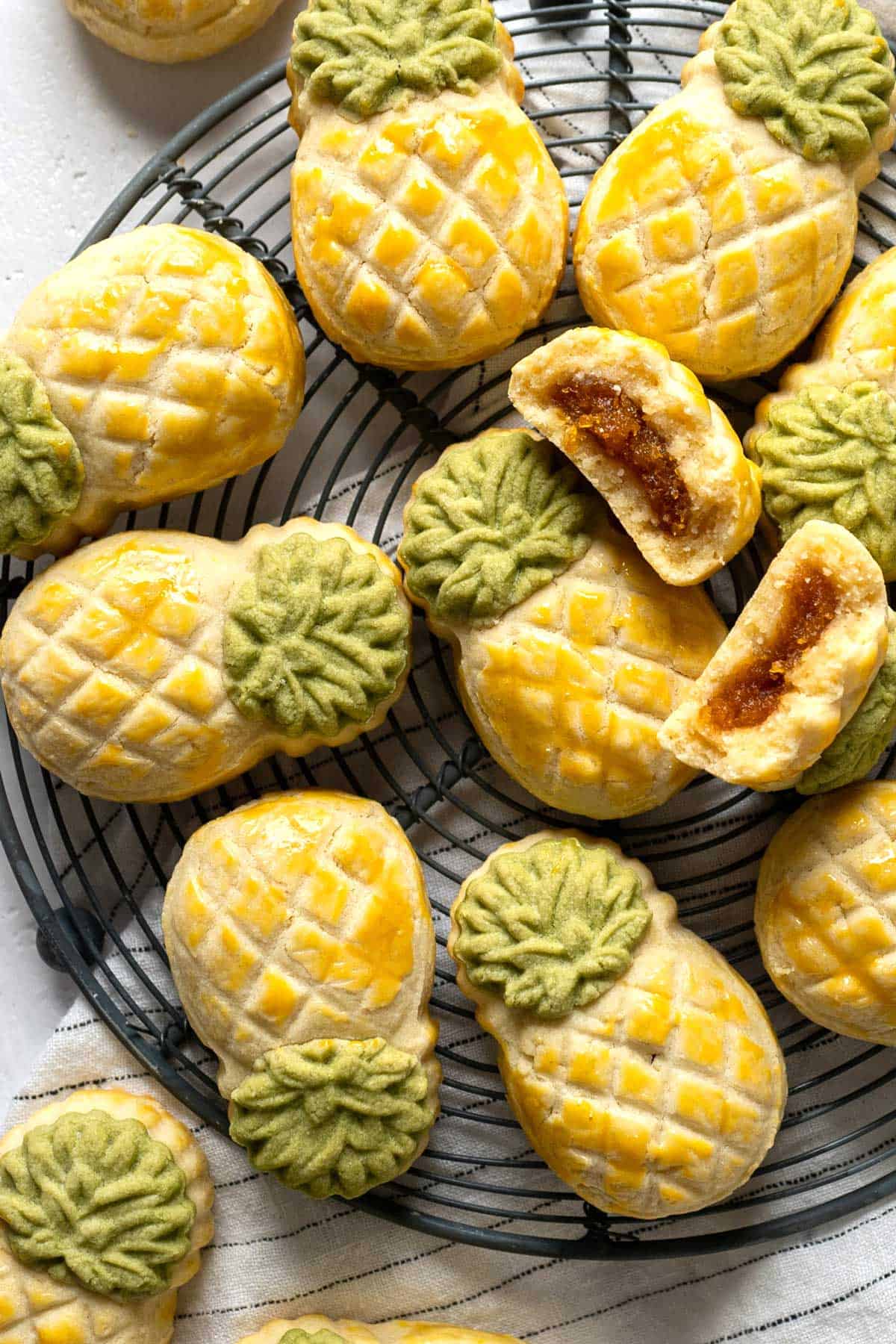 Room temperature - In an air-tight container, they're best consumed within 1 week.
Fridge - In an air-tight container, they're good up until 2 weeks.
Frozen - In an air-tight container or ziploc bag, they're best consumed within 3 months. Thaw at room temperature.
FAQs
Can I Use Store-Bought Jam?
Yes, you can. But you'd have to cook and reduce it to a thick paste consistency (please refer to the video below), else it'll be impossible to fill in the tart cookies. I'd say just make your own, it's easier and even way cheaper.
I Don't Like Pineapple, Can I Use Other Fruits?
I understand. Of course, you can. Whatever fruits that you use, just make sure to cook them until it's a thick paste consistency, see question/answer above 👆 .
What If I Don't Want To Use Any Mould?
Then, don't. No problem at all. Just make them into balls instead, or any other shape that you like.
Can I Bake Them In The Air-Fryer?
Although I haven't tried it myself, my common sense is saying yes? Reduce the temperature to 325ºF (160ºC) and adjust the cooking time accordingly (I believe they'll cook faster in an air-fryer). Line the basket with parchment paper and leave the cookies 1-2 minutes in the air-fryer after cooking so they can set, before removing them.
How In Advanced Can I Make them?
You can make the pineapple jam up to 3 months earlier and have it in an air-tight container in the fridge.
My fridge's small so what I do is put it in a ziploc bag and freeze it. It lasts up to 1 year. Whenever I need it, I just thaw it in the fridge and then divide it into portions.
The dough should be used immediately after you made it.
Watch How To Make Them
📖 Recipe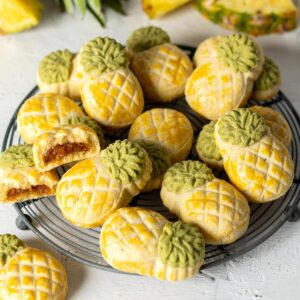 Pineapple-Shaped Tart Cookies
Soft, tender cookies with delicious pineapple jam. A classic recipe from my late mother that I adapted for this new look. Unique, delicious and they're famous in Malaysia and SEA countries.
Print
Pin
Rate
Ingredients
Pineapple Jam
1.3

lb

peeled pineapple chunks

(

600

g)

¼

cup

sugar

(

50

g)
Dry Ingredients
2

cup

all-purpose flour

(

250

g)

3

tablespoon

powdered milk

(

20

g)

¼

cup

instant custard powder mix

(

30

g)

¼

teaspoon

salt
Wet Ingredients
⅔

cup

butter

(

150

g), softened

¼

cup

powdered sugar

(

30

g)

1

teaspoon

vanilla extract

1

large egg

, room temperature
Others
¼

teaspoon

matcha powder

1

egg yolk
Instructions
Pineapple Jam
Place pineapple in a blender and blend just until they're broken down. We don't want super fine texture.

Pour into a pan, add in sugar and cook on medium-high heat until it stops splattering and most of the liquid evaporated. Lower to medium heat and continue cooking until you get a thick paste and its colour is golden brown. Stir frequently at this stage to avoid the jam getting burnt. Cooking the jam takes around 30 minutes so don't rush it.

Place into a bowl and let it cool completely. Divide into portions of grape-sized balls of 0.3 oz (10 g). Set aside.
Dry Ingredients
Mix everything in a bowl, set aside.
Wet Ingredients
Add all ingredients, except egg, into a bowl and mix well using a spatula. Now add in the egg and more or less mix everything (it won't be a fully mixed smooth mixture). Add in dry ingredients ⅓ at a time and mix. Bring everything together into a ball with your hand.

Remove

2

oz (

50

g), place it in another bowl and add matcha powder. Mix well. Divide into grape-sized balls of 0.3 oz (10 g). Set aside.

Divide the other dough into

15

portions of 1.2 oz (33 g) each. Form into balls, set aside.
Assembling
Always cover the doughs with cling film to avoid them getting dry. Sprinkle some corn starch inside the mould and shake off the excess.

Take 1 plain dough ball, form into a cup, place 1 pineapple jam ball inside and pinch the dough to seal. Roll in your palm into more or less oval shape (that fits the mould). Set aside.

Grab 1 green dough ball and press it on the leaves part of the mould. Then place the plain dough in. Press on a working surface until you cannot press anymore. Lift it up and peel the pineapple-shaped dough out from the mould. Place on a baking tray lined with parchment paper. Repeat with the rest. Brush with egg yolk only on the plain dough surface.

Bake in a preheated oven at 350ºF (175ºC) for 17-20 minutes or until golden. Use conventional mode, middle rack. Cool on a rack. Enjoy!
Notes
Use the spoon and level method if you're using cup measurement.
Use a portable oven thermometer to ensure the accuracy of your oven's temperature (I use it all the time).
Using a kitchen scale will result in more precise ingredients and similar-sized cookies.
You might have some balance of pineapple jam balls. Add into your yogurts, smoothies etc. Yum!