What Is It?
Sweet pineapple jam rolled in soft buttery milky cookie. That's what it is.
There's no specific occasions for these cookies to be eaten, they're perfect all year around. Making them does take a few steps especially if you're making your own pineapple jam (which I think you should as the flavor is wonderful) and rolling them is quite challenging for those who are not accustomed to the method.
In this recipe I'm using the traditional method before the piping tools were widely used. Regardless, all the effort will be worth it once you take a bite into these lil gems.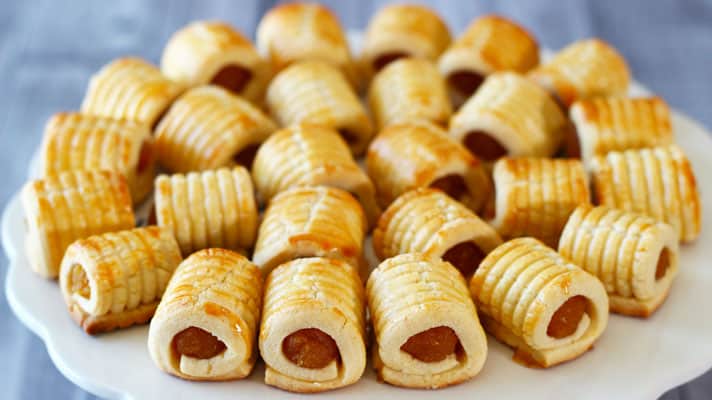 The Pineapple Jam
The pineapple jam is usually homemade because for these cookies, the jam needs to be of a thicker consistency. Way much thicker than the normal store-bought jam in jars. One good thing about making your own jam is you can control the sweetness level according to your liking.
First let's talk about the pineapples. The pineapples that are used to make the jam should not be the ripe ones. Why? Because ripe pineapples contain lots of juice or liquid and we don't want that. The perfect pineapples for this jam are the ones between green and ripe. Just in the middle.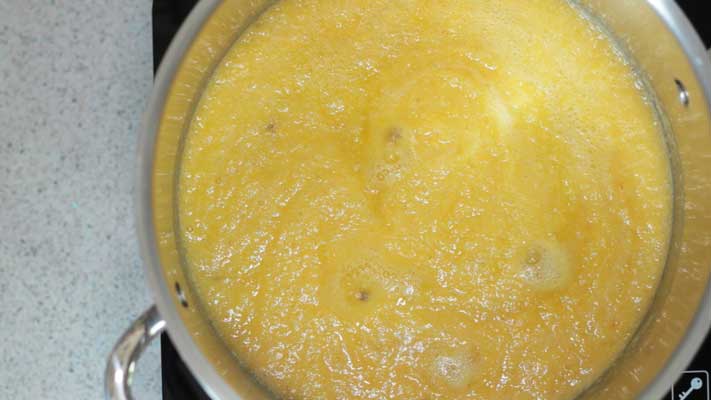 Back then when my mother used to make pineapple tart cookies to sell, she grated all the pineapples to make the jam. Well actually she asked me and my sisters to grate them for her. So she would go to the market early in the morning and buy (for me back then seemed like thousands) some pineapples and when we woke up the first chore of the day was grating the pineapples.
Now I just take the easier way, by using my blender. I don't blend them like there's no tomorrow either. Just a few pulses, we don't want to turn them into puree.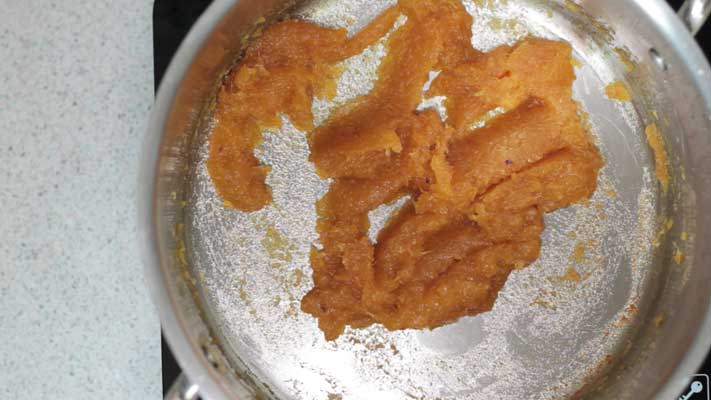 Some people add some orange food colouring, orange juice, cinnamon stick and even cloves in the jam. I'm not used to that taste in our pineapple tart cookies so I never put any of those.
I cooked the blended pineapple for quite a while. The more liquid your pineapples have, the more cooking time would be involved. When the mixture starts to thicken, that's when you really need to pay attention to it and stir frequently. This is to avoid it getting burnt, for all the sugar content.
The jam needs to be fully cooled before using. In my family we roll the whole batch of jam into small logs first before we start making the cookies. This way it would be easier and faster when it comes to the rolling the cookies part. I also like to keep my logs shaped jam in the fridge so that they get firm. This also will help when we roll the cookies.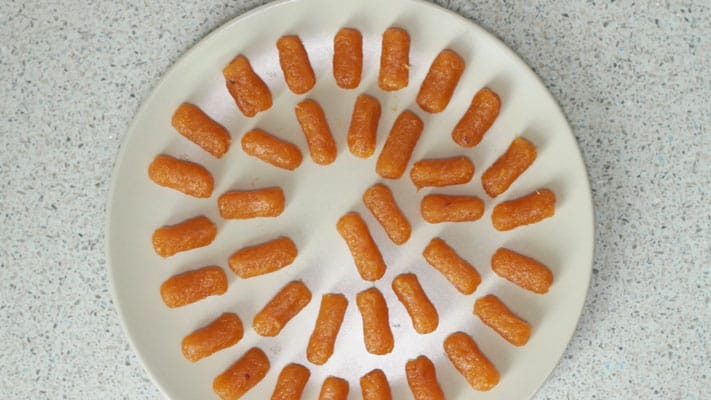 The Cookies
There are so many different varieties of recipes for the cookies. Same goes to rolling them. Some don't even roll the cookies, instead they form the dough into balls. So it's really your choice. As for me, this is the way we've always did it in my family.
And what I meant by that is, this is the traditional way of doing it. I know there are new modern pineapple tart cookie dough pressers that makes it faster to deal with the dough. For me, doing it the traditional way, my family's way, just brings back all those wonderful memories. So if you do have one of those pressers in your possession, use it.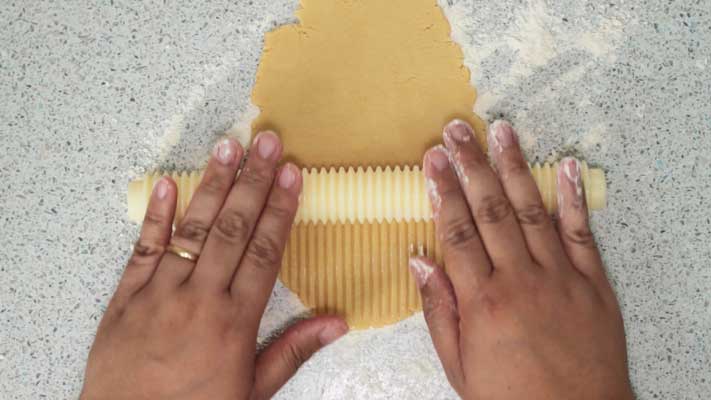 The dough is quite soft. But don't worry, all is fine. Use good quality butter. Even if you have to spend a bit more, I promise you it's all worth it. I like to work with a bit of dough at a time so that it doesn't get dry if I'm taking too long to finish.
The method that I showed in the video is exactly how we made them. You might feel intimidated a bit at first but when you start going and get the hang of it, it's going to be a breeze. Or again, you can always use the cookies presser for pineapple tart cookies.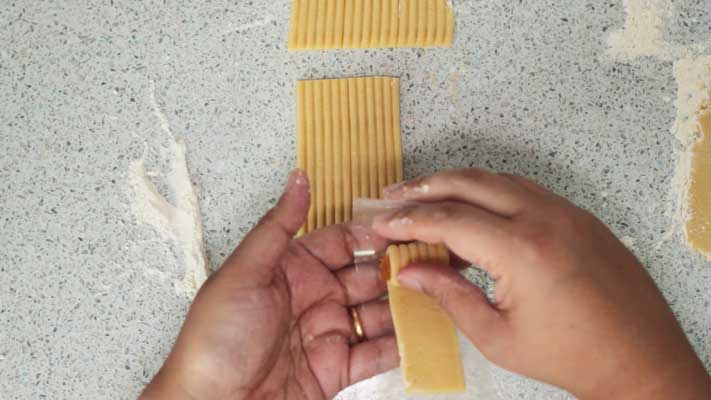 I remember back then when me and my sisters rolled like thousands of pineapple tart cookies, at one point until our clothes smelt like pineapple tart cookies. Don't ask me how, but that happened. Sometimes we would cheat by rolling the cookies bigger and bigger so that we could finish faster. Of course our mother realised and of course, we were "told" not to do it again.
If you have tried one of these cookies, you would know how amazing they are. If you have not, do try. I promise you will not regret it.
More Malaysian Cookies
Video
📖 Recipe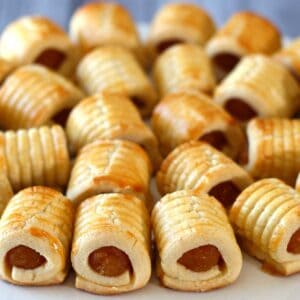 Pineapple Tart Cookies
A traditional recipe of homemade pineapple tart cookies or tart nenas (in Malaysia). These soft milky cookies are filled with homemade sweet pineapple jam.
Print
Pin
Rate
Ingredients
2.2

lb

pineapple chunks

(

1

kg), not too ripe, peel and remove the core

½

cup

granulated sugar

(

100

gr)

1 ⅔

cup

all purpose flour

(

210

gr)

¼

cup

instant custard flour mix or powder

(

30

gr)

½

cup

unsalted butter

(

120

gr), room temperature

3

tablespoon

icing sugar

(

25

gr)

2

tablespoon

powdered milk

1

large egg yolk

, room temperature

1

teaspoon

vanilla extract
Instructions
The pineapple jam
Using a blender, put in pineapple chunks and blend for just 3-4 seconds so that we won't end up with such a fine paste. Work with a few chunks at a time.

Pour the blended pineapple into a pot. Add in sugar and cook on medium heat for 30 minutes until the liquid evaporates. Stir now and then. When the jam gets thicker, stir frequently to avoid it getting burnt. Leave to cool completely.

Once cooled, make more or less 1 inch thumb sized logs and place them on a plate. Cover with cling film to prevent them getting dry. Keep in the fridge until ready to use. Preparing them in advance is going to make it easier when we're rolling the cookies later.
The cookies
In a bowl sift together flour, custard powder and set aside.

In another bowl, add in butter, icing sugar and mix just until well combined. Add in powdered milk and mix. Add in egg yolk, vanilla extract and mix again just until well combined. Lower the speed and add in the flour bit by bit, mixing just until well combined each time. Form into a ball, cover with cling film to prevent it from getting dry when not using.

Generously flour on the work surface. Work with ⅓ dough at a time. Form into a disk, flour the rolling pin as the dough is a bit soft and sticky. Roll into 5 mm thickness.Note: If the dough is too soft, place it in the fridge for 5 minutes. Not too long as it gets harder it will break when we roll it later

If you're using the dough presser, put some dough in it and start pressing as per your presser's instructions. I'm doing it the old method. Flour the line rolling pin and gently roll it on the dough, making lines on it. Cut into 2.5x1 inch stripes. Carefully take one stripe and flip it on a rigid yet flexible plastic. Place one jam log at one end and start rolling it with the dough. Cut excess dough if any.See the video better understanding.

Place them on a baking tray with baking sheet. Gently brush with egg yolk. Bake at 175ºC (345ºF) preheated oven for 20-25 minutes or until bottom edges are golden brown and they're fully cooked. Cool completely on a rack.
Notes
Ripe or overripe pineapples contain lots of liquid, that's why we don't want to use those as it will take longer to make the jam thick.
You kind of need to work a bit fast with the dough as it tends to get dry sitting around for a long time (even covered with cling film).
Using a dough presser would be a less hassle if you're not used to this method.
Nutrition Facts
Calories:
88.7
kcal
,
Carbohydrates:
14.1
g
,
Protein:
1.1
g
,
Fat:
3.3
g
,
Saturated Fat:
2
g
,
Cholesterol:
14.3
mg
,
Sodium:
3.3
mg
,
Potassium:
53.4
mg
,
Fiber:
0.6
g
,
Sugar:
8.4
g
,
Calcium:
12
mg
,
Iron:
0.4
mg