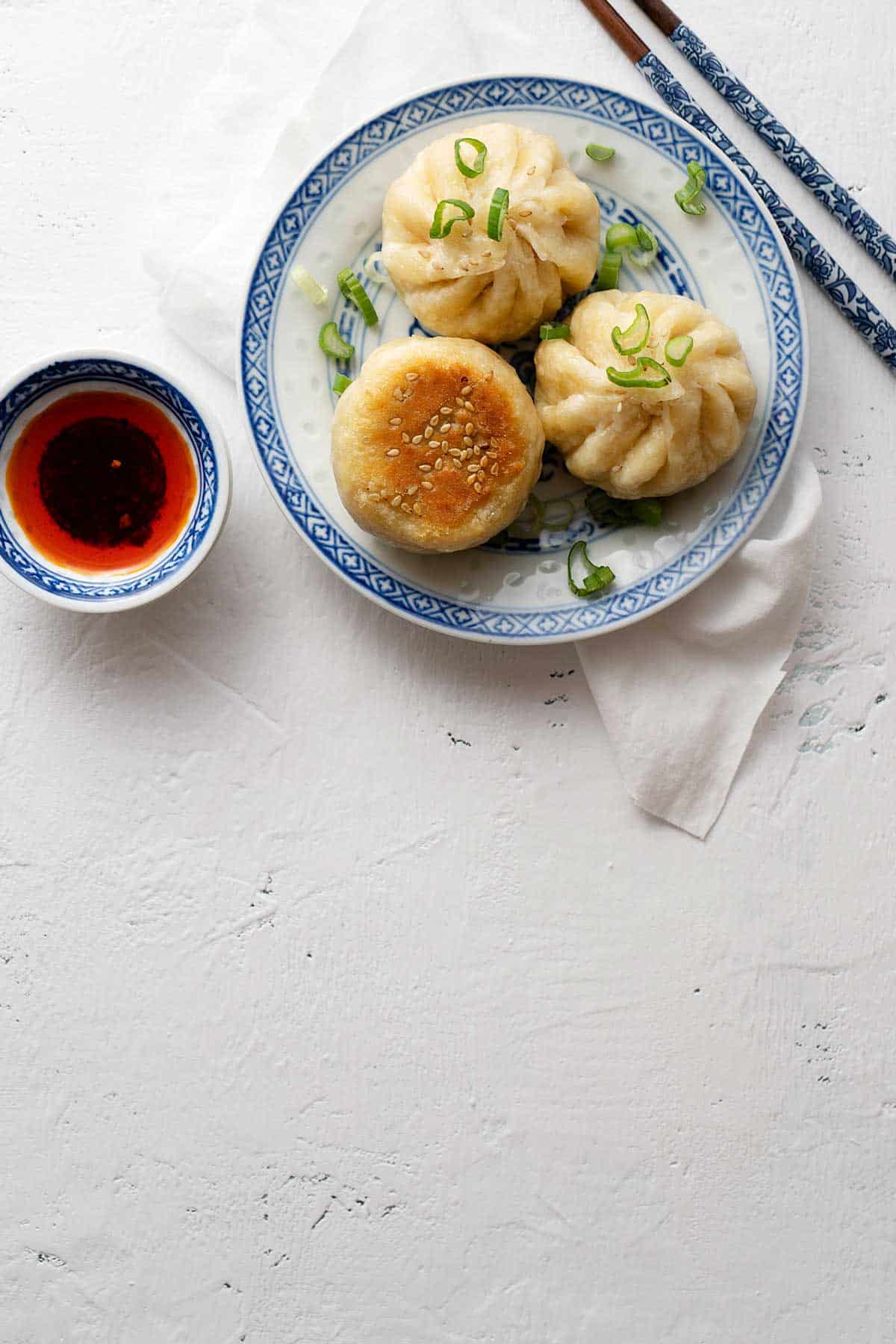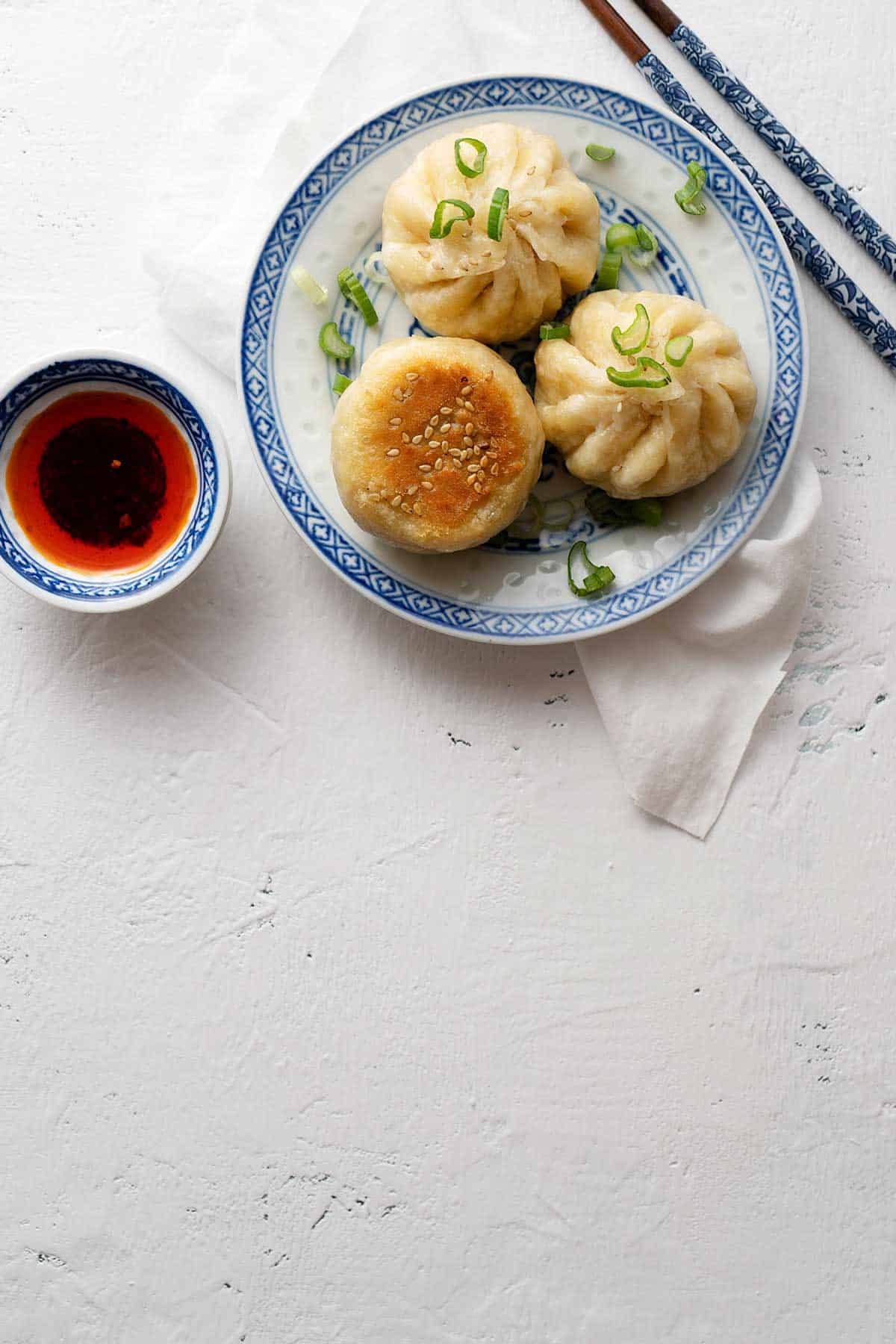 Just calling out to the dumpling lovers out there! This week I'm sharing this quick pan-fried meat buns that have no yeast (yes!) and involve no kneading (double yes!).
Although this is not the traditional way of preparing these buns, but they are equally delicious. Trust me! I mean, when have I ever lied to you right?
Fluffy soft buns, flavourful juicy filling, no fuss, ready in no time. Let's get started.
Quick Buns
These buns are my adaptation to the Chinese pan-fried buns or baozi. And the dough is typically made using yeast.
First of all, just letting you know, I love to make breads and work with yeast. I make breads every week. But now and then I just want a no fuss, quick recipe that doesn't involve the whole process of working with yeast. Which is kneading, proofing, shaping and proofing again.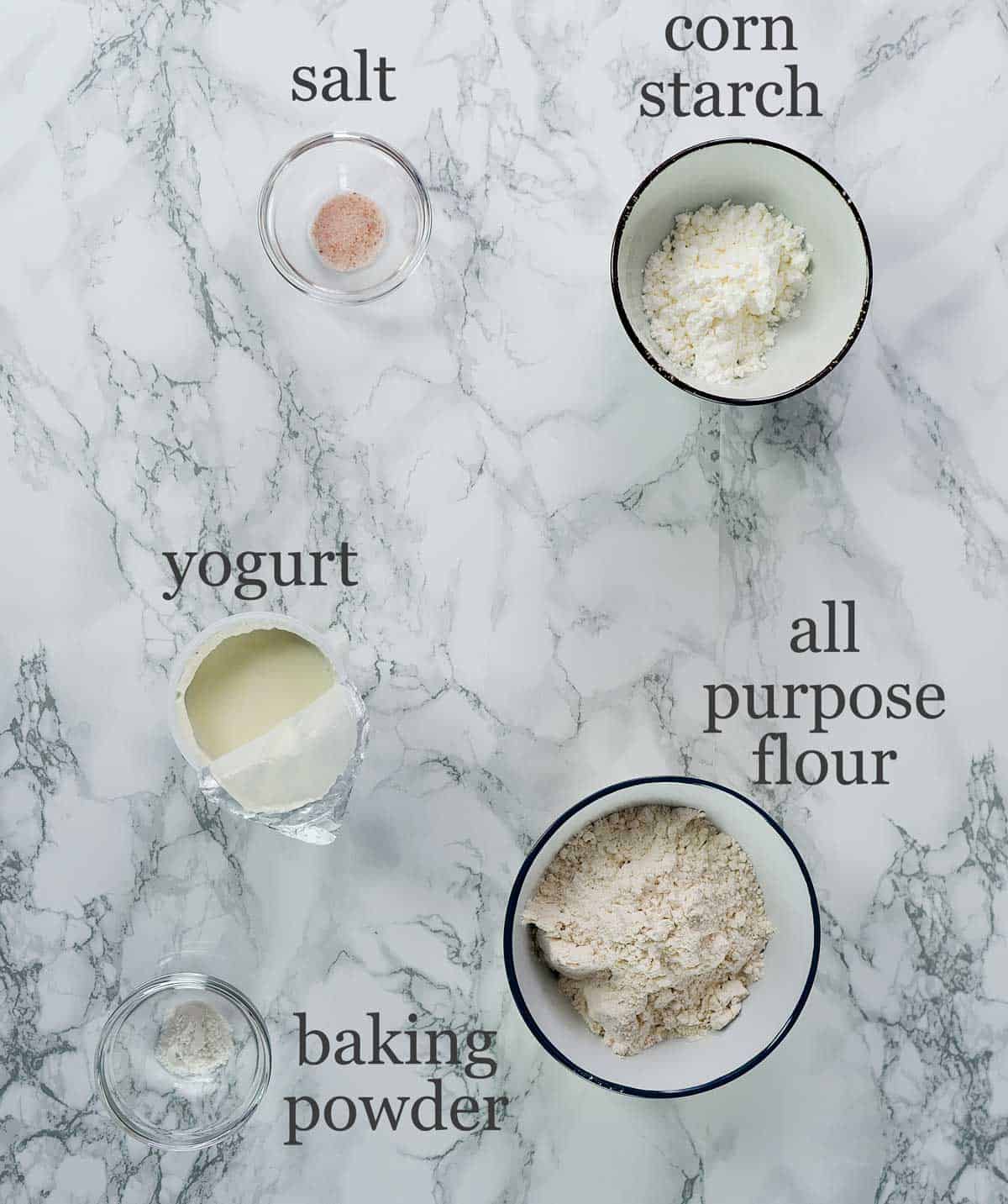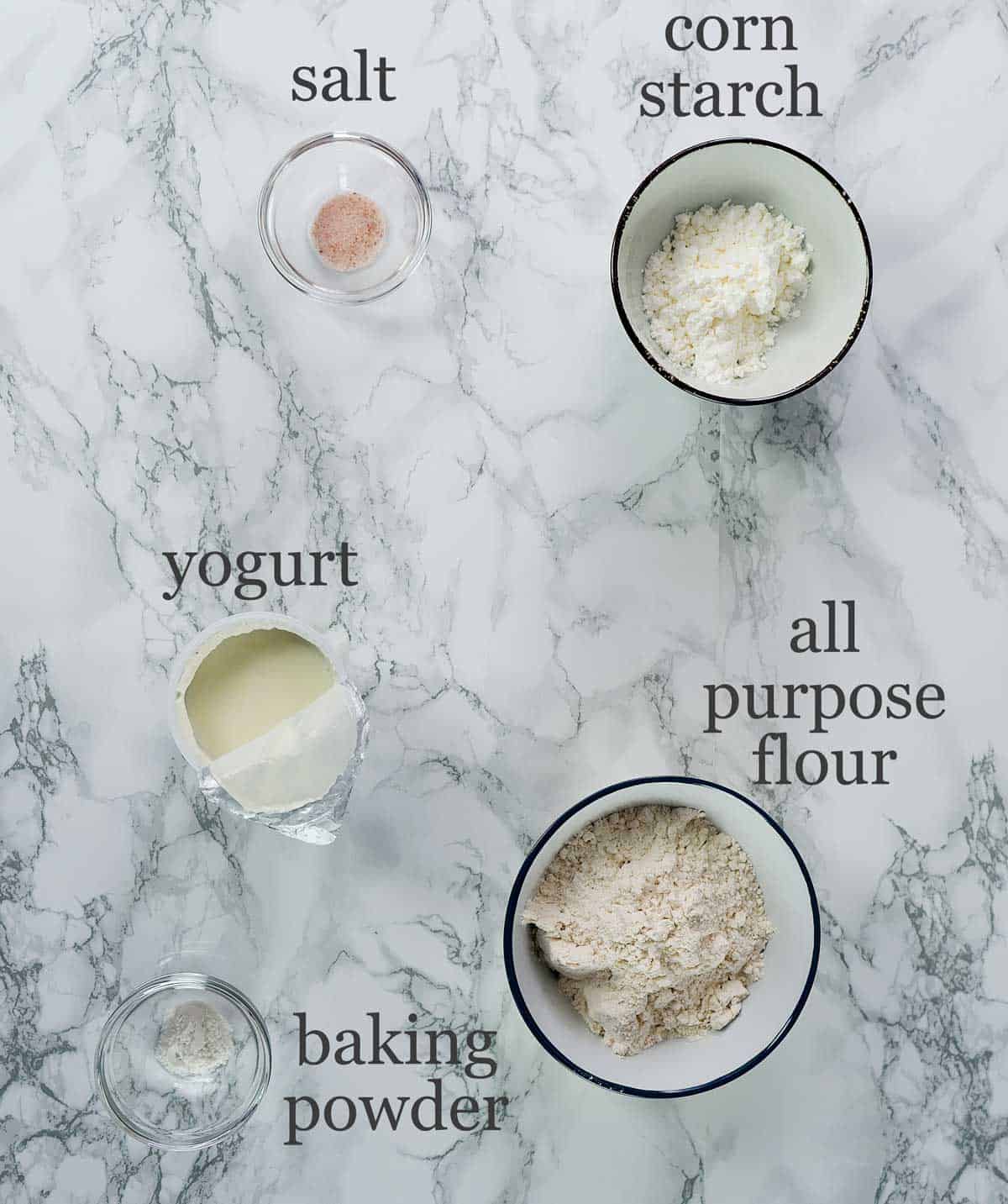 You know those times when you just want to enjoy something delicious but have no desire to put so much effort. Take outs or eating out are out of the question since it's too much work to get properly dressed up and be presentable to the world (I don't know about you but I'm in my PJs all the time these months). Besides why bother when you can make them better and more delicious at home. Right?
Well that's when this quick buns recipe comes extremely handy! Lets see what's all the excitement about.
All purpose flour - Yes, just plain old all purpose flour. No bread flour needed.
Baking powder - Just a small amount as the leavening agent, instead of using yeast. And no, it's not going to have a cakey texture, so don't you worry.
Corn starch - Helps to create the soft texture of the buns in this quick bun recipe.
Yogurt - Combined with the use of corn starch, a perfect duo for the soft texture factor. I'm even using a natural low fat 3.8% yogurt here.
Salt - Well, of course.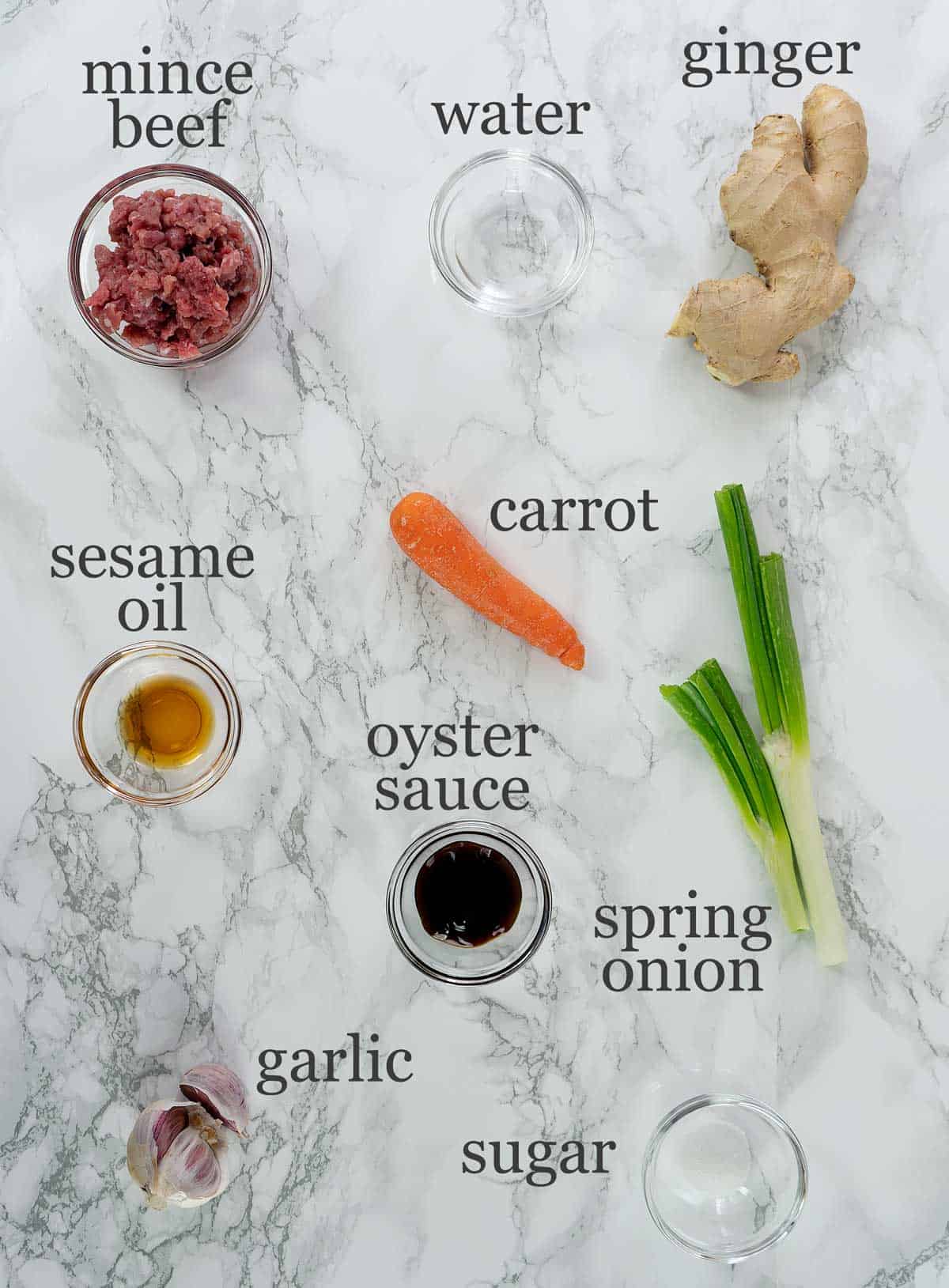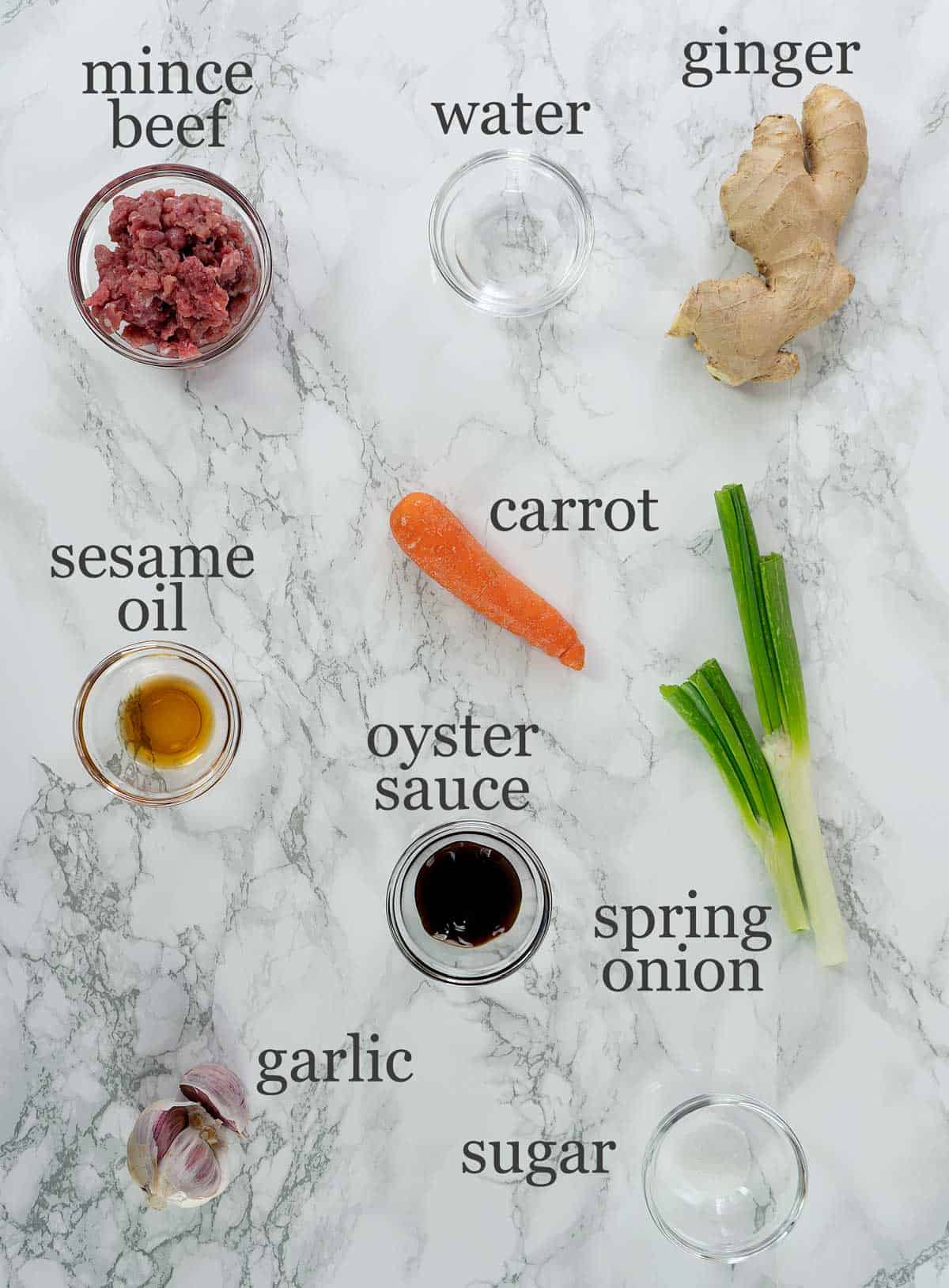 And that's all! Basic ingredients that we always have in our kitchen. What could be better than that?
If you want to use Greek yogurt, no problem. I've tried it and it worked just beautiful. Since it's with a thicker consistency, you'd take a minute longer to bring the dough together but no worries.
Oh! And this is a tweaked recipe from my quick steamed buns recipe. *wink!* I know you guys already loved those!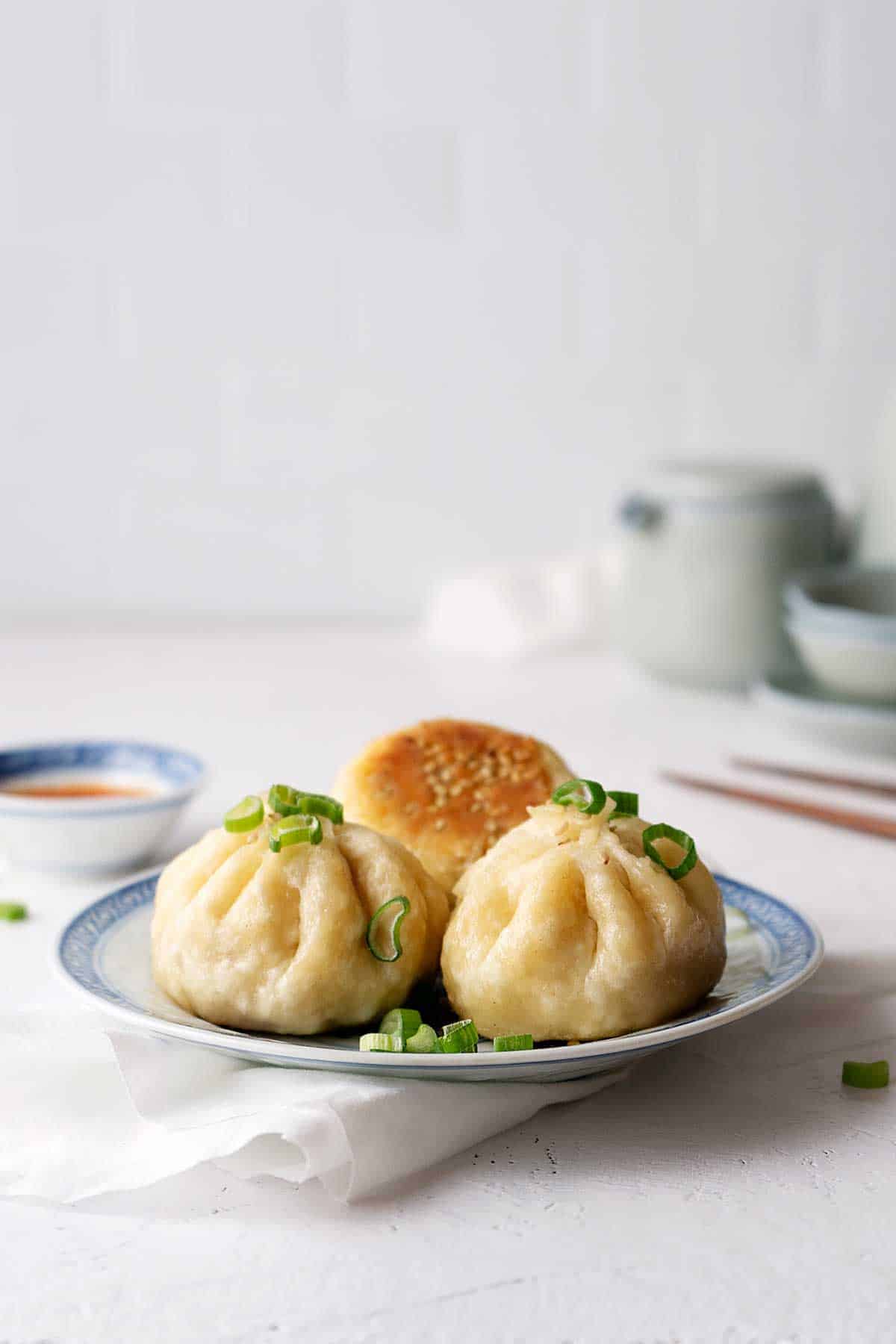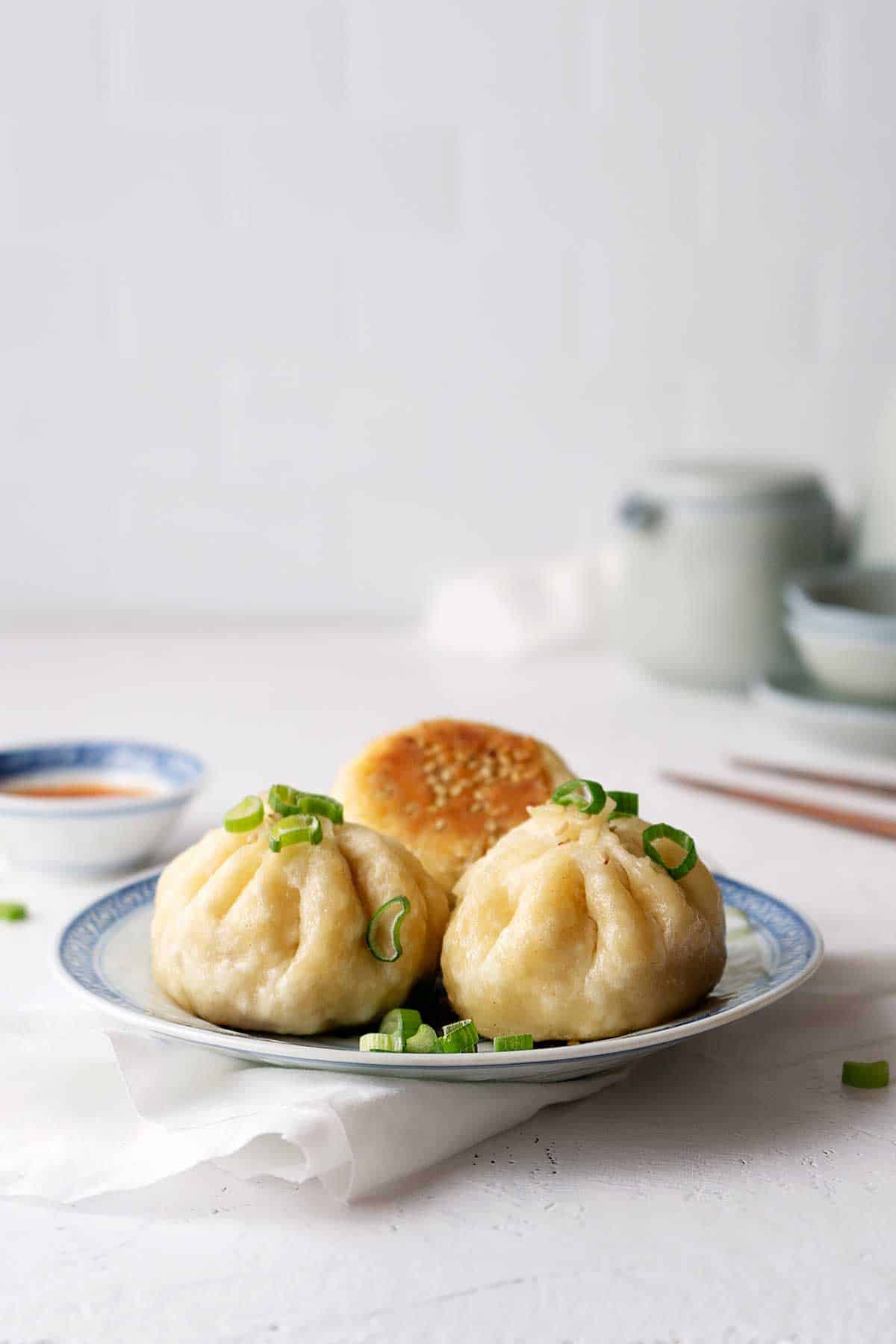 Blank Canvas Filling
It is, really.
You can make whatever filling that your heart desires. Chicken? Seafood? Vegan? Why not? Add the seasonings and condiments to your likings. Use whatever tickles your tummy. And if somebody told you that's not the way to enjoy the buns or that's not the way their grandmothers made it, well then just smile and move away. Because we all know that food is freedom, my friends.
As for me, I'm keeping it simple with just a handful of ingredients and using the condiments that are easy to find. I've used a combination of cabbage, chicken and shrimps and they tasted delish.
Adding just a touch of water really makes the filling juicy. Have a napkin ready when you give the bun your first bite. Just saying.
These buns are great with some drizzle of chili oil. Super yum! Let me know if you want to see my super easy chili oil recipe.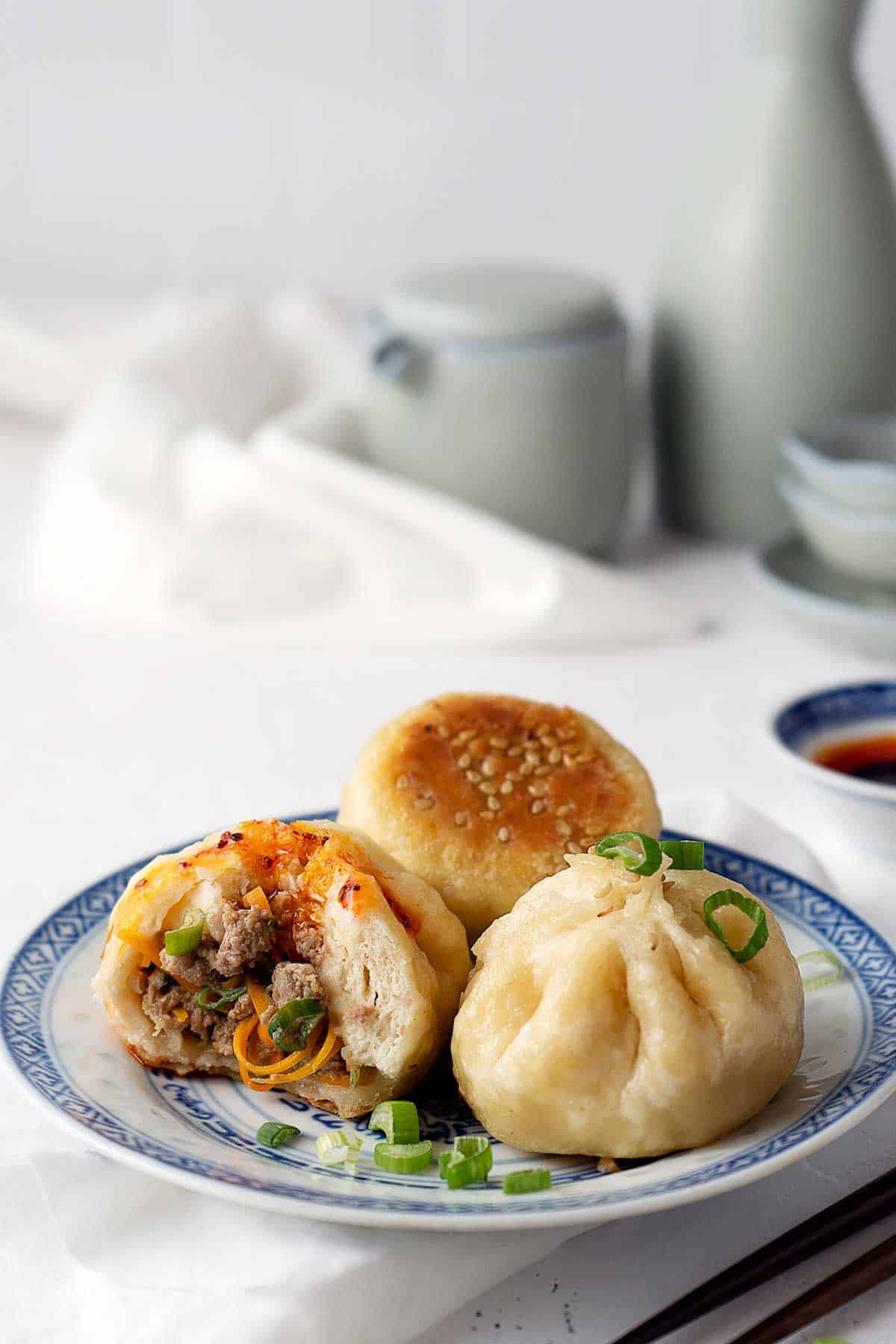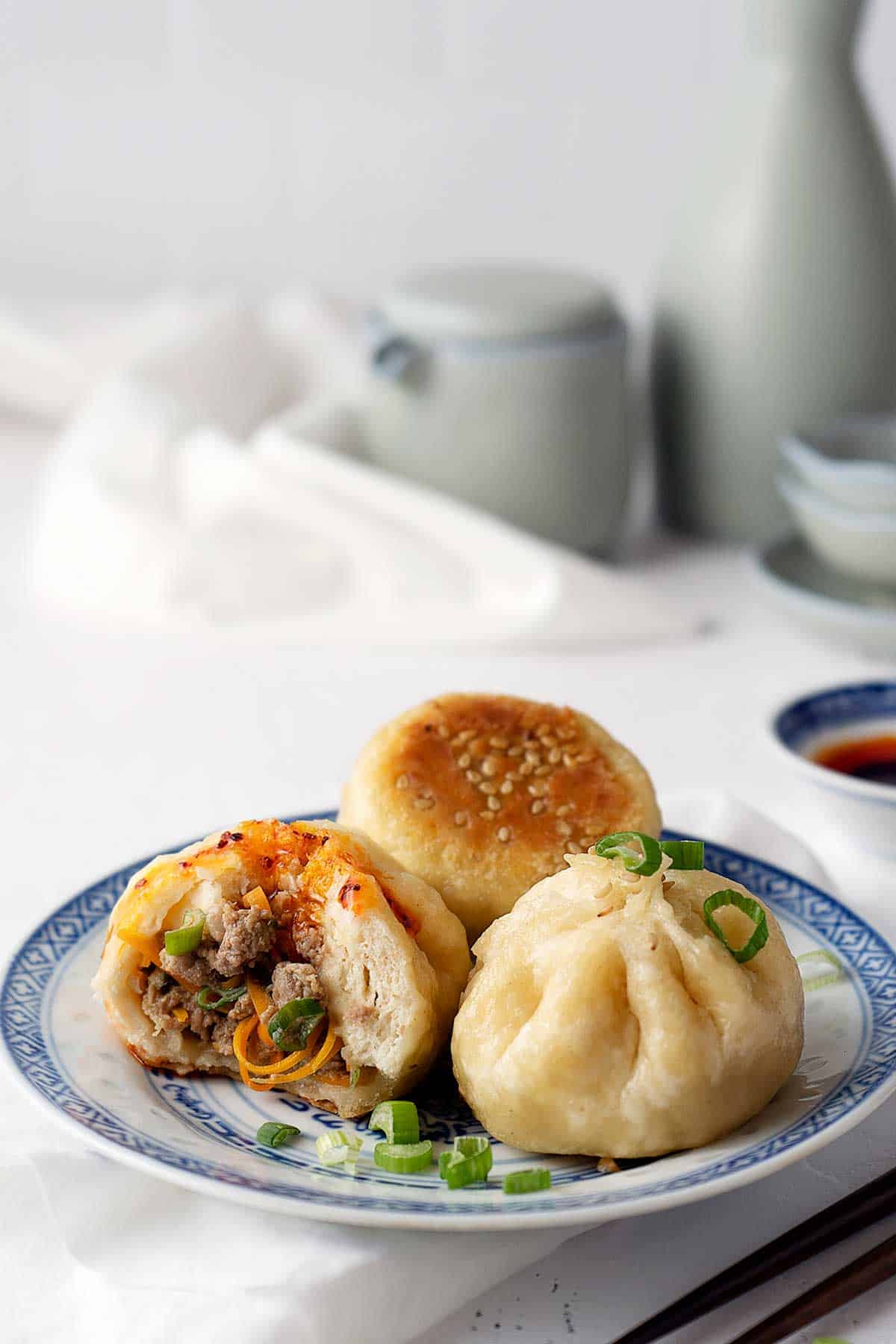 Hungry For More?
Check these recipes out:
Video
📖 Recipe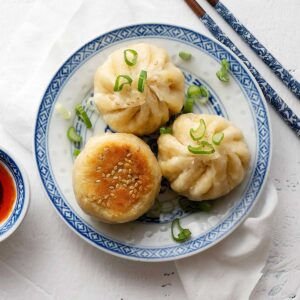 Pan-Fried Meat Buns
Not the traditional way but definitely the fastest way and I promise, these pan-fried meat buns taste just as delicious. The dough doesn't need yeast, kneading or proofing time but yet the buns are soft and fluffy. The juicy filling just bring everything together in a yummy way. Do try!
Print
Pin
Rate
Ingredients
The Filling
½

cup

minced meat

(

100

g)

½

cup

chopped spring onion

(

40

g)

1

small carrot

, julienned

½

thumb sized

ginger

, grated

1

garlic clove

, grated

1

tablespoon

oyster sauce

1

tablespoon

water

½

tablespoon

sesame oil

¼

teaspoon

sugar
The Dough
1

cup

all purpose flour

(

130

g)

¼

cup

corn starch

(

30

g)

½

teaspoon

baking powder

¼

teaspoon

salt

½

cup

unsweetened natural yogurt

(

125

g)
Instructions
The Filling
Mix all ingredients in a bowl and set aside.
The Dough
Add all ingredients, except yogurt, into another bowl and mix well using a wooden spoon. Now add in yogurt and bring everything together. The dough will look like it's not going to come together but it will. Switch to using your hand, it'll be easier.

Place on a working surface and form the dough into a log. Cut into 8 equal pieces and form each piece into a ball. Cover them with cling film to prevent from drying.

Roll a ball into a more or less 4 inch (10 cm) disc. Place the filling inside, pleat the surrounding to fully cover the filling. Please refer to the video recipe above for better understanding. Continue with the rest of the balls, covering them as you go to prevent from drying.
Cooking
Heat a pan with some oil on medium heat. Meanwhile rub some water to the bottom of the buns and lightly press on some sesame seeds.

When the pan is hot, place all the buns in it making sure they're not touching each other. Continue cooking for a few minutes until you see the bottom is crispy.

Now carefully add in hot water into the pan until ⅓ of the buns' height and immediately cover the pan. Continue cooking until the water evaporates (around 8-10 minutes). The water should be fiercely simmering the whole cooking time. Turn the heat off, sprinkle some sesame seeds and chopped spring onion on top and cover the pan for another minute (this will help them stick on the buns). Serve immediately with some chili oil.
Notes
Be careful when adding hot water into the hot pan because there will be splatters of hot oil everywhere, so try to add the water fast.
Serve immediately, like any other dumplings.
Nutrition Facts
Calories:
138.7
kcal
,
Carbohydrates:
18.9
g
,
Protein:
5.1
g
,
Fat:
4.6
g
,
Saturated Fat:
1.6
g
,
Cholesterol:
12.7
mg
,
Sodium:
186.6
mg
,
Potassium:
124.3
mg
,
Fiber:
0.8
g
,
Sugar:
1.4
g
,
Calcium:
48.1
mg
,
Iron:
1.2
mg