Spanish Oxtail Stew And Us
The first time that I ate oxtail stew Spanish style was when we traveled to Cordoba here in Spain. When my husband first suggested us to have it as a tapa, I was really hesitant because.. well oxtail? Really?? He told me that there they make delicious oxtail stew and ok, after a while I gave in.
Then came a plate of oxtail stew with some fries to go with it. I don't know if I was hungry or it was the most delicious oxtail stew that I had ever eaten. And I've never eaten any before. No, seriously. It was really delicious, without a doubt.
After that tapa, all that I could think was how can I make it? Well I LOVE to recreate delicious food that we eat outside, at home so that we can have it whenever we want. Without, in this case, having to go all the way to Cordoba to eat it.
Well I think with this recipe, I can say I have successfully recreated it..my way.
The Oxtail
I don't know about your place but in mine, they don't come that cheap. But it was all worth it. We got our oxtail from the butcher at our town's wet market. He cut it into pieces for us. Which is very good because I don't think any of my knives could cut through the oxtail. For this recipe I bought 1.5 kg of it.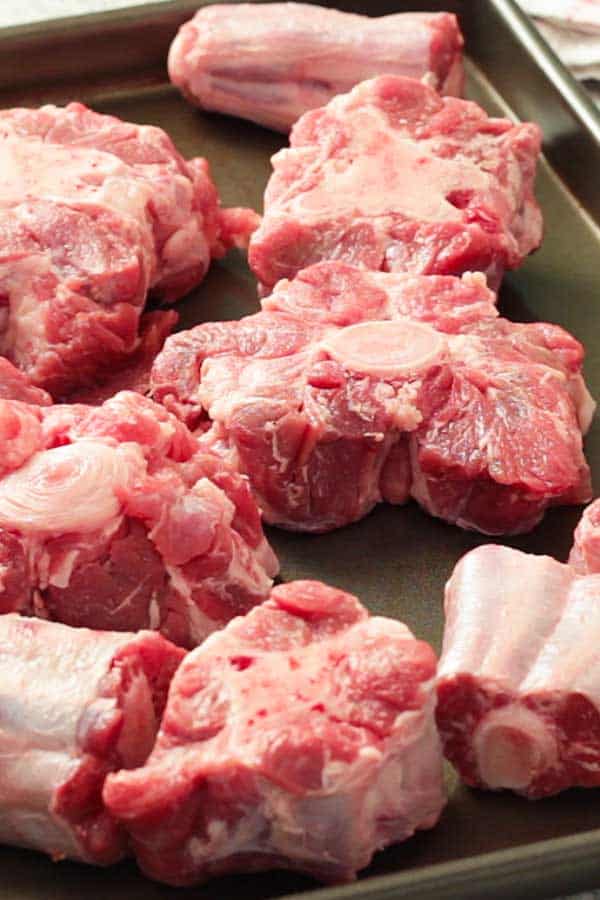 So at home, I just patted them dry and seasoned them with salt and black pepper. Then I coated them with flour and browned them on all sides. I know this is a slow cooker recipe, which some might think that all you need to do is throw ingredients inside the pot and cook it for hours and that's it. Well for me, it's more than that.
Browning the meat will seal in all the wonderful flavours. It does really make a difference. So if you would want to try this recipe, I would really recommend you to take a few minutes to brown the oxtail pieces first. Iron cast skillet is great for browning meat and grilling so if you have one, use it. Without a doubt.
The Base Sauce
Many recipes that I've encountered don't involve this extra step. Many just put the veggies in chunks in the slow cooker pot. When the meat is done, or in this case the oxtail, first they take out the oxtail.
Then they take out the veggies and put them in a food processor and blend them. And then pour the blended mixture into the slow cooker pot, put back the oxtail and continue cooking until the sauce gets to the desired consistency.
For me personally I feel that it's too much work? I don't feel like taking out the tender oxtail, and risking them breaking apart while doing it. I also don't feel like taking out the veggies, blending them and then put them back in the pot. Too much too much. Haha!
I just want it simplified. I know I wanted to cook down the veggies for the base sauce, that's without a doubt because I feel they develop more flavours that way. I cooked them for like 15 minutes.
Yes, it did take an extra time but for me, it was worth it. So after cooking them I put them in a food processor and blend them with a bit of water, into a fine mixture.
Then what I did is putting all the browned oxtail pieces into the slow cooker pot. Then I poured the blended veggies inside. Added some red wine and bay leaves also. Flavours flavour flavours. Only then I cooked it on low for 8 hours.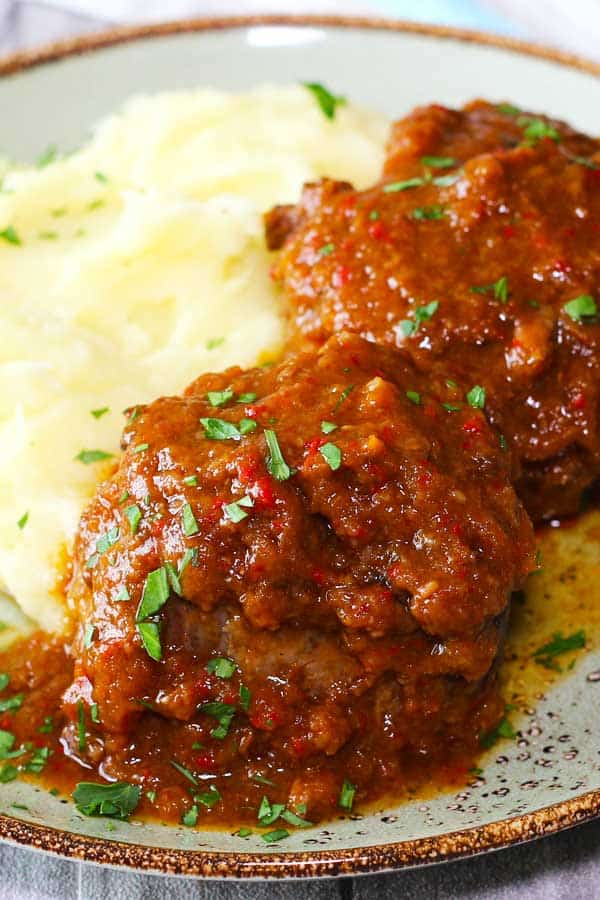 This way I didn't need to take anything out from the pot. When they' were cooked, I just served them. Simple, don't you think?
Oh one tip though. To remove all the fat on the surface of the pot, I used kitchen paper. I simply placed one kitchen paper on the fat and let it get absorbed by the kitchen paper.
Then I threw it and placed another one until I saw there was almost no fat on the surface. You can of course spoon the fat out but for me, it's faster using the kitchen paper.
Another tip. Or explanation. All meat varies so does the tenderness. I would recommend you check on the 7th hour to see if you like the texture. Cook it for another hour, or even two if you needed to. Mine needed another hour to get that fall-off-the-bone texture.
So for this Spanish oxtail stew, we had it with just some mashed potato but it's definitely great with our delicious Parmesan Duchess potatoes. You can eat it with fries, of course. But I love it when the sauce gets all mixed with the mashed potato, yum yum!! The oxtail just falls from the bone when you simply give it a nudge. Super tender!
If you like to cook with your slow cooker as I do, maybe you will also enjoy my slow cooker chicken rendang.
Video
📖 Recipe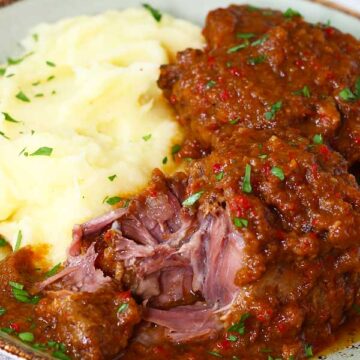 Slow Cooker Spanish Oxtail Stew
Super tender fall-off-the-bone oxtail in a delicious flavourful stew, prepared in a slow cooker. Simple steps and you'll be serving an amazing oxtail stew.
Print
Pin
Rate
Ingredients
The oxtail
53

oz

oxtail

(

1.5

kg)

½

cup

all purpose flour

(

65

g)
The base sauce
½

red onion

, sliced

1

carrot

, cut into chunks

5

garlic cloves

, cut into chunks

½

leek

, sliced

1

Italian green pepper

, cut into chunks

½

medium sized red bell pepper

, cut into chunks

2

ripe tomatoes

, peeled and cut into chunks

Pinch of salt

1

beef stock cube

½

cup

water

(

125

ml)

1

cup

red wine

(

250

ml)

2

bay leaves
Instructions
The oxtail
Place the oxtail pieces in a tray. Add some salt and black pepper to taste, together with the flour. Mix and coat each of the pieces well with flour.

Heat some oil in a pan, using high medium heat. Brown the oxtail pieces on all sides, remove and set them aside. Do in batches to avoid overcrowding the pan.
The base sauce
Using the same pan, reduce heat to medium and add red onion, carrot, garlic, leek, Italian green pepper, red bell pepper, tomatoes and a pinch of salt. Cook for 15 minutes until the veggies are soft, stir now and then. This extra time and step will make a huge difference in the sauce's taste.

When the veggies are soft, turn the heat off. Carefully add them in a food processor together with the beef cube and water. Blend into a fine mixture. Set aside.
Assembling in the slow cooker
Place the browned oxtail pieces in the slow cooker pot. Pour in the blended veggies mixture. Add in bay leaves and red wine. Cover the pot and cook for 8 hours on low for that super tender fall-off-the-bone meat. Check at 7th hour to see if they're done or you need to cook them longer.

Eat them with mashed potatoes or fries. Delicious!
Notes
The tenderness of oxtail meat varies. My recommendation is to check on the 7th hour to see the tenderness. Some are super tender by 7th hours and others might need more time. Mine needed 8 hours for that super tender texture.
Nutrition Facts
Calories:
725.8
kcal
,
Carbohydrates:
16.5
g
,
Protein:
79.7
g
,
Fat:
33.5
g
,
Saturated Fat:
13.3
g
,
Cholesterol:
275.5
mg
,
Sodium:
667.6
mg
,
Potassium:
290.4
mg
,
Fiber:
2
g
,
Sugar:
3.5
g
,
Calcium:
77.6
mg
,
Iron:
11.1
mg