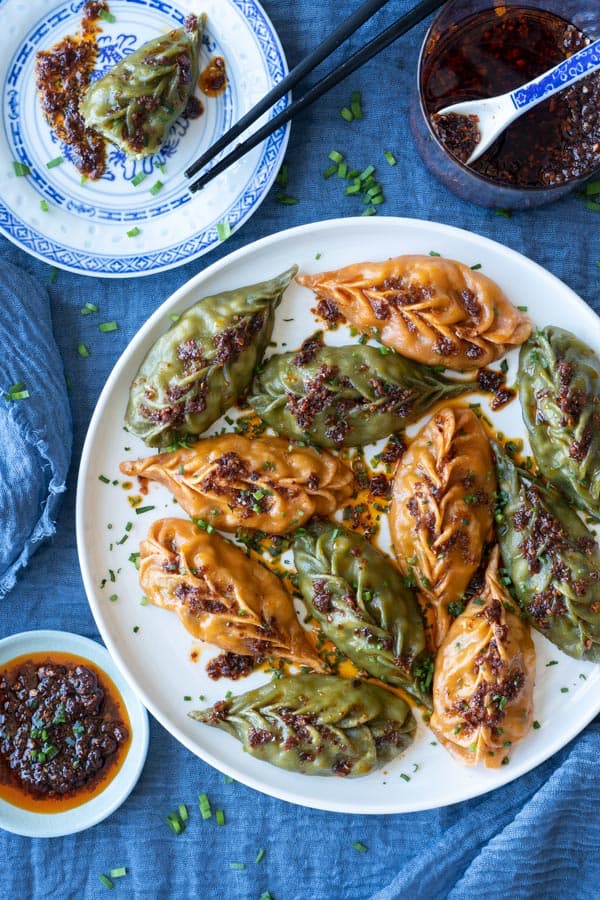 Do you LOVE dumplings as much as I do?
If your answer is yes (if not, why else would you be here reading this post, right?) then you will absolutely LOVE these vegan green curry dumplings!
And YES, they're VEGAN!
Can you tell that I'm overly excited about this recipe? Ok lets just get on with it.
Naturally Flavoured And Coloured Dumpling Wrappers
I would really love for you to try these naturally flavoured and coloured dumpling wrappers. Yes, I really do.
No artificial colours. No artificial flavours.
These beautiful colourful dumpling wrappers are made using spinach (for the green ones) and gochujang (for the red ones).
Not only the natural ingredients add colours but the gochujang ones really spice up your dumpling game 😉
And hey, they're so easy to make so no worries.
Click here to see my colourful dumpling wrappers 3 ways (plain, spinach and gochujang)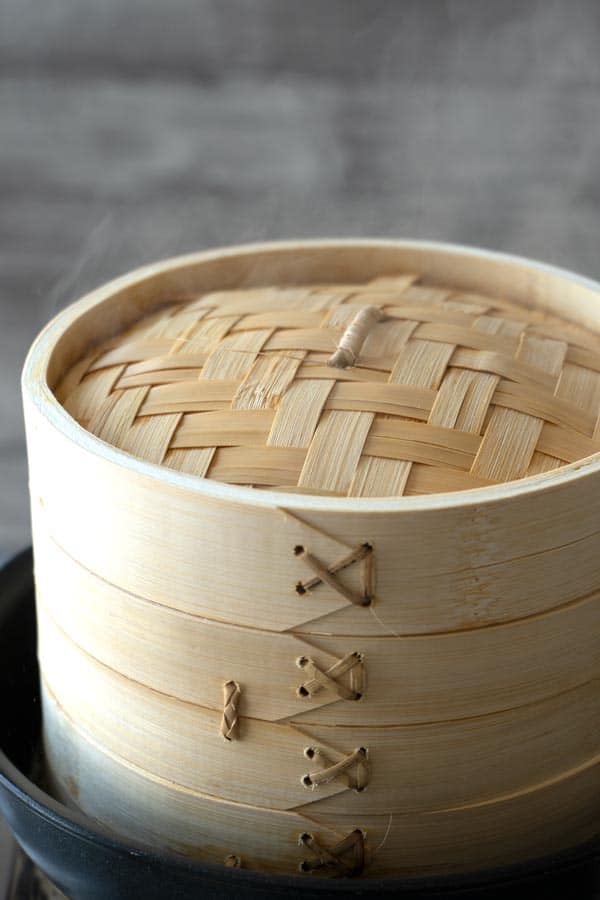 Great Green Curry Flavour
Have you tried green curry before? If you have not, then ohhh you really should!
Green curry got its name (obviously) from the green curry paste that is just packed with wonderful green herbs like lemongrass, galangal, coriander, cumin and lots of green chillies. Some recipes call for shrimp paste but it can easily be omitted to make it vegan. No problem at all.
The green curry paste that I'm using in this recipe doesn't have shrimp paste. And ohhh I really love this paste. This is not sponsored post by the way, I'm just sharing what I love in case you might find it useful too.
This paste is a Thailand product and it uses all natural ingredients that you can read the names and understand what they are. It's also extremely flavourful so a little of it goes a long way.
I want the flavour to really come through, not just lingering at the back so I'm using quite an amount of it in this recipe. You can reduce it if your green curry paste is super spicy and strong. Like always, adjust it to your likings.
Hey if you want to try make it your own, I've got you covered 😉
Click here to see my easy homemade green curry paste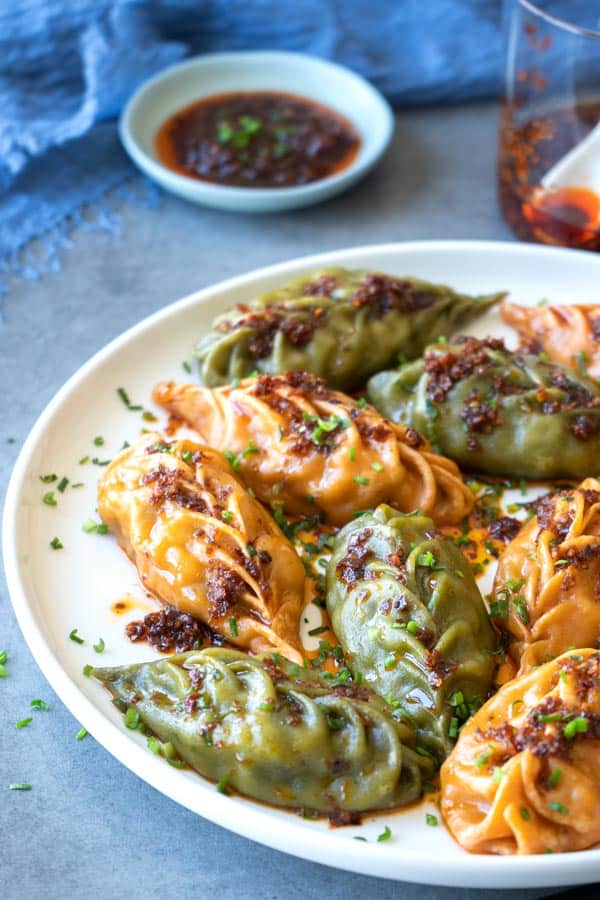 Amazingly Delicious Vegan Filling
I'm not vegan but both my husband (he's not vegan also) and me absolutely love vegan recipes ever since we started venturing into the beautiful and delicious vegan meals some months ago.
One of the things that I like most about cooking vegan meals is that they're faster. Depending on the recipe of course but usually it does take less time. And who doesn't like that, right?
For example this yummy filling, we don't need to pre-cook it or anything since we're using tofu and veggies. The dumplings go directly in the steamer. We also just need to steam them until the wrappers are fully cooked. No worries if the filling is still raw or something.
Talking about tofu, I've always LOVED tofu. Maybe it's an Asian thing? I don't know.
And tofu is extremely versatile. It comes already cooked, that's already a plus. And it's so amazing in soaking all the amazing flavours in the recipe.
Do give this recipe a try. Not only that, do try make my colourful dumpling wrappers also. You will absolutely love both recipes 🙂
And don't forget, rate the recipe if you've made any. Select the stars in the comment section below. Tag me in Instagram at elmundoeats or #elmundoeats. I'd love to see what you've made!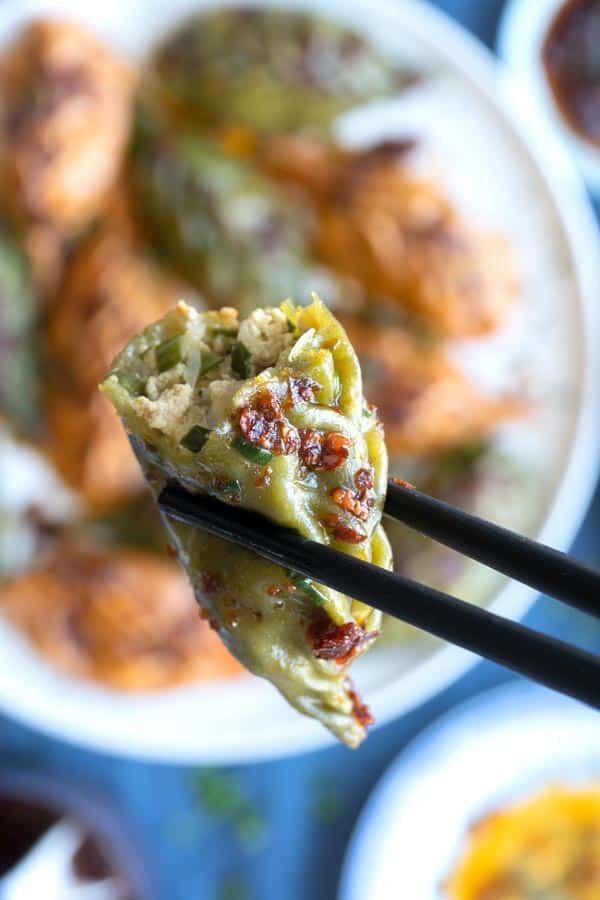 In Summary
These vegan green curry dumplings are:
flavourful vegan dumplings that you will absolutely enjoy
simple and fast to make
packed with veggies!
using my colourful dumpling wrappers that are naturally coloured and flavoured, a huge plus!
super AMAZINGLY DELICIOUS! I kid you not
Before You Go
Check out these recipes also:
Video
📖 Recipe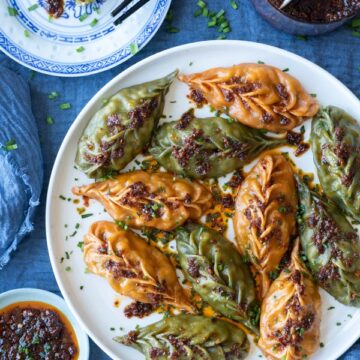 Vegan Green Curry Dumplings
Vegan green curry dumplings that are super easy and fast to make. No need to pre-cook the filling, so that's very convenient. I'm using my homemade colourful wrappers (spinach and gochujang flavoured) for these. Do try and bring your dumpling game up a notch!
Print
Pin
Rate
Ingredients
The Green Curry Filling
2

tablespoon

green curry paste

(

30

g)

¼

cup

coconut milk

(

60

ml)

1

teaspoon

coconut sugar

1

tablespoon

cornstarch

(

8

g)

½

tablespoon

sesame oil

14

oz

packet firm tofu

(

400

g), drained

9.7

oz (

275

g)

1

cup

chopped chives

(

70

g)

1

cup

chopped cabbage

(

70

g)

½

cup

cooked edamame

(

70

g)

35

dumpling wrappers

, more or less (check out my homemade recipe link above)
Instructions
The Green Curry Filling
Into a bowl, add in green curry paste, coconut milk, sugar, sesame oil, cornstarch and mix everything well. Set aside.

Drain tofu and cut into chunks. Add into curry mixture and mashed into fine texture using a fork. Add in chives, cabbage and edamame. Mix everything together. Set aside.
Assembling
Take one dumpling wrapper and place around 1 tablespoon of filling on the center. Pinch and pleat to your desired shape (watch how I did mine in the video above). Place on a steamer. Continue with the rest.

Steam for 20 minutes or until the wrappers are fully cooked. Serve immediately with some chili oil!
How To Handle Raw Dumplings
If you're making this alone (like me), chances are you can't roll the wrappers, fill and pleat them fast enough. The dough tends to get dry fast.

What I do is I always cover my unrolled dumpling dough with cling film when I'm not using them. I also put a layer of cling film on a tray, where I put all the filled and pleated dumplings. Then I cover them with cling film also.

This way they will not get dry by the time I finish assembling. Only then I start steaming them in batches because my steamer is medium size.
How To Store
They are best steamed and consumed immediately.

To Freeze: Place raw dumplings on a tray with baking sheet, not touching each other. Put the tray in the freezer for 30 minutes or until they harden. Then put them in a ziploc bag and back in the freezer.

To Defrost: Steam them without defrosting. Add few more minutes of cooking time.
Nutrition Facts
Calories:
113.7
kcal
,
Carbohydrates:
19.7
g
,
Protein:
4.5
g
,
Fat:
1.7
g
,
Saturated Fat:
0.5
g
,
Cholesterol:
2.9
mg
,
Sodium:
184.4
mg
,
Potassium:
47.3
mg
,
Fiber:
0.9
g
,
Sugar:
0.3
g
,
Calcium:
34.5
mg
,
Iron:
1.4
mg